However you prefer to travel, solo or with friends, there's no denying that your family is your first and best travelling group. Their company only serves to quadruple the fun in any place you visit. Even
Thailand
! Believe it or not, the country, better known for its exotic entertainment and wild revelries, offers endless options for family holidays, suitable for members of all ages.
Koh Samui
in Thailand is one such place. This island town is perfect for families and large groups looking for some bonding time, amidst vast white-sand beaches lined with tropical palm trees that are washed over by azure waters, transporting you to a tropical paradise.
Here's a list of family places in Koh Samui for you to have a memorable trip with your loved ones: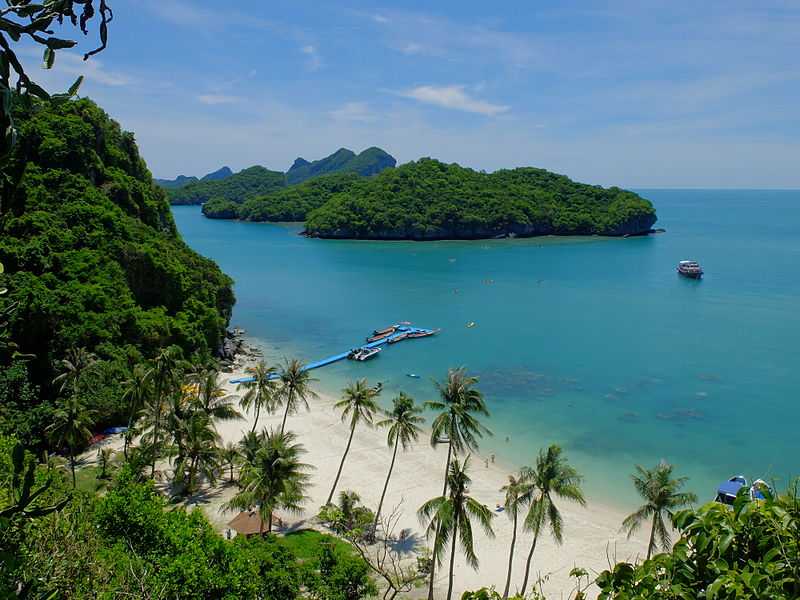 Lying northwest of Koh Samui is the Ang Thong National Marine Park, a beautiful archipelago of 42 islands. It is a tropical paradise comprising of lush vegetation, pristine beaches, scenic waterfalls, secluded caves, hidden lagoons, and a plethora of species of flora and fauna. Ang Thong Park is a protected area meant to preserve the natural state of the islands and the exotic creatures that inhabit it. A tour of Ang Thong is usually included in travel packages as a day-trip covered via speedboats, but you can even spend a night camping there in tents. There are plenty of snorkelling, diving, kayaking, hiking and swimming options available for exploring the wonderful secrets of the islands. Some of the most notable and must-visit family places in Koh Samui are the Koh Wua Ta Lap, Koh Mae, Koh Sam Sao, Koh Hin Lak and Koh Hin Dap.
Location:
346/1 Talad Lang, Mueang Surat Thani District
Timings:
7:00 AM - 7:00 PM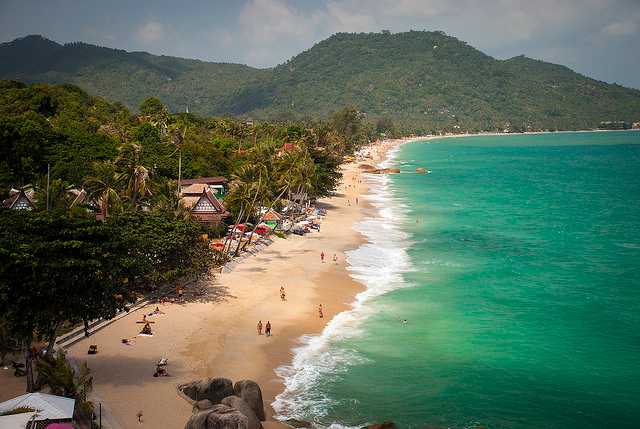 Lamai Beach is easily one of the most famous family places in Koh Samui among beach lovers. It is forever buzzing with the activity of divers, snorkelers, swimmers, and the inactivity of sunbathers. It is often compared to
Chaweng Beach
in popularity, but is definitely better, quieter and cleaner than its counterpart. Located in the quaint village of Lamai, it is a great locality to explore with family, introducing everyone to the lesser-known cultures of Thailand. The area around Lamai Beach is a dazzling mix of this very culture and modernity, with several luxurious beachfront resorts, restaurants and bars lining the coast. There are options available for every budget range, each as premium as the other. This is a laid-back beach with soft sands, glistening waters, and a pleasant temperature that will make for a perfect tropical holiday.
Location:
Lamai Beach, Surat Thani
Timings:
All day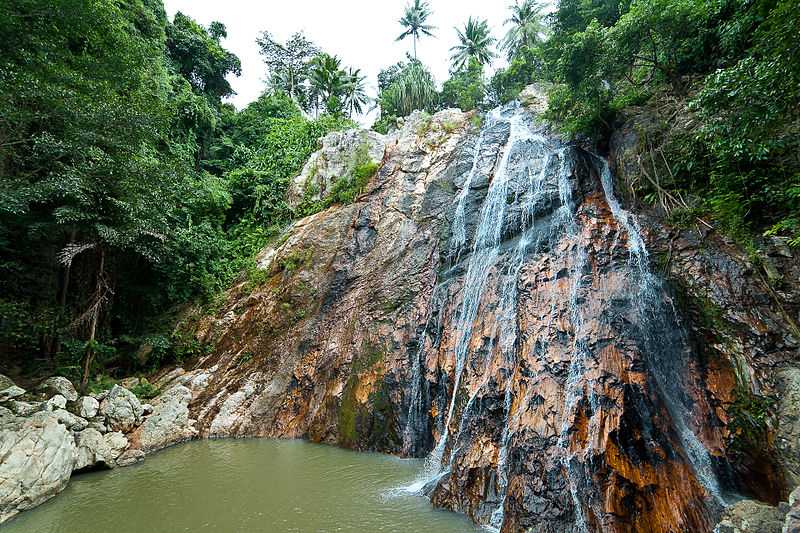 The magnificent Na Muang Waterfalls are collectively made up by two waterfalls, with the first one being larger and more famous, and the second one located higher uphill, secluded but equally beautiful. The first waterfall majestically falls through gigantic boulders and tropical forests, accumulating into a large pool. The entire scene looks surreal and attracts a lot of tourists who enjoy picnicking around this picturesque spot. This is a perfect location for a leisurely day of family bonding and relaxing, complete with a natural swimming pool, Thai food stalls, and lovely weather. This family place in Koh Samui also offers ample opportunity for hiking, trekking and exploring along offbeat tracks which will treat you to several stunning views and natural sights.
Location:
 Na Mueang, Ko Samui District, Surat Thani
Timings:
All-day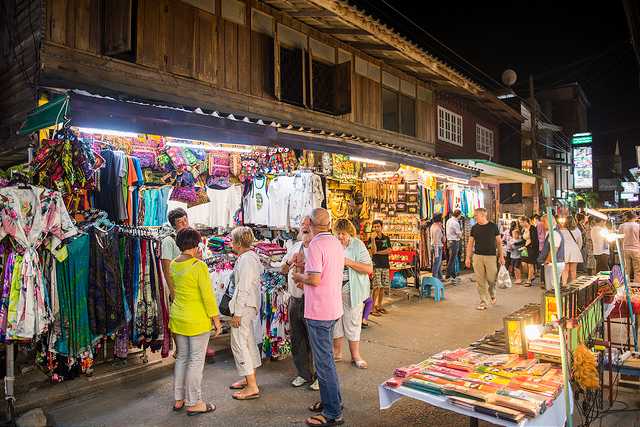 The Fisherman's Village in Bophut is a picturesque historical area, with a rustic old-world charm. It is dotted with old buildings and rural settlements which were once inhabited by traditional fishing communities. These antique alleys filled with simple houses and shacks turn into the Fisherman's Village Walking Street every Friday. It is a night market that brings the old and new of Thai culture together, with several restaurants, shops and bars that create a cheerful atmosphere. Here you will find clothes, bags, jewellery, accessories, electronics, handicrafts, spices, domestic ware and much more, being sold at dirt-cheap prices. There are many street food vendors, cocktail stalls and live performances dazzling the sidewalks too, making sure that not a single dull moment passes by. It does tend to get very crowded, but that's what is most fun about the market since it always buzzes with activity.
Location:
Bophut Beach
Road, Bophut
Timings:
5:00 PM - 11:00 PM 
5. Samui Elephant Sanctuary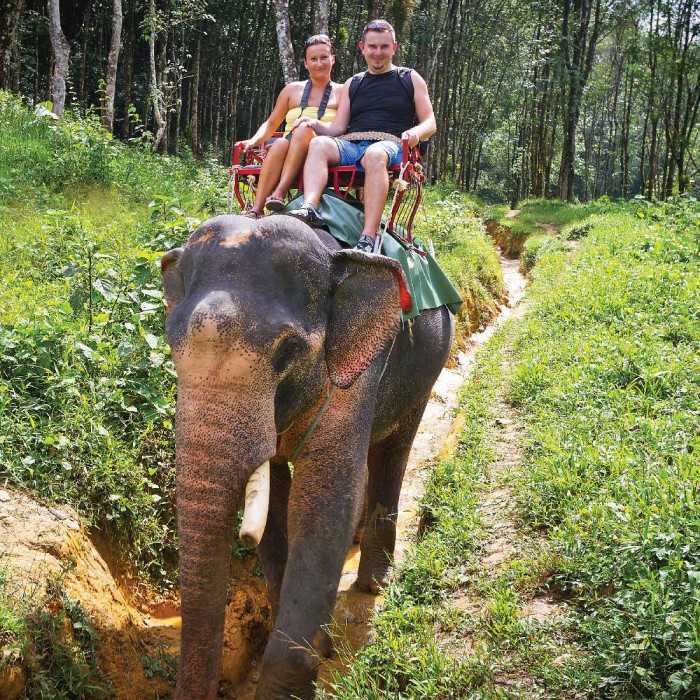 Samui Elephant Sanctuary is the first elephant care centre in Koh Samui, established recently in January 2018. The owner, Wittaya Salangam, is deeply dedicated towards the preservation and wellness of elephants, which is the prime objective of the sanctuary. Covering a jungle area of 10 acres, the sanctuary is home to five elephants at present, who are taken care of and pampered by a loving staff. All these elephants were rescued from slavery or illnesses, and recovered with dignity at this camp. It is a great family place in Koh Samui where visitors can get away from the city noise and in a peaceful, natural environment, feed, play with and watch elephants splashing in the pool. It is a great educational experience for both adults and children. A full tour of the sanctuary, inclusive of shuttle service, food, and bananas for the elephants, is priced at THB 3000.
Location:
43/2 Taweerat Pakdee Road, Bophut, Ko Samui District, Surat Thani 
Timings:
9:00 AM - 5:00 PM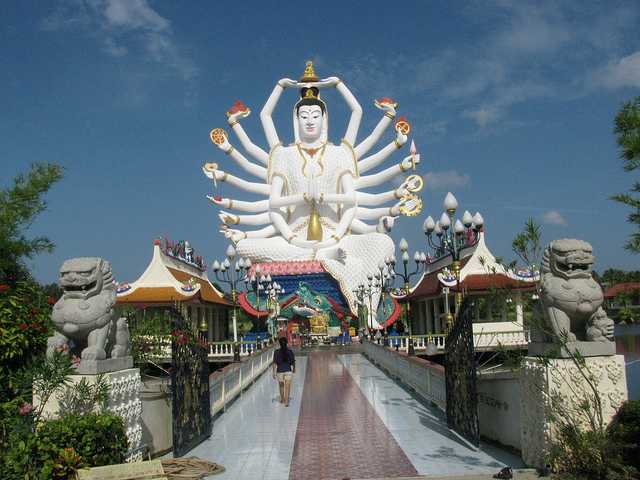 Wat Plai Laem is a Buddhist temple commemorating Guanyin, the Asian goddess of compassion and mercy. The temple is a modern architectural marvel, that has a colossal compound which features several marvellous structures. The most venerated among them is the white statue of the 18-arm Guanyin made in Chinese style, that stands tall between colourful temple shrines and a beautiful lake that surrounds it. You can even purchase a bag of fish food and feed the fish living in the lake. The temple interiors are covered with walls and murals intricately designed with bright colours, depicting tales and teachings from Buddha's life. Other highlights are the towering Laughing Buddha statue and the ubosot (temple hall), both of which are ornately decorated. The temple grounds are immensely covered with greenery, bridges and lights making for a pleasant environment for a peaceful stroll. It is a great family place in Koh Samui to visit.
Location:
Wat Plai Laem, Road 4171, Thailand
Timings:
Daylight hours 
7. Sunset Cruise 

Cruises are a popular activity in Koh Samui, given its unparalleled scenic beauty and mesmerising sunsets. There are a number of family cruises available, but the most sought-after are the Red Baron Sunset Cruise and the Chantara Sunset Cruise. Both are attractive wooden vessels made in the traditional style that gives a rustic, comforting vibe. Atop these boats, you will be treated to drinks and authentic Thai cuisine, especially seafood, in vast buffets during lunch on Chantara and dinner on Red Baron. While Chantara sails through
Koh Phangan
, the Red Baron sails near the Koh Sum island. Both these family places in Koh Samui offer resplendent views of the setting sun blasting colour into the horizon over the gentle waves of the sea. You can even dip into the water for a snorkelling session and immerse yourself, literally, into the drop-dead gorgeous scenery.
Location:
Koh Samui 
Timings:

Chantara Cruise: 4:00 PM - 9:00 PM, 
Red Baron Cruise: 4:30 PM - 7:30 PM
8. Samui Go-Kart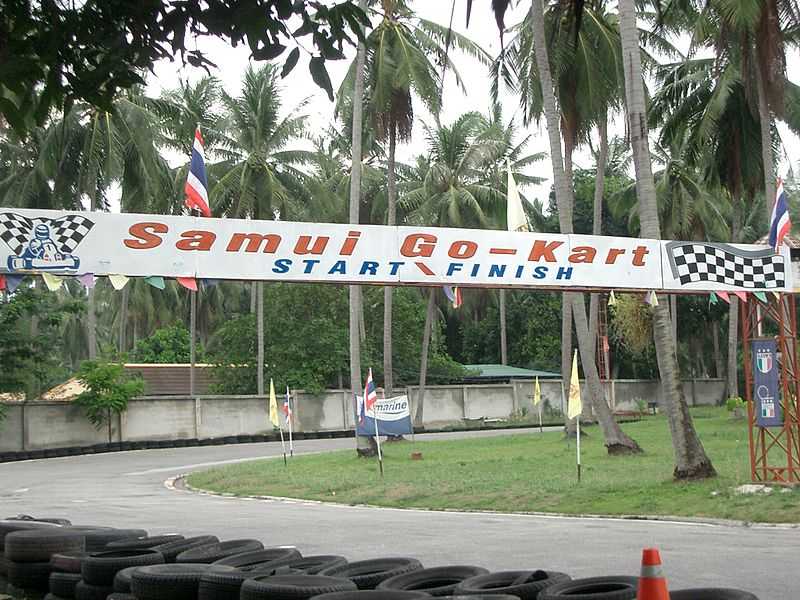 A family that go-karts together stays together! If your family is a team of thrill seekers, then this is where you should be. Located close to Bophut Beach, the Samui Go-Kart lays out a 500-metre long track where visitors can come for a day of go-karting. The place offers several packages suited to customers' skill, age and speed preference which are specially designed to accommodate kids, young adults and adults. If you are a young beginner, you can start with karts that go up to 40 kms. per hour, and if you want to up your adrenaline, you can even go for the professional karts that zoom at 75 to 125 kms. per hour. Although it costs THB 700 an hour, which might seem pricey to some, it is totally worth it. Samui Go-Kart is familiar internationally as a highly enjoyable activity which will keep you occupied for a full day of fun and adventure.
Location:
101/2 Moo 1, Samui Ring Road, Bophut, Samui
Timings:
9:00 AM - 9:00 PM 
So many resorts, so many monuments and so many unbelievable sights! Family places in Koh Samui will give you moments that you will cherish for life. While a trip here with your family might sound strange given its reputation as a party capital, you'll be surprised at how many things there are to do and enjoy with your closest group.