Locally known as 'Pasar Malam', the traditional night markets in Kuala Lumpur spring up in different parts of the city on different days of the week, when sections of the residential neighbourhood are closed to make way for these setups. Not only for shopping, but visitors can also enjoy delicious dishes at these shops, including burgers and noodles, and authentic local foods such as Malay kuih and nasi lemak.
Here is the list of 10 best night markets in Kuala Lumpur:
1. Petaling Street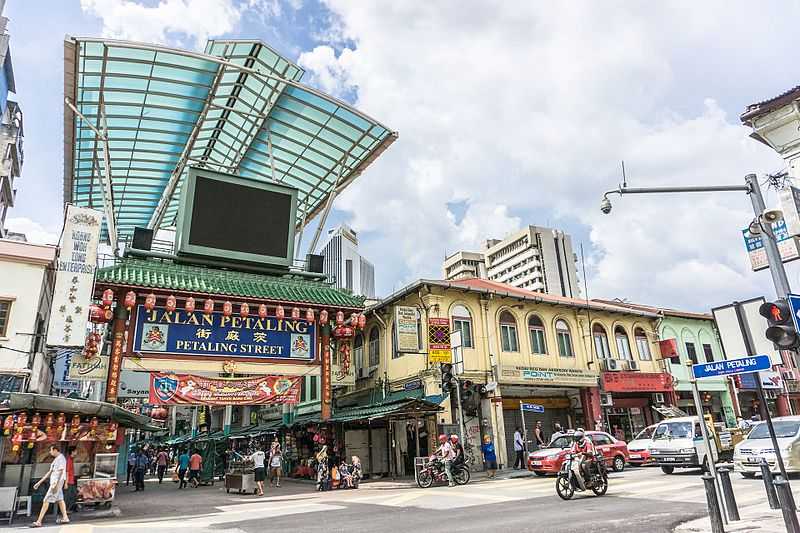 Rightly touted as the shopper's heaven in all of Kuala Lumpur, Petaling Street is the most popular street in Kuala Lumpur, known for its hundreds of stalls that sell all possible stuff at low prices. Sheltered by a huge green awning, hundreds and hundreds of visitors stroll here in leisure, shielded by the sun; as they browse through the huge collection of handbags, watches, clothes, accessories, handicrafts and lots more. Not only shopping, but the street is also known for its delightful assortment of local cuisine, from Chinese to seafood.
Location: Chinatown, Kuala Lumpur
Timings: 9:00 AM to 12:00 PM & 6:00 PM to 1:00 AM on all days
2. Kasturi Walk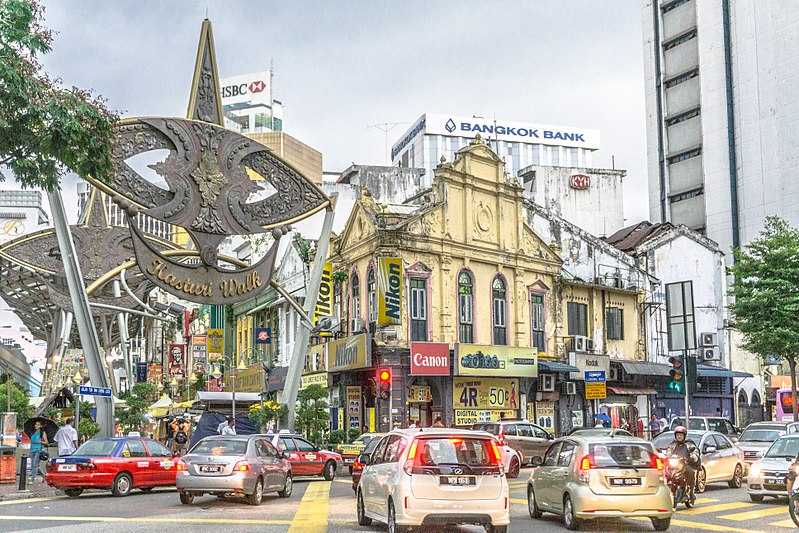 Located right behind the Central Market, Kasturi Walk is renowned for its handbags, watches, clothes, and footwear; and also for its vendors that sell a variety of local fruits and snacks. A huge traditional Malay kite which resembles a butterfly greets visitors as they enter the market, who then lose themselves among the kiosks and stalls. Even though the market is not extensive as its counterparts, people continue to love it for its convenient location and reasonably priced items.
Location: Jalan Kasturi
Timings: 10:00 AM to 11:30 PM on all days
3. Chow Kit Market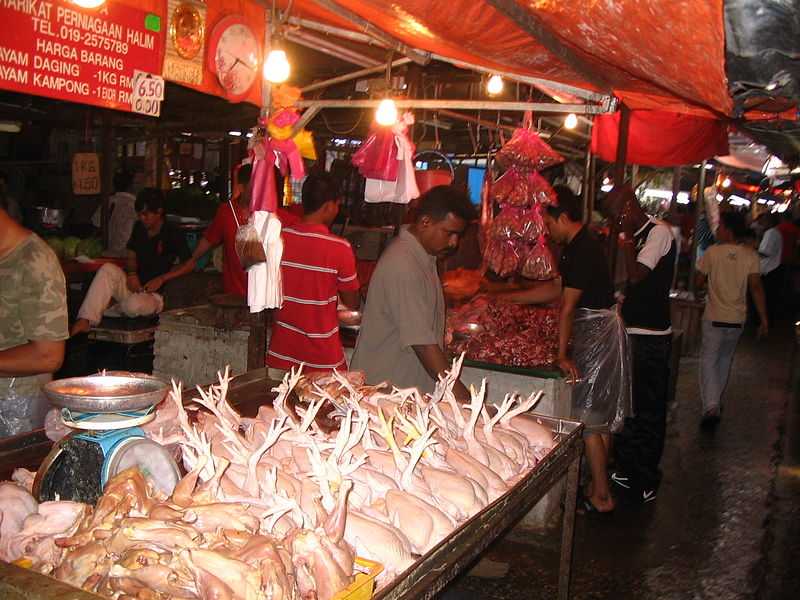 Hailed as the largest wet market in all of Kuala Lumpur; the Chow Kit Market boasts of having the most extensive collection of seafood, meat, fresh fruits and vegetables, as well as spices. The market, however, also has a large dry area, covered by colourful oversized umbrellas, which sells items like clothes, shoes, CDs, DVDs, textiles, accessories, etc. as well as electronic gadgets at really affordable prices. Do not miss out on visiting the market on Mondays, when the night market sells items at extra low prices.
Location: Jalan Tuanku Abdul Rahman, Chow Kit
Timings: 6:00 AM to 5:00 PM on all days of the week
4. Taman Connaught Night Market
Every Wednesday evening in Kuala Lumpur, 700 stalls come together on a two-kilometre long pathway; stocked up with inexpensive clothing, books, bags, handicrafts, accessories, and household items, to offer a once in a lifetime shopping experience to its visitors. The Taman Connaught Night Market is extremely popular among the locals and the foreigners alike and is also known for its array of street food, including curry noodles, char kuey teow, laksa, and satay among others. When at this market, do not forget to try out the chilli-drenched stinky tofu. Though an acquired taste, people who have developed the flavour find it to be the best street snack in all of Kuala Lumpur.
Location: Jalan Cerdas, Taman Connaught
Timings: 5:30 PM to 12:00 AM on all days
5. Bangsar Sunday Market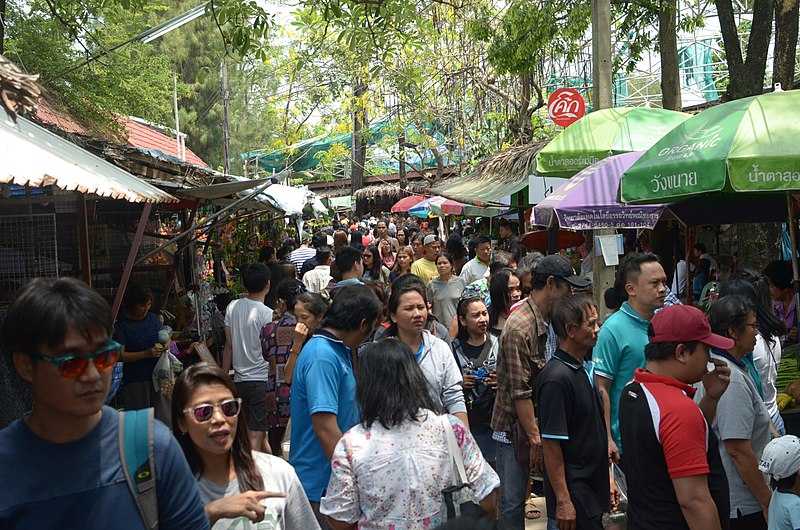 Located in the popular commercial district of Telawi, the Bangsar Sunday Market attracts a large number of visitors to it every Sunday, who come to experience and explore the expansive collection of fresh produce, seafood as well as flowers that are offered here. This is also a good place for some authentic local dishes as there are several cafes and restaurants at Bangsar centre, which offers a myriad of different cuisines.
Location: Bangsar
Timings: 3:00 PM to 11:00 PM every Sunday
6. Fiesta Nite at Plaza Mont' Kiara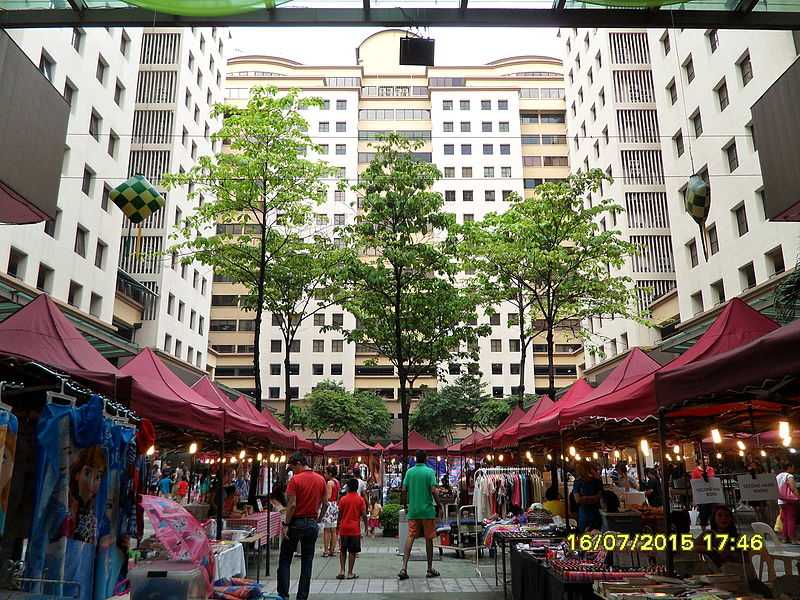 Standing in sharp contrast to other local night markets in Kuala Lumpur, the Fiesta Nite at Plaza Mont' Kiara is a rather upscale kind of a market, which takes place every Thursday at the Plaza Mont' Kiara. The market is frequented by office workers as well as locals, who find the quality of goods here to be considerably better than that of those found in other night markets across the city. Eighty different stalls come together at this night market, in front of the fountain courtyard, to offers its visitors with the best choices of flowers, fruits, clothes, books as well as imported food items; and alongside these commercial products, you will also find a lot of handmade soaps and homemade goods by local bakers at the market.
Location: The Courtyard, Plaza Mont' Kiara, 2, Jalan Kiara, Kuala Lumpur
Timings: 03:00 p.m. to 10:00 p.m. every Thursday
7. Jalan Alor Street Food Night Market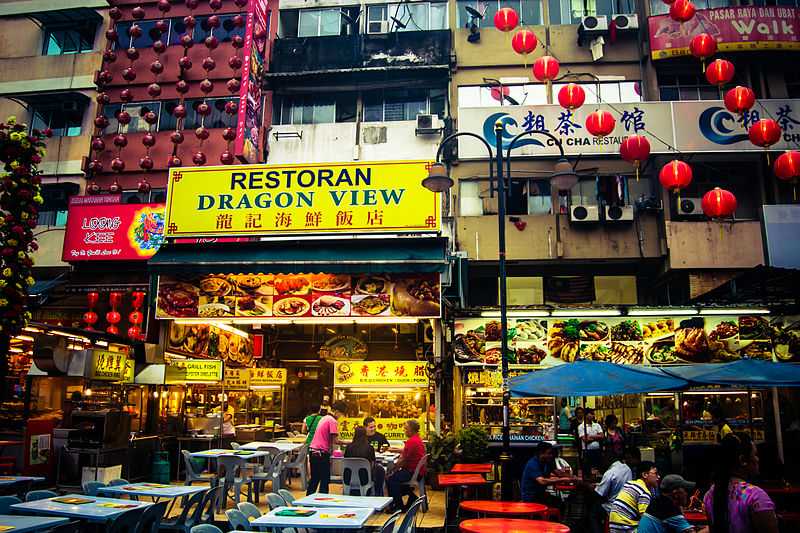 Located in the heart of Kuala Lumpur, the Jalan Alor Street Food Night Market is paradise on Earth for every true food lover, tourists and locals alike. It is perhaps only at Jalan Alor that you can experience the sheer bliss of tasting authentic Malaysian street food standing under colourful oversized umbrellas, and shop for products like food, shoes, DVDs, CDs, textiles, etc. at the same time. Though the market is open on all days, it is best to visit it in the evening, when the temperature drops, to have a better experience.
Location: Jalan Alor, Bukit Bintang
Timings: Open 24 hours all days of the week
8. Pasar Malam Jalan Tuanku Abdul Rahman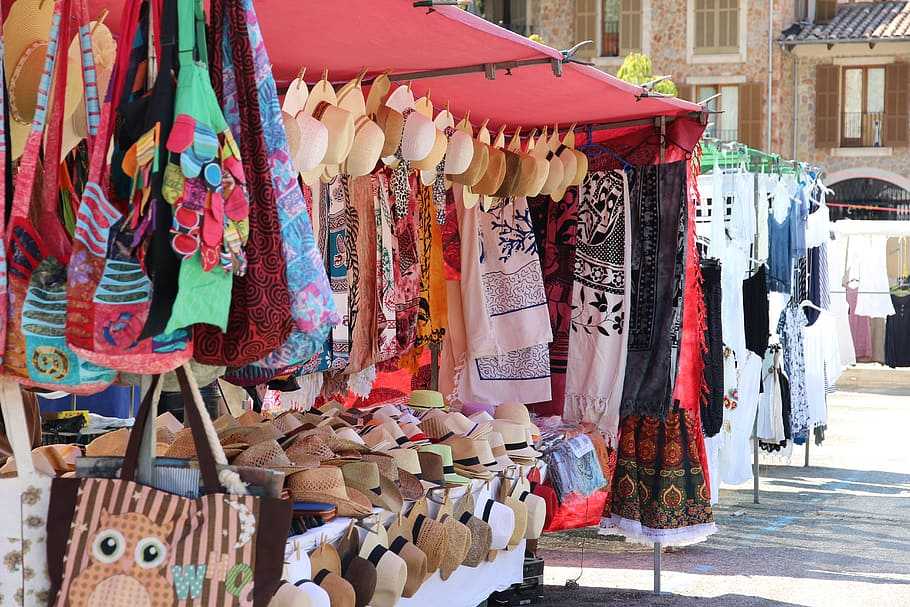 Also known as the Grand Dame of Kuala Lumpur shopping, the Pasar Malam Jalan Tuanku Abdul Rahman is a welcome relief from the usual commercial shopping in malls that is so characteristic of the city. The market is home to many established brands such as P.H. Henry, P. Lal, and G.S. Gill. However, you can also shop for local goods across a variety of products, including winter clothing, luggage, leather products, sportswear, and much more. 
Location: Jalan Tuanku Abdul Rahman, City Centre
Timings: 5:00 PM to 10:00 PM every Saturday
9. Jalan Masjid India Market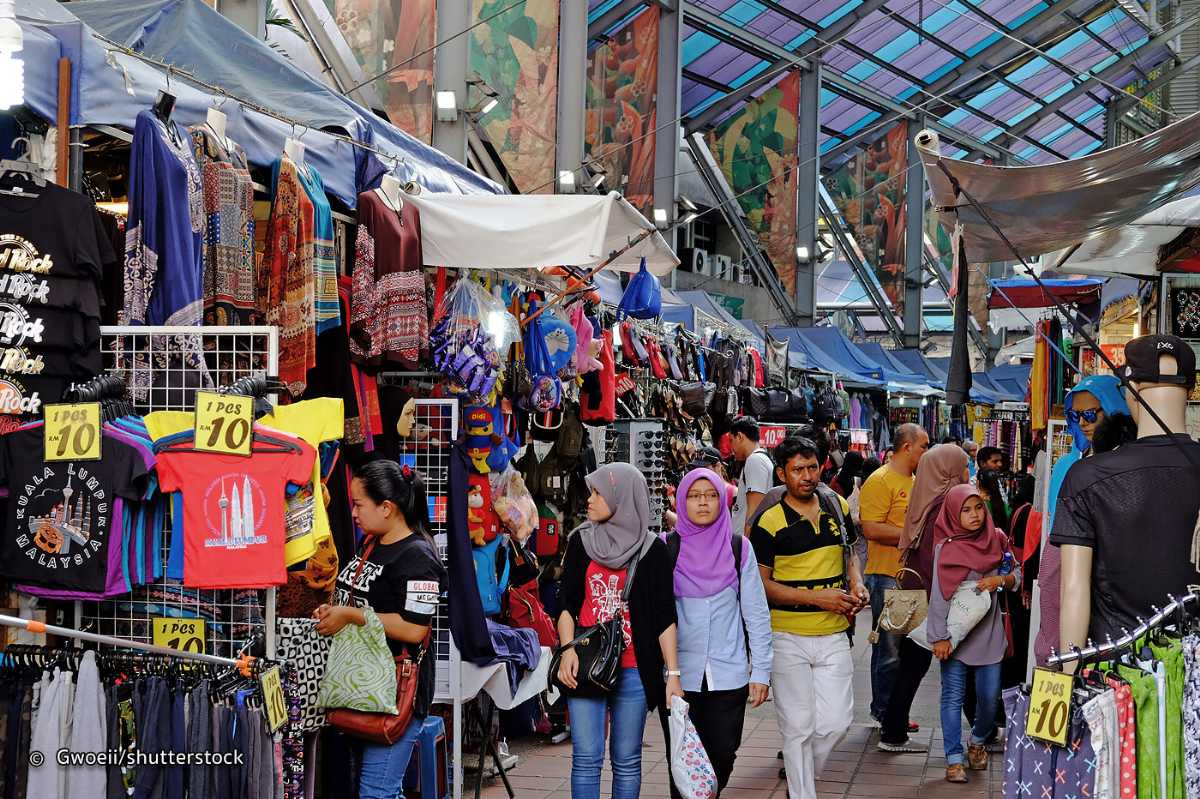 The Jalan Masjid India Market is home to endless rows of stalls that sell products like bags, accessories, toys, authentic Indian wear, jewellery and souvenirs; meant to cater especially to the local Indian Muslim community that resides in Kuala Lumpur. Several shops here also offer fresh produce, herbs as well as spices, and the collection of Punjabi suits and sarees offered in vibrant patterns and colours is something you definitely cannot miss! While at the market, also try out the local delicacies that are served here, such as nasi campur (mixed rice), burgers and mee goreng (fried noodles).
Location: Jalan Masjid India, Kuala Lumpur
Timings: 10:00 AM to 9:00 PM on all days
10. Kampung Baru Night Market
Also known as the Kampung Baru Sunday Market (the market runs from Saturday evening to early Sunday morning), the Kampung Baru Night Market was founded in 1899. Established to serve the local Malay community of the city, the site is a great shopping avenue for those looking to buy traditional Malay apparels, such as the sarong, baju kurung, songkok along with the traditional jewellery and handicrafts. You will also find rows of stalls selling books, clothes, and household items at affordable prices here, and vendors selling Malay specialities, such as rojak (spicy fruit and vegetable salad), satay (grilled meat skewers), nasi lemak, and colourful kuih (Malay desserts).
Location: Jalan Raja Muda Musa, Kuala Lumpur
Timings: 6:00 PM to 1:00 AM every Saturday
Local street food is also a characteristic of these night markets, which only adds to the already amazing experience of being out at night time and exploring these local bazaars. These outdoor markets, however, can get pretty hot and humid, and also really crowded; so it is suggested that you head out in simple and comfortable clothes, and drink a lot of water to keep yourself hydrated at all times.