Kuala Lumpur is a stunning city boasting of skyscrapers, architecture, and its vibrant atmosphere. But it does tender some beautiful hiking trails where you can get away from all the hustle-bustle and humidity in the city. Feel the nature, get a scenic view of the city, and take in the clear air to freshen up the mind. From a beginner to an expert, you can find various trails to scale.
Here are 10 hiking trails in and around Kuala Lumpur:
1. Bukit Bogra


One of the best places to hike around Kuala Lumpur is the Broga hills. It is quite popular as you can come here to catch a scenic view of the sunrise. This trail is approximately 3.4 km and is covered with Lalang grass which gives an unobstructed view from the hill. You can hike up a much steeper terrain if you continue to Gunung Tok Wan from the Broga summit. It stretches over 200m where one can really test their endurance. In the end, you will be immensely rewarded with the beautiful aerial of the hills and the city below.
Height: 400m
Cost: Free, only parking charges
Total time: 1-2 hours to ascent
Location: Broga, Semenyih Malaysia
2. Bukit Kiara Trail – A hikers paradise


This hiking trail is quite famous among the locals as well as tourists. Spanning up to 250m, this hill has multiple trails for hikers and cyclists to explore. Monkeys can be seen loitering around among other flora and fauna. You can take a stroll through the park or wander around the various trails, satisfying your inner hiker's desire. It may not seem much for advanced hikers, but they are trails that are steeply inclined that one can take to break out a good sweat and workout. You can rejuvenate with cooling drinks at the bamboo grove alongside the Twin Peaks trail.
Height: 250m
Total Time: 1hr 20 mins walking
Location: Bukit Kiara Trail, Sungai Penchala, 60000 Kuala Lumpur, Federal Territory of Kuala Lumpur, Malaysia
3. Bukit Tabur


Bukit Tabur Hills is considered the most dangerous trail in the entire Southeast Asian region. It can be a bit tiring and you will be sweating by the end of it, but the view of the Klang Gates Dam and the entire city of Kuala Lumpur is worth it all. Due to its muddy track and slippery rocks, it can be quite difficult. Basically, there are two trails up the hill – East and West trails. Even though they provide almost similar views and have identical trails, Bukit Tabur (East) is a bit more challenging than the other. So, hiking with a group of friends or professional hikers would be recommended.
Height: 446m
Cost: You will require an official permit that charges MYR5 per person.
Total time: Will take 4 hours to cover
Location: Hulu Gombak Forest Reserve, Selangor, Malaysia
4. Forest Research Institute Malaysia (FRIM)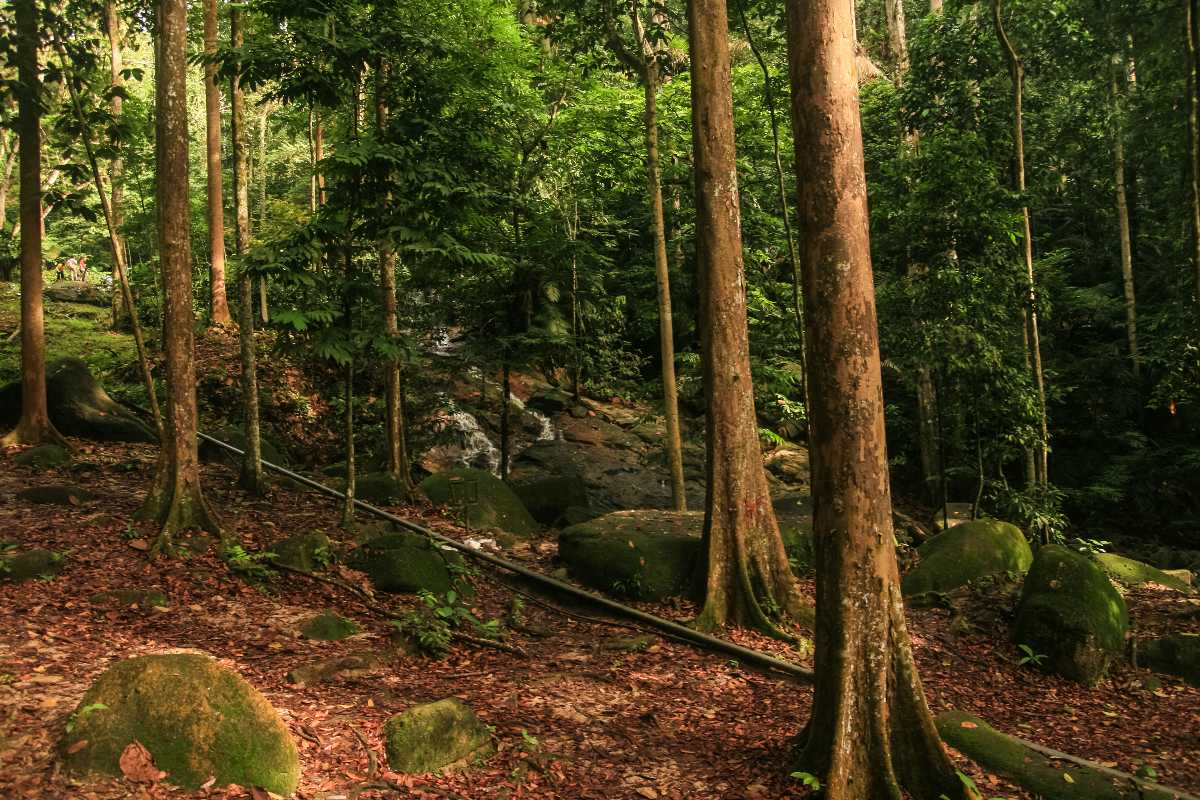 FRIM is a reputed institution for tropical forestry research which also includes recreational activities like camping, trekking, cycling, jogging, and other activities. It has multiple hiking trails like Keruing trail, Sallah nature trail, and many more. It is a public area with many activities and the trails are much easier here so making it a relaxing hike in the woods. You can have a picnic here too among the numerous species of trees.
Height: 150m canopy walk
Cost: RM1 for citizens and students, RM5 for non-citizens
Timings: open during weekdays
Location: Jalan Frim, Institut Penyelidikan Perhutanan Malaysia, 52109 Kuala Lumpur, Selangor, Malaysia
5. Klang Gates Quartz Ridge
This ridge is a quartz dyke that runs through the northeast region of Kuala Lumpur. It has different forms of terrain, being a quartz dyke so it can be a bit challenging and can sweat you out. The hike up to the ridge top is breathtaking. The view is worth the struggle as you get to see the city's skyline from one side and the beautiful reservoir and the forest reserve from the other. To climb the ridge, you have to register with the forest department employee at the beginning of the trail.
Height: 446m
Cost: RM5 per person
Total time: 2 ½ hours, this is open only during the weekends
Location: Persiaran Bukit Melawati, 68000, Selangor, Malaysia
6. Kemensah off-road Trail
This hiking trail is a quite popular track for ATV, mountain bikers, and cyclists. It is a beautiful trail that passes through a forest and orchids. It may seem like a part of rural Malaysia. You can start the trail Butik Tbubir and continue this path to see the gorgeous view around including the Ampang falls.
Height: 493m
Cost: Free, charges for ATV rides
Timing: 1 hour
Location: Unnamed Road, 68000, Selangor, Malaysia
7. Bukit Gasing

Just 20 minutes off the Federal Highway, this is a known hiking trail in Kuala Lumpur ideal for people looking for a good hike. Spanning over 100 hectares, this forest reserve has multiple tracks making it more fun and engaging. From easy to steep trails, anyone can scale these roads in the forest reserve and capture stunning views of the city below. It will take 1-2 hours to cover each trail to get to the suspension bridge and lookout point near the Telekom tower.
Height: 160m
Cost: Free
Timings: 1 hr 40 mins
Location: Kuala Lumpur 51200 Malaysia
8. Chiling Waterfall


This is a very lovely trail in Kuala Lumpur that stretches up to 400m. The hike takes up to one hour in the forested region filled with flora and fauna and a river running along your side. The sweat and workout are worth the end of the trail where you can cool off at the waterfall and even have a picnic by it. You get to cross the river multiple times to reach your destination and may meet a few monkeys here and there. Even though it's a bit further away from central KL, it is not to be missed.
Height: 400m
Cost: RM1 per person
Timings: Takes 1 hour to reach the falls, open only on Fridays, Saturdays, and Sundays
Location: 44000 Kuala Kubu Bharu, Selangor, Malaysia
9. Ayer Hitam Forest Reserve
Another popular hiking trail in Kuala Lumpur is Ayer Hitam Forest Reserve. Located in the Greater Kuala Lumpur area, this is a stretch of 1200 hectares of forest. It is well known among the residents who come here for family weekends for picnics and a good workout. It is slightly steep in the beginning but continues to get easier later. You will be able to get a good view of the city from certain levels and there are a few streams that you must wade through. There is a coconut vendor at the end of the trails from where you can refresh yourself from the tiring hike.
Height: 233m
Cost: Free
Timings: 1 ½ hours
Location: 47100 Puchong, Selangor, Malaysia
10. KL Forest Eco Park


One of the oldest forest reserves of Malaysia is the KL forest eco-park, also known as the Bukit Nanas forest reserve. This is located right in the centre of the city and is packed with greenery, flora, and fauna. The hike is not as tiring as the others, but it will be a good exercise undoubtedly. It is famous for its canopy walk where you can get good views of the city, especially the city skyline. This is worth the visit as it is right in the heart of the city and it would absolutely bring more aesthetics to your feed.
Height: 70m
Cost: Free
Timings: 1hr or more
Location: Bukit Nanas, Jalan Puncak, Off Jalan P. Ramlee, Kuala Lumpur
Tips for hiking in Kuala Lumpur
Always carry enough water during your hikes as you may not find any stalls in some of the trails.
Carry insect repellents.
A change of clothes would be useful to carry out as you sweat profusely and get through the muddy terrains.
Terrains like Bukit Tabur and other tough trails would require gloves and some gears for safety.
Choose the location according to your experience and training.
Wearing the right shoes is an absolute necessity.
May to July would be the ideal time to visit Kuala Lumpur as it's the dry season and you won't have to worry about the rain. There is always an escape from the concrete jungle that we live in and it's up to us to save our nature and keep its integrity. Kuala Lumpur's trails keep the perfect balance with its glamorous city.