Nestled in between the high Himalayan and Karakoram mountain ranges,
Ladakh
is a place like no other. Mystery land of
India
, Leh-Ladakh is surrounded by incredible scenic beauty. Your India visit is incomplete without visiting this insanely beautiful location. Travelling on this route, perhaps become one of the most thrilling, adventurous, yet unforgettable experiences of your life. Leh-
Manali
highway is one of the paths, which lead you to a whole new world. Away from the hustle and bustle of the city life, this is a spot where you will come close to Mother Nature.
One of the most interesting facts about this route is, it is open for a few months of the year, more than 1000 km route will shock you, scare you, give you mini jolts and at the same time it will surprise you every moment of the journey.
So, get ready to start a roller coaster journey with us!
Leh Manali Highway- An Adventurous Route
Almost more than 400 km long route is open only four and half months of the year, the dirt, gravel route connects the
Manali
valley to Lahaul and
Spiti
valleys and
Zanskar valley
in Ladakh. If you are planning to dive in the roller coaster ride of adventure, then be ready to face the challenges of the route, weather, high elevation, extreme cold, meandering paths and no civilisation for miles would make your journey a bit difficult.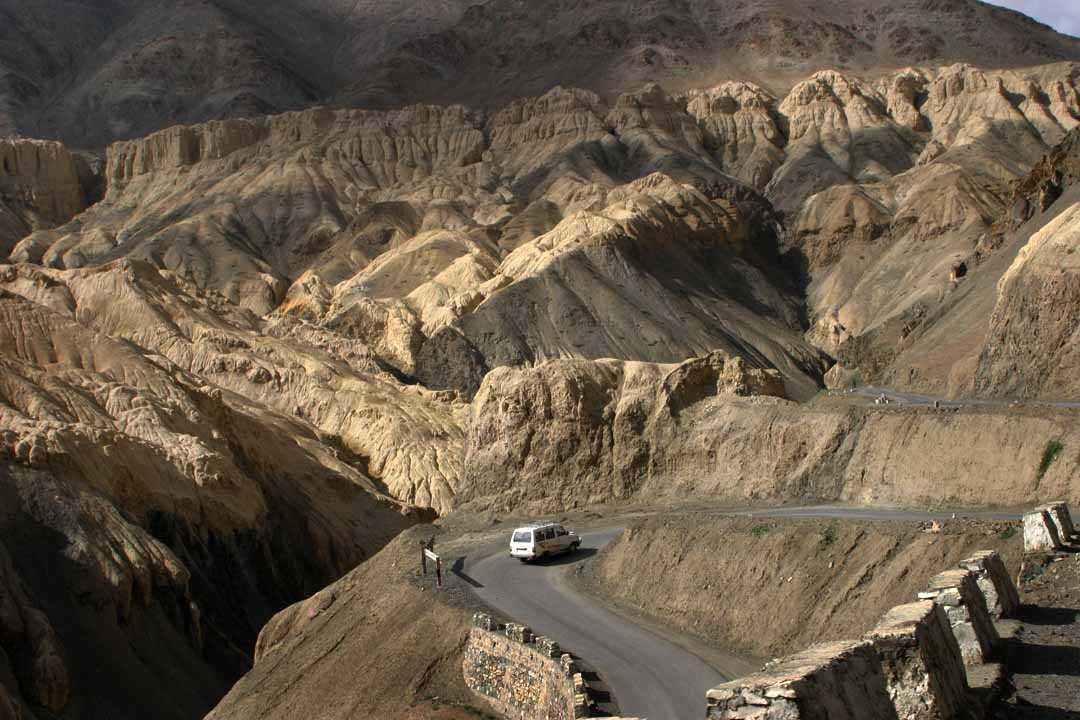 Length of Leh Manali Highway
It sprawls across the mountainous region from Manali to Leh, covering a distance of 474 km. Majority of the area through which it passes is mainly uninhabited.
The Beauty of Leh - Manali Highway Undoubtedly, Leh is a heaven on earth; its mesmerising beauty will take you to a whole new world. It is a location where you will forget all your worldly troubles. All you will enjoy is a quiet time, which will give you a peaceful state of mind. After a couple of hours of the journey, you will realise that all civilisation just vanished, all you will hear is a whisper of wind, while the chilling air will touch your cheeks and give you a soothing feel.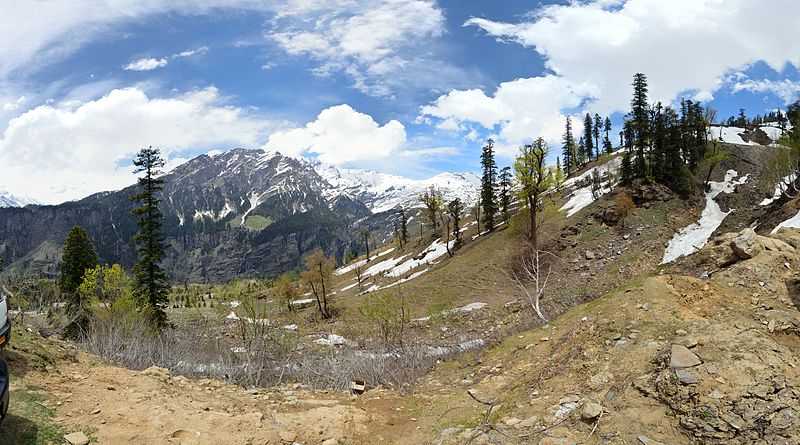 Route
Travelling catalogue is pretty much fixed for the journey from Manali to Leh. Highway covers variable altitudes between 2000m to 5400m.
You start your trip from Manali which is at an altitude of 1950m and travel up towards Rohtang La, situated at an altitude of 3980m. You'll be passing Solang valley and Marhi on your way and covering 51 kms in total.
From Rohtang valley, you'll be taking a downward slope, crossing through Kokhsar and Tandi (average altitude will be 2500m). After Tandi, an upward journey to Baralacha La through Kelong and Jispa will get you to a height of 4890m. You'll be crossing Kelong, Jispa, Darcha, Deepak Tal, Patseo, Zingzing Bar and Suraj Tal, covering 139.2 km. Suraj Tal is the second highest lake in India, situated just below Baralacha pass.
After crossing Baralacha pass, you start your descent towards Gata Loops (4190m). You'll pass through Sarchu on this leg. It is one of the preferred locations for a night stay. If you're prone to AMS (acute mountain sickness), spend the night at Kelong or Jispa instead of Sarchu. Their lower altitudes will help you get dodge mountain sickness, and you can start early to cover the remaining distance in time. 56.2 km will be included on this section.
Gata loops are famous for the 21 hairpin bends that push you from 4190m to 4630m via a 7 km stretch. From there you continue your ascent towards Nakee la, situated at an altitude of 4740m. There are no facilities or habitats in this area.
Next stop from Nakee la is Lachulung la. You will now enter the second highest pass on the highway, sitting at an altitude of 5079m. Breathlessness, headaches, nausea and uneasiness are common symptoms. Acclimatisation to higher altitude takes time. Avoid any exertion that might affect your breathing process.
A downward drive from Lachulung pass takes you to Pang (4600). From here, you'll encounter plains till Debring (4835m). They are called Moore plains.
Debring to Taglang is a steep ascent, covering 14.2 km. Taglang pass is the highest point on the highway, situated at an altitude of 5328m. Avoid stopping here for any more than 10-15 mins; high altitude can make you feel nauseous.
From here, you begin your last and final descent towards Leh which is located at an altitude of 3500 m. You will pass Rumste and Upshi on your way and reach Leh, covering 108.1 km. By the time you reach Leh, you'll be acclimatised to higher altitudes and will find Leh very pleasing.
Travel Time
Depending on your stamina and body, you can choose to cover the highway in one, two or three days.
If you want to finish the journey in one day, consider factors like acclimatization, motion sickness, exhaustion (you'll be on the road for a minimum of 16 hours), accidents like puncture or engine breakdown and most importantly, the joy of missing out on some beautiful views. Chances of succumbing to ACM runs high. Since you'll be travelling through different altitudes without many breaks, it will eventually take a toll on your body.
The two-day journey is the most preferred by routine as well as first-time travellers. This gives you enough time for acclimatisation and unplanned stopovers. You can start from Manali, early in the morning, on day 1. Spend the night at either Kelong, Jispa or Sarachu. Technically, Sarachu is the middle point between Manali and Leh, but its high altitude is not suitable for everyone. Compared to it, Kelong and Jispa are much better. Start your second day early to arrive at Leh by evening.
The three-day trip is the least preferred option due to time and cost. Two layovers will cost you extra money and time. From the experience point of view, it is more appealing as you can enjoy more places without rushing. You can begin your journey from Manali and reach Kelong/Jispa by evening. Enjoy the local cuisine and surroundings and leave early in the morning for Sarchu. You can either stay at Sarchu or Pang, depending on how you're feeling. Pang is at a higher altitude than Sarchu. Chances of running into AMS are high since you're not fully acclimatized to the altitude. Begin your last leg from there early and reach Leh by evening.
Taxi drivers will charge extra money for two and three-night journey. So, it is preferred if you bring your car.
Road Conditions
Conditions are subjective to weather and season. Although the majority of the sections are safe and well-patched, there are some bumpy section you have to look out for,
Smooth:
Sissu to Keylong, Keylong to Jispa, Jispa to Zingzing Bar, Zingzing Bar to Baralacha pass, Moore Plains to Tanglang La pass, Tanglang pass to Rumste, Rumste to Leh.
Roads to look out for:
Rohtang to Kokhsar, Baralacha pass to Sarchu, Sarchu to Pang, Pang to Moore Plains.
Average:
Manali to Rohtang pass, Kokhsar to Sissu.
Best Time to Travel
Rohtang Pass and Baralacha Pass are open by May end. You can plan your trip from June onwards. You can see the stacks of snow from the previous winter season, and that's why tourists most prefer this time of the year. By the time July hits, the snow starts to melt, and it becomes difficult to navigate through the freshwater passages. The trick is to cross these before daytime. July onwards chances of rainfall are high. Although areas north of Keylong rarely see any rain, if you want to avoid any clashes, hit the highway in August-September slot. September is the last month for a safe visit.
Tanglang La Welcome to the highest point of your journey Tanglang La, the mountain pass with its top at over 5300 m. It provides a scenic view that you could not forget for life. Don't forget to take your cameras and handy cams during your trip because this high motorable pass will offer you incredible views to capture.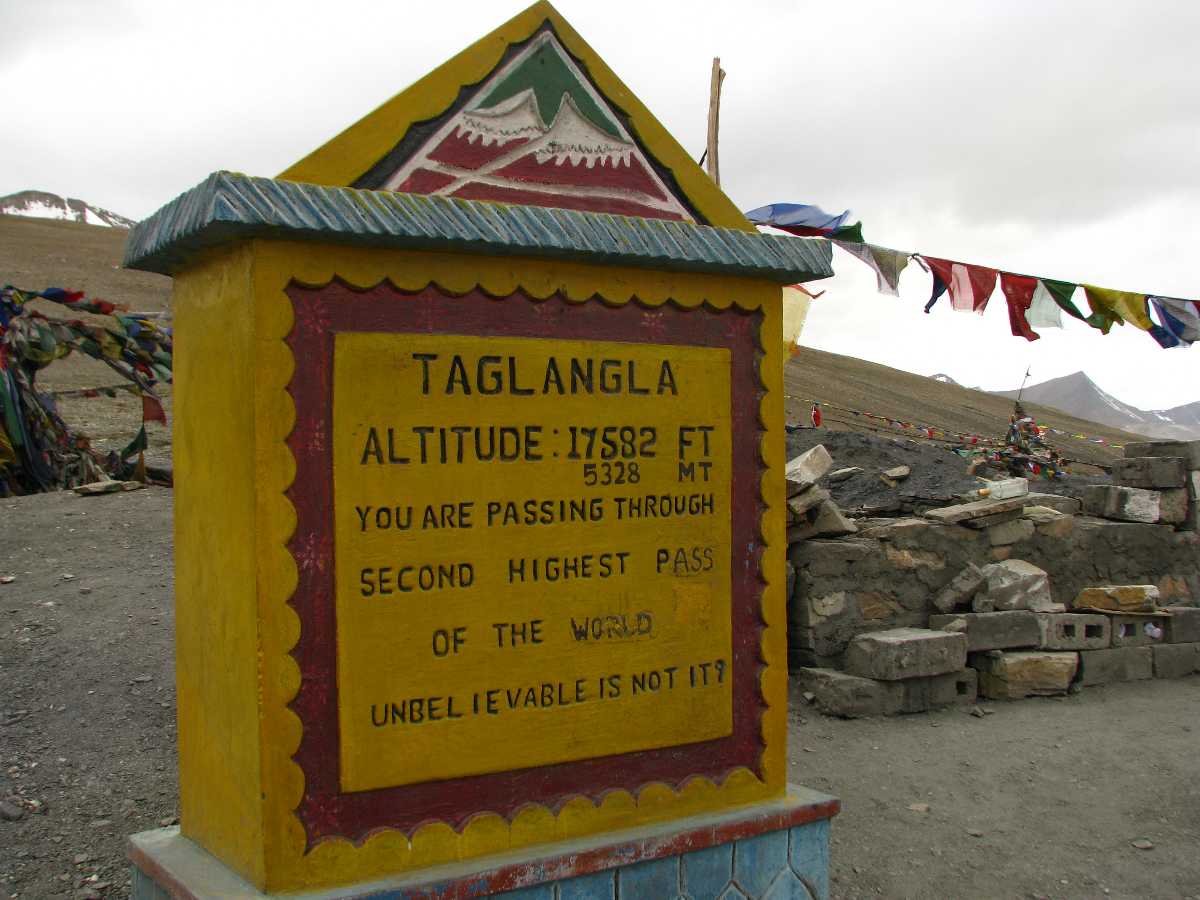 Lachulung La
Now be ready to pass the circular and long, the Lachulung La pass, which was the second pass of the Leh-Manali route. Although, if you have a problem with altitude sickness, then you might face bit problem of breathlessness during the climb. It is one of the favourite passes of trekking and hiking enthusiasts. The tourist buses and taxis take time halt to let the travellers admire the lovely views while crossing this pass.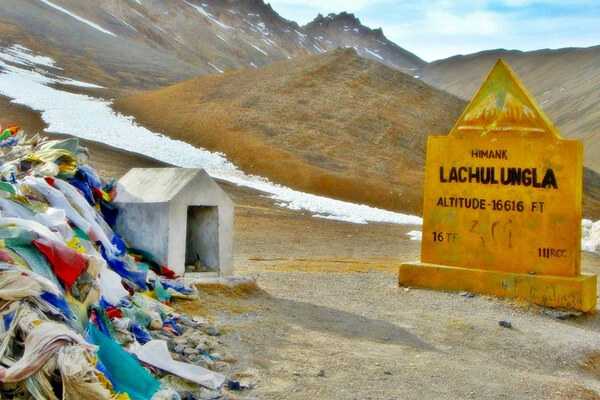 Gata Loops
As you will move forward, one signboard would surely catch your attention- 'Gata Loops Starts'. This is a series of 21 hairpin bends, which prompts to the highest point of one of the most astounding motorable passes in Ladakh district that is Nakee La. "Gata Loops" is famous for its ghost story too. Shocked? Yup, the location is famous for its ghost stories, according to the locals. Several years ago a truck with its driver and cleaner were stuck here sue to extreme snowfall. They were left alone freezing and unfortunately died of hunger. As time passed, locals, travellers passing through that area complained about hearing eerie sounds. Some even said that they witnessed a young man who requested them to lend him something to eat and drink. The rumour spread and people were scared of the ghost who begged for water, thinking that it might harm them if they stopped or curse them if they didn't. To calm the spirit, the localities made a small temple at the spot where he was buried and made offerings of water. Since then, anyone who passes by and is aware of the story leaves some water at the temple, as an offering.
This is not enough, when you are in this way, don't forget to check out the real human skull.

Nakee la
The third pass of your journey Nakee la pass is at the height of 4750 metres. By the time you will reach the third pass of your trip, you will surely spell bounded by the glimpse of the Indus River flowing below. You must be genuinely cautious with the wheels on account of terrible street conditions that could test the patience of even the most experienced drivers. Sometimes heavy rains and snowfalls might block some parts of the roads, as the weather on this zone is unpredictable.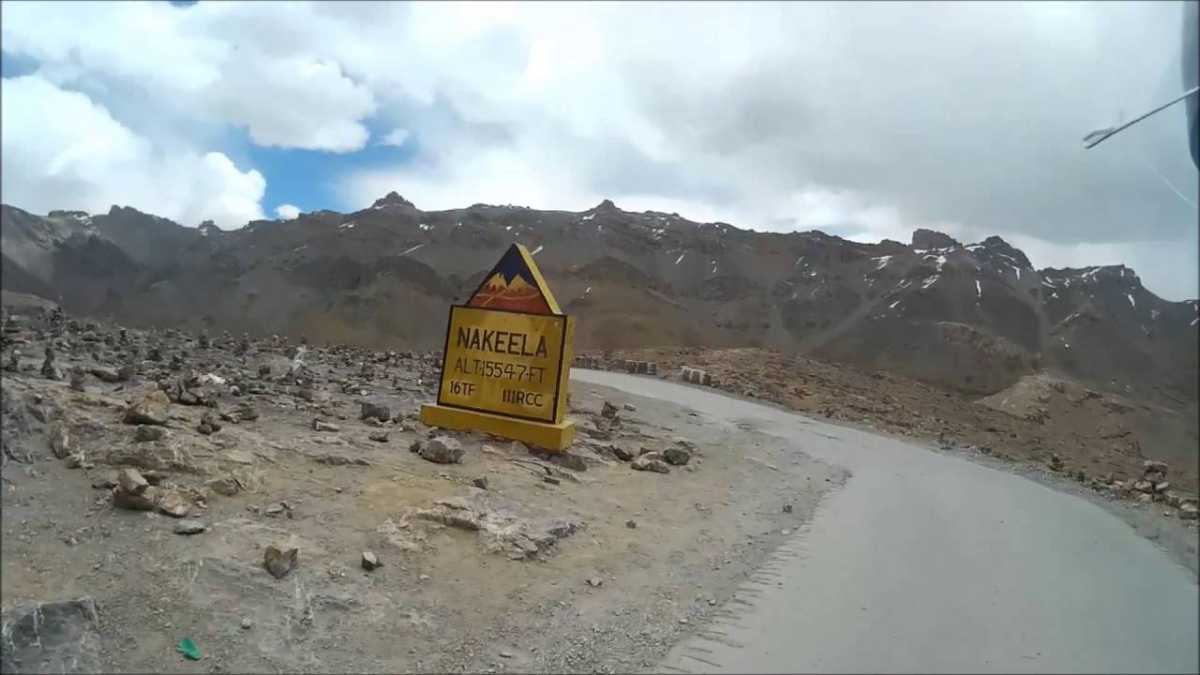 It is one of the high mountain passes in Zanskar range, and it serves as a connecting point between Lahaul and Ladakh. The source of Bhaga River,
Suraj Tal Lake
is situated just a few kilometres from the pass towards Manali. It would be a bonus view of your journey.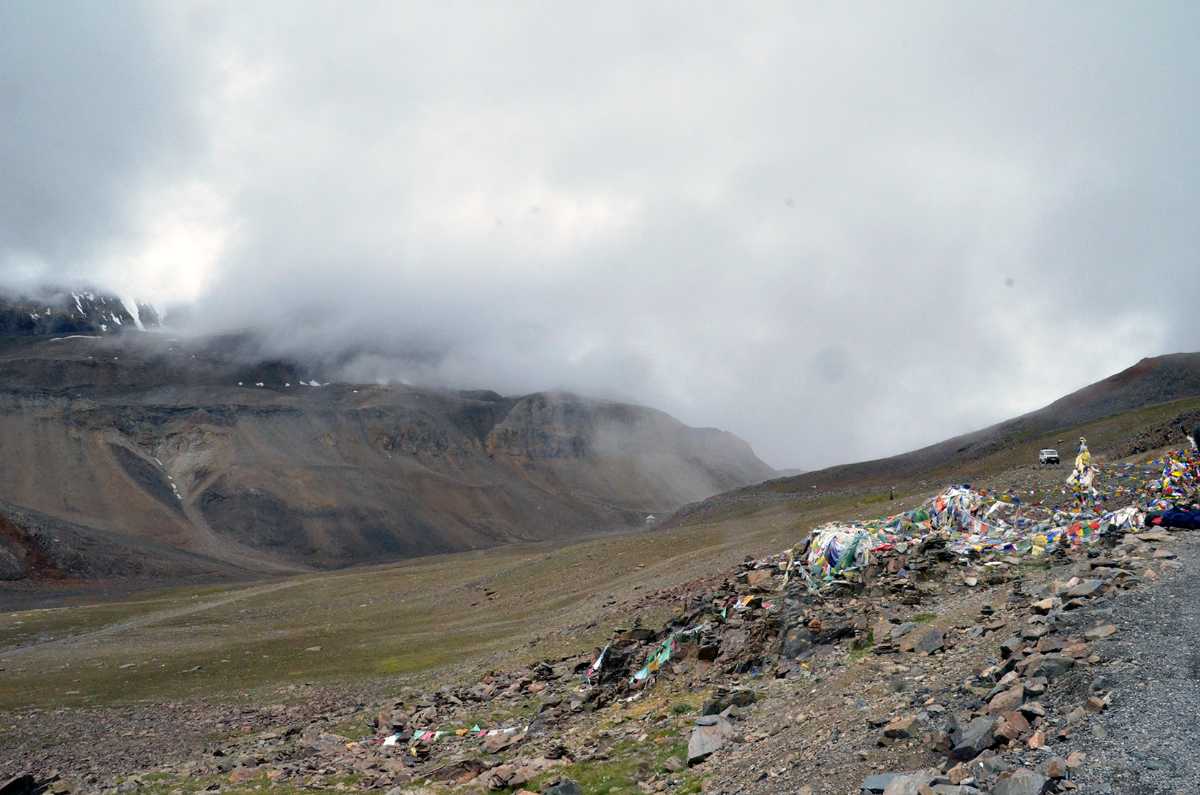 A pass that no driver dares cross at night, a crowned prince of Leh-Manali route. The pass is open from June to October for vehicles and one of the best times to visit
Rohtang pass
is from May/June to October/November. It becomes the hot spot for tourists, travellers, and adventure enthusiasts, as they can opt many exciting and adventure activities like skiing, mountain biking, snow scooter, paragliding, rafting, trekking and the list is endless. While the nature enthusiasts can adore the beautiful views of glaciers, peaks and Chandra river that flows down in the Lahaul valley. Apart from these, you could get a chance to see a waterfall named as Rahala located 16 km from Manali on the way to Rohtang pass.
As the journey comes to an end you would surely flood with memories and experiences, and one of the best parts of these locations are maintained by BRO (Border Roads Organization) of the Indian army, and these routes are capable of handling the most massive army vehicle.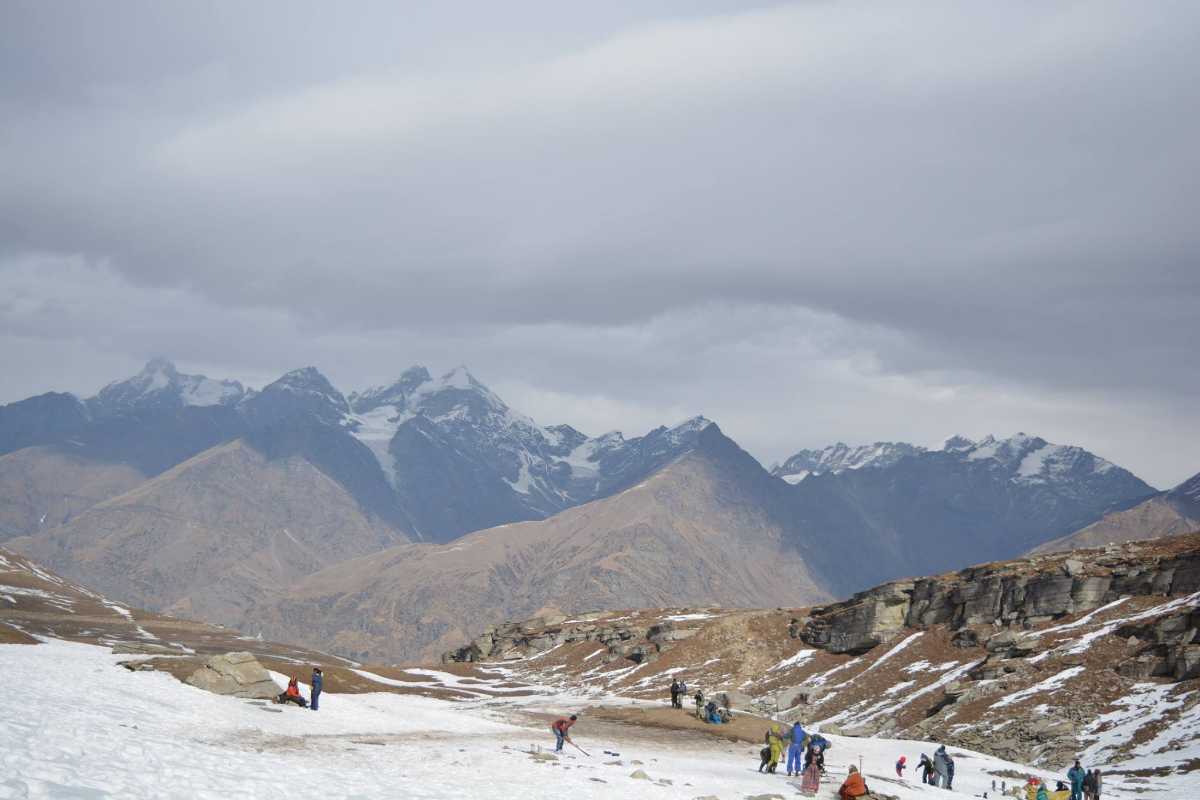 Important Tips For The Leh-Manali Highway Journey
Don't be overconfident or overexcited during your trip as it is your biggest enemy.
Before you all set to travel make sure you are physically and mentally fit and ready to face the challenges during the trip.
Make sure you have your first-aid kit and all essential medicines with you.
Make sure you have all the toiletries like toothpaste, toothbrush, soap, and sunscreen
Carry an extra pair of warm shoes; don't wear sandals and slippers during your journey as it is freezing out there.
Carry warm clothes, thermal liners, rain clothes and rain covers for your bags as be ready to experience bone-chilling cold.
Be sure that you have enough amount of high energy food in stock, carry glucose, chocolates, and other energy food.
If you are in your own vehicle, then make sure you have enough amount of fuel.

So, when are you planning your road trip on Leh-Manali Highway?