Kick-start, ride, rest, repeat! Kick-start, ride, rest, repeat! – More than sums up a motorcycle ride to Leh-Ladakh starting from the plains of Chandigarh.
Nowhere near being called a pro rider, unlike most of the other riders in our group, 10 men and one other woman, me being the youngest of the lot, my motorcycle trip to Ladakh took me through a route most riders tend to avoid because of the sheer harshness of it. Ignoring the comparatively smoother Manali highway, riding through Spiti Valley, covering the most stunning and challenging terrains and some very high passes – Khardung La 5580m, Chang La 5183m, Taglang la 5359m, Baralacha La 4870m, Kunzum La 4550m, a road trip to the heavenly destination to Ladakh is one that you will talk about for the rest of your lives once you complete it.
Now you'd better love your wheels & the open air for this trip, because you're going to be on the road for over ten hours a day, for at least eight days, with speeds sometimes not exceeding 20 kmph, since most of the roads are not really roads, just cut up mountains, sand, gravel and landslide spoils. Then why do it – the sight of the rugged snow capped mountains in between the handlebars, stretches of hovering mountains, riding along raging rivers, riding through calf deep glacial water crossing, taming hair pin turns on mind-boggling inclines & what not ! That being said, riding through the region requires a quest for adventure and a certain amount of mental tenacity.
Until recently, the regions of Spiti & Ladakh required hefty permits & permissions but now with the grant of "inner-line permits" they're slowly opening up & taking these routes has become easier where your planning is concerned. When you take this route, you take some of the most treacherous roads that meander their way through intimidating mountains. You will cross some very high passes ranging from 4500 to 5300 m above sea level & keeping yourself calm, well-hydrated & adequately rested becomes more & more important, or else Acute Mountain Sickness will take all the fun away.
Riding slowly and taking frequent rest stops is a helpful technique that helps acclimatize. But then you also have the very amusing roadsigns by Border Road Organization and the Indian Army that will lighten up your mood with their attempt at wit.
Route : Chandigarh-Shimla-Reckong Peo-Kaza-Keylong-Pang-Leh-Khardungla- Leh
When you start riding upwards starting with Shimla, you will have the hum of the mountain breeze in your ears & the connect with nature song in your heart.


But hold on, nature is about to show you she can be timid too! As you go higher & higher up from the plains below, the roads start to give way to narrow mountain mud & stone paths & you get the feeling that the bulldozers have skirted around the mountains just that once to sit back & snigger saying 'There's your road!' It's just the beginning of realizing why they say that riding through Spiti Valley to reach Ladakh is one of the treacherous or deadliest routes of the world & leaves you with an unforgettable adrenaline rush.
As we progressed further, my bike and I rode along rivers, squeezed into the side of the rugged mountains to give way to army trucks coming from the other side on the narrow terrains, battled hair pin turns on mind-boggling inclines, bore the brunt of paucity of oxygen, waited patiently for bulldozers to clear away landslides and we were loving every bit of it.
When your bike dances on the sandy Himalayan desert terrain happily struggling for a grip and taking you in a completely involuntary direction and roars over intimidating rocky routes, it is your passion that keeps you going. The route to Pangong Tso lake was where we got another taste of some serious off road sand riding, but the view of the sulpher lake with the vast open skies looming over it was inspiration enough.
At every break I took, I now understood the whole point of riding your bike to someplace as challenging as Ladakh for both you and your machine, where both struggle for oxygen and brave the hostile terrain together. It creates a bond with the bike which cannot be put into words. We rode into the clouds and chased the snow capped Himalayas, tamed bottomless drops, and pushed ourselves to reach remote destinations.
There were times when I could not see anyone in my rear-view mirror for miles, leaving me with a feeling like I had been riding on the moon's surface for hours, and still being satisfied and happy at the end of the day.
The feeling when you reach Khardungla Top, the highest motorable road in the world at 18,380 ft is indescribable! The aura of the peak & the thump in your heart is what you will remember forever.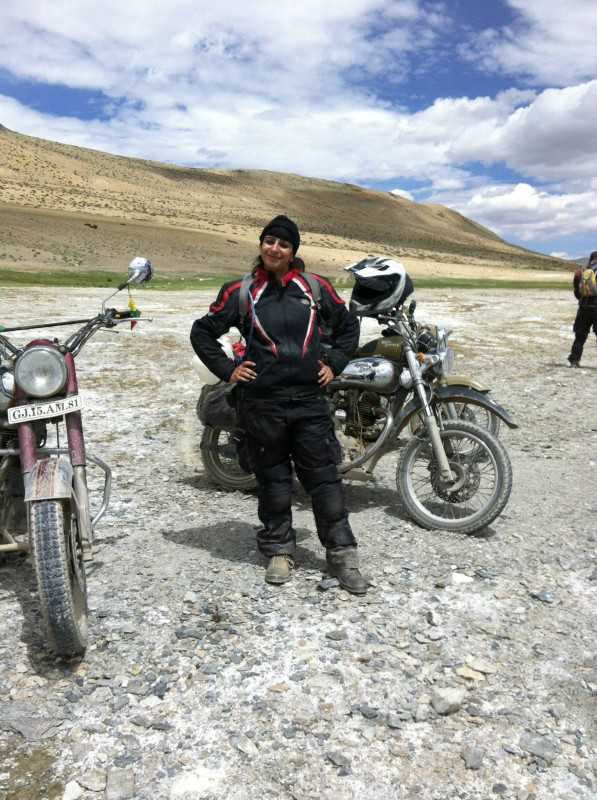 So get ready to bungee your world at the back of your bike & get those petrol canisters ready, because the ride to Ladakh is one hell of a ride & you are going to love it !
If you liked this post, we recommend you to have a look at the 23 must see things in Leh !