"THE SHORTEST DISTANCE TO YOURSELF IS AROUND THE WORLD"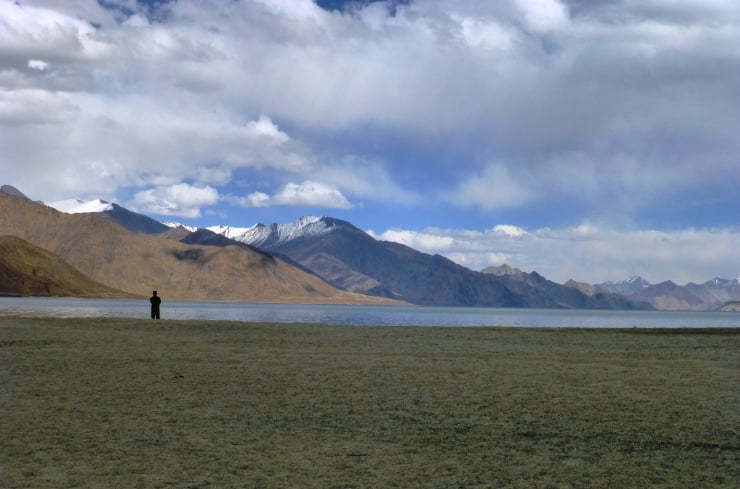 While I was preparing and training for my trip to Leh in June 2013, a number of my friends hoped that this would be a great subject to break the long silence on my blog. I also secretly hoped with them that a vacation in one of the most envied parts of the world would be conducive to shaking up my ennui and pushing me to finally document some of my thoughts in this space I have ignored for sometime. Thus, I packed my diary and camera alongside the pile of clothing that are required to counter the varied moods of Ladakh (I was informed by colleagues and friends that it is the only place where it was easy to get a frost bite and a sun burn at the same time).
The plan was to record some facts for future travellers and intersperse them with my own experiences through the trip. However, my pen through ten days of road travel remained untouched.
I managed to click over a 1000 pictures and yet somehow there was no way I could carry a tangible piece of the place back to the grime in Delhi.
I carried memories instead – trailing conversations through endless masala chais, rapturous laughter and heap loads of silence, some of which I mean to share through this post.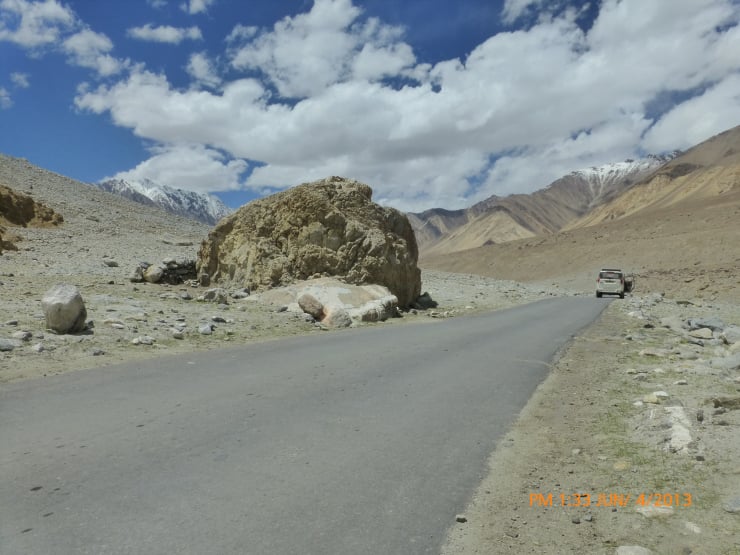 One of the first things that hit me within a couple of hours in Leh, was how tiring it was to accomplish the simplest of things. At 11,500 ft., the mundane act of breathing humbles you, leaving you no other alternative but to slow down- both in your movement and thought. Hence, even though the landscape ensnares with its pristine beauty, you immediately look away breathlessly.
The sun deceives the newcomer through its offer of comfort from the colder air only temporarily. Within a few hours you realize that Leh is like nowhere else you have been before for it doesn't wrap you up in its arms on arrival or offer you a cool beverage. It greets you only subtly through the resounding sounds of the locals mouthing "Juley" for Hello and the lazy life on the streets holding the promise of a peaceful holiday.
We arrived in the early hours of the morning and yet the intensity of the sun belied the time of the day. The next few days were spent walking around Leh, hiking up to monasteries and camping in the cold desert at Nubra Valley, along the waters of Pangong Tso, devouring local food and soaking in the omnipresent chant of Om Mani Padme Hum.
Our time was mostly spent manoeuvring through the highest and harshest motor-able roads, off-roading on numerous occasions, driving through deserts, mountains, valleys and across streams, while my notebook lay abandoned somewhere beneath the pile of ration we had stocked up for our camps.
Through the 2500 kms of our drive in 10 days, I neither came up with one single thought to scribble down about the experience nor did I get down to 'sorting' my life in the solitude of Leh. Because, somehow driving through those hypnotizing landscapes, while singing along with the same songs that played in our car every day I lost all thought, I lost the very need of thought about our 'real lives'.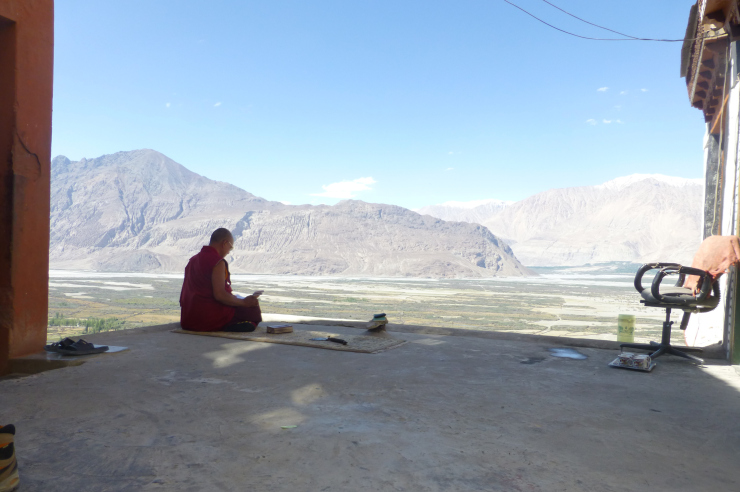 Even through the longest of our journeys, the mind had no desire to inebriate itself with external elements, since it was intoxicated by the expansiveness of what surrounded it. We drank on the laughter and let the invincible winds sway us for effect.
Sometimes we danced in the sun with only the desert and quirky road signs for an audience or took refuge in an expected nook in a monastery, exchanging giggles with the young monks.
In a few days our 'urban eyes' began to spot movement of a lone bird camouflaged in the landscape, and catch the little sounds in the waters of the placid lakes at night. In a few days there were no thoughts that occupy our troubled lives, only sensations that numb out in our mundane existence.

Go to Ladakh but as a traveller and you'll see that it is not for the ordinary eyes. It only slowly lets you break into its hostile shell, only if you have the commitment of a determined lover and the aspiration to love it in its entirely- through its boundless beauty and unforgiving harshness.
Through its barren landscapes and the patches of green. Through its intermittent warmth and perennial chill.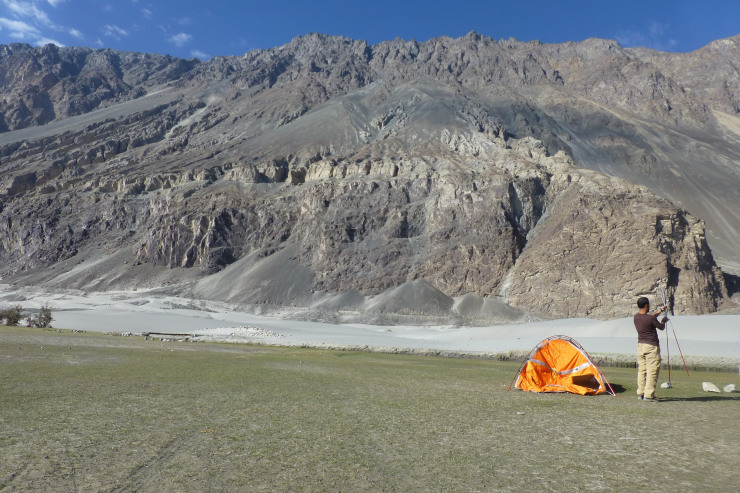 For most people, travel offers the surest respite from the lunacy of our city lives or a much needed adrenaline rush outside of the mundane. It can either bring people together while they forge shared memories over bottles of Sula Red or pull them apart by bringing to the surface their differences while figuring out itineraries.
Travel is the quickest vehicle to help us ride out of reality but sometimes it becomes a polished mirror that can bring up an uncluttered reflection of yourself. Ladakh gave me innumerable such moments of reflection, to see finally a part of myself that I could keep forever, and a part that was to be left behind somewhere in the breathtaking beauty of the More Plains.
A part of myself that still finds its solace through the insanity of life, from the single night spent sharing stories along the Pangong Tso.

This entry has been shortlisted for Holidify's Travelogue Writing Contest in association with Linger. The content and pictures may not be used without prior permission of the author.
Submitted by: Neetika Wahi
The original post can be found here.