Visiting the home to magical plains and temples, Thailand is a popular tourist destination that everyone wants to visit at least once in their life. The good part is that people with a keen interest in road trips now don't have to compromise by going to this beautiful city through air. With the construction of India-Myanmar-Thailand Trilateral Highway in 2016, Thailand - the country popularly referred to as the 'Land of Smiles' due to the hospitality and warmth that is shown by Thai people to its tourists can now easily be visited by road.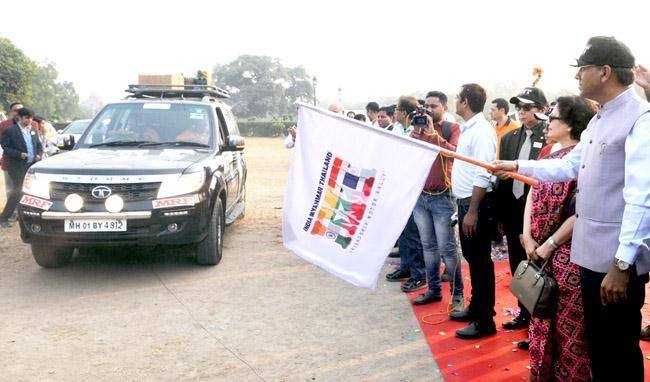 With warm rays of the sun on your skin, your favourite music genre blasting in the background, the calming breeze of fresh air, scenic views of the mountains situated in the northeast, coupled with the company of your loved ones, this road trip is bound to be nothing short of becoming the most memorable time of your life. But with all the advantages, this journey will also come with some challenges; one of them being the long distance travel of approximately 4,305 kilometers. 
Credited to India's Look East Policy, the India-Myanmar-Thailand Trilateral Highway now connects Moreh (a town situated on the India-Myanmar border) and Mae Sot (a city in westermn Thailand) via Myanmar. Post the construction being completed, a car rally was flagged off by the three countries' governments in order to raise awareness of this highway from New Delhi, which was led followed by travel to Guwahati, Manipur, Myanmar to finally reach the capital city of Thailand - Bangkok.
Route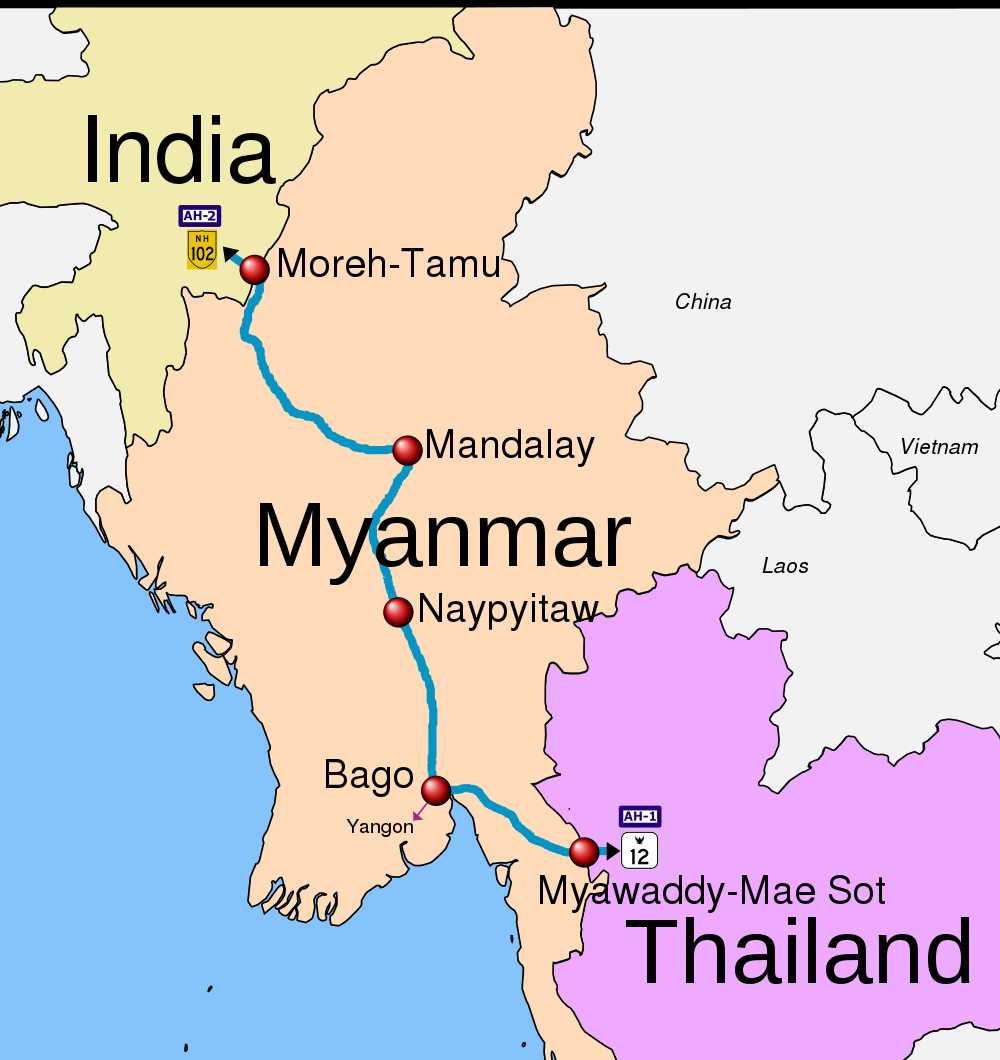 Venturing through the India Myanmar Thailand Trilateral Highway, you can easily seek direction through maps available online. The following is the route that you will be following in order to reach Thailand:
Moreh (Manipur) ⇨ Mandalay (Myanmar) ⇨ Naypyitaw (Myanmar) ⇨ Bago (Myanmar) ⇨ Myawaddy-Mae Sot (Myanmar) ⇨ Tak (Thailand) ⇨ Bangkok (Thailand)

Number of Days and Expenses
The entire journey should take you a minimum of about 87 hours (i.e. almost 4 days) but this would obviously extend depending on how fast you drive and the number of stops you make while traveling. Excluding the various document costs and shipping charges of the vehicle from Thailand, this trip should cost you anywhere from 4.5 to 5 lakhs (including sightseeing, visas, fuel, stay, and meals). 
Best Time for the Road Trip
The best time for going on this road trip is between November and February, which marks relatively cool months in India, Myanmar as well as Thailand. With the monsoon season just beginning to cease, Myanmar experiences an onset of the dry season. The road conditions are favourable, the country is relatively uncrowded, and the overall weather is cool. The cool and dry air in Thailand also makes it an ideal weather to visit all the tourist attractions and have fun with your loved ones
Currency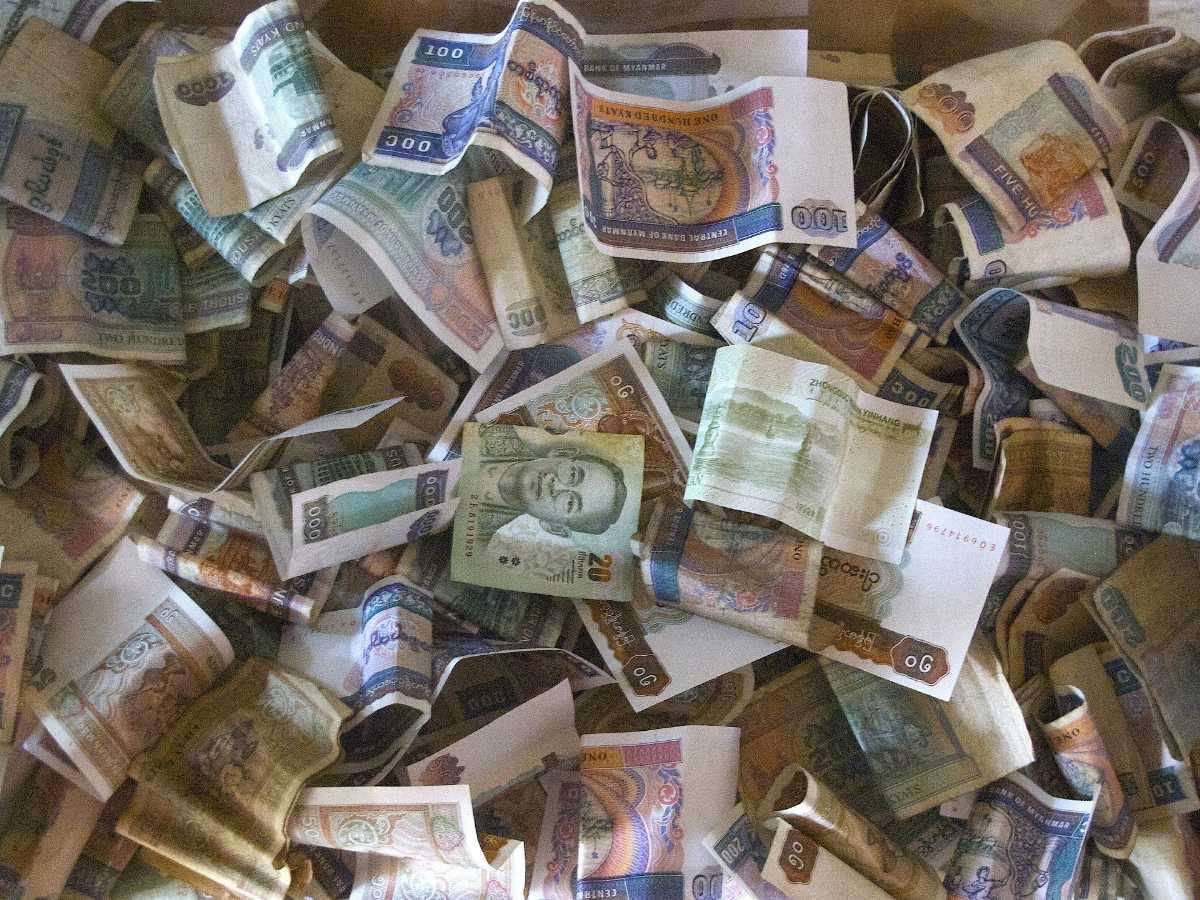 Some extra cash is a must for this road trip; you should especially carry Myanmar Kyat in case in order to pay taxes or if you end up wishing to buy some items along the way. 1 MMK is about 0.05 INR so you can take some money with you or you will easily find some ATMs in towns such as Yangon and Bagan; though you can expect to be charged an extra fee of about 400-500 Kyat. Also, it should be noted that credit cards are only accepted at a few places in Myanmar.US dollars are easily accepted almost everywhere in Myanmar as well as Thailand. 
Similarly, you should at least carry about 10,000-20,000 Thai Baht with you or you can alternatively carry some Thai currency with USD. Note that 1 Thai Baht equals approximately 2.29 INR and tourists can also exchange currencies at the local market.
Vehicle Service and Shipment
Make sure that you get your vehicle serviced before you are leaving for this road trip as you will be traveling across three different countries and you definitely would want your vehicle in a top-notch condition before you set out. You should also carry with you all the spare parts that you think may be useful to you such as extra tyres, jerry can with extra fuel, air pump, puncture kit, etc. Also, if you do not know how to change tyres, you might want to learn it before you hit the road so that you are able to do so if the time comes.
Also, upon reaching your destination, you will be left with two options; one, you can either make your way back to India following the same route that you followed to reach Thailand and second, you ship your car back and take a flight back to India. Ensure you get in contact with the vehicle shipping agent and make a booking in advance so that your car gets shipped back as soon as possible and don't have to waste your time there searching for a good agent.
Must Carry Documents For This Roadtrip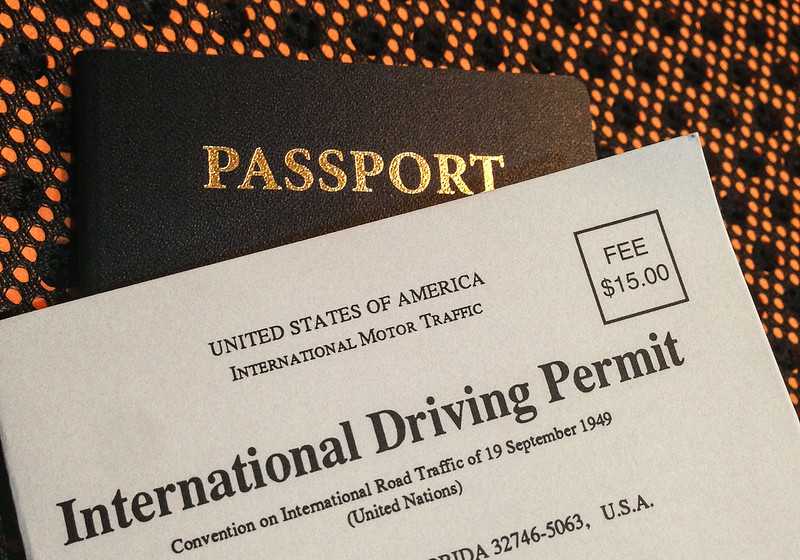 International Driving Permit-
Recognized as one of the most valuable and significant documents all over the word, International Driving permit is a document that verifies a motorist as a legally licensed driver in whichever country they are traveling to. While IDP is not mandatory for Indian citizens traveling to Myanmar, it is advisable to carry it with you to avoid any situation with Myanmar political groups or authorities. Also, a license is essential as without it, IDP is not considered to be valid. Moreover, IDP also comes to be useful when you are renting a car in your country. 
Passport-
Similar to when you are traveling to different countries by air, you will need to carry a passport that is valid for at least 6 months, from the date of your arrival.
Carnet-
Carnet De Passages en Douane (CPD) or Carnet, as it is commonly referred to, is a document required by the Automobile Association of India for vehicles that are required if you are traveling to another country. It acts like a passport and assures the custom authority that your vehicle is only temporarily imported and will come back in time within the country boundary. 
In order to gain a carnet, the travellers are required to pay a non-refundable fee, which depends on the value of your car. For example, the carnet for a car with the value between 1 and 5 Lakh costs about Rs 20,000. Additionally, you will have to pay 200 % market value of your vehicle as a security deposit, which can be refunded later when you are back from your trip; though it can take up to about 6 months to get this deposit back.
Special Overland Permit and Permission-
This document is necessary if you are driving through Myanmar and you need to apply for it one month in advance so plan accordingly.
Visa on Arrival or e-Visa-
It is absolutely necessary that you apply for either e-Visa or Visa on Arrival before you set out to visit Myanmar. If you are opting for Visa on arrival, you will easily be able to download the application form upon searching on the Internet and follow the step-by-step guideline disclosed by the Myanmar authorities to complete the process. It is said that e-Visa is a much better option as it enables you to avoid long queues and you can straight away go to the immigration desk.
Travel Insurance-
Make sure that you get travel insurance before you set out on this road trip in case you come across any unfortunate unforeseen incidents. The insurance will prove to be of great help and protect you from hefty costs provided there is some accident.
Temporary Driving License for Myanmar - International Driving Permit (IDP) is not accepted in Myanmar so you will be required to apply for a temporary driving license so that you can drive around the country without any issues.
Vehicle Documents-
If you are travelling by your own vehicle, then you need to carry your vehicle's original registration as well as other legal papers along with you. In case you are setting out on this road trip on a rented vehicle, make sure that you have rental agreement forms with you as proof of possession of that vehicle.
Note: It is absolutely mandatory for tourists to have a local travel guide as well as a lead car, that is approved by the Ministry of Myanmar Tourism, with them at all times until they finally reach the Myanmar-Thai border. This is because the country has a bad language problem which will make it difficult for travelers to read sign boards. A confirmed hotel reservation is also required for the ones venturing on this road trip.
Other Essential Items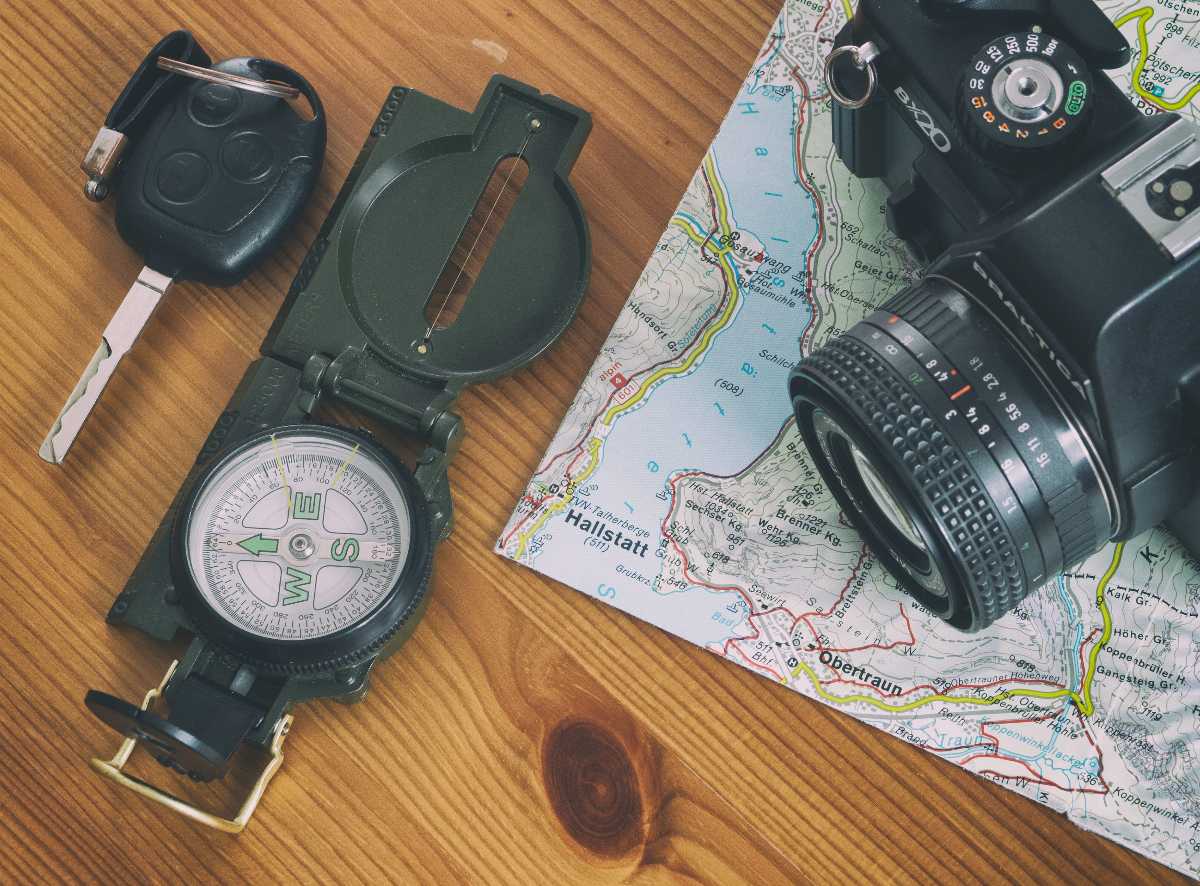 Driver's License is a must since you will be required to show it at almost every checkpoint. Upon reaching Thailand, you will not be issued a Thai license if you are just visiting the country on a holiday so you can make use of your Indian license for driving in this country given that your license is valid and you have your International Driving Permit (IDP) with you.
You must carry a guidebook of the countries so that it is easier for you to maneuver around the new places and locate the tourist attractions that you wish to visit.
If you have any illness, make sure to take all your medications with you; in fact, take some extra so that you don't face any problem if you are not able to acquire them in the area where you are staying. It is also a good idea to research about all the diseases such as Dengue, Malaria, and Plague that are prevalent in Myanmar as well as Thailand so that you are always protected against them. Don't forget to keep a basic first-aid kit in your car, which will be extremely helpful in case of any emergency.
Other than the aforementioned items, there are obviously some things that are common as well as most significant when it comes to Road trips. This includes a great camera so that you can capture all the stunning and picturesque views that you may come across. A good and sturdy backpack (preferably waterproof) is also an essential item so that you can take it along with you if you decide to trek for a bit. 
Some good canned food, snacks and drinks must also be carried in case you end up craving something in wee hours of the night in an unfamiliar city.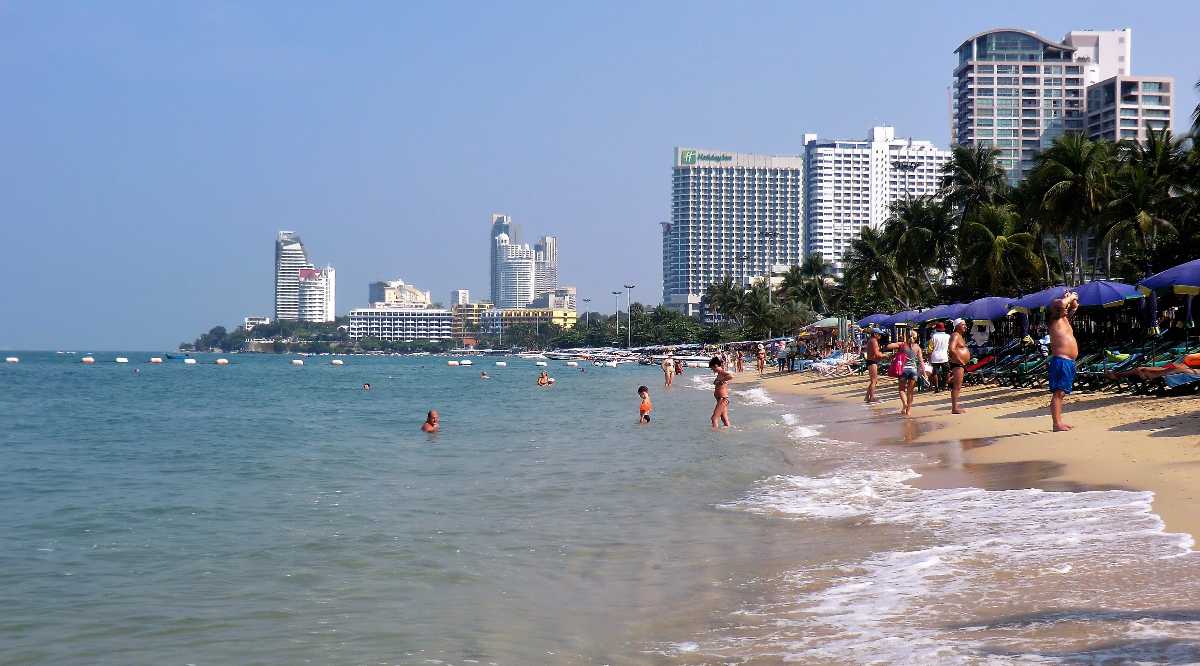 When you do end up finally reaching Thailand, you can just imagine the feeling of pride and achievement that will rush over you for being the few ones who have ended up executing this trip. While there is a little chance that you will forget any part of this amazing and eventful journey, you should make sure to click as many pictures as possible just in case. Also, the key to make any trip memorable lies in research so don't think that you will just decide what to do when you reach the country. 
Read about people's experience, the places that are must-visit in Thailand, the stunning hidden nooks, as well as about the ones that are overrated. Prepare an itinerary scratch from when you are required to send out applications for the required documents to the places that you will be visiting when you finally reach Thailand. From stunning white sand beaches to ancient temples, there is a lot to do in this country so make the most out of it!