Planning a honeymoon mixed with relaxation and fun?
Krabi
in
Thailand
is the destination for you. Regarded as one of the world's top honeymoon destinations, a honeymoon in Krabi is perfect for you to unwind after the hustle of your wedding ceremony. Krabi has a pristine natural charm and you can indulge in numerous leisure activities together. Facing the Andaman Sea, this archipelago has all you need for an amazing kick start to your journey together. Here's our guide for you to plan a romantic honeymoon in Krabi with the love of your life.
Why Have a Honeymoon in Krabi?
Krabi is bestowed with a luxurious landscape with secluded beaches, sea caves, limestone cliffs, waterfalls, and hot springs. It is blessed with exotic wildlife and marine life along with a horde of adventure activities for you to enjoy. You can enjoy a relaxing honeymoon in Krabi as it is less crowded compared to other places in Thailand. Pleasant weather, comfortable stay and adequate privacy – your honeymoon in Krabi is surely going to leave you with romantic memories for a lifetime.
Here Are the 16 Things to Do in on Your Honeymoon in Krabi
1. Relax at Railay Beach and the Caves

One of Thailand's most sought after beach, Railay Beach is a peninsula which is accessible only by boats. You can relax on the gorgeous white sand beaches or walk around to explore the mesmerizing viewpoints, caves and limestone cliffs. The serene beauty of this beach cuts you off from the world's bustle as there is no traffic on the island. You can add some adventure to your honeymoon in Krabi by indulging in fun activities such as rock climbing and snorkelling.
2. Snorkelling in Crystal Clear Waters and among Colourful Marine Life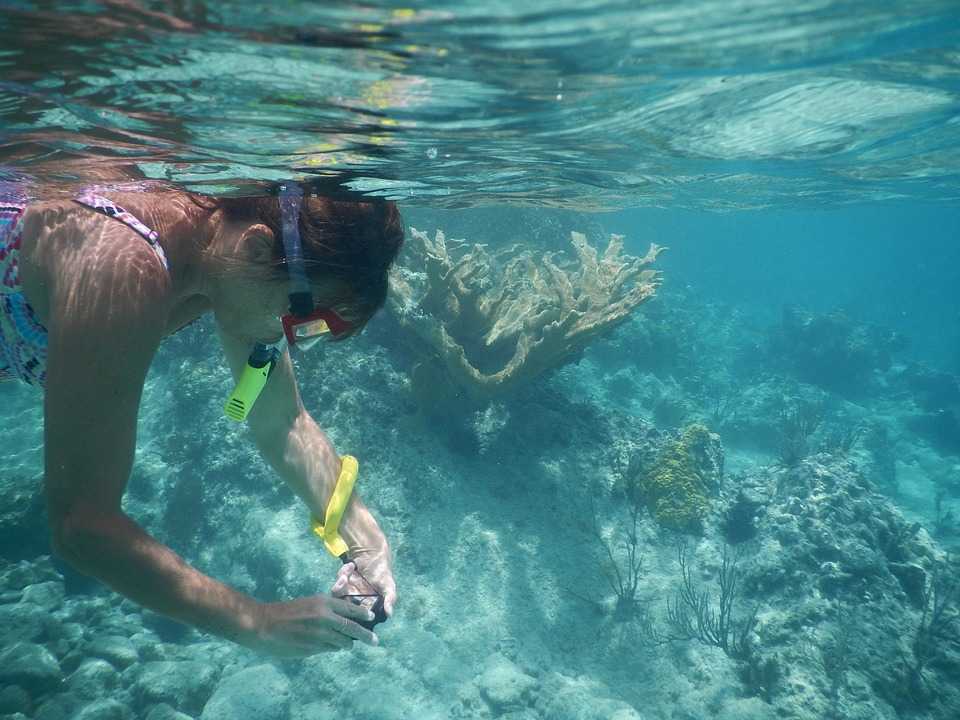 Snorkelling is an excellent activity to try when in Krabi. You can explore the rich marine life and witness beautiful corals, underwater rock formations and mesmerizing sea creatures by diving into deep-sea waters together. There are several dive shops all around the place, and the water at some points is quite shallow, making it safe even for first-timers.

You can take a walk around Thung Teao Forest Natural Park, which is home to many rare species of animals and birds. The forest also houses a pool of clear turquoise waters, known as the Emerald Pool due to its unique colour. Enjoy a refreshing swim with your soulmate in the mineral-rich water and spend the rest of your day hiking in the forest.

Koh Lanta is an offbeat island district two hours away (about 70 KM) from Krabi. It offers you all the privacy you would need on your honeymoon in Krabi, accompanied by balmy weather, picturesque beaches, mangroves, and stunning coral reefs. The crystal clear water allows you to experience marine life by scuba diving quite easily. The loving locals with their warm hospitality, the unpretentious nightlife and quirky street shopping options cater to you and your partner's whims and fancies on a tropical vacation.

Tiger Cave Temple, also known as Wat Tham Sua is 5 km northeast of Krabi. The historic temple comprises of natural limestone caves with tiger footprints in the main cave and is famous for the panoramic view it offers. The summit of the temple houses a large statue of Buddha and the 'footprint of the Buddha', and you wouldn't want to miss seeking Buddha's blessings on your honeymoon in Krabi. You can reach the summit by hiking the 1237 steps leading up to it and enjoy the 360-degree view of the Andaman Sea, lush rainforests and outstanding limestone cliff formations. The hike is a bit exhausting, but the temple is going to astound you with its immaculate carvings, while the Buddhist chanting will calm you from within.
6. Soothe Your Soul with a Thai Massage

A trip to Krabi would be incomplete without a spa session. You can opt for soothing massage packages for couples and pamper yourselves. Thai Massages are known to relieve stress and stimulate blood circulation leaving you more energized for the rest of your honeymoon.
7. Kayaking at Ao Thalane

Ao Thalane is a village 20 kilometres north of Krabi Town. It has beautiful mangrove forests, caves, and karsts. You can rent a kayak and explore the narrow canals, surrounded by stunning mangroves and beautiful limestone caves. Kayaking on calm waters together and experiencing nature closely makes it an ideal setup for a romantic honeymoon in Krabi.
8. Get Intimate with Krabi Town

During your Krabi Honeymoon, you can get the taste of authentic Thai food at Krabi Town while you can also go shopping at the local night markets. You can experience Thai culture and hospitality while you hang out at the bars or even at small eating joints. You can also visit the beautiful Wat Kaew KoraWaram, which is one of the largest temples in Thailand. The temple has intricate architecture and beautiful sculptures along with a scenic background.
9. Go Island Hopping in Krabi

Krabi Province has over 150 islands providing you with plenty of options to explore. You can book the four island tour and visit the iconic landmarks of Krabi. You can take a speedboat to Koh Gai, Koh Poda, Koh Mor, and Koh Tub. You can capture the beauty of the landscape in your pictures here and make memories of your honeymoon in Krabi. The crystal clear water is ideal for snorkelling. You can enjoy a swim at the white sand beaches or just walk around to explore the islands together.
10. Enjoy a Hot Bath at Klong Thom Hot Springs

The Khao Phra Bang Khram Nature Reserve, located 70 kilometres from Krabi Town, is house to the natural hot water springs of Klong Thom. This place is a must-visit on your honeymoon in Krabi if either of you is a nature lover. Here you can bathe in the therapeutic hot water which is rich in minerals while enjoying the beauty of the lush rainforest around you.
11. Hike Up to Khao Ngon Nak Viewpoint

Add some adventure to your honeymoon in Krabi and hike along the Tab Kak Hang Nak Nature Trail. Hike for around 3.7 kilometres to reach the Khao Ngon Nak Viewpoint (also called Dragon Crest Mountain) to enjoy the 360-degree view of Krabi.
12. Enjoy the Sunset on a Luxury Cruise

Indulge in true luxury on your honeymoon in Krabi. Take a luxury cruise on the Andaman Sea and feast over exotic food and drinks. Watch the surreal sunset with the love of your life and capture the captivating beauty of the iconic landmarks of Krabi.
13. Ride a Longtail Boat to Khao Khanap Nam Mountains

The limestone mountains of Khao Khanap Nam are the most remarkable landmark of Southern Thailand. These twin peaks are approximately 100 meters high, and they are famous for the magnificent caves inside them. The caves have beautiful stalactite and stalagmite formations in them along with a display of archaeological finds. On your honeymoon in Krabi, you must book a longtail boat ride to the twin mountains and be mesmerized by their beauty.

You can take a speed boat to reach the famous Phi Phi Islands, which have spectacular beaches with turquoise water. The Phi Phi Leh and Phi Phi Don islands are popular tourist spots due to their stunning scenery and diverse marine life. You can book a camping tour to Phi Phi Islands and spend quality time with your significant other on your honeymoon in Krabi.
15. Chill at Ao Nang Beach

Being the true tourist spot of Krabi, Ao Nang has all things to add the party vibes to your honeymoon. You can relax and sunbathe on the beach during the day and enjoy the nightlife while partying by the sea all night long. You can taste amazing Thai food and cocktails at Ao Nang.
16. A Romantic Beach Dinner Under the Stars

Surprise your better half with a romantic dinner date by the beach at Ao Nang. Several restaurants organize intimate dinners for couples. You can create the perfect atmosphere with candles, exotic dishes and drinks to make your honeymoon in Krabi memorable for your loved one.
Best Time to Visit Krabi
The best time of the year to visit Krabi is from November to March as the weather is most pleasant during this period. Krabi has tropical weather conditions round the year. The months from May to October record the highest rainfall and are the hottest too. You can also consider visiting Krabi during April to celebrate the Songkran Festival, which is the Thai New Year.
This unexplored tropical paradise in Thailand is the best destination for a romantic getaway. Blessed with elegant white sand beaches and serene natural beauty Krabi is the perfect backdrop for a dreamy honeymoon.