As an emerging tourist destination in
Thailand
,
Krabi
is frequented by a lot of tourist year-round. Subsequently, there has been a rise in the markets and malls due to higher incentives for tourist and shopping in Krabi. So let us take a look and discuss the nuances of the various shopping options of this beautiful city.
Read on for a list of our favourite places to indulge in shopping in Krabi:
1. Vogue Department Store, Krabi


Located in the heart of the town, the Vogue Department Store is a three-storey building with a Shopping Plaza lavishly placed in its basement. Vogue is reputed for selling branded and designer labelled goods. The store has products such as clothes, toys, shoes, electronic gadgets, electronic gadgets, etc. There are a gaming room and a karaoke-mini-room in one corner of the plaza. Excellent eateries like KFC, The Pizza Company, Swensen's and Watson's are also there to help you refuel after a long day of shopping.
Location: 76/1 Maharaj Road, Tambon Pak Nam, Amphoe Mueang Krabi

Timings: Monday to Thursday: 10:00 AM to 9:00 PM; Friday to Sunday: 10:30 AM to 9:30 PM
2. Klong Muang Plaza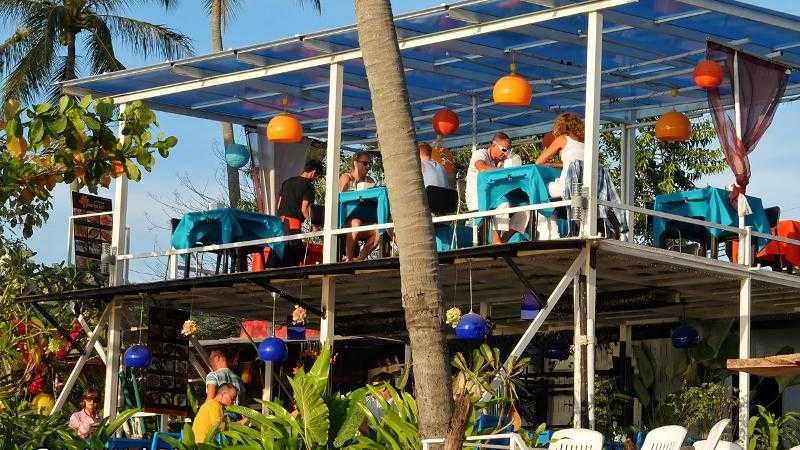 A pack of antique and handicraft shops, messages and beauty parlours, cafes and boutiques, the Klong Muang Plaza is quite different from the other shopping areas of
Bangkok
. The atmosphere is this place is relaxed, calm and quiet. Massage parlours available to destress the soul before indulging into shopping. The plaza also contains a couple of restaurants and a nice cosy bar owned by Nut and Annie.
Location: Nong Thale, Mueang Krabi District, Krabi 81000, Thailand

Timings: Remains open only on Sunday and Tuesday from 3:00 PM to 7:00 PM
3. Victoria Fashion House


A destination for shopping in Krabi which has gained massive popularity in the recent past for its handmade goods, the Victoria Fashion House is deemed to be of professional quality and sells top quality items to its customers. The quality of the clothing material is top-notch. One can get custom suits made here. A measured suit takes approximately only three days to be prepared and handed over to the customer.
Location: 6024, Tambon Nong Thale, Amphoe Mueang Krabi

Timings: Monday to Sunday: 10:00 AM to 10:00 PM
4. Big C Mall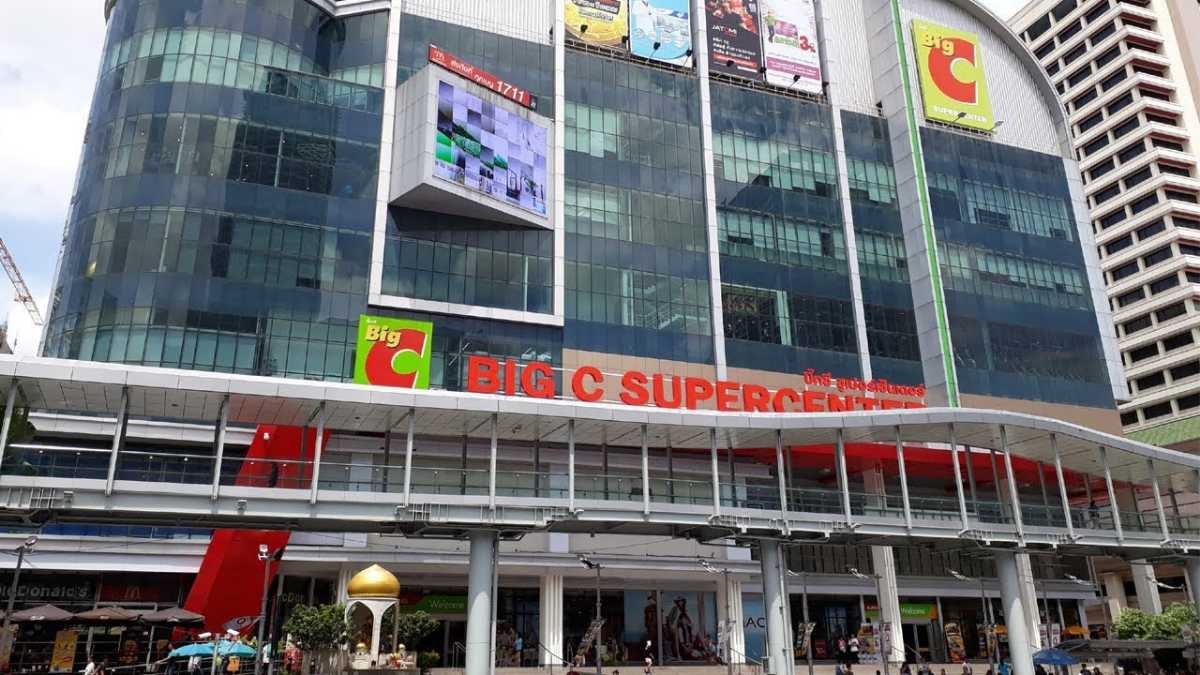 Big C is a standard red and green shopping mall which is found throughout the city of Krabi. This mall deals in a wide range of products varying from washing machines, electronic goods, fresh and preserved food, cheap clothing, children's toys, etc. The striking feature of this chain of malls is that it sells products of brands like Bata, KT Optic, BIg Camera at a much lesser price than the other stores. These malls also host several restaurants at its food court. They generally have enormous spaces for parking, a bank with an ATM and public toilets.
Location: 34911 Phet Kasem Rd, Tambon Krabi Noi, Amphoe Mueang Krabi, Chang Wat Krabi 81000, Thailand

Timings: All days from 8:00 AM to 10:00 PM
5. Pooja Tailor


Recommended by many tourists and travellers, the Pooja Tailor's shop is said to serve its customers with great care and the utmost attention to minute details. They sell women's, men's as well as kid's wears. The quality of their clothes are high, as has been reviewed by several customers from all across the globe.
Location: 36/10 moo three Klong Muang Beach, Nong Thale, Mueang Krabi District

Timings: Monday to Sunday: 10:00 AM to 11:00 PM
6. Outlet Village Krabi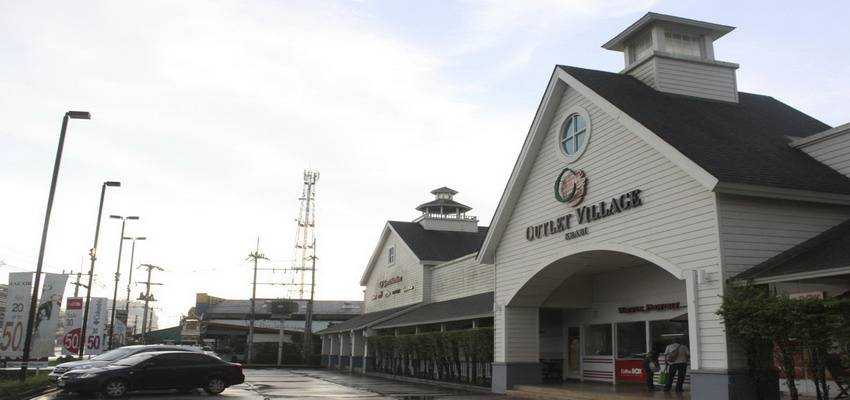 The Outlet Village of Krabi is an ideal shopping destination with tons of brands having around 40% discount on most of the items. It hosts branded stores like Adidas and Nike. A non-resident of Thailand would receive tax refund upon purchases. Try to plan shopping for at least three people to make the most out of this place.
Location: Moo 11 888 Phet Kasem Rd, Tambon Krabi Noi, Amphoe Mueang Krabi, Chang Wat Krabi

Timings: All days from 10:00 AM to 8:00 PM
7. Ao Nang's Catalunya Walking Street


Opened in 2007, the Ao Nang's Catalunya Walking Street is an L-shaped lane that resembles a marketplace. This street is ideal for shopping in Krabi and is accessible through the three entrances, namely the TMB Bank branch of the Beach Road, a Haagen Dazs outlet and the Sitti Cafe. The street is marked by dozens of small shops and stalls selling a wide variety of souvenirs including Buddha Masks and statues, traditional Thai fabrics, candle-holders, etc. It also sells T-shirts, swimwear, etc.
For food, we recommend the Tex-Mex restaurant, which even features daily live music from 7:30 PM. Apart from this, the Blue Orchid is a must-visit which serves Mexican and Thai dishes as well as pizzas, kebabs and burgers.
Location:

At the southern corner of

Ao Nang

Beach Road

Timings: Monday to Sunday: 10:00 AM to 10:00 PM
8. Sabai Ba Bars and Souvenirs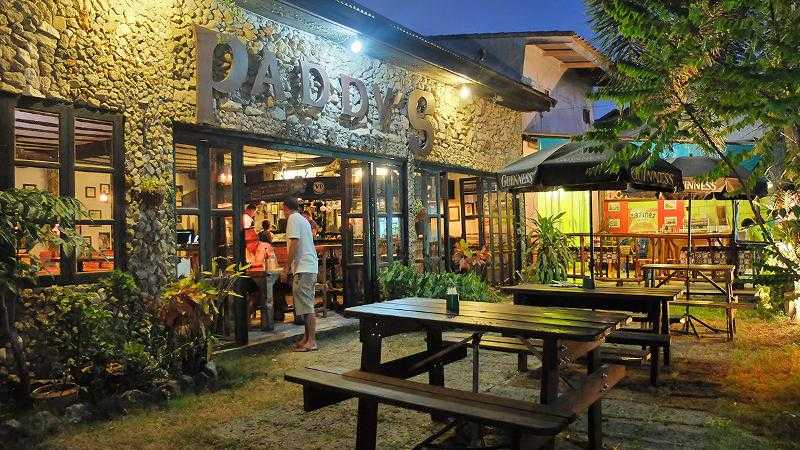 Located in close vicinity to the Tubkaak, this restaurant cum bar and souvenir shop offer a wide range of recycled materials and fabrics. The bar has a limited option of Thai and International delicacies which include spring rolls with shrimp at 120 bahts to spaghetti seafood at 220 bahts. The garden of this place has a special Arabian Night's touch featuring Thai cushions, small tables and beautifully coloured draperies. The place also sells souvenirs resembling Thai style handicrafts made of wood and ceramic.
Location: 3P5X+F9 Nong Thale, Mueang Krabi District, Krabi, Thailand

Timings: All days from 10:00 AM to 10:00 PM

Referred to as one of the best night markets in Krabi, this place is stunning and has a brilliant atmosphere, fantastic food and drink stalls at incredibly affordable prices as well as entertainment. One can find a handful of t-shirts, local crafts and souvenirs as well as stalls selling a range of items varying from bracelets to electrical goods at affordable prices. There are plenty of Chicken Skewers or Pad Thai to try out too.
A unique programme takes place over here every Friday to Sunday when a live performance is presented on a large centre stage which brings this night market to life.
Note: Be a little cautious regarding fake items sold here.

Location: Maharaj Rd, Tambon Pak Nam, Amphoe Mueang Krabi
10. Krabi Souvenir Shop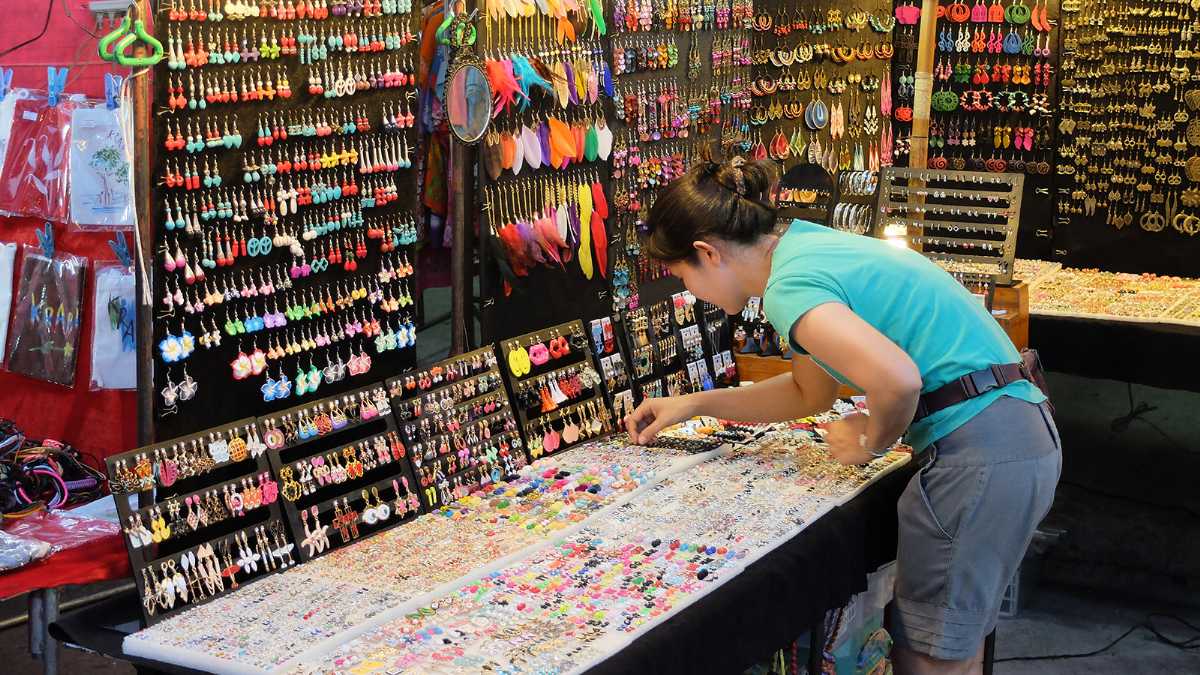 This shop is one of the newer souvenir shops in Krabi which excel in the sale of a variety of souvenirs in the form of local handicrafts, cookies, cakes, preserved food, t-shirt and many more. The food souvenirs of this place are especially worth the deal. The packaging is excellent, and the items are kept away from dust. The prices are slightly on the higher side against the advantage that one gets everything under the same roof.
Location: 4 Tambon Sai Thai, Chang Wat Krabi

Timings: Everyday from 8:00 AM to 6:00 PM
11. Maharaj Market

Also known as the 'morning market', this place is flooded with exotic fresh goods like rice, spices, chilli paste, colourful fruits, meat, fish, etc. Several food stalls also sell ready to eat meals and drinks at minimal prices. This market is the right place for fresh grocery shopping in Krabi. A visit to the Maharaj Market is a lifetime experience since it is a perfect glimpse of daily life in southern Thailand.
Location: Soi 7 off Mahajan Road in downtown Krabi

Timings: Monday to Sunday from 8:00 AM to 12:00 AM
12. Ban Nateen Local Handicrafts Centre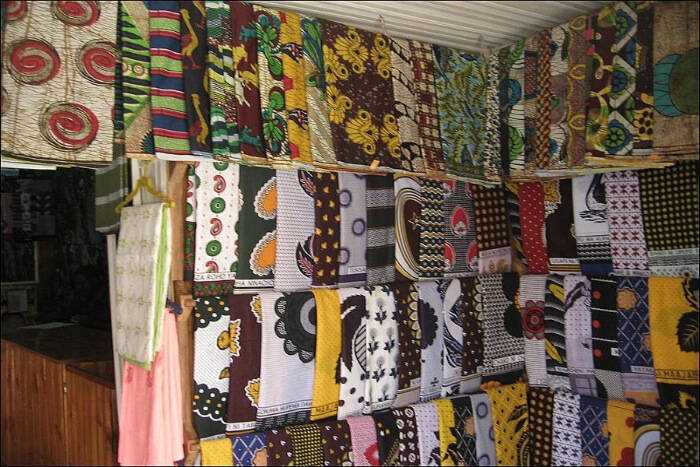 This place is a cultivation field turned shopping hotspot which deals in traditional batik clothes and handmade crafts. Visiting this place will not just be a shopping episode, but would also expose you to the locals and allow them to experience their culture and lifestyle.
Location: 5/4 Moo 4 T Muang, Ao Nang, Thailand

Timings: Open on all days from 10:00 AM to 6:00 PM
13. Chock Dee Handmade Jewelry Shop
If you are looking for a place in Krabi for your jewellery shopping, then this place is the perfect answer to your needs. The shop deals are great jewellery, and its service is unparalleled. Their jewellery are work of art, precision and uniqueness. A must visit if gifting your loved ones is awaited.
Location: 142/6 Moo 2 Tambon Ao Nang, Amphoe Mueang Krabi, Chang Wat Krabi

Timings: All days from 10:00 AM to 6:00 PM
What to Buy in Krabi
If you are shopping in Krabi for souvenirs to take back home to family and friends, here's a list of items you must take back home with you:
1. Handicrafts and Local Products:
Thailand boasts of its skills in handicrafts and handmade products. Krabi is no exception to this. On a typical day of shopping, you will encounter thousands of products, both contemporary and traditional, offered for sale. These are mostly made up of bamboo, cane, silk, wood, paper, ceramic etc. The variety of handicrafts usually oscillate from the depiction of animals like elephants to bead bracelets, mango wood plates, etc. It does not matter as to where these items are purchased from as skill level, and expertise remains unaltered throughout.
Popular places to buy handicrafts in Krabi: Krabi Town Walking Street, Ao Nang Walking Street, Vogue Department Store, Klong Muang Plaza, Big C Mall, Outlet Village.
Price Range: 20 bahts to 200 bahts depending on the quality of the product
2. Authentic Jewellery in Krabi: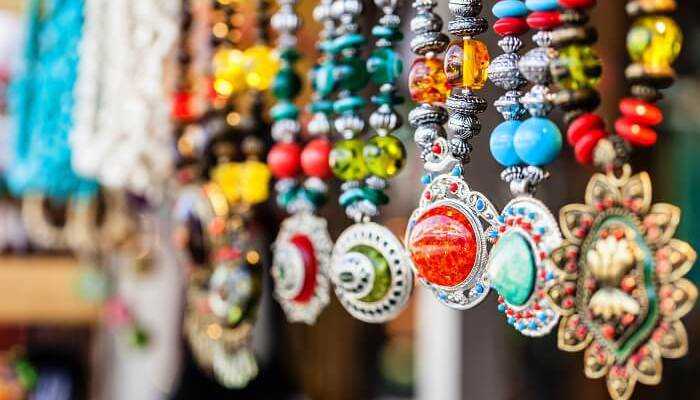 Cheap authentic jewellery are sold by almost all of the local shops in Krabi. These include beaded, wooden and leather bracelets, chokers and necklaces, stylish earrings, etc. The shell fossil souvenir stands are highly in demand by local as well as foreign tourists. In addition to that, the market is flooded with pearl jewellery, which are thoroughly cheap and the prices of which can be further reduced through bargaining. An exciting place to visit is the jewellery workshop are Dragonfly Silver, which shall teach the basics of jewellery making and allow to create one's special piece at their garden workshop. The golden jewellery shops can be identified by the bright red interiors and their displays. They usually provide a buyback guarantee making it reliable and trustworthy.
Popular Places for Jewellery shopping in Krabi:
Krabi Walking street: Cheapest jewellery available
Chok Dee on Ao Nang Beach Road: Popular for silver designs
Fish Silver Jewellery: Specializes in silver jewellery
Price Range:
Jewellery prices start from 20 bahts and keep on increasing due to superior quality and designs.
3. Knock-Offs:

Counterfeit goods bought at low costs are an excellent way to show off without leading to a pinch in your pocket. These sort of products can usually be found at the beachfront areas. Replicas of bags, sunglasses and watches of branded companies can be found at much lower costs. The Ao Nang's Street is loaded with such goods.
Price Ranges: Vary according to the products. Prices are flexible and can be quickly brought down through effective bargaining.
Tips When Shopping in Krabi
Sharpen your bargaining skills as you can get a good deal of it to get the most out of your shopping.
The markets are bustling and hot during the peak hours of 7:00 pm - 8:00 pm. So if you happen to visit them during this part of the day, be patient and be prepared for a crowd.
For a comfortable experience, it is preferable to start shopping by 5:30 pm.
Be aware of fake goods being sold under the tags of high rated brands.
Have a great time shopping in Krabi at these fantastic places. Shop to your heart's content and because of the affordable nature of Krabi's shopping scene, binge a little bit!