"Paradise on the Earth"
Jammu and Kashmir Tourism At A Glance
Popularly known as the "Paradise on the Earth" the state is world famous for its scenic splendour, snow-capped mountains, plentiful wildlife, exquisite monuments, hospitable people and local handicraft.
Your trip to Jammu and Kashmir will be the most fulfilled and memorable journey ever as the state not only appeals you with its scenic beauty and snow-covered mountain ranges but the adventure sports will take you to a different world. Nestled in the Himalayan, Pir Panjal and Karakoram mountain ranges is renowned for its natural beauty and gentle people. Jammu and Kashmir is dotted with the most beautiful mountain peaks, massive glaciers, splendid monasteries, blue lakes, rivers, forests, verdant meadows and tall pine trees.

While Sports like Skiing, golf, trekking, river rafting, paragliding, camping make the trip to Jammu and Kashmir more adventurous, Amarnath and Vaishno Devi attracts large number of pilgrims every year. Dal Lake, Kashmir Valley, Khardung La Pass, Gulmarg, Shalimar bagh are some of the major attractions of the state. The unparalleled beauty and charm of the state and the sweetness of it's citizens will remain etched in your memory forever.

Srinagar

Ladakh

Vaishno Devi

Gulmarg

Amarnath

Jammu
View Top Places to Visit in Jammu and Kashmir >>
Local Food and Cuisine of Jammu and Kashmir
Kashmir's cuisine has two distinct dimensions that comes from the two separate food cultures followed here. One is the food of Kashmiri Pandits, which is cooked without onion or garlic and is largely vegetarian. The other one is the food popular in Muslim households and an extension of which is another Kashmiri cuisine which fosters slight Tibet and other foreign influences.
Kashmiri Pulao, Kashmiri gravy, Momos and preparations of mutton, chicken are quite famous across the country. More than 30 preparations of mutton are eaten in the Kashmir valley and that makes it the most common ingredient here. Different forms of drinking tea constitutes another important culture in Jammu & Kashmir making it the most used beverage after water. Kashmiris are also very fond of desserts and a lot of Kashmiri dishes are also slightly sweet in nature, notably the Pulao and gravies. Kaah'wa is a one of a kind Kashmiri tea prepared with spices that make it impossible to resist.
Top Attractions In Jammu and Kashmir
What's Great?
Jammu and Kashmir is exotic and is rightly called heaven on Earth. One cannot travel to J & K all year long as the weather is rather cold and gets freezing in the winter months.
What's not so Great?
The constant unrest in the valley poses a great threat to the tourism sector.
For Whom
It makes for an excellent destination for couples and is among popular honeymoon locations in the country. Other than that, families also travel to Kashmir and Vaishno Devi for holidays and pilgrimage. Trekkers, backpackers, solo travelers and all travel enthusiasts in general have Ladakh on their wish lists.

Jammu and Kashmir Photos
Jammu and Kashmir Tour Packages

Alluring Srinagar | 3 Days 2 Nights
Staring from Rs. 6,400

Graceful Gulmarg & Srinagar | 3 Days 2 Nights
Staring from Rs. 7,627
People and Culture of Jammu and Kashmir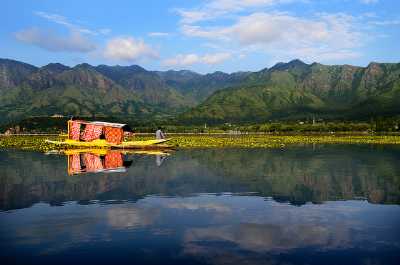 The people of Jammu and Kashmir are as beautiful and pure as the state itself. Far away from artificial feelings, and deception of life they are simple, loving and affectionate. Majorly Hindu, Muslim and Buddhism are the three religions followed by the people of Jammu, Kashmir and Ladakh respectively. While Urdu is the official language of Jammu and Kashmir state, the other languages spoken here are Kashmiri, Ladakhi, and Dogri. Eid-ul-Fitr, Baisakhi, Lohri and Hemis Festival are the main festivals of the state and they are celebrated by people of all faiths together with same enthusiasm.
Geography of Jammu and Kashmir
With its location in the north, Jammu & Kashmir is often called as the crown of India. It can be essentially divided into three parts - Jammu, Kashmir and Ladakh. While most of Kashmir is covered with forested slopes, waterways and terrace fields, Jammu area has a mix of plains and mountains, and Ladakh is largely a majorly isolated cold desert. All of J&K is exquisite in terms of the scenic beauty and rich diversity in varieties of flora and fauna. Geographically, it shares borders with Punjab and Himachal in the South, and international borders with China in the North and East and is separated from Pakistan by the Line of Control.

History of Jammu and Kashmir
The city of Jammu is said to have been founded by Raja Jambulochan in the year 2900 BC. It has found several mentions in Indian epics like the Mahabharata. Years later, in Akhnoor, the excavations revealed evidence of the state being a part of the Harappan civilization. Evidence from the Maurya and Gupta period have also been found here. Jammu- Kashmir has seen the rule of multiple rulers in succession majorly dominated by the Hepthalites, Kushano- Hepthalites followed by the Shahi dynasty then Ghaznavids, Timur, Mughals and Sikh before the final submission to the British rule.

The Dev dynasty is said to have ruled here for the longest and is considered responsible for having kept the city in isolation hindering its development. This, however, is said to have been revived by the Dogra rulers who are credited for building the infrastructure and educational facilities here. However, in the year 1947, as is known, the decision by the then Maharaja of Kashmir Hari Singh to sign the instrument of accession which made J&K a part of India has been the source of tension between India and Pakistan for decades now. As a member of the Indian Union, under the article 370 of the Indian Constitution, Kashmir has been given a special status as per which the state has its own constitution. This was adopted in the year 1956 but only came into effect on January 26, 1957. Kashmir is the only state to have its own flag which can be hoisted with the flag of the Union of India.

Kashmiri Carpets
One of the most popular items from the local handicraft industry is the Kashmiri carpet. Tourists from various parts of the country and outside are usually in awe of the intricate details and craftwork on these carpets. Mostly, they are made of silk or wool or an amalgamation of both and come with a cotton base. Kashmiri carpets are handwoven and take a long time to be made given the intricate designs and delicate handwork on these beauties. Budget wise, they fall on the expensive side but come with a guarantee of adding value to your interiors.
Phirans
When in Jammu & Kashmir, 8 out of 10 locals you meet tend to look similar in terms of what they wear. Phiran is a local garment that is widely worn in the state by men and women alike. A long gown made of wool, a phiran is the most common garment you will find in the possession of the locals. While for women, phirans come with designs on the neck and sleeves, for men, the fabric changes slightly, usually simpler and darker in colour. These are worn with fancy tarangas on their head by women as men wear turbans and skull caps.
Hemis Festival
Imagine a splash of vibrant colors in the snow-clad valley of Ladakh. Hemis festival is the biggest festival of Ladakh celebrated in honour of Guru Padmasambhava?s birth anniversary. Every year in the 5th month by the Tibetan calendar, the lamas and locals come together to celebrate the victory of good over evil. It is especially known for the world famous characteristic masked dance. All participants wear masks and move around slowly to the music of drums and trumpets. Tourists come in huge numbers to participate in the vibrancy of the celebrations.

Read more about Festivals of Jammu and Kashmir