The food of Padang consists of a multitude of aromatic spices and fresh, native herbs that makes it extremely delicious to the point where it is considered to be the best cuisine in the world. The typical Padang dishes are cooked in a very extensive manner and usually found in 'warungs', small, family-owned restaurants. Rendang, ranked as the best dish in the world by CNN Travel in 2011 has its roots in Padang.
This dark beef curry is cooked for many hours combined with coconut milk and many varied herbs. Visit the Resto Selamat to relish the best Rendang. Sate Padang, another cherished Indonesian dish is made of fresh diced beef or lamb that is grilled over hot coconut shell charcoal. Head to Sate Danguaang to taste this unique sate.
Gulai Paku or fiddlehead fern curry is an ideal dish for the vegetarians; the plant is cooked with coconut milk and some aromatic herbs such as cumin, chillies and ginger. This dish tastes great when eaten with steamed rice and fried tofu.
You're sure to find this dish at Kedai Ketupat Gulai Paku Supik Simp. Other famous dishes of Padang are Ikan Balado, Kalio Daging, Sambal Cabe Ijo, Ayam Pop Padang, Gulai Kepala Ikan and Dendeng Balado among others.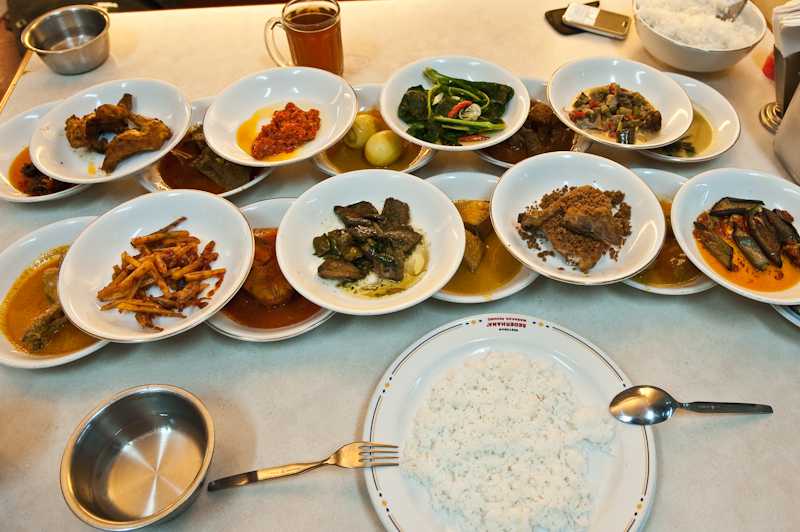 One of the most popular things to do in Padang is to go to places where they serve a huge range of dishes on a table and you are only to pay for what you eat. The experience is unparalleled!