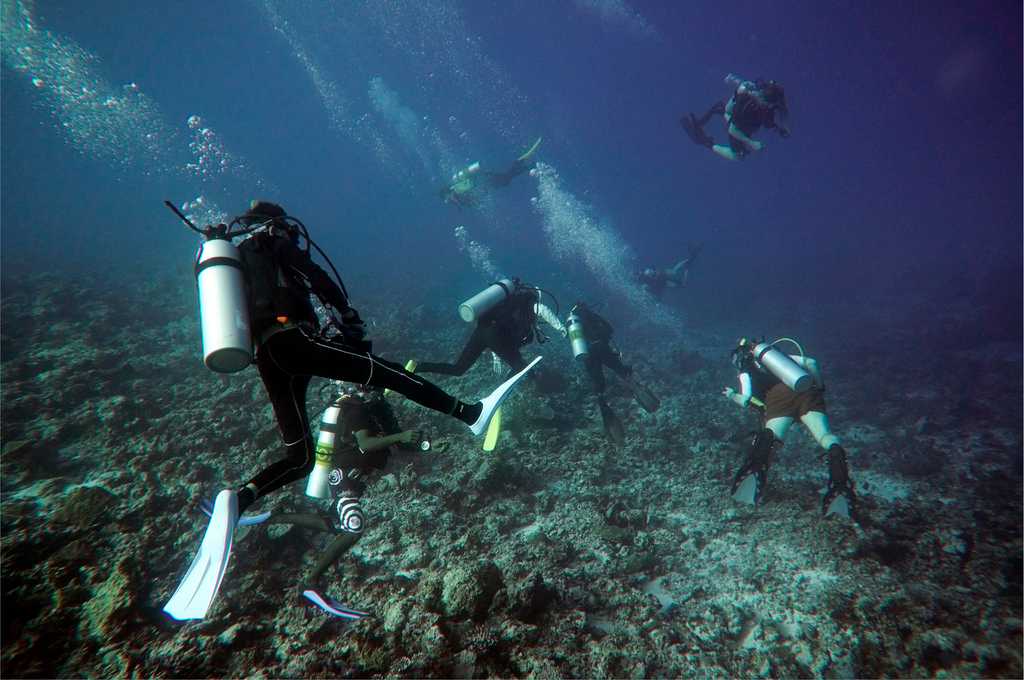 1. Felidhoo Atoll

Felidhoo Atoll is probably the best site in the whole of Maldives to experience the raw wildness of the hammerheads. It is located in the eastern part of the archipelago and is also known to contain the easternmost point of Maldives, Fohtheyobodufushi Island. The capital Male is at a distance 65 kilometres from here, and the journey takes 90 minutes by speedboat (or) 5 hours by a slow boat.

2. Rasdhoo & Kuramathi Island, Alif Alif Atoll (North Ari Atoll)

The inhabited Rasdhoo island along with the less populated Kuramathi island is virgin. It is said to possess some of the best dive centres in the country. The world famous hammerhead shark point is a mere 5-minute boat ride away from Kuramathi island. The island is approximately 60 kilometres from the capital city. Speedboats take 1 hour, and public ferries take close to 3 hours to cover this distance.

3. Veligandu Island, Alif Alif Atoll (North Ari Atoll)

Located at a 5-minute boat ride away from Rasdhoo island, Veligandu is a compact pristine island with an area of just around 20 acres. The Veligandu Island Resort is the only resort on the island, and they conduct scuba diving and snorkelling excursions.

4. Kuredu Island, Lhaviyani Atoll

Known for its rich marine biodiversity, Kuredu island is world class when it comes to adventure sports such as snorkelling and diving. Other than the hammerhead shark, there is also a strong probability of encountering whale sharks, reef sharks, manta rays, and stingrays. Lhaviyani Atoll is the northernmost tourist resort in Maldives, and usually, tourists visit here via flights from Male.

5. Fuvahmulah Atoll

One of the southernmost and smallest atolls in Maldives, Fuvahmulah is an island city famous for crystal clear visibility of the seas surrounding it. It is a hotspot for shark gatherings, namely reef shark, silvertip shark, whale shark and hammerheads. Scuba diving here is best suited for people with at least an intermediate level of experience as the currents here are challenging and less suitable for beginners.

6. Sun Island, Alifu Dhaalu Atoll (South Ari Atoll)

The immaculate crystal clear views of the ocean make Sun island the perfect destination to enjoy the company of hammerhead sharks and whale sharks. These gigantic creatures usually turn up in huge numbers just off the coast. The plus point of scuba diving here is that one does not need prior experience and can be attempted by anyone willing to relish the underwater treasures of the sea.

7. Dhidhoofinolhu, Alifu Dhaalu Atoll (South Ari Atoll)

Dhidhoofinolhu is one of the longest islands in Maldives, measuring 1.8 kilometres by 200 meters. It is possible to witness whale sharks here all year round, along with hammerheads and other species. There are more than 50 world-class dive sites around the island.

8. Maaya Thila, Alif Alif Atoll (North Ari Atoll)

Although Whitetip reef sharks are more in number here, hammerhead sharks also turn up on a regular basis. Stingrays, barracudas, nurse sharks, reef sharks etc. also thrive here. This is one of the best dive sites in Maldives.

9. Guraidhoo Island, South Male Atoll

Located on the eastern corner of the South Male Atoll, the tiny island is one of the best places to encounter sharks and other marine life. Turtle snorkelling is quite famous here. Male is located at a distance of 30 kilometres north of Guraidhoo, and it is accessible only via boat.