Bollywood and the magic of Indian cinema is famous worldwide and loved by all. Bollywood Parks Dubai is the 'first theme park dedicated to the B-town' in the world! Built in Dubai Parks and Resorts, it is the perfect location to learn and experience what goes into making a film and how the industry works. The Bollywood inspired park is perfect for everyone who loves action, adventure, romance, comedy, mystery, thrill and loves singing and dancing to the groovy music. This Dubai attraction is perfect for clicking and posting pictures as the beautiful Indian décor, henna artists, posters and mannequins of stars, and colourful live performances are once in a lifetime experience and you're going to cherish it forever!
The park is divided into five different zones and lets you have the best of evergreen Indian cinema.

Rustic Ravine brings the real India, i.e., the rural India to life. This zone is full of farms, huts, banyan trees and live-local performances to present to you how the village-life is. It is made up on the lines of famous film Lagaan.
The Royal Plaza Zone looks spectacular with its Rajmahal theatre and the classy Broadway-style Bollywood musical show. Sumptuous food at the Mughal-E-Azam, Bollywood dance show Stars on steps and Bollywood dance-off challenges are popular here.
The Bollywood Boulevard is famous for its cute cafes and restaurants and also for the Crossroads show which features Bollywood hit performances!
Mumbai Chowk looks no less than the streets and chawls of the dream city Mumbai. Roam around the chowk and discover the amazing street food and the dons or taporis who are ready to entertain and introduce you to the life in Mumbai!
Bollywood Film Studios introduce you to the art of film making and production and also provide 4-D theatre experiences and dancing workshops to learn and enjoy at.

Places to Explore
1.
Lagaan: The Thrill of Victory
, based on Aamir Khan's film Lagaan, portrays a game of cricket against the Britishers. The exhibit has a perfect village-setup and shows farmers and the rural living. It is a roller coaster stimulated game which gives you the best view of the match.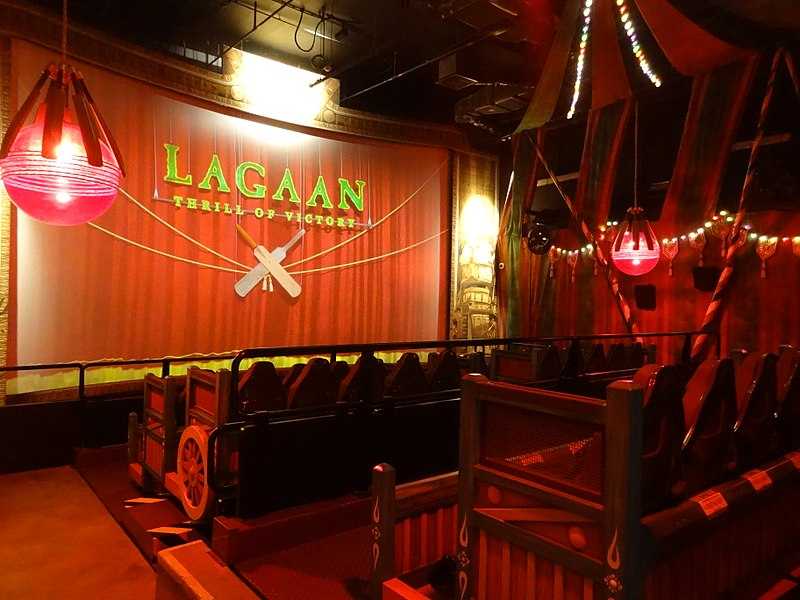 2.
Champaner Cricket Carnival
is another Lagaan inspired attraction which consists of Ferris wheels, carousels and games of cricket. You get to experience the Indian rural life and also engage in several games such as- hitting the cans, catching the chickens and throwing balls inside a tub.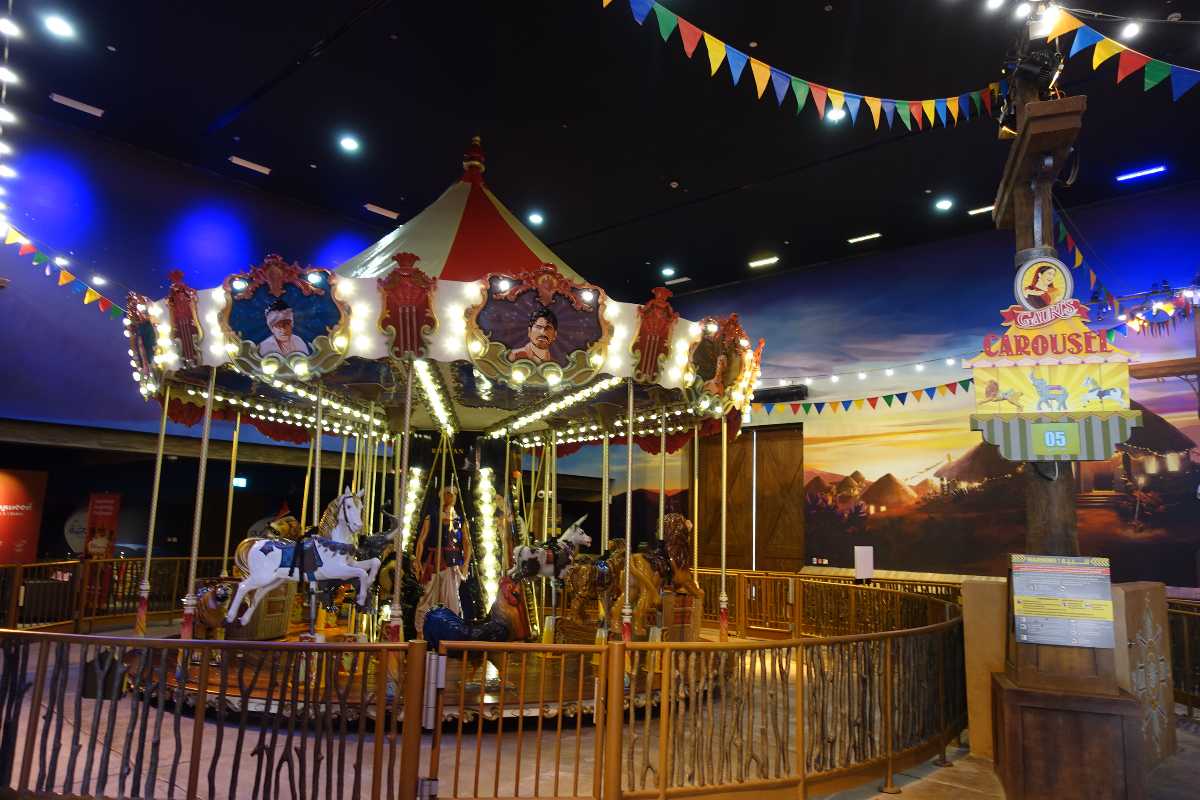 3.
Sholay: The Hunt For Gabbar Singh
is an interactive 3D ride which lets you shoot the dacoits or the villain Gabbar Singh with your laser guns! You can also enjoy plucking the mangoes from trees and compare your shooting score with friends.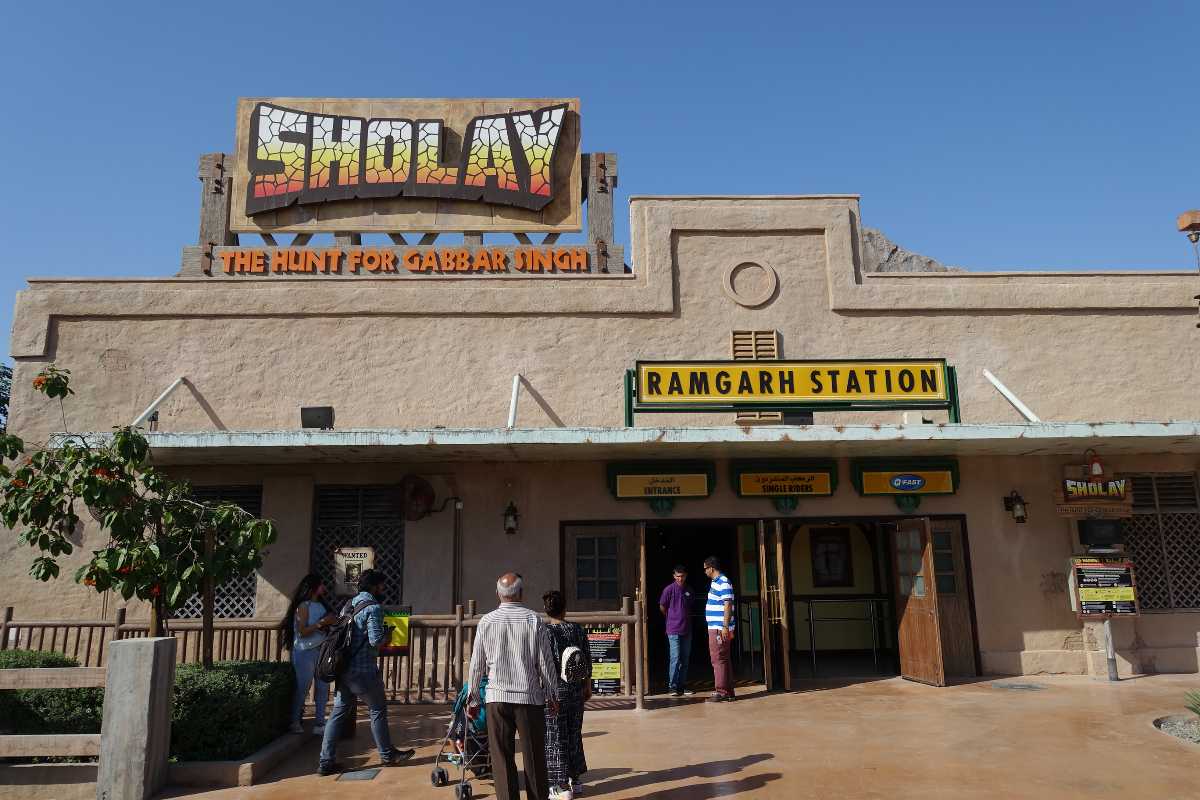 4.
The Spectacular Stunt Show
inspired by Salman Khan's DABANGG is full of Bollywood dialogues, songs and dance. It shows police officer Chulbul Pandey rescuing and fighting with the bad guys. The 19 minutes long stunt show portrays unbelievable action and entertains kids and adults alike.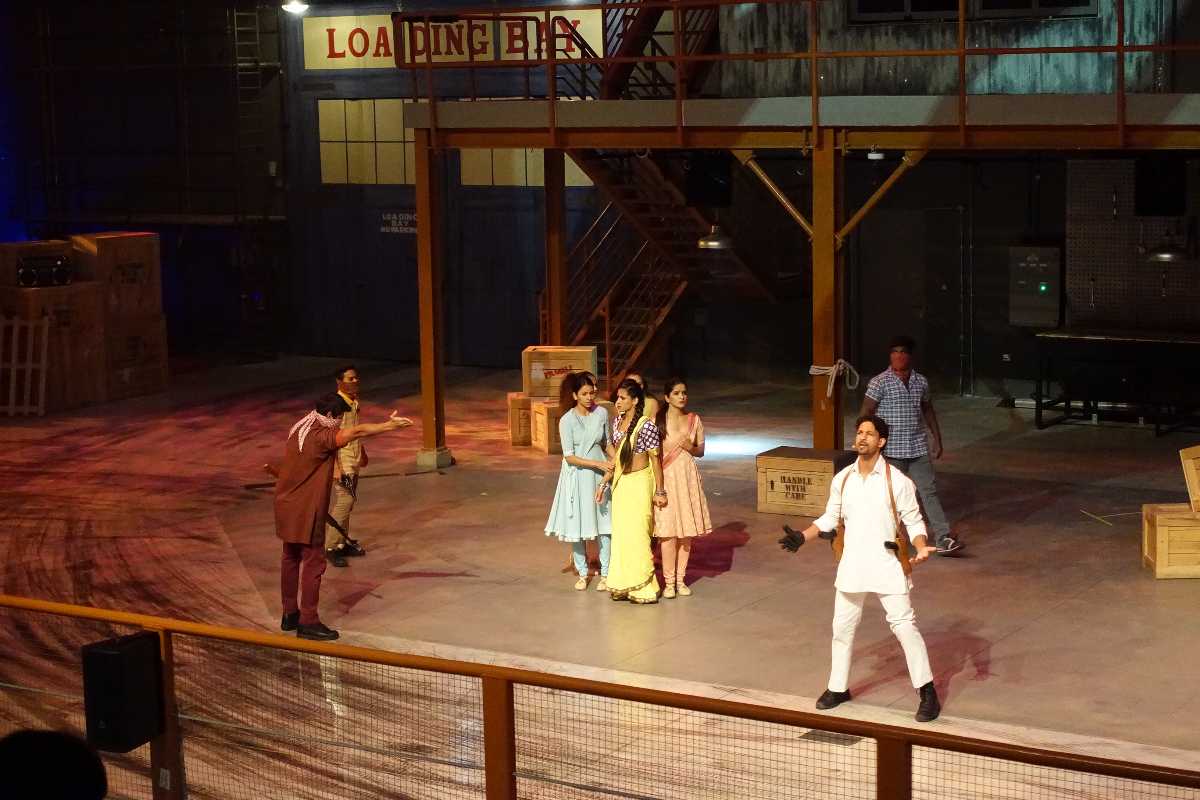 5.
Rangmanch
is an open-air space in the Rustic Ravine and hosts several performances and dances. Set up in a village style with banyan trees and sitting spots, Rangmanch is a colourful and lively place where folk performances such as banjara, nautanki, kathputli, garba raas, bhangra and street theatres happen.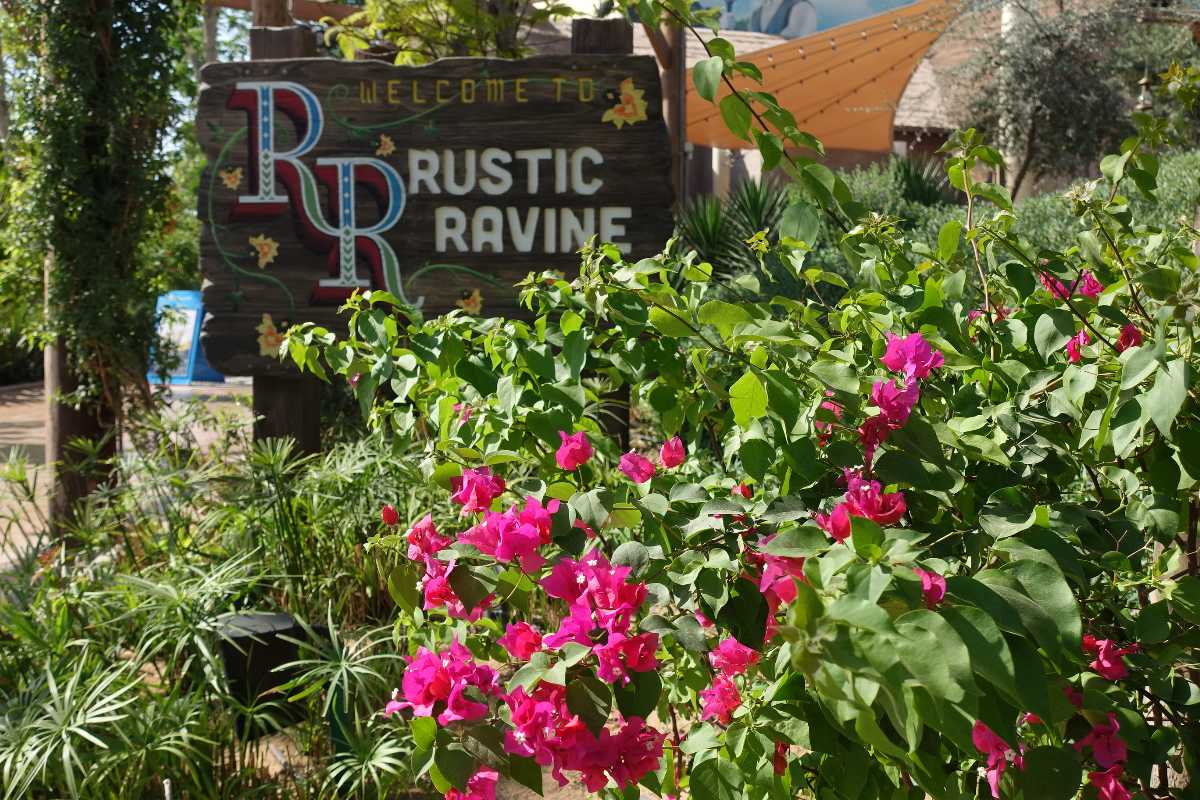 6.
Stars on Steps
is an eight-minute-long Bollywood dance and singing show which includes South Indian cinema too. Full of energy and fun, this recital setup uses LED screens for backgrounds and locations display as the performers act and dance.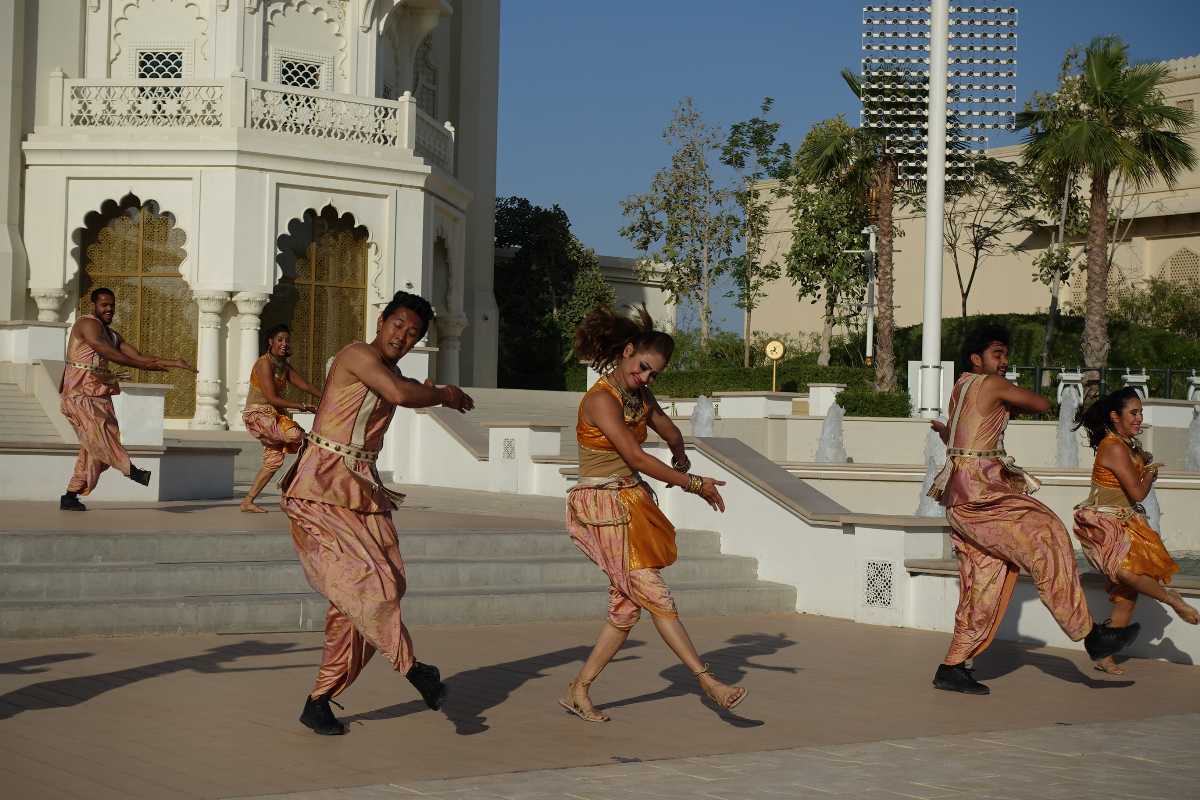 7.
Rajmahal Theatre
is a magnificent theatre hall which accommodates approximately 860 people. A perfect blend of royalty and grandeur, the theatre resembles palaces, gardens and lavish lifestyle. The theatre also hosts JAAN-E-JIGAR, which is a Broadway-style Bollywood musical show and BOLLYWOOD DANCE OFF, which is a 30 minutes reality TV show with 3 judges from the audience and 4 contestants.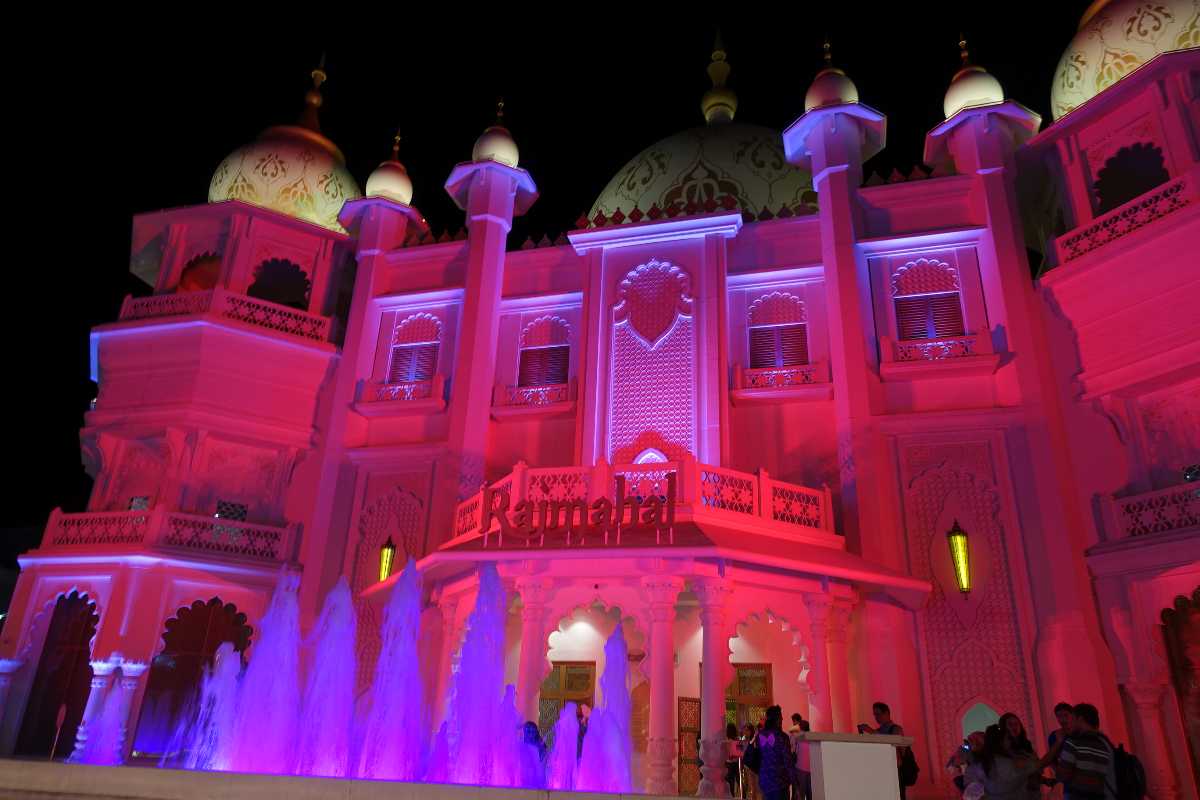 8.
Crossroads
, situated in the Bollywood Boulevard celebrates and features hit Bollywood movies. People resembling and dressed like famous characters such as Don, Krrish and Chulbul Pandey come and perform on Bollywood songs. Guests can see and hear and also engage with the performers and come on stage to do the famous ?hook steps? of songs. The place is also surrounded by famous cafes such as Jumbo and Rock On!!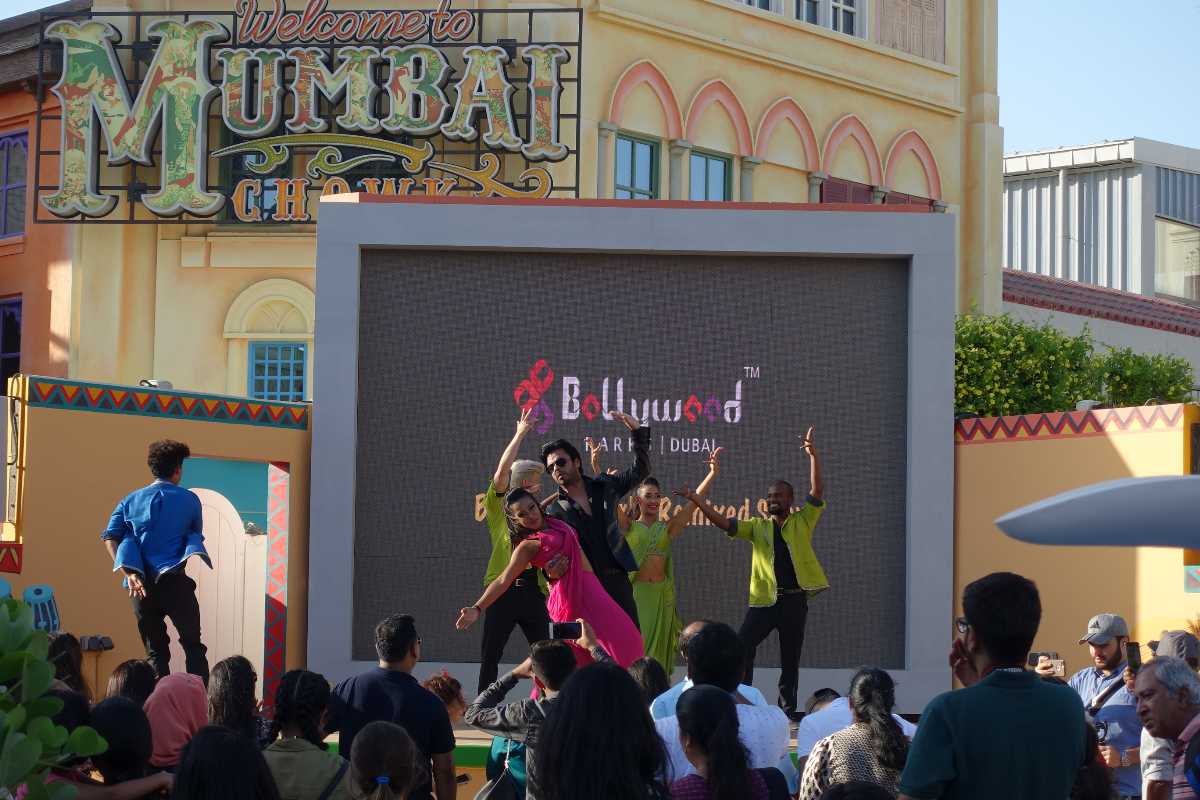 9. Situated in Mumbai Chowk zone, the
Mumbai Express
is a train model which is used by performers to dance on. Surrounded with streets and chawls of Mumbai, the dancers hop on the top of buses and entertain the guests. It also hosts the tapori show in which people resembling rowdies or thugs come dressed in coloured clothes and speak in a comic, entertaining local language.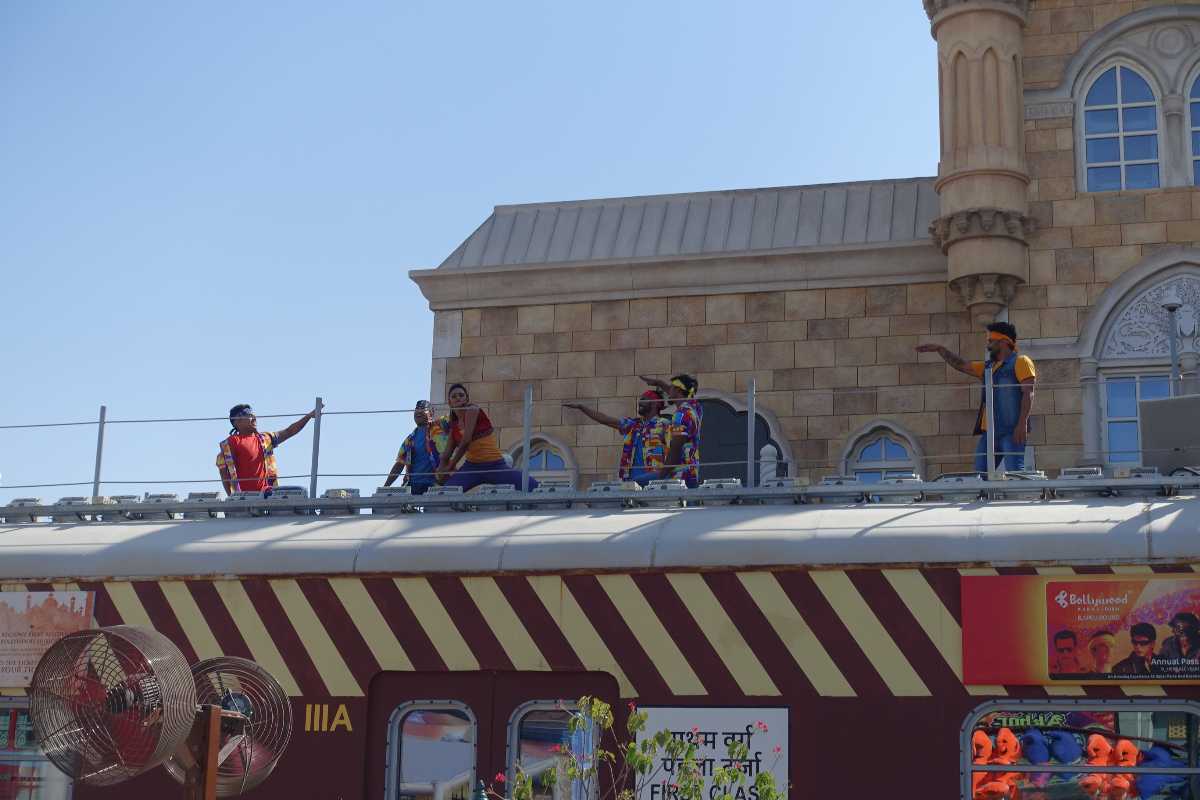 10. Located in the Bollywood Film Studios is the famous Shahrukh Khan inspired
Ra.One Unleashed
which is a 4-D multi-sensory virtual cinema hall which lets you witness who wins and emerges victorious, RA.ONE or G.ONE?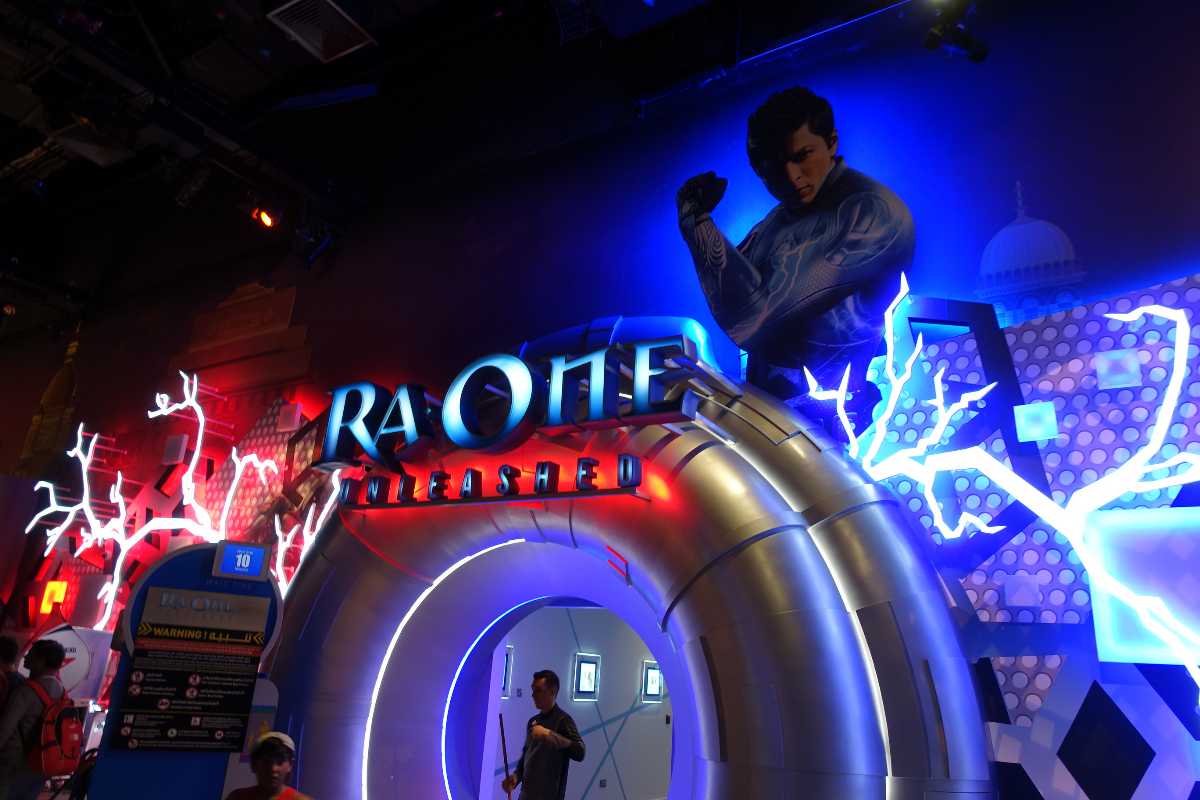 11.
Krrish
is another 4-D theatre which gives you a flying and thrilling experience as you sit on your seats and witness the adventure. You get to witness a ?bird's eye view? of India as superhero Krrish saves earth from alien invasion!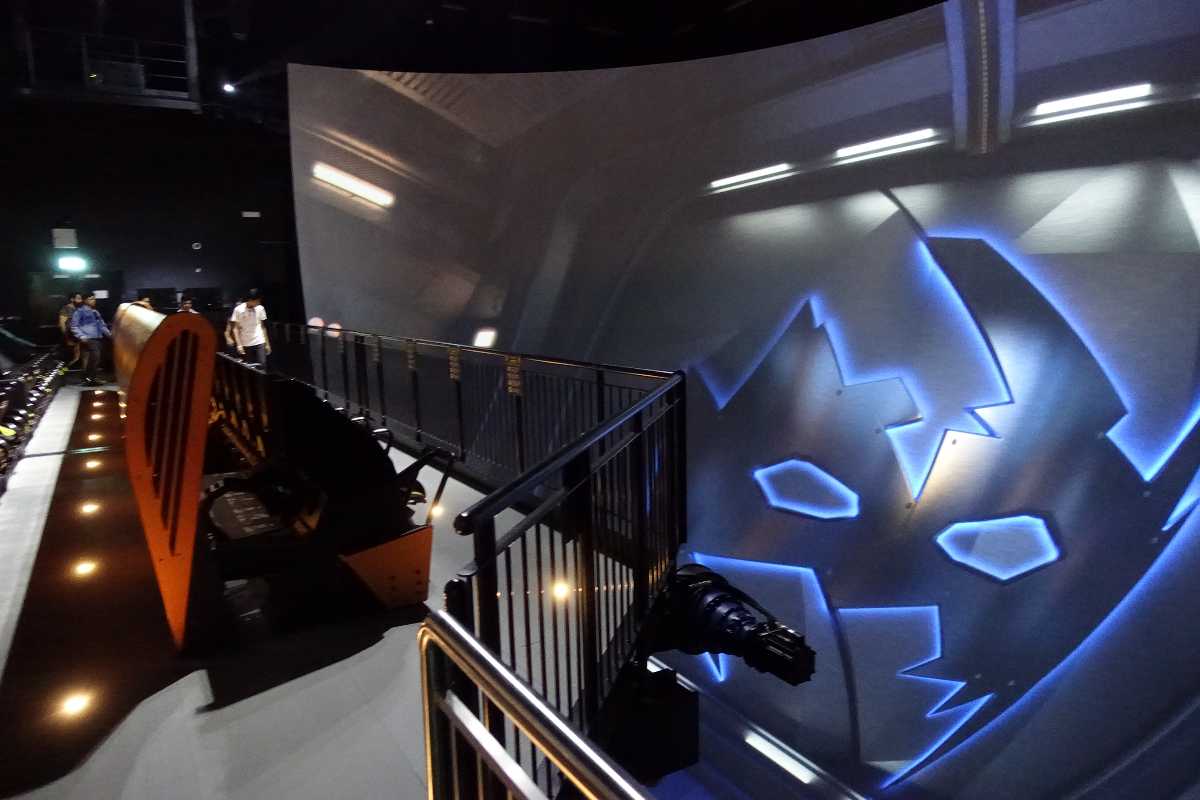 12.
Cinema Circle
is another fun addition to the film studios as it offers the guests an opportunity to attend dance workshops and learn how to dance in Bollywood-style. It is a fun and interactive session between the Indian dance choreographers and guests.
Enjoying the scrumptious cuisines of India and the world!
1. Jumbo Cafe
is famous for its wide variety of ice-creams, milkshakes, coffees, teas, sandwiches and doughnuts. It is beautifully created and has two gigantic coloured elephants at the entrance.

2. Mughl-e-Azam
provides a blend of royalty and Mughal living. Opened only from Thursdays - Saturdays, the restaurant serves yummy Mughal delicacies and specialities.
3. Rock On!!
is another famous place for dining which hosts private events and parties. It got its name from Farhan Akhtar's film and serves delicious western and Indian cuisines and street food.
4. Spicy Dhaba
has a perfect Punjabi vibe and feel to it. Famous for its curries, pickles, breads and tandoori delicacies, this restaurant is a must-visit for everyone who loves spices and strong food.

5. Victoria Station
is a replica of Bombay's Victoria Terminus which serves traditional dishes, coastal curries, vada pavs, and authentic dishes of southern cuisine.

6. Studio Canteens
are known for their western fast foods, wood-fired pizzas, burgers, fries, sandwiches and cool beverages.

Buying Bollywood Souvenirs!
The Bollywood Parks, Dubai has several shops from where you can buy your cool Bollywood merchandises. If you adore superheroes like Krrish, Don or RA.One, you can buy costumes and masks from the superhero vault. You can also have a great time in the Bollywood Haat which reflects rural India and lets you buy handcrafted stationery, clothes, jewelleries, etc. Mumbai Bazar is famous for its souvenirs as it takes you a step close to the city and makes you dwell in the city of dreams! If you have a sweet tooth and want to try some authentic Indian sweets, a visit to Maharani Sweets Shop is a must! You can also get yourself clicked with some crazy, Bollywood famous props like Krrish's mask or Chulbul Pandey's famous glasses at the Snapshot photo pickup!

Buying the Tickets!
Tickets to the park can be purchased online from https://www.dubaiparksandresorts.com/en/booking/tickets.
You can buy a single day ticket for a day full of fun and exciting performances for AED 175.
For AED 252, you get an access pass to the park and avail transfer facilities, i.e., pickup and drop from and to the hotel.
GCC Residents (persons from UAE, Kuwait, Oman, Bahrain and Saudi Arabia) can get the entry pass to Bollywood Parks for a discounted rate of AED 95.
You can also buy a special pass for AED 180 which lets you enter and visit the park as well as enjoy a day's dining experience.