Tired of the scorching heat of the summer sun? Or looking for an escape from the fast moving city life? Water parks are a great way to add a little adventure to one's life. Pune is an interesting city; fast moving, populated and has a rich history. It is the second largest city in Maharashtra and was also the centre of power of the Maratha Empire. However, at times this metropolis and its lifestyle can get a little taxing. Spontaneous and quick getaways are a great way to relax and spend a day off outside, taking advantage of Pune's lovely weather. So before the summer ends, don't forget to visit the multitude of water parks in Pune.
1. Adlabs Imagica Water Park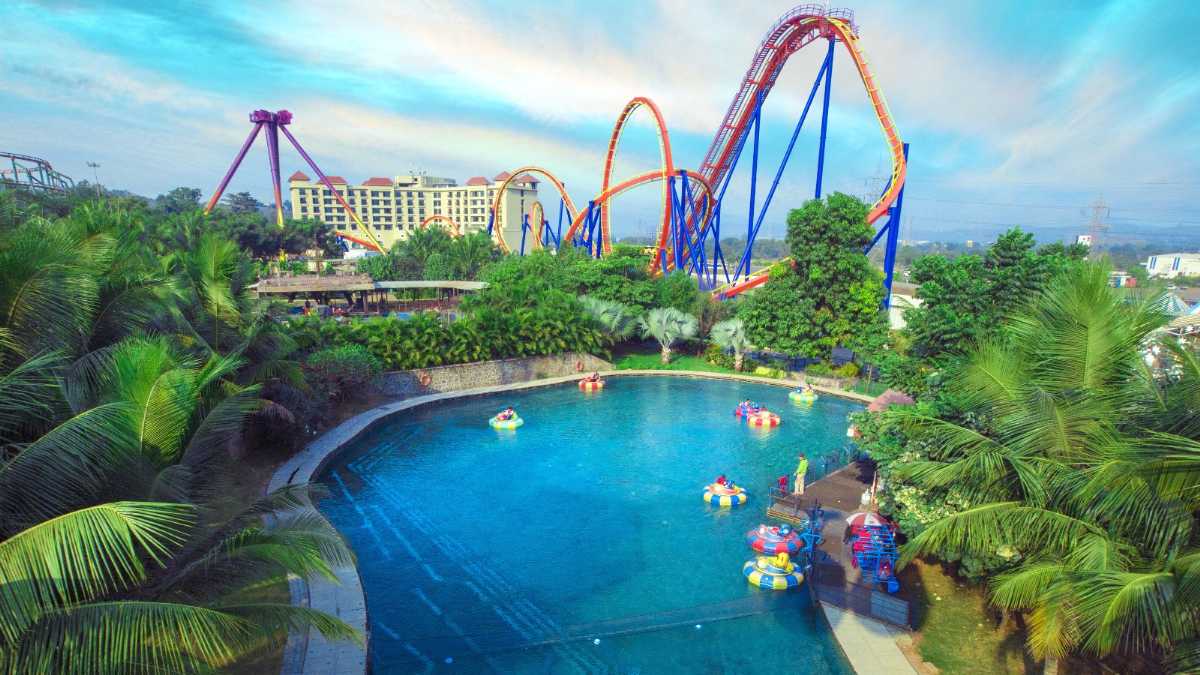 Inspired by the Greek Mykonos Theme, Aquamagica/Imagica Water Park welcomes every visitor with 14 thrilling rides like the Swirl Whirl, Loopy Whoopy, Twisty Turvy and a lot more. The Water Park also houses exciting restaurants that keeps you away from hunger. The vibe of extreme adrenaline rush over the water rides will never cease to keep you entertained. One of the most interesting rides is the Boomeranggo that gives you butterflies in your tummy as you go up and down. Some other exciting rides are Splash, Floatsa, Soakerz etc. 
Address
30/31, Sangdewadi Khopoli Road, State Highway 92, Off Mumbai-Pune Expressway, Khalapur, Khopoli
Dress Code
Synthetic swimwear made of nylon or polyester 
Skimpy swimwear, transparent clothes, jewellery, exposed metals such as buckles and zippers are not allowed.
Slipper, crocs, flip-flops are allowed; avoid shoes, sneakers, sandals. 
How to get there?
The water park is easily accessible from the nearby bus stations. Aquamagic provides home to home pick and drop services that are available while booking tickets. You can pay an amount of INR 500 while ticketing. 
Timings

10:30 AM - 07:00 PM 
Ticket Price
Theme Park: INR 1299/adult; INR 1099/child
Water Park: INR 899/adult; INR 799/child
Happy Tuesdays: from INR 999 for theme park
Wat-a-Wednesday: from INR 599 for the water park. 
Website
www.adlabsimagica.com
Contact Number
+91 2242130405
2. Sentosa Resorts and Water Park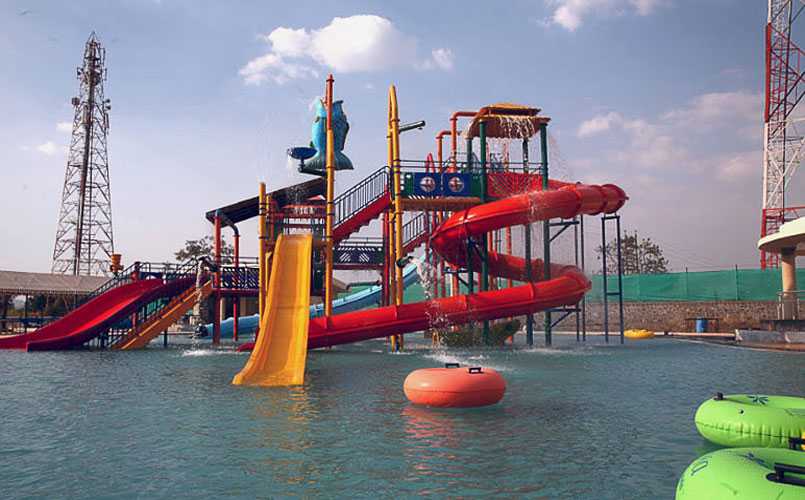 A luxurious resort with a water park in Pune, Sentosa Resorts and Water Park is located just a kilometre away from the expressway. The place has a multi-cuisine restaurant, serving vegetarian as well as non-vegetarian dishes. One also has the option of grabbing a quick bite or have a refreshing drink at the bar. There are also rooms available, a spa, a fitness centre and also a golf course. The water park also has a separate section for the kids called the Kiddies Pool which is 2 feet deep, making it relatively safer and also has multiple rides for kids adding to the fun factor. The water park has various slides with a 2 feet deep landing pool, a 5 feet deep swimming pool and also provision for rain dancing.
Address
Mumbai-Pune Expressway, 1 km Before Ravet, Ravet, Pune, Maharashtra 412101

Dress Code
Swimsuits made of Nylon, Polyester or Lycra. 

How to get there?
With a distance of 23 km from Pune city, the water park is easily accessible through a taxi or private buses which traverse across Mumbai-Pune expressway. 

Timings
10:00 AM - 6:00 PM

Ticket Price 
Adult: INR 300, Kids: INR 250

Website
www.sentosaresortspune.com

Contact
8888156000, 8888157000

3. Diamond Water Park
Diamond Water Park, located in the Lohegaon town of Pune, was established 15 years ago. One can not get bored at this place as it has around 32 rides and seven enormous pools. The water park caters to the needs of adults as well as kids, having a family pool and a kiddies pool. It adheres to the safety standards and also has lifeguards on duty. Some classics include the wave pool, Octopus, Cyclone while newer rides include Honey Bunny and Lazy River. It is perfect for a quick getaway as it is situated inside the city.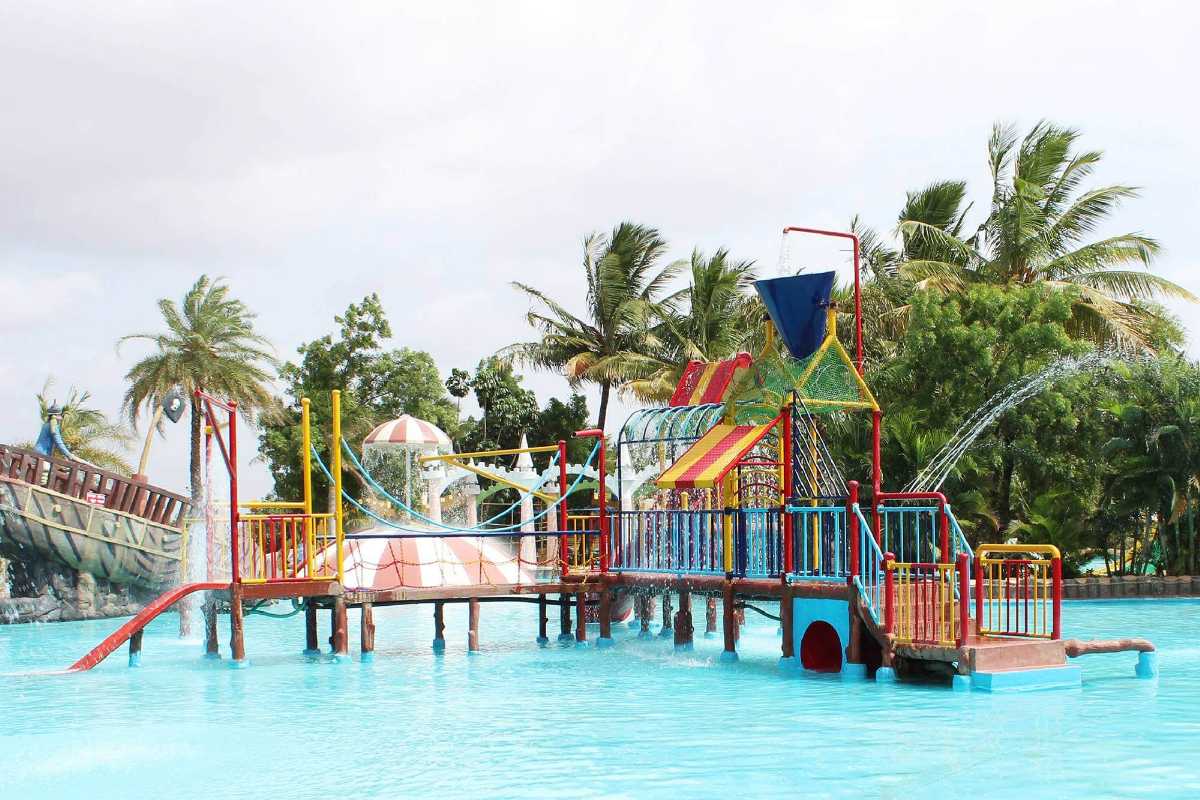 Address
Water Park Road, Lohegaon, Pune City, Maharashtra.
Dress Code
Polyester or Nylon swimsuit 
How to get there?
There are public transports which you can take to reach the park. It is just 8km from Pune International Airport. 
Timings

10:00 AM - 5:30 PM
Ticket Price

Weekdays: Adult- INR 600; Children- INR 500
Weekends & Public Holidays: Adult- INR 700; Children- INR 600
Website

www.diamondwaterpark.com
Contact number

+91 -772 000 6622
4. Krushnai Water Park
Krushnai Water Park in Pune is located near the fortress of Sinhagad and is surrounded by beautiful forested hills. It is around 25 km away from the Pune city and prides itself on its scenic surroundings. It has various attractions and a number of rides for kids as well as adults. The water park is filled with fun rides like the Aqua Trail on which two people can slide on tube shafts, Turnpikes where three people slide off simultaneously, or single person slides like twister, black hole, etc. Apart from these, the park also has a number of rides specially designed for kids like Mushroom, Pirate Island, Wave Pool, among others. If the slides prove to be a little too much, one can head over to the gaming zone or break a move at the rain dance area.

Address

Gat No. 186, Donje Gaon-Sinhagad Road, Sinhagad Base, Donje Gaon, Maharashtra 411025
Dress Code

Nylon or Polyester swimsuit


How to get there?

There are a number of private and public transport from Pune to Krushnai Water World. Taxis and cars can also be rented. 
Timings
10:00 AM- 6:00 PM
Ticket Price
Weekday: Adults- INR 500 per head; Kids (above 4 feet)- INR 400 per head.
Weekend: Adults- INR 600 per head; Kids (above 4 feet)- INR 500 per head. 
Website
www.krushnaiwaterpark.com
Contact number
+91 937 215 4617 / 18 / 21
5. Panshet Water Park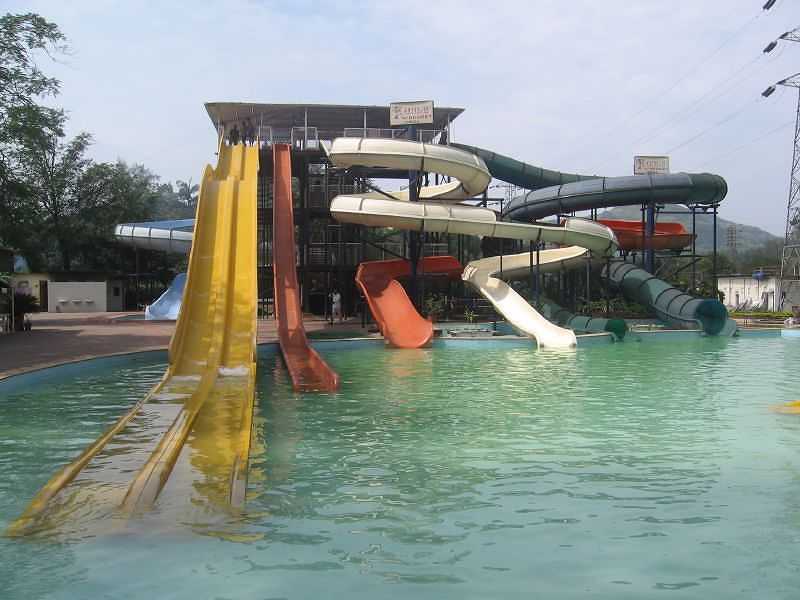 One of the major attractions of Pune, one cannot afford to miss Panshet Water Park. It is located between Varasgaon Dam and Panshet Dam and is part of Hyatt Hotel, Pune. The water park doesn't offer a wide selection of rides but it does have a lot of water sports like kayaking, water scooters, swimming, windsurfing, and speed boating. It is away from the city and covers a significant amount of area, making it ideal for adventure sports.
Address
Panshet water park, Near khadakwasla Dam, Pune
Dress Code
Swimwear 
How to get there?
The park is located close to Khadakwasla Dam, you can book a cab from here or use private transport if you are in other parts of Pune. 
Timings

10:00 AM - 6:00 PM
Ticket Price:

Weekdays- Adults INR 250, Kids: INR 170, Weekends- Adults INR 3,00, Kids: INR 230, 3:00 PM to 6:00 PM: Adults INR 250, Kids: INR 180
Contact:
+91-20-41411234
6. Wet'n Joy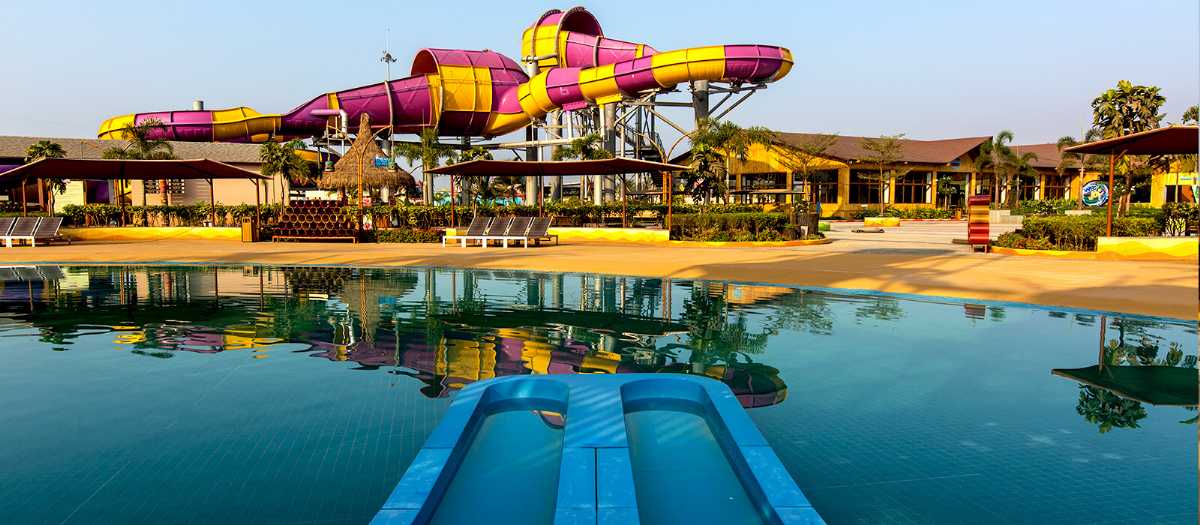 Wet'n Joy water park in Pune promises you a bunch of fun with exhilarating water rides. Nestled away from Pune city at a distance of 52.7, the water park is a perfect getaway from the tedious life. Home to some of the most exciting water rides like the Boomerango, Crazy River, Sky Fall and Extreme Volcano, the water park gives you a thrilling experience. There are restaurants within the premises that provide scrumptious meals throughout the day. 
Address
Magic Kingdom, Wet N Joy Waterpark, Old Pune Mumbai Highway-NH-4, At-Mundhaware, Post-Takve Pune (In Lonavala)
Dress Code
Swimsuit or clothes of nylon 
How to get there?
You can board a taxi, bus or a cab to reach the waterpark. It is located 5-6km from Shirdi in Nighoj village. The amusement park is easily accessible by a taxi. 
Timings
10:00 AM- 06:00PM
Ticket Price
Monday - Friday: Adult: INR 550; Child: INR 650
Saturday - Sunday: Adult: INR 370; Child: INR 370
Website
www.wetnjoy.in
Contact number
+91965723444
7. Manali Resort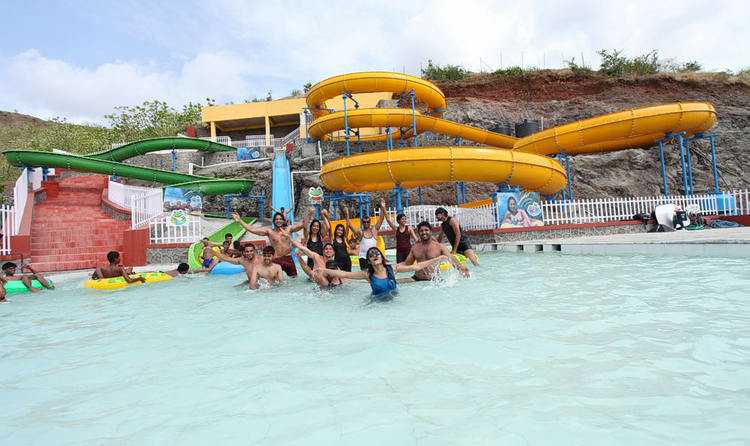 Manali Resort is laced with lively fountains, evergreen gardens and lawns, shimmering water bodies. The water park is a package of fun & entertainment. Sprawling over 15,000 sq.ft. the water rides cover most of its space. They are specially designed for various age groups ensuring fun and excitement for all visitors. For the kids, there are specially designed water pools and multi-showering system with various other smaller versions of the adult rides. There is an enthralling number of slides like the spiral slide, S slide, zig zac slide, straight slide and a lot more. If you're someone looking for leisure then go ahead and experience the rain dance, the umbrella or mushroom showers. 
Address
Kavadi Pat, Post Manjari Farm, Loni Kalbhor, Pune - Solapur Highway, Pune
Dress Code
Normal clothes suitable for swimming and sports
How to get there?
Located 17km from Pune on the Mumbai highway, you can get to the Manali Resort with ease by booking a taxi or cab. 
Timings
11:00 AM- 06:00 PM
Entry Fee
The entry ticket for adults is INR 200 and children is INR 150.
Contact
092601 00500
8. Dolphin Water Park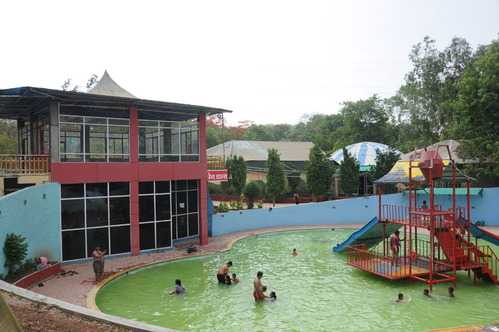 The Dolphin Water Park is known as the finest water parks in Pune for family, friends or even colleagues. It is a must visit retreat that's within the city limits if you wish to laze around on a weekend. The 3-acre water park is nestled in the verdant greenery of Nigdi which has extremely popular waterslides for the visitors. You can spend the day in the most leisurely way by lazing around on the lazy river. The ambience around the park makes it the perfect place for a picnic. 
Address
No.23 Pradhikaran Sector Indira Gandhi Udyan Nigdi, Pimpri-Chinchwad
Dress Code
Casual clothes, Swimsuit made of nylon or Lycra for the pool.
How to get there? 
The water park is located 24 km away from the city centre hence you can access the amusement park by car or taxi. There are local buses on the highway that goes towards Nigdi.
Timings
12:00 PM - 8:00 PM
Contact
098508 41414
9. Rajgad Water Park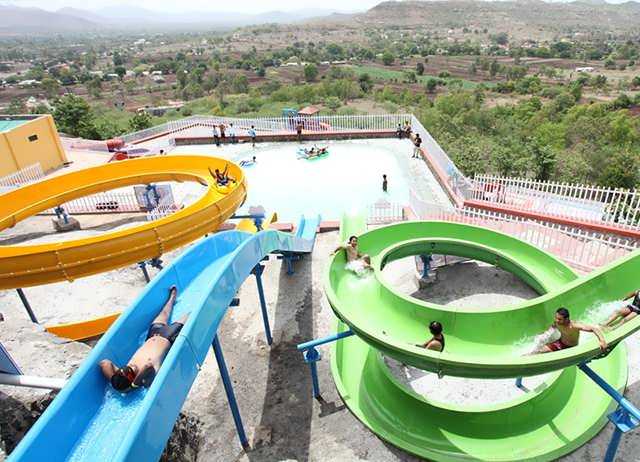 Located off the Pune-Bangalore highway, Rajgad Water Park promises to offer fun-filled rides and activities for all age groups. Situated a little away from the city, one can also have a little road trip and spend an entire day at the park. The Water Park has some rides which claim to be 'crazy' and are rated accordingly on their official website, the craziest being the Wave Pool simulating the workings of the sea. One can sit back and relax on the Float ride or enjoy to the fullest on the Open Body slide. The water park also has a kids pool which claims to be hygienic and safe where kids can have a wonderful time.
Address

Pune-Bangalore Highway, Varve Khurd

Dress Code
Swin wear compulsory, they are available for rent and sale at the water park.
How to get there?
The water park is situated 36km from Pune. There are public transport, taxis and auto rickshaws available. 
Timings

10:00 AM - 5:30 PM
Ticket Price

Adult: INR 450, Kids: INR 300 (including lunch)
Website
www.rajgadwaterpark.in
Contact
7276333374/72763333745
When in the city, do not forget to visit these thrilling water parks in Pune.