For someone who loves to relax in a cosy corner with a steaming cup of coffee and a novel or the ones who like to catch up with their friends over delicious snacks and piping hot tea,
Pune
has a handful of cafes to interest you. The thriving city of
Pune
might be a great deal of academia and business to much of the world. However, the food and hospitality here are in abundance. With a glorious past that stretches up to 1600 years, the city is a lively blend of the ancient and modern elements. The cafes in Pune are an ideal social space for the young and old alike.
Here are some of the 18 Cafes in Pune that are a must-visit:
1. German Bakery - Cafe Choice of Globetrotters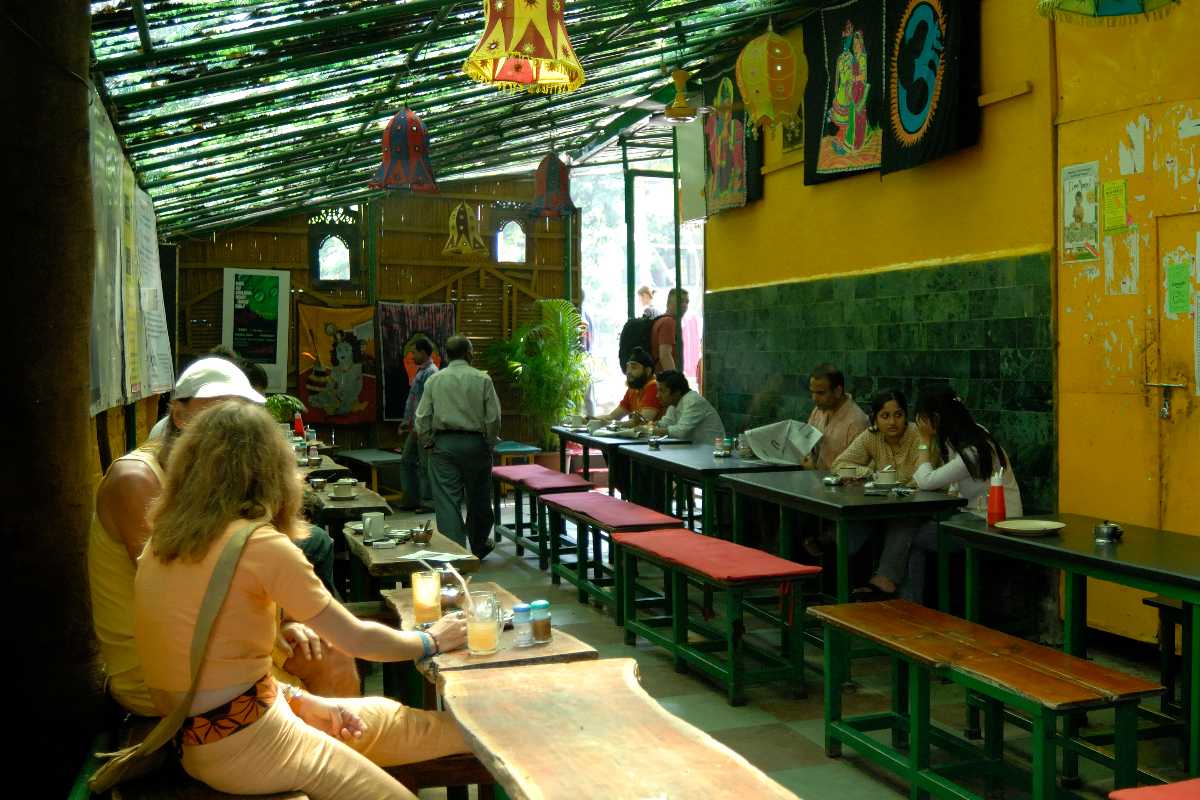 Popular among globetrotters, the German Bakery in Pune is the second oldest of its kind in the country. The tragic bombing in February 2010 was indeed a setback for the place, however, with significant efforts and dedication, the renovated outlet opened to its customers is a massive hit among the tourists, youngsters and foreigners at all hours. The bakery is also looking towards expanding the business and has started two new outlets at the Law College and
Lonavala
. The lovely wall décor makes the ambience vibrant and relaxing.
Must-Try Dishes: The weekend breakfast/brunch is very popular. Banoffee Pie, Pasta and Burgers, Fish and Chips, Kheema Pav, are a must-have here. Shrewsbury biscuits with Chai are heavenly.
Approximate cost for two: INR 1100
Timings: 7:45 AM to 11:45 PM
Location: Multiple locations around Pune
2. Pagdandi - Books Chai Café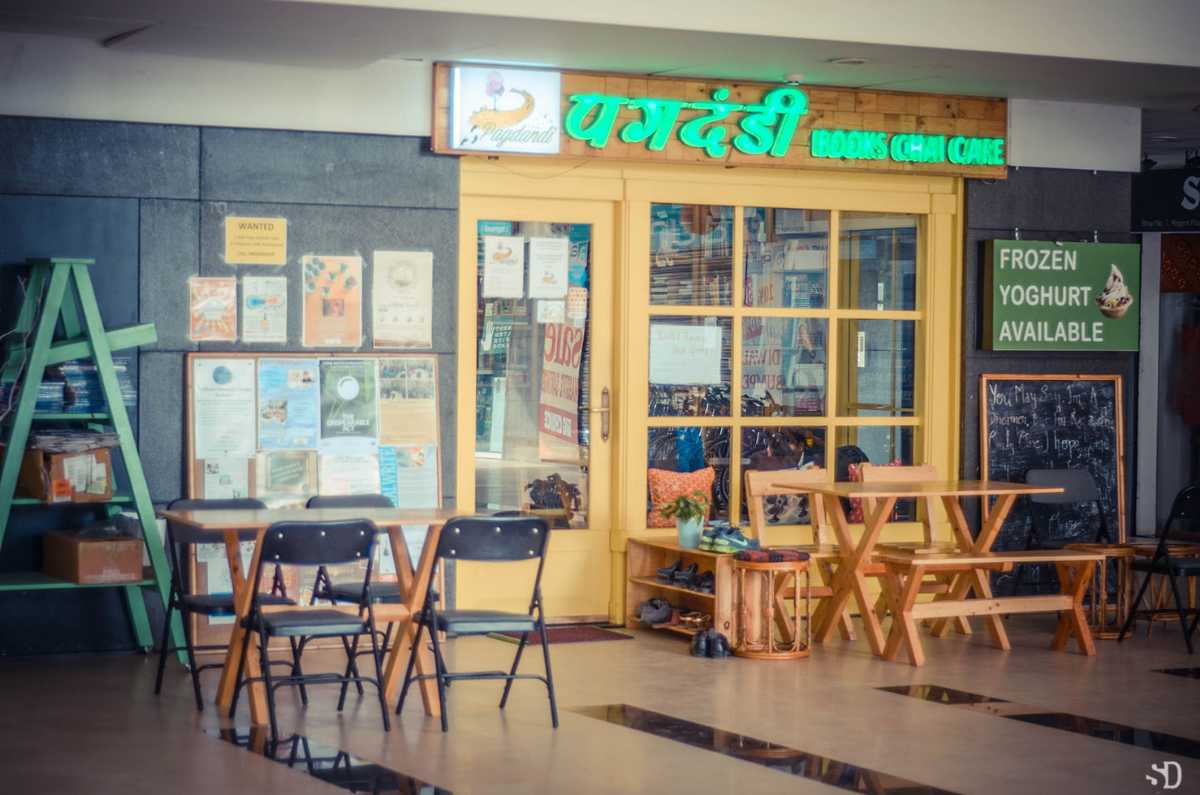 With a charming décor consisting of bamboo-furniture adorning this little café located in a mall in the city, Pagdandi - Books Chai Café is a paradise that hosts chai and book lovers with equal love. The books stacked up on the shelves indeed offer an impressive sight to the visitors. Started by a backpacker couple, the husband-wife who as a team run the cosy cafe, Neha and Vishal left their full-time jobs to start this place for their shared love for books, community and travel. This concept Book-Café also hosts a variety of events such as Art & Craft Workshops, Book Readings, Poetry Sessions, Theatre Workshops and much more. Not just this, the café also sells some of the best titles on the planet with attractive discounts. Make sure that you visit this creative corner while you are in Pune.
Must-Try Dishes: Bun Maska and Kulhad Chai variants here will win your heart. Do check for the delicacies prepared by their Home Chef are a must-try be it the Veg Keema Pav or Pasta Macaroni Red/White, you would want to have more.
Approximate cost for two: INR 250 (approximately)
Timings: 10:30 AM - 10:30 PM
Location: Shop 6, Regent Plaza, Baner Pashan Link Road, Behind Symantec, Baner, Pune
3. Fat Cat's Café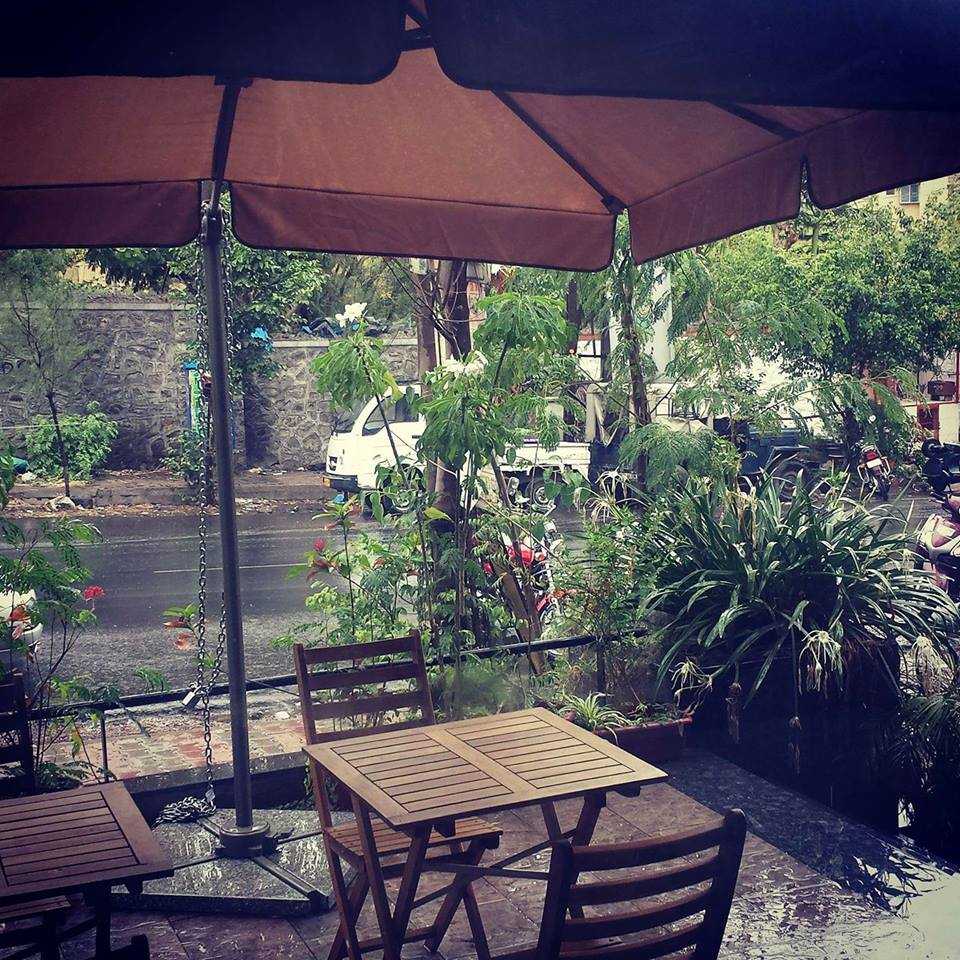 The café gets its name because of the passion with which Fat Cats who like to curl up on a soft pillow and sleep and wake up to a sumptuous meal of their choice. If you are a person, who like a Fat Cat, looks forward to a delicious home-cooked meal, prepared with love, then head out to Fat Cat's Café. You will fall in love with this place instantly with the hospitality, ambience and everything else that will make your time spent here worth it. Set in a peaceful location, the owner of the place dreamt of running café when she started her cooking experiments at the age of eight. There are also board games available to have a great time with friends.
Must Try Dishes: Red Velvet cake - The smooth cheesecake frosting that sits atop the pillowy sinful of red richness and flavourful. Better forget all the guilt and have an ecstatic experience. Keto Chocolate Mud Cake, Chicken Sandwich, Japanese Cheesecake are some of the other highlights that you should indulge in.
Approximate cost for two: INR 650 (approximately)
Timings: 8:00 AM to 2:00 PM, 5:00 PM to 9:00 PM
Location: Shop no 5, Clover Heights Shopping, Salunke Vihar Road, Wanowrie
4. Durga Café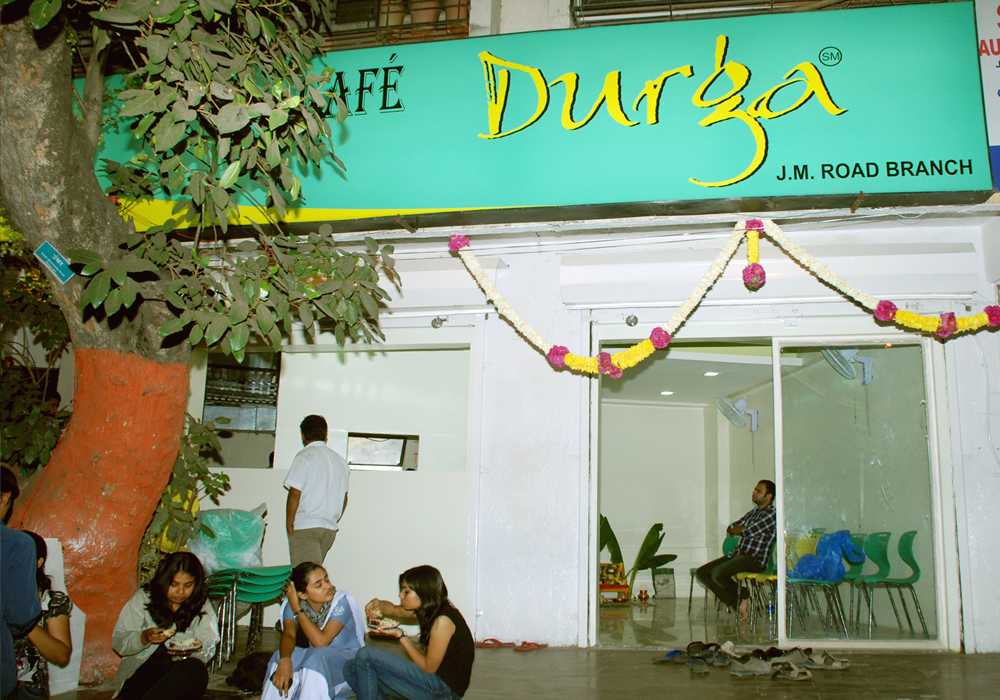 On a beautiful summer day when you feel like quenching your thirst with a glass of frothy cold coffee, you are bound to think of Durga Café. Visit this place with your gang for delicious mochaccinos and a range of affordable snacks. The place started as a small snack joint, more like a hole-in-the-wall spot, however, the growing popularity of Durga Café has resulted in 45 branches spread over seven cities now. The outdoor seating is a perk to relish the snacks and thick cold coffee on breezy evenings.
Must-Try Dishes: Don't miss out on their Egg Bhurji, Bhurji Pav, Pav Bhaji, Misal Pav, Masala Pav with Thick Cream Coffee or Hot Chocolate, whichever suits your mood.
Approximate cost for two: INR 200 (approximately)
Timings: 7:00 AM - 11:00 PM
Location: Multiple Locations in Pune
5. Cafe Eastwood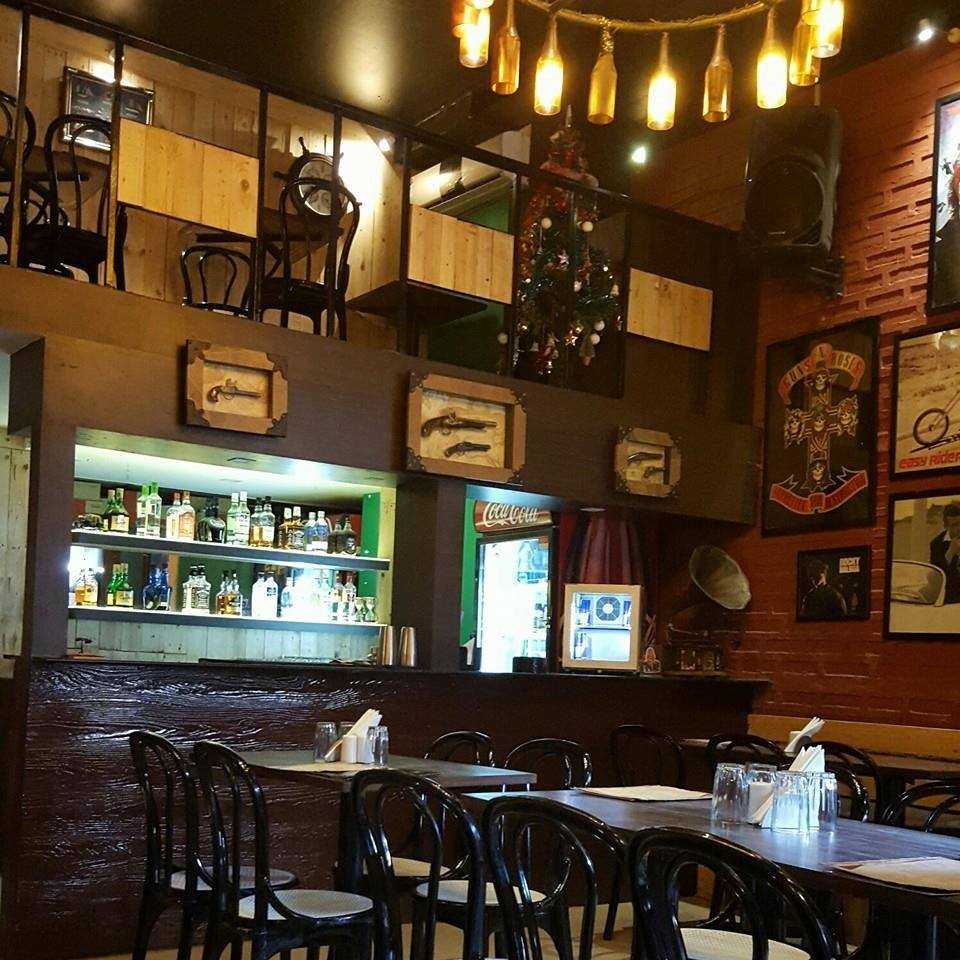 The carefully crafted multi-cuisine menu with the Hollywood-themed décor makes this place as one of the most happening hangout spots in the area. The Hollywood theme posters adorning the wall, a bottle chandelier and a gramophone are sure to take you down to the memory lane. There is also screening of matches to make the game nights more exciting in the dim lighting, making the ambience perfect. They also organise exciting live music nights every week.
Must-Try Dishes: Try their lip-smacking appetisers, Barbecue Roast Chicken, pizzas and pasta and get great deals during Happy Hours. Chocolate Chilli Martini and White Russian are favourites among the cocktails.
Approximate cost for two: INR 1500 with alcohol
Timings: 12:00 PM to 4:00 PM, 7:00 PM to 11:30 PM
Location: Chintamani Pride, Near Citypride, Kothrud, Pune
6. Coffee Jar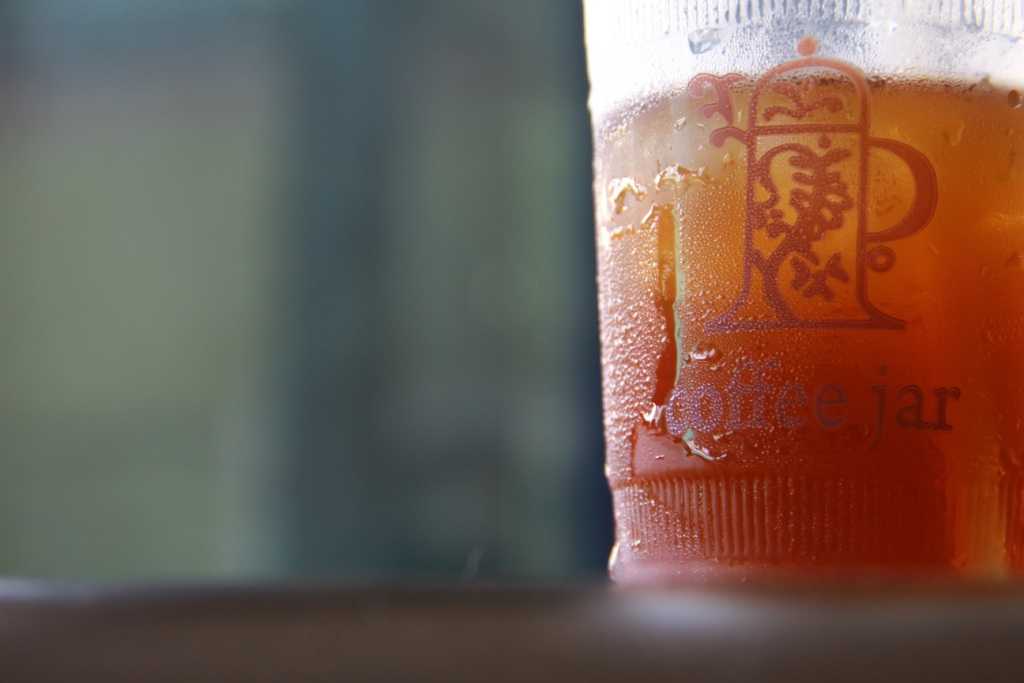 This café will draw you towards itself from the street as the aroma of the freshly brewed coffee reaches you. The place sells a wide array of tempting selection of desserts. Dig into their lavish cupcakes and slices of cakes to get an enthralling sugar-high. Pets are also welcome in the outdoor seating area here. They have overall six outlets in the city.
Must-Try Dishes: Choco-Caramel-bar, Nutella Magic Pastry, Chocochip Cheesecake are all irresistible specials for all the chocolate lovers. Also try their Caramel Tandakccino, Toffenut Cappuccino, Cappuccino and Hot Chocolate.
Approximate cost for two: INR 350
Timings: 10:00 AM to 11:00 PM
Location: Shops 9 /10, Bhakti Apartments, Near Konark Campus, Viman Nagar, Pune
7. Cafe Bread N Butter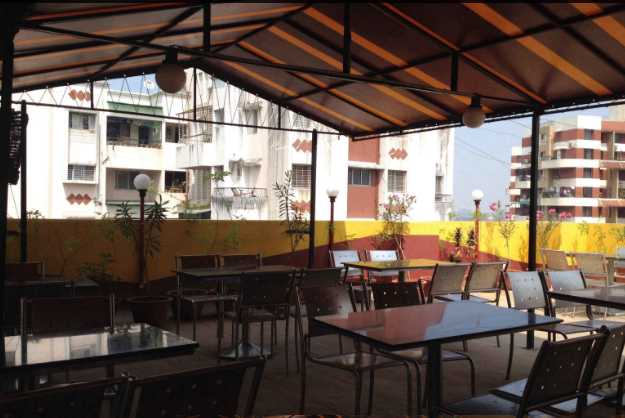 To start the day in a great way, a good coffee shop with ample options for breakfast is preferred by all. Café Bread n Butter, the cosy neighbourhood coffee shop is the perfect one that covers all its bases, from freshly brewed espresso to sandwiches. You can also enjoy a game of Chess or Scrabble with a Chicken Sandwich on the breezy rooftop while you are here, trying their vast line-up of breakfast options.
Must-Try Dishes: Don't miss out to try their pancakes, Masala Omelettes, Waffles and Cheese Sandwich with a steaming cup of tea.
Approximate cost for two: INR 400 (approximately)
Timings: 8:30 AM to 10:00 PM
Location: Shop 20, Swapnanagari, Karve Road, Erandwane, Pune
8. Waari Book Café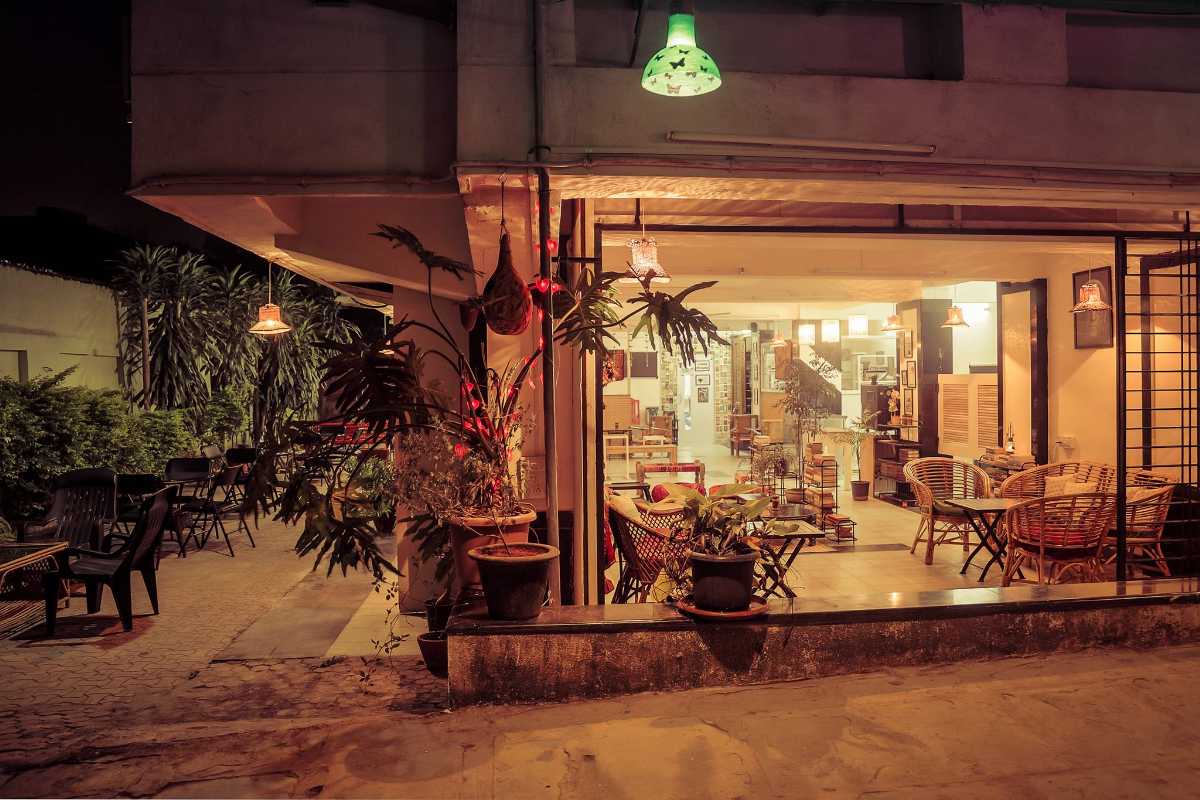 If you love books, you have to put Waari Book Café on your to-visit list, in case you have not already. A beautiful concept café, which perhaps you would have always dreamt of, has finally come into existence. Open on all days of the week; you can spend time here for as long as you wish to. You will be given food or drink coupon of INR 50 at the entrance, valid for three hours. You can pick a book from Waari's fantastic collection or carry your favourite title and read it here. You can also bring your laptop and use their Wi-Fi to finish your pending tasks in peace. They also organise exciting workshops and events from time to time. Children can enjoy Hardy Boys, or Nancy Drew in the special reading nook dedicated to the tiny tots.
Must-Try Dishes: We liked their Alfredo Pasta and Mexican Corn Cheese Toast. They also have a range of healthy bites such as Masala Oats, Ragi Porridge, Waari Bhel and Roti Roll.
Approximate cost for two: INR 500 (approximately)
Timings: 9:00 AM to 11:00 PM
Location: Ground Floor, Choice Institute, Near Choice Health Club, Near Karishma Chowk, Off Karve Road, Kothrud, Pune
9. Pardon My French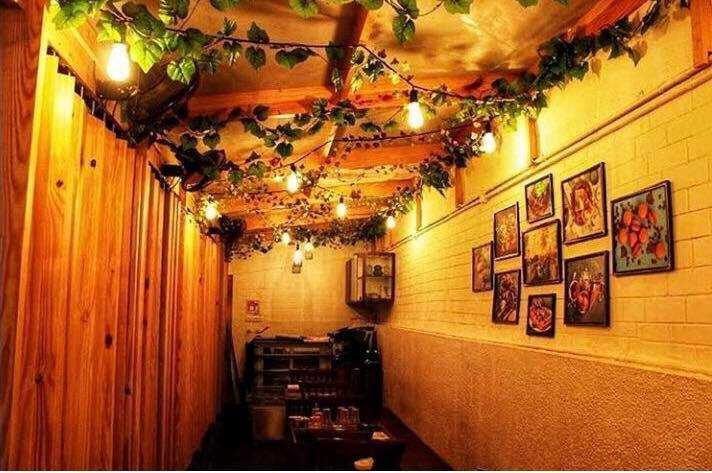 The wooden cabin like an appearance of this place is sure to catch your eye. Once you enter Pardon My French, you will notice the beautiful creepers all along the wall with bulbs studded in between. The French-themed café serves the premium quality cup of joe. Imagine settling in with your laptop on one of the sturdy tables with a Café Mocha served along Chicken Cheddar Ranch Nachos, you won't even realise time slipping by as you linger into lunchtime.
Must-Try Dishes: Savoury Crepes with Spinach and Ratatouille Crepe are a must-try here. Order an English Breakfast for a hearty meal for a promising start of the day. Approximate cost for two: INR 800 (approximately)
Timings: 8:30 AM to 11:00 PM
Location: Anjali Apartment, Near Dena Bank, Gokhale Nagar Road, Senapati Bapat Road, Pune
10. 11 East Street Café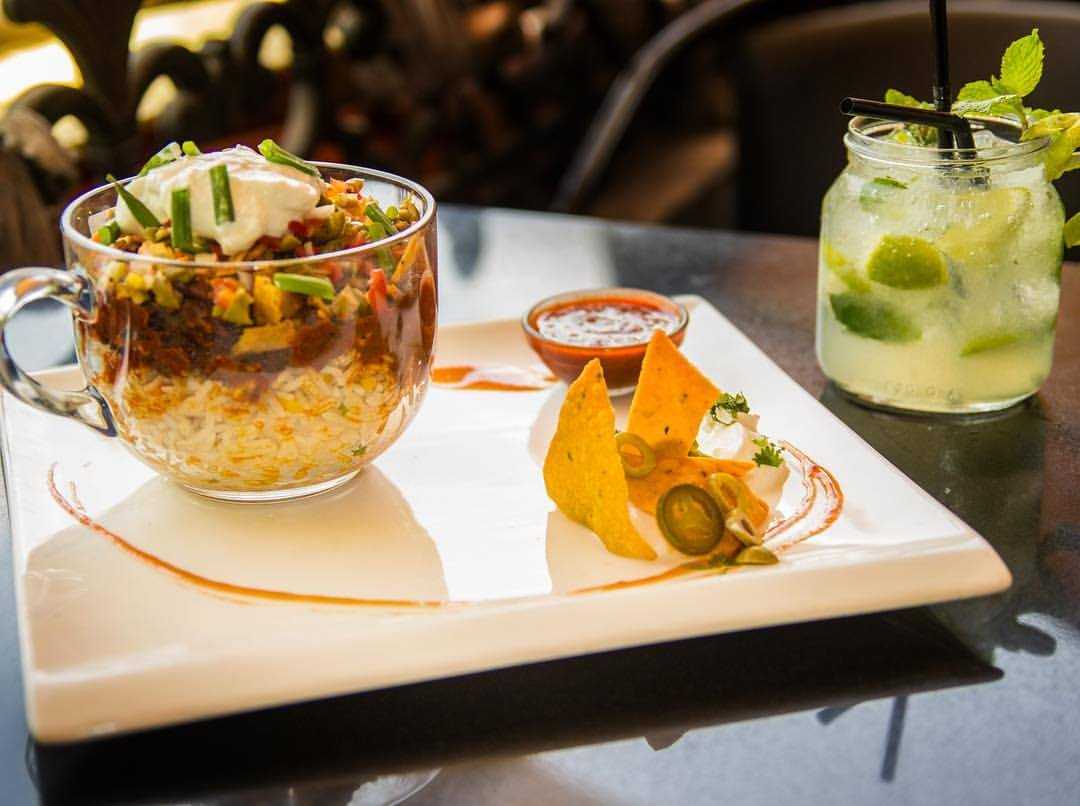 Among the ocean of favourite cafes in Pune, 11 East Street Café is a gem in all senses. If you are a proud owner of a pet, then this is the right place for you and your little buddy because 11 East Street Café offers a generous 10% discount when you walk in with your pet along with a treat for that handsome champ of yours. Every 11th of the month is their favourite day, and you can expect a grand celebration. The food and drinks are priced at a very affordable range and will surely not burn a hole in your pocket.
Must-Try Dishes: Chicken Lasagne, Butter Chicken, Chicken Stroganoff, Paneer Tikka Masala, Pasta, Shawarma are all prepared with great detailing, served in fulfilling portions.
Approximate cost for two: INR 1800 (approximately) with alcohol
Timings: 11:45 AM to 12:00 AM
Location: View In Plaza, Indira Gandhi Chowk, East Street, Pune &
Ishanya Mall, Arcade 6, Opposite Golf Course, Ishanya Mall, Yerawada
11. Tea Villa Café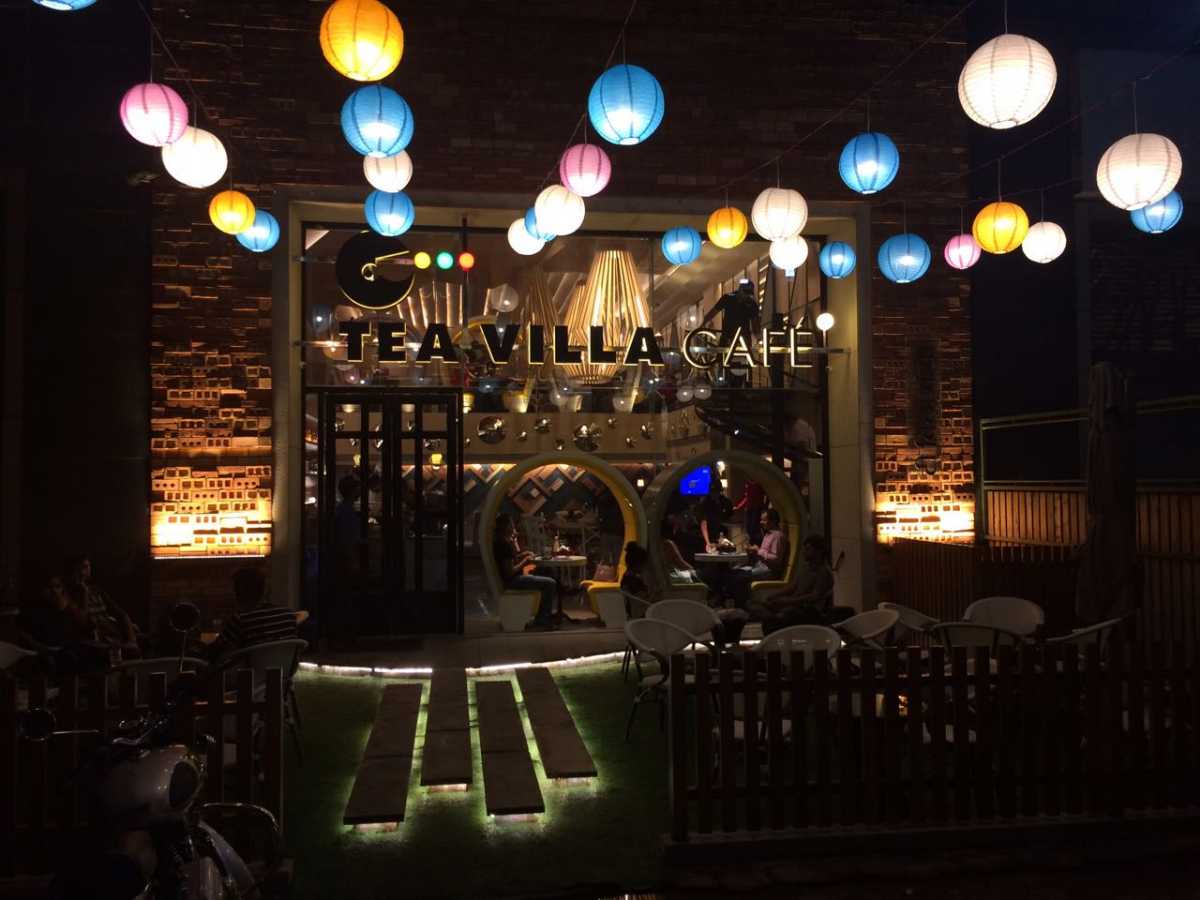 You're not a real tea aficionado until you have visited Tea Villa Café. True believers of the goodness of a flavourful cup of tea, they live by the motto of customer satisfaction which serves their purpose of 'being'. With a goal of spreading their outlets all across the world, Tea Villa Café has 500 outlets throughout the country. This charming haunt has a tasty selection of tea leaves which makes it a perfect destination for tea enthusiasts. The cutesy décor with an outdoor seating area lets you sip on the best of their teas while you munch on the delicious snacks.
Must-Try Dishes: Start your day with the Indian, Continental or American Breakfast. If you are looking for a healthy option, go for Soya Bean Pancakes, Oats Pancakes or Avocado Bocconcini Grilled Sandwich. We fell in love with their Pomodoro E Basilico which was cooked with perfection and passion. Singbulli Estate II Flush Darjeeling Tea, Chocolate Chai, Mao Feng Keemum and Lavender Earl Grey are some of the must-try tea variants.
Approximate cost for two: INR 800 (approximately)
Timings: 8:00 AM to 12:30 AM
Location: Multiple locations in Pune
12. Yogi Tree Café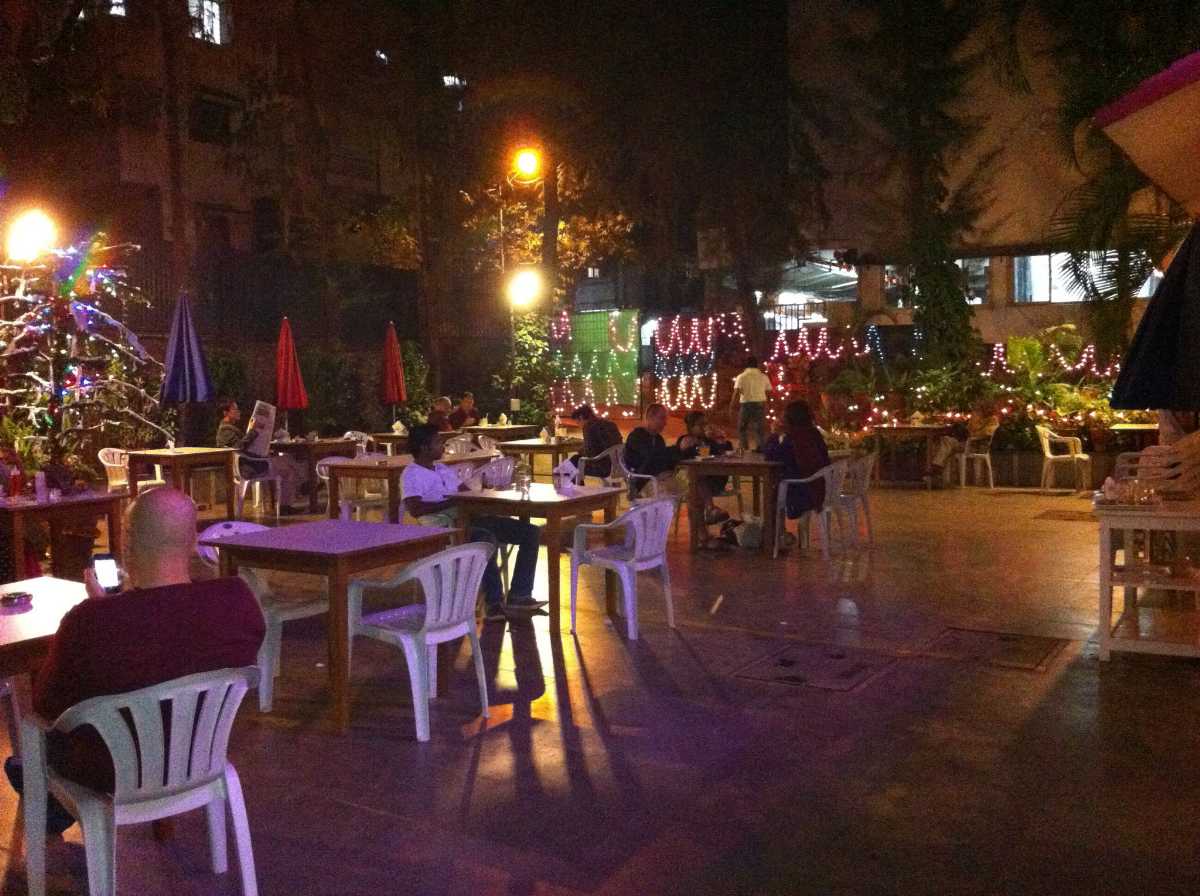 Looking forward to a quiet place and enjoy a healthy vegetarian meal? Head out to Yogi Tree Café for a relaxing time with friends and family. The shade of the enormous trees outside has a calming as well as a cooling effect on the area. The waiters also ensure to check with you about the range of spices you would prefer in your food. Visitors can also try their unique Italian cuisine if they need a break from the staple Indian cuisine.
Must-Try Dishes: The menu has some exciting dishes such as Stir-Fried Pak Choy, Tofu Steak and Organic Brown Rice Salad which are all prepared with organic ingredients. The Herbal Mint Lemon Drink or the Pink Ginger Lemon Drink is exceptionally refreshing. While the summers are here, beat the heat with their seasonal hits -Gluten Free Green Macha Green Tea Cake, Gluten Free Orange Chocolate Cake and Thandai cake.
Approximate cost for two: INR 1000 (approximately)
Timings: 7:00 AM to 10:45 PM
Location: 294/2, Lane A, Off North Main Road
13. Vohuman Café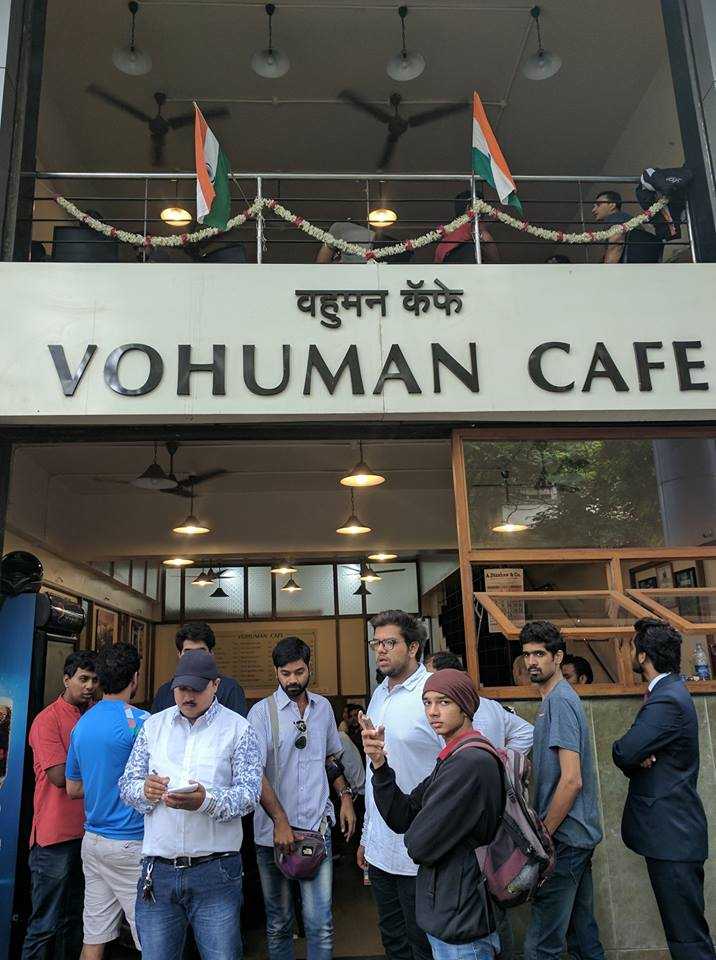 For an excellent breakfast date with your best buddy, and to get your daily java fix in style, Vohuman Café is an iconic name among the Puneites. Start your morning off on the right foot at this Irani Café. With a simple décor to retain a homely spirit at this incredible breakfast spot, the simple menu represents the gastronomic heritage of the city. The food items priced at extremely decent rates attract a lot of youngsters looking for pocket-friendly breakfast options. Though the cosy cafe can be pretty packed the food served here is worth the battle of waiting to get a decent seat. Visit this sweet and magical spot when you visit Pune next.
Must-Try Dishes: Pair a Two-Egg Cheese Omelette or Two Egg Bhurji with a Special Tea to experience the true essence of this Irani Café.
Approximate cost for two: INR 250 (approximately)
Timings: 6:00 AM to 6:00 PM
Location: Millennium Star, Near Ruby Hall, Dhole Patil Road, Pune
14. Café Goodluck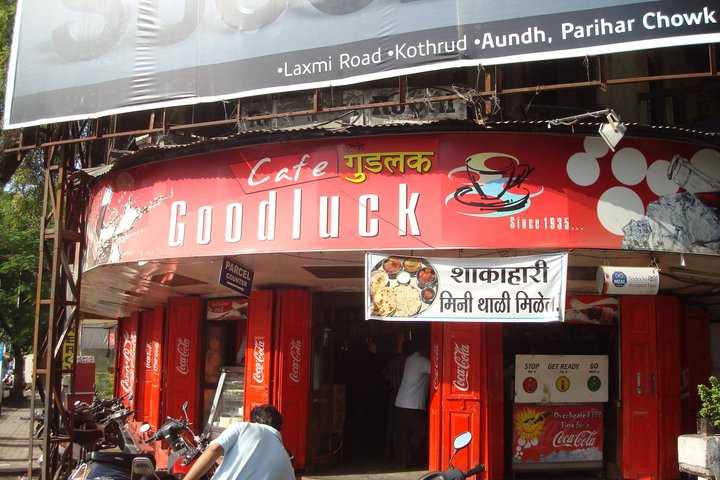 In a mood for a glass of Irani Chai? Café Goodluck is yet another Iranian Café that is a welcome break from the eclectic and posh café experience. Established in 1935, it is one of the oldest eateries in Pune. The place is always bustling with people, but the efficient staff never compromises on the quality of the food served here.
Must-Try Dishes: The epic Bun Mask Pav and Irani Chai are something that you cannot afford to miss when you are visiting Café Goodluck. Indulge in the Goodluck Speciality items and relish the Nababi Chicken Handi or Egg Chutney Kolhapuri with Roomali Roti.
Approximate cost for two: INR 600 (approximately)
Timings: 7:00 AM to 11:30 PM
Location: 759/75, Goodluck Chowk, Deccan Gymkhana, Pune
15. Cafe PeterDonuts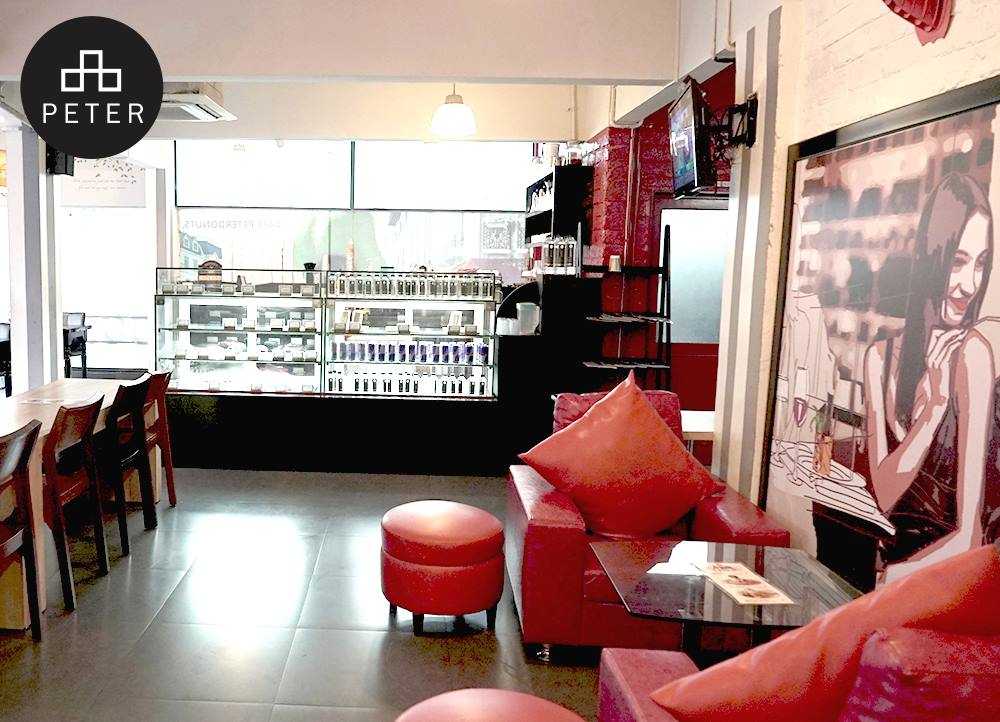 Café PeterDonuts is all about the experience. If you desperately need your cup of Café Americano early in the morning and are worried that no cafes open before 11:00 AM, then you must know that Café PeterDonuts opens as early as 7:00 AM to welcome you with arms wide open. You can also get a wide variety of Korean pops and delicacies here. They also have a fancy baking studio where you can try your hand at the art of baking. Avail the Early Bird Offer to get a hearty breakfast with a special discount between 8:00 AM and 12:00 PM.
Must-Try Dishes: Their doughnuts are for sure to die. How about an exotic combination of Pizza and Donut? Well, try their Pizzanuts, and you will know what we are talking about. From their Korean Special, Chicken Bulgogi and Kimchi Fried Rice are yummilicious.
Approximate cost for two: INR 600 (approximately)
Timings: 7:00 AM to 11:30 PML
ocation: Anand Square, Opposite Symbiosis International College, Viman Nagar, Pune 1st Floor, HPCL Petrol Pump, Gaikwad Nagar, Aundh, Pune
16. Cafe Paashh

An aesthetically lit bungalow with a beautiful courtyard awaits you in the name Cafe Paashh. This fancy locale in Kalyani Nagar serves the most exquisite European dishes but alas, they don't serve any meat (or hurray for all the vegetarians)! They have a special high tea menu consisting of the best of English and American delicacies like scones, cookies, cobbler, and tartines. You can enjoy the delicious food on the rooftop, indoors or whilst you sit in the garden tables.
Must-Try Dishes: Their entire high tea menu is a show-stealer!
Approximate cost for two: INR 1500
Timings: 11.30 AM to 10.30 PM
Location: Survey 211/2, Plot E1 & E2, Hiremath Park, Near Orange IVY School, Kalyani Nagar
17. Drink Your Selfie

It is a unique concept joint which prints your picture on a milkshake! Apart from drinking a shake with your face on it you can have coffee, sandwiches, fries, and Maggi too. They also bake fresh mug cakes within a minute of your order. It has two outlets in Pune - one in Kharadi and the other in Viman Nagar.
Must-Try Dishes: Paan Shake, Peri Peri Fries, Nachos and Mug Cakes
Approximate cost for two: INR 400
Timings: 12 PM to 12 AM
Location: Shop 4, Opposite Zensar Office, Zensar EON, South Main Road, Kharadi [AND] Shop 1, Kavita Apartment, Opposite HDFC Bank, Datta Mandir Chowk, Viman Nagar
18. The French Window Patisserie

Located in the ever happening Koregaon Park, this cafe cum dessert parlour will surely not disappoint you. Visitors are greeted by the huge French windows and the soothing music along with scrumptious food. This could be the perfect place if you want to head out for a fancy breakfast. If breakfast is not your thing then they have a number of entrees, soups, salads, plats, and desserts for a perfect 5-course meal.
Must-Try Dishes: Croissants, Avocado on Toast, Dry Fruit Banana Crumble, and Chocolate Decadence
Approximate cost for two: INR 600
Timings: 9 AM to 11 PM
Location: Lane 5, Opposite Mughal Garden, Koregaon Park
Sometimes a good coffee is not the only thing you need. You might have more love for a cup of Masala Chai, and we respect that. Keeping that in mind, we have mapped the best eateries in Pune that will appeal to you in all senses, whether you are looking for a dessert place to indulge in the spongy and delicious cakes or you need the right set-up to unwind over a cup of your daily cuppa. Pune is a city where one is allowed to have a gastronomic affair with a variety of food that the eateries have to offer. With this complete guide, now you know where to get your morning dose of caffeine and sumptuous breakfast or any other meal that you would need.