Penang is a city for the foodies and is rightly known as the Food Capital of Malaysia. The street food of Penang is as excitingly diverse as the city is. Skewered in sticks, served in a bowl or presented in a plate, the Penang street food draws influence from Chinese, Malaysian, British and Indian cuisines and have many fusion items as well. Here are some of the best street food in Penang
1. Char Koay Teow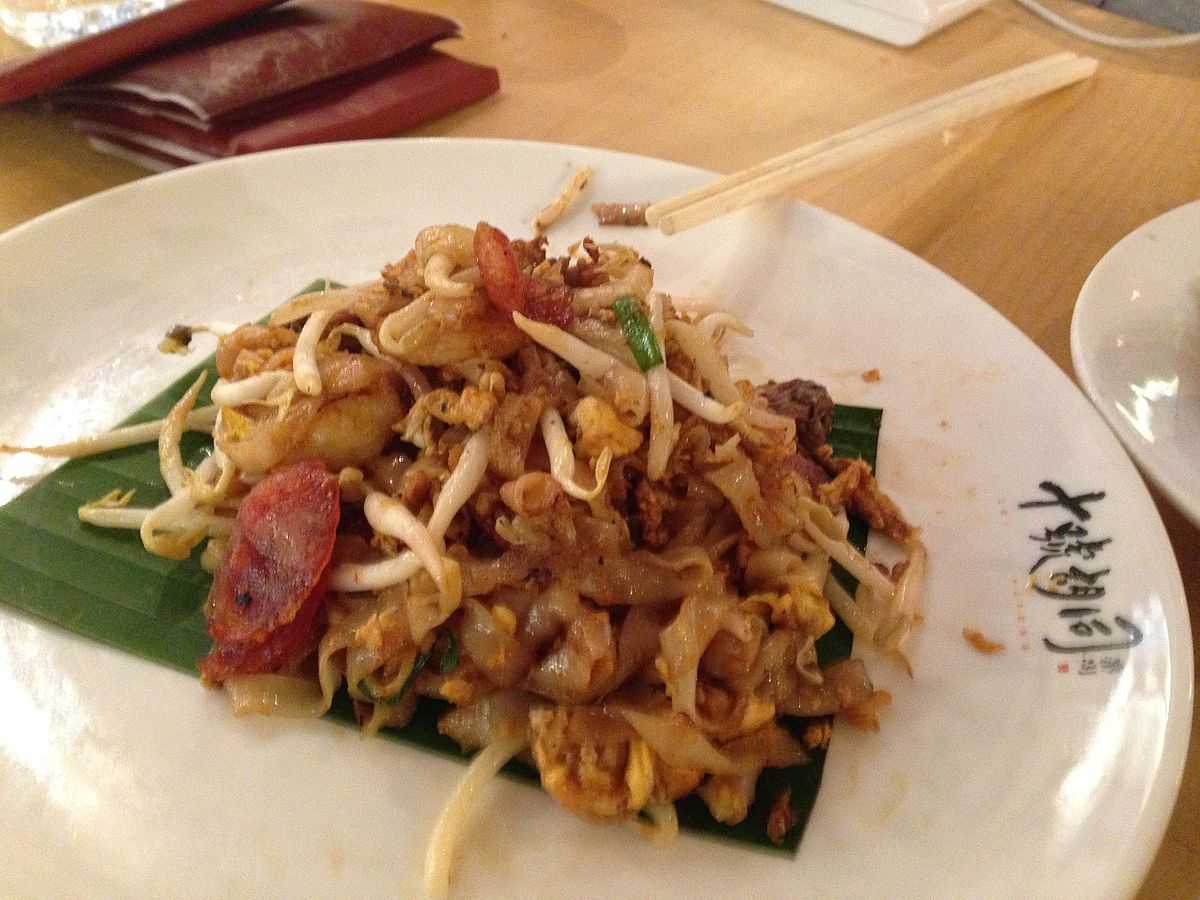 It is an unarguable fact that the usage of Wok plays a major role in Penang's Street food scenes and this is best reflected in the iconic Char Koay Teow which is basically stir-fried rice noodles accompanied with sweet black sauce, prawns, cockles, eggs and sprouts. With so many delicious ingredients and the vessel fragrance which the locals call "Wok Hei", the dish becomes delectable and one of the absolute must-have street food in Penang.
Where to eat : Tiger Char Koay Teow (They use duck eggs instead of chicken eggs for creamier flavour as well as bamboo clams) 
Opening Hours : 8:00 AM - 7:00 PM
Address : Kafe Ping Hooi, intersection of Lebuh Canarvon and Lebuh Melayu
2. Assam Laksa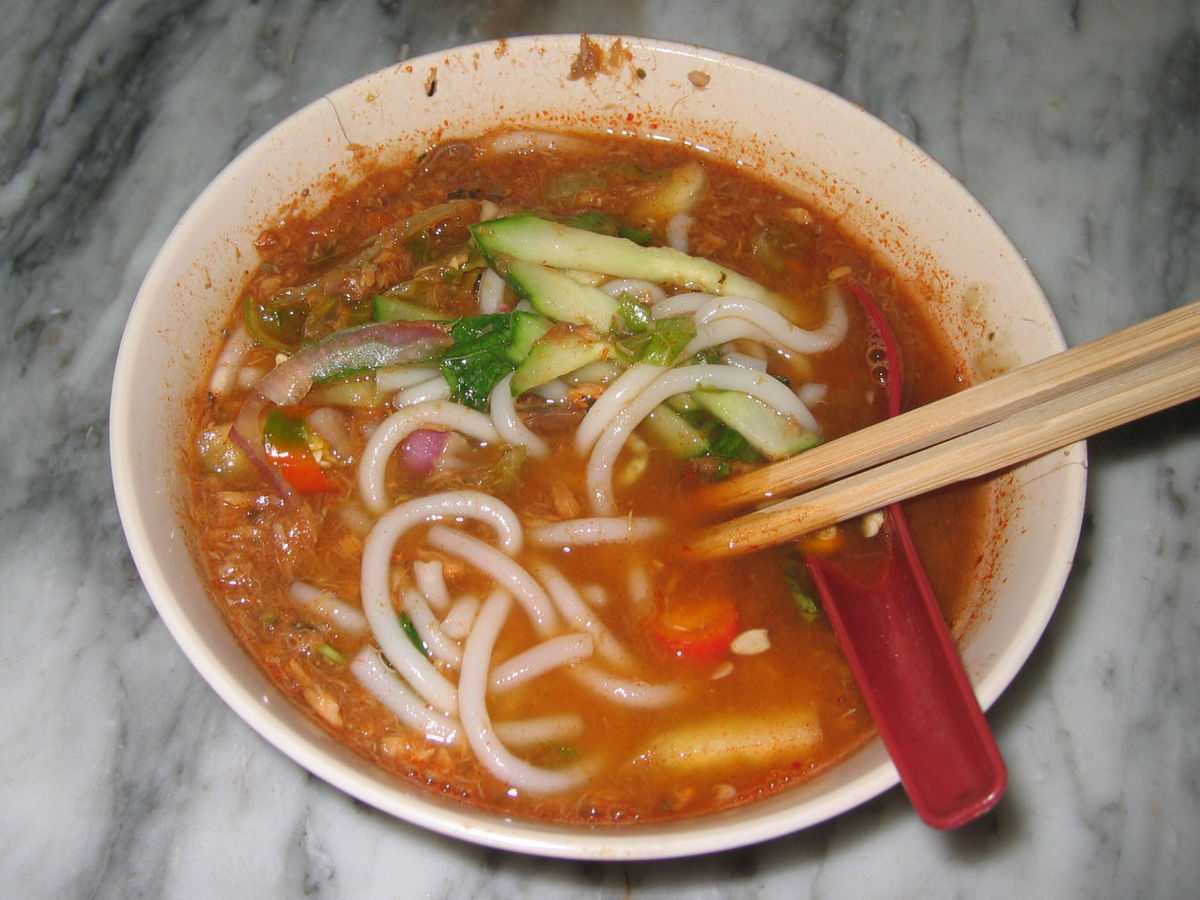 Another noodle delight, Assam Laksa is a glass noodle street food of Penang with a spicy broth of mackerel-fish that gives a fishy flavour and tangy undertones. The broth, made by stewing poached mackerel with tamarind juice, shrimp paste for sourness, cucumber slivers and a whiff of lemongrass for a slightly sweet aftertaste along with the noodles makes for a bowl full of happiness. 
Where to eat : Ayer Itam Market 
Opening Hours : 11:15 AM - 7:30 PM
3. Hokkien Mee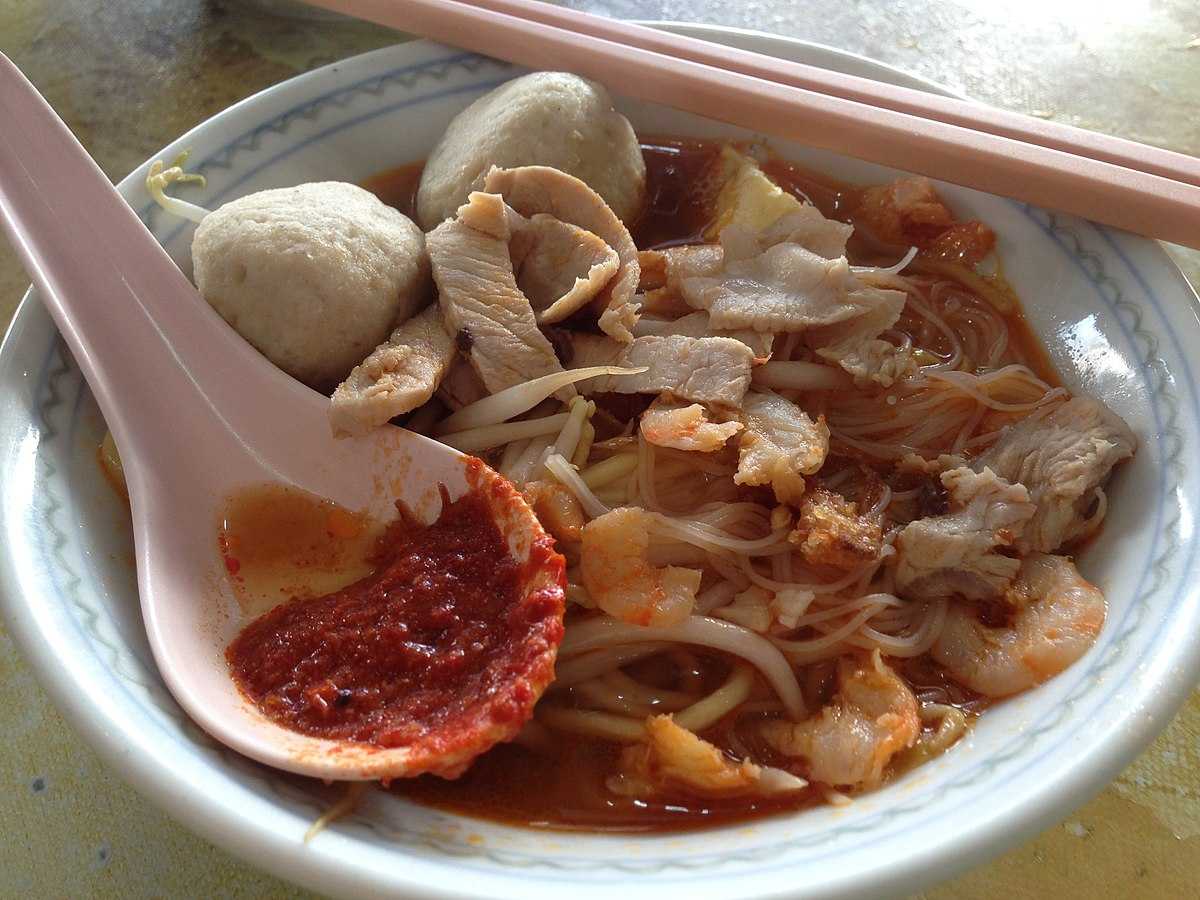 Hokkien Mee, a prawn fried noodle dish is a delight from under the sea, which comes with a soup that features not only prawns but also chicken bits, squid, fish cakes and water spinach in it. Absolute must-have street food of Penang for the seafood lovers, the dish can be very commonly found in the streets and being a uniform dish, it tastes pretty much the same everywhere. Also, being largely spicy with slight savoury taste as well as underlying sweetness, it caters to the tastes of diverse travellers.
Where to eat? - 888 Hokkien Mee
Address : Presgrave Street Hawker Centre Lebuh Pregrave
Opening Hours : 5:30 PM - 11:45 PM (Friday - Wednesday) 
4. Nasi Lemak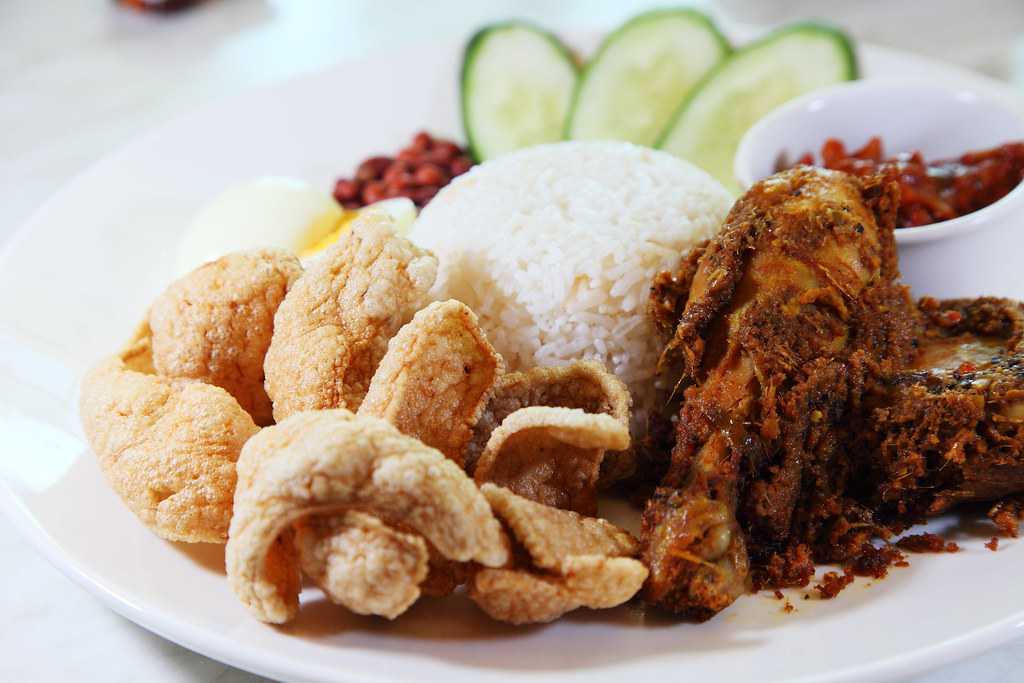 Rice forms an important element of the staple food culture of Asian countries and Malays have a unique take on rice. One such dish that comes out of this creativity is Nasi Lemak which constitutes rice cooked in coconut milk and paired with Sambal chilli. Sold by various street food hawkers, it makes for a quick breakfast, lunch or dinner. The Indian Muslim version of this street food of Penang is Nasi Kandar which also originated from Penang and is similar to Nasi Lemak except that the fragrant rice is paired with some curry-based meat or vegetables.
Where to eat? 

For Nasi Lemak :
Address: Ali Nasi Lemak, in front of Sri Weld Food Court, George Town 
Speciality : They offer 5 different kinds of Nasi Lemak for different tastes. (Fried Anchovies and egg, Prawn, Chicken, Cutter Fish and Plain) 

For Nasi Kandar :
Address: Hameediyah Restaurant, 164, Lebuh Campbell, George Town, 18200 Pulau Pinang
5. Mee Goreng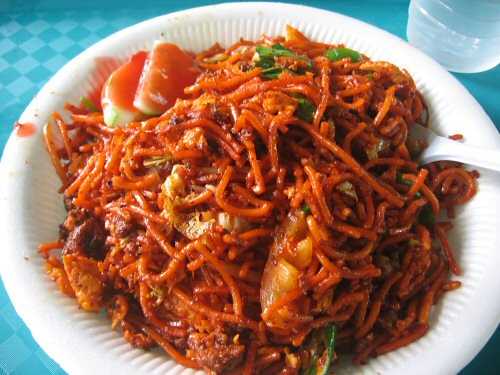 Noodle lovers can flock to stalls that serve the juiciest Mee Goreng, a noodle dish made out of thin yellow noodles fried to perfection with garlic, onions and shallots, accompanied by chicken or prawns or both mixed.  Egg bits, cabbage and chilli, are added to the noodles to add more flavours. The dish can be considered as a Malay version of the famous Chinese dish that is Chow Mein. 
Where to eat? - Bangkok Lane Mee Goreng
Speciality : Fancy display of Wok skills and rhythmic tossing of noodles
Address : 280, Jalan Burma, George Town, 10350 Pulau Pinang
6. Wanton Mee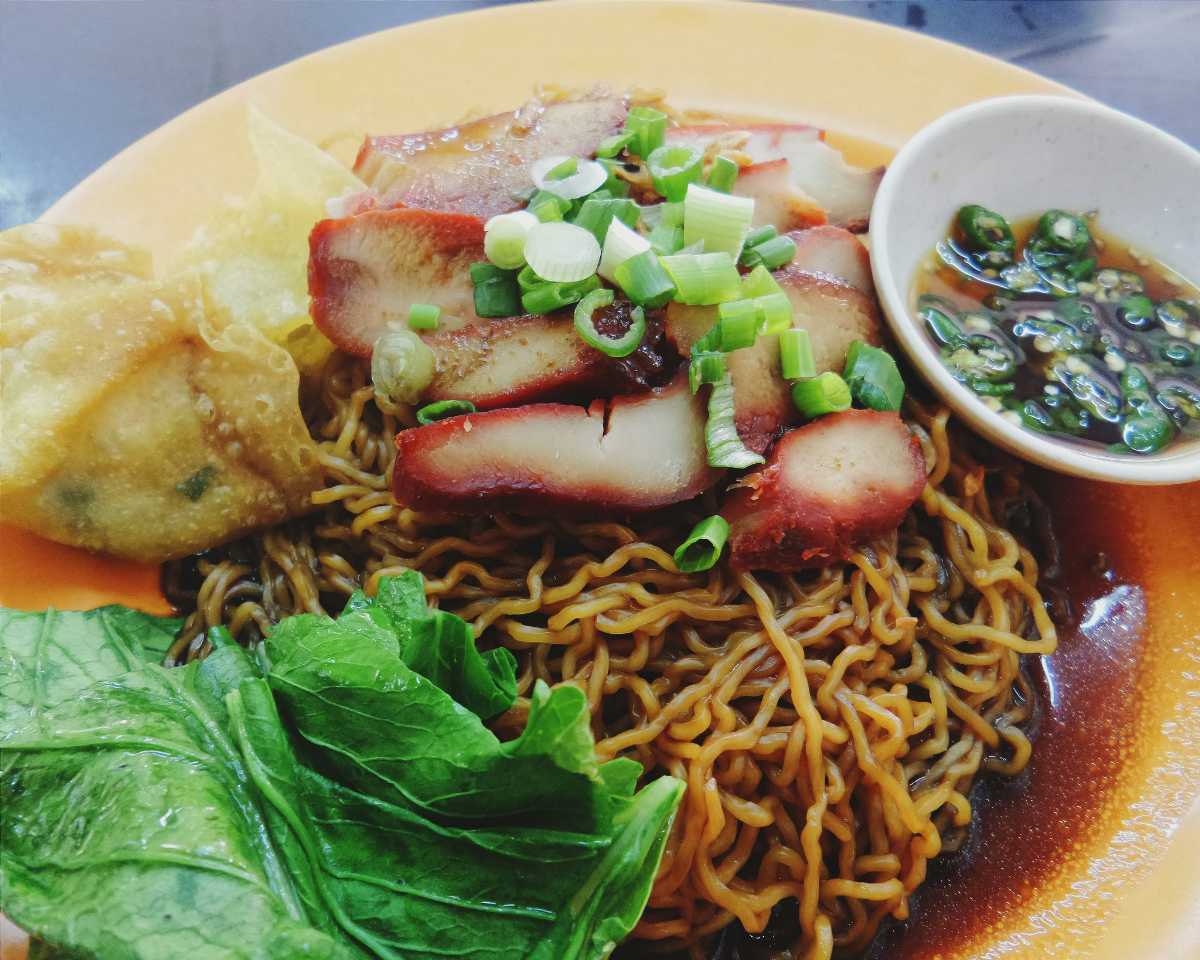 'Wanton' translates to a dumpling, and 'Mee' translates to noodles, forming what is a delicious Chinese inspired noodle dish. Hunt the streets of Penang for Wanton Mee, because any food tour is incomplete without this delicious egg noodle that is cooked with a sweet-sour dark sauce and mixed with lean char siew slices as well as pork wontons. Available both as dry dish dressed with oyster sauce as well as a soupy one in a hot broth, Wanton Mee has a lot of flavours packed into it. 
Where to eat? : Chulia St. Night Hawker Stalls
Address: Lebuh Chulia, George Town, Penang Island
Opening Hours : 6:00 PM-11:00 PM
7. Roti Canai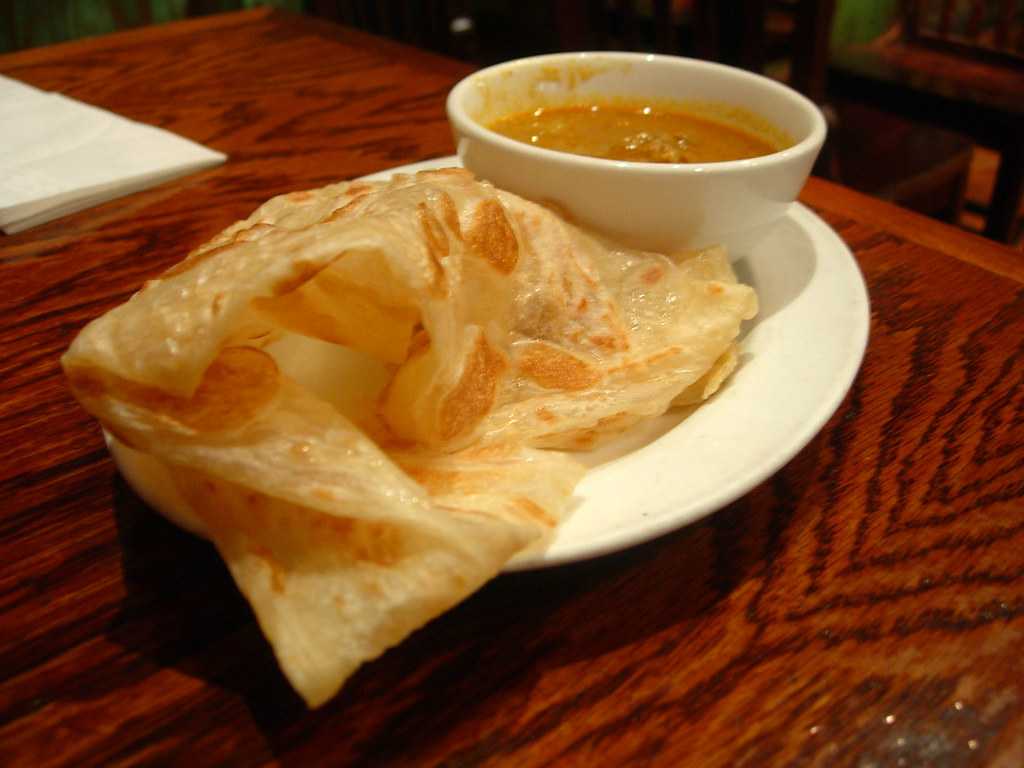 Roti Canai is an Indian inspired flatbread, found in circular or square shapes and is best enjoyed with some generous amount of curry sauce. The flatbread is made by grilling it on a big flat pan and is called 'The flying bread' because the process of making it involves flattening the bread, then tossing it in the air to give it some shape finally. 
Where to eat? : Transfer Road Roti Canai
Address: 110, Jalan Transfer, Georgetown, 10050 George Town
8. Char Koay Kak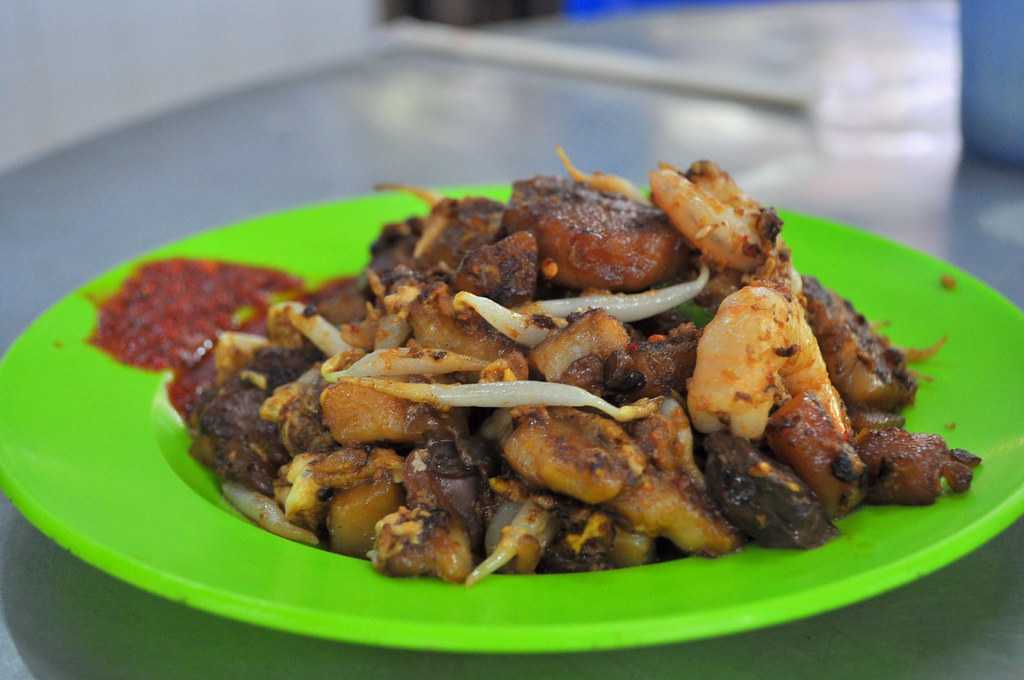 Char Koay Kal translates to Carrot cake. However, this street food of Penang is basically radish cake, stir-fried with accompaniments like preserved radish, bean sprouts and eggs. The sauce used while frying is a thick black soy sauce that adds a savoury taste and a gummy texture to the dish. It's one of those dishes that doesn't appeal much in the first bite but grows on people after a few bites. The crunchiness of bean sprouts and gumminess of radish cake maintains the balance of texture and tastes.
Where to eat?: Sister Yao's Char Koay Kak
Address: Outside Seow Fong Lye Cafe, 94C, Along Macalister Lane, George Town
Timings: 7:00 AM - 1:00 PM
9. Penang Rojak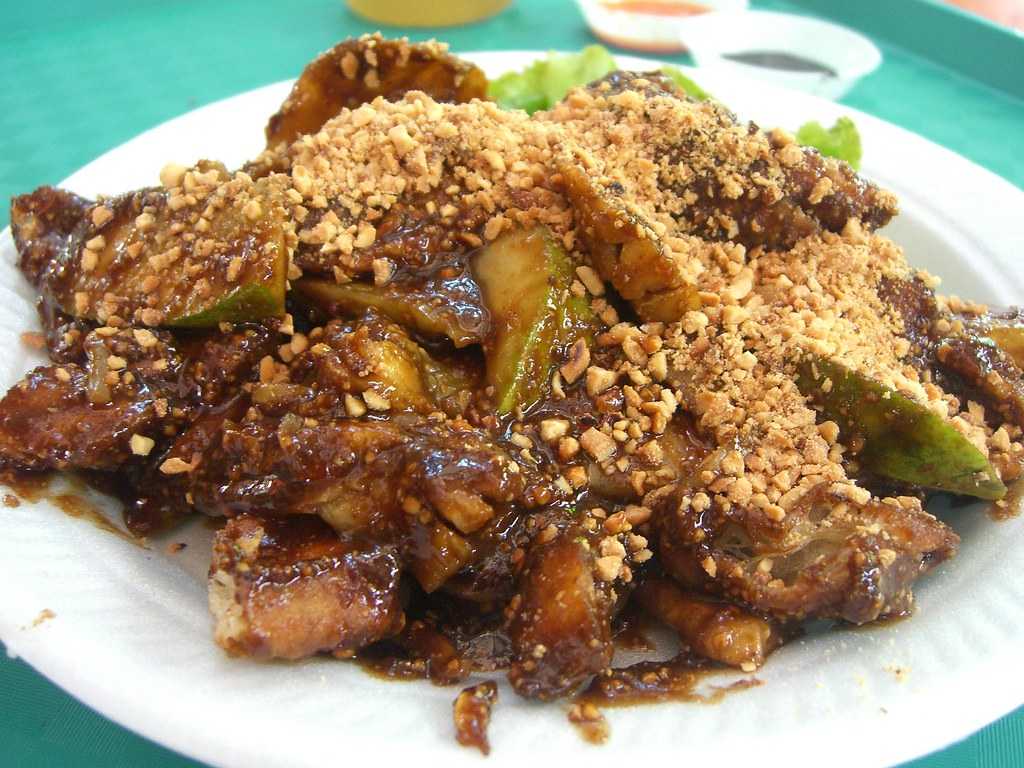 Rojak means 'mixture' in Malay. A traditional Asian fruit and vegetable salad, Penang Rojak is like a typical salad with cucumbers, pineapples, cuttlefish and turnip. The ingredients unique to this salad are jambu air, guava, squid pancakes, honey and sometimes raw mango and green apples. The salad is tossed with thick prawn sauce, which adds a delicious flavour to the already existing flavours. 
Where to eat? : Hock Seng Rojak 
Address: Gat Lebuh Cecil, 10300 George Town, Pulau Pinang
Timings: 3:00 PM - 8:30 PM
10. Chicken Wings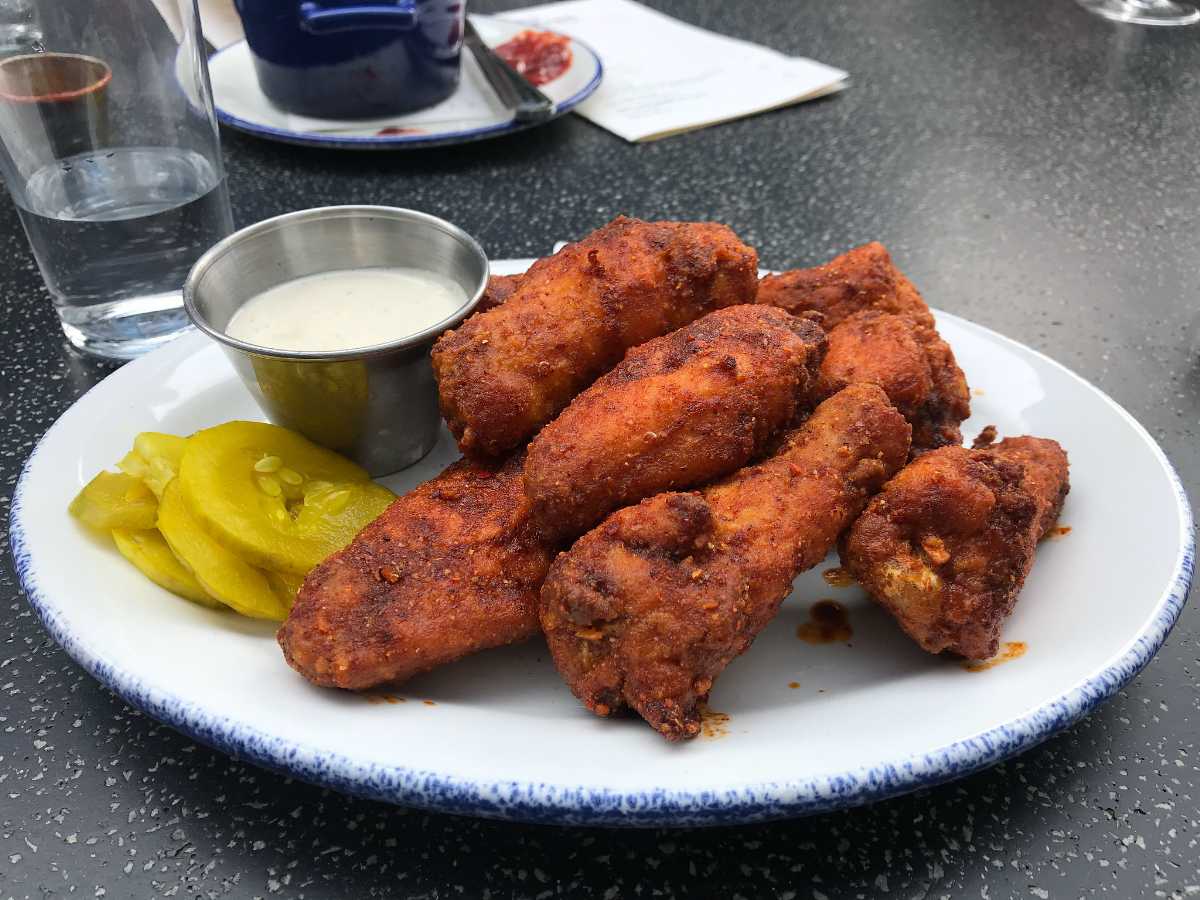 Experience finger-licking goodness with the Malaysian-styled charcoal-grilled chicken wings that are a must-try street food of Penang for the chicken lovers as well as those looking for some quick bites. The uniqueness about the chicken wings hawkers sell here is that they grill them over a charcoal flame to add extra crunch to them, which goes tremendously well with the juicy wings. 
Where to eat? : Song River Cafe
Address : No 65, Persiaran Gurney, 10250, George Town, Pulau Pinang
Timings :7:00 AM - 3:00 AM
11. Apom Manis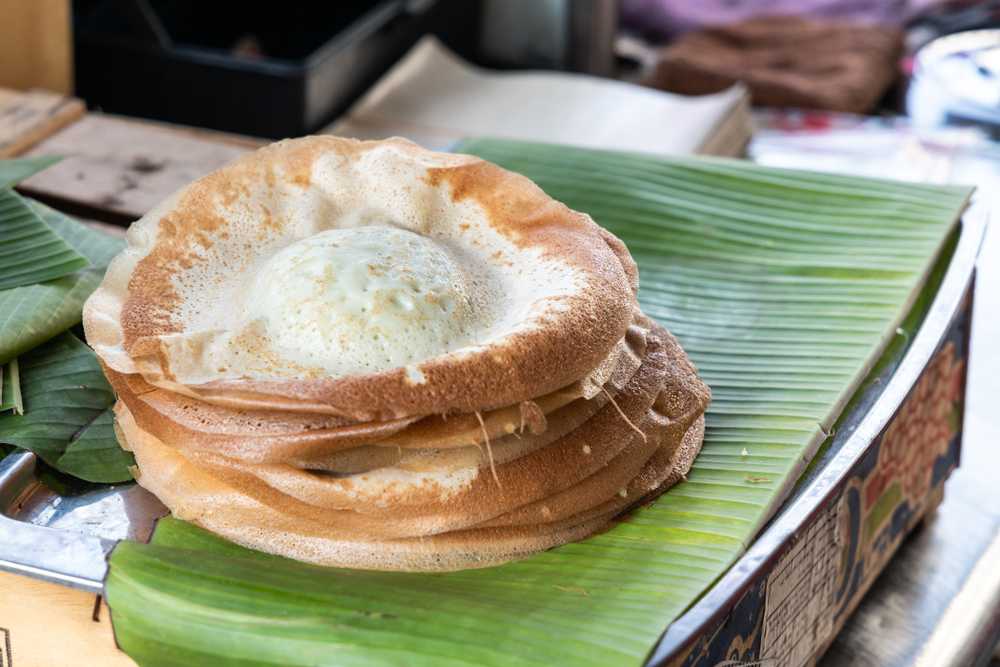 A popular, light and inexpensive snack which has an Indian crepe-like structure, Apom Manis is made of sugar, eggs, coconut milk and flour. The crispy outside and the fluffy, eggy centre of the crepe is made by pouring the rich batter into small clay pots or mini woks. 
Where to eat? : Lebuh Chulia Apom
Address: Lebuh Chulia Night Hawker Stalls, George Town
Timings: 6:00 PM - 12:00 AM
12. Ais Kachang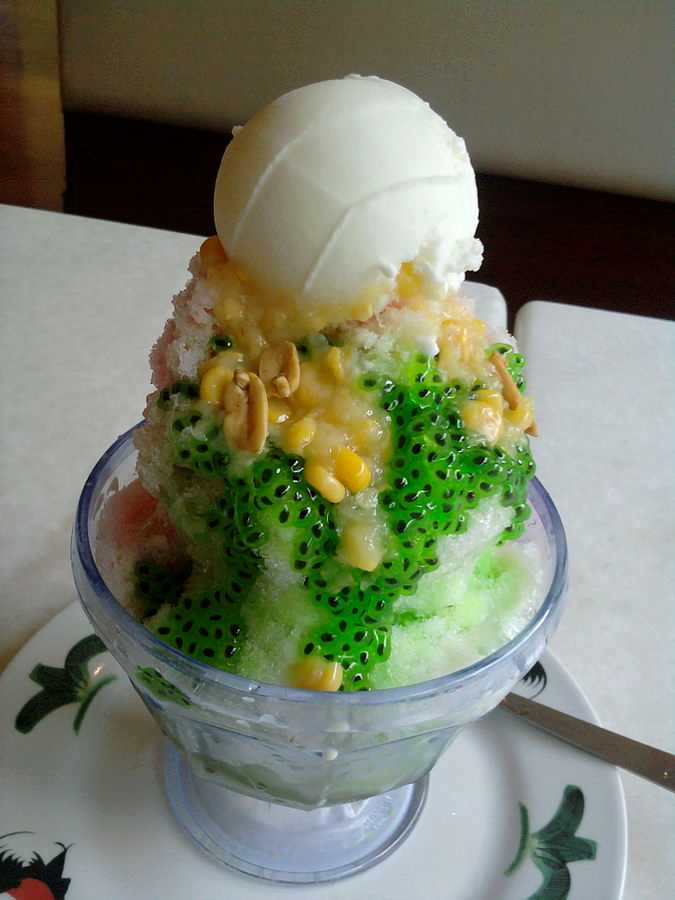 To beat the humid weather of Penang; one needs a refreshing dish like Ais Kachang. A refreshing, thirst-quenching concoction of finely shaved ice, grass jelly, red beans and rose syrup, it is one of the top local desserts. Best served with homemade durian ice cream and jelly, the dessert has evolved and been improved upon by various hawkers and coffee shops. One can find many variations of the same, but for those who are visiting Penang for the first time, it is suggested that they try out the traditional version of the dessert. 
Where to eat? : Jalil Special Ais Kachang 
Address: Near Esplanade, 1 Light Street, Georgetown
13. Dim Sum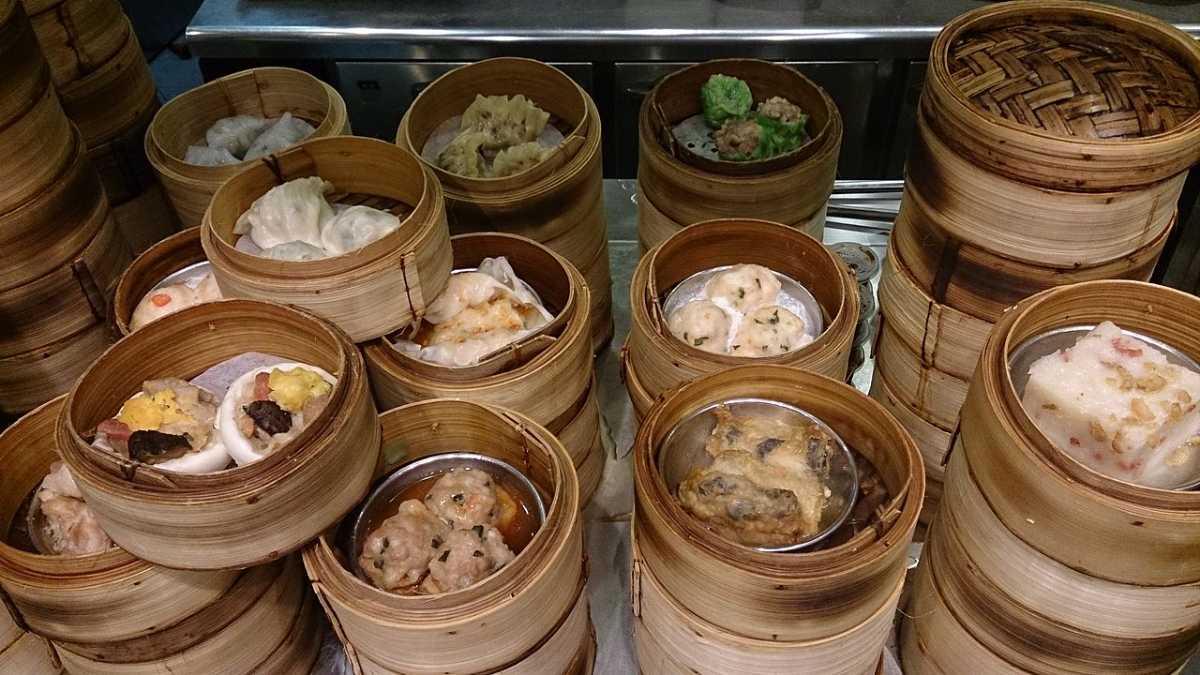 Penang is a good place to sample the various Chinese dishes and dim sum is one of those foods that are commonly found, but with variations that exist in the fillings. These moreish dumplings are usually filled with prawns, pork, chicken or vegetables, giving one so many options to pick.
Where to eat? : New World Park, Tai Tong Address
Address: George Town
14. Curry Mee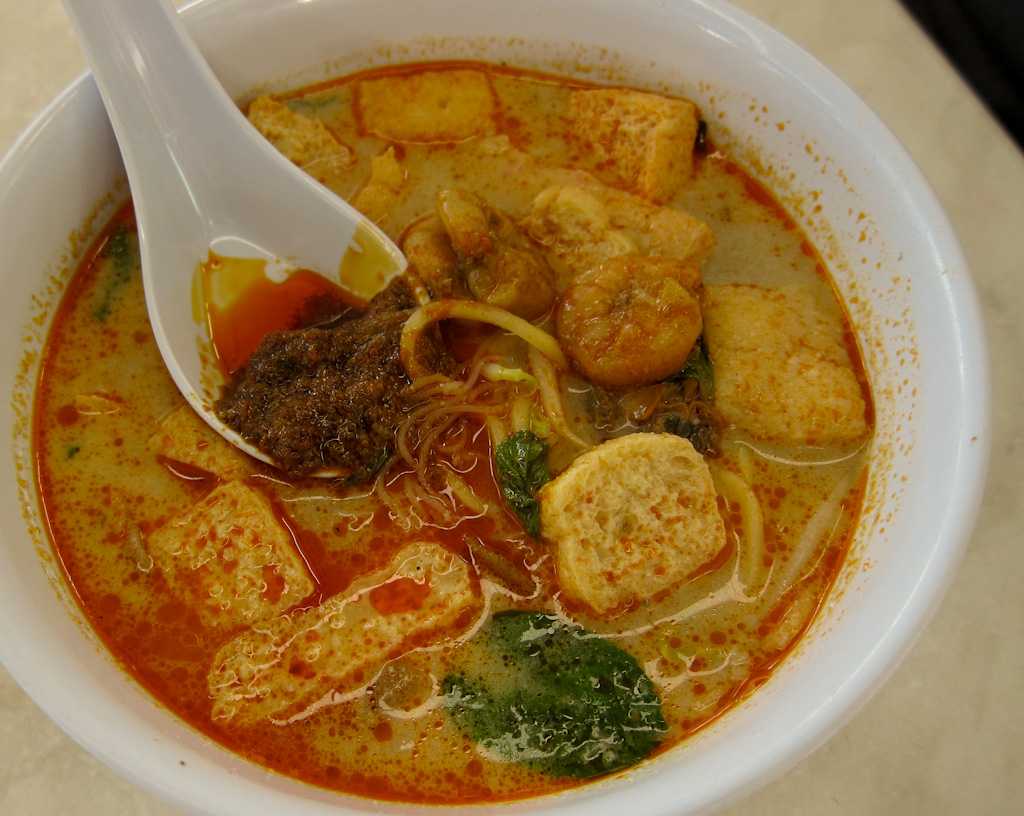 Curry Mee is the Penang-special curry with a preparation that is very different from other curries. This street food of Penang is served with pig blood, cockles, taufu pok, cuttlefish with fragrant broth and mild coconut milk. The chilli paste with which it is served tastes distinct for the stalls because each of them uses their own special ingredient in its preparation, to enhance the soup base. 
Where to eat? : Sister Curry Mee- Ayer Itam
Address: 610 K, Lorong Beside, 1150 Ayer Itam Pulau Pinang
Speciality: The is run by two sisters in their 80s and that testifies how long the store has been around. 
Timings: 7:30 AM - 1:00 PM
15. Lok Lok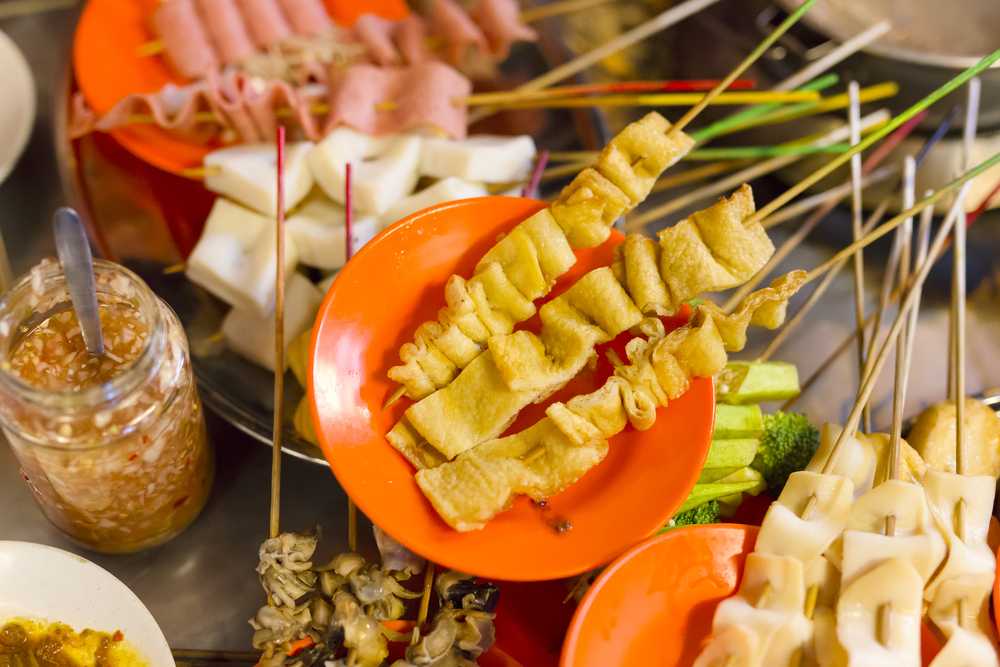 A Lok-Lok steamboat dinner is one of the must-eat street food of Penang. A comfort food, Lok Lok can be enjoyed by self-selecting a sauce and freshly skewed items, put in a boiler. It is the common form of eating in Penang. The different options of skewed items include oysters, mushrooms, vegetables, shrimps, crabs, fish/meatball etc. After choosing the base ingredient, the next step is cooking the chosen food in a communal pot of boiling soup and lastly choosing the right sauce to have it with. The street hawkers also recommend which sauce to try. Considering that lok lok offers various tastes according to various preferences, it is a must-have with friends and family. 
Where to eat?: Lok Lok at Pulau Tikus Market
Address:  250, Jalan Burma, 10350, Pulau Penang
16. Oyster Omelette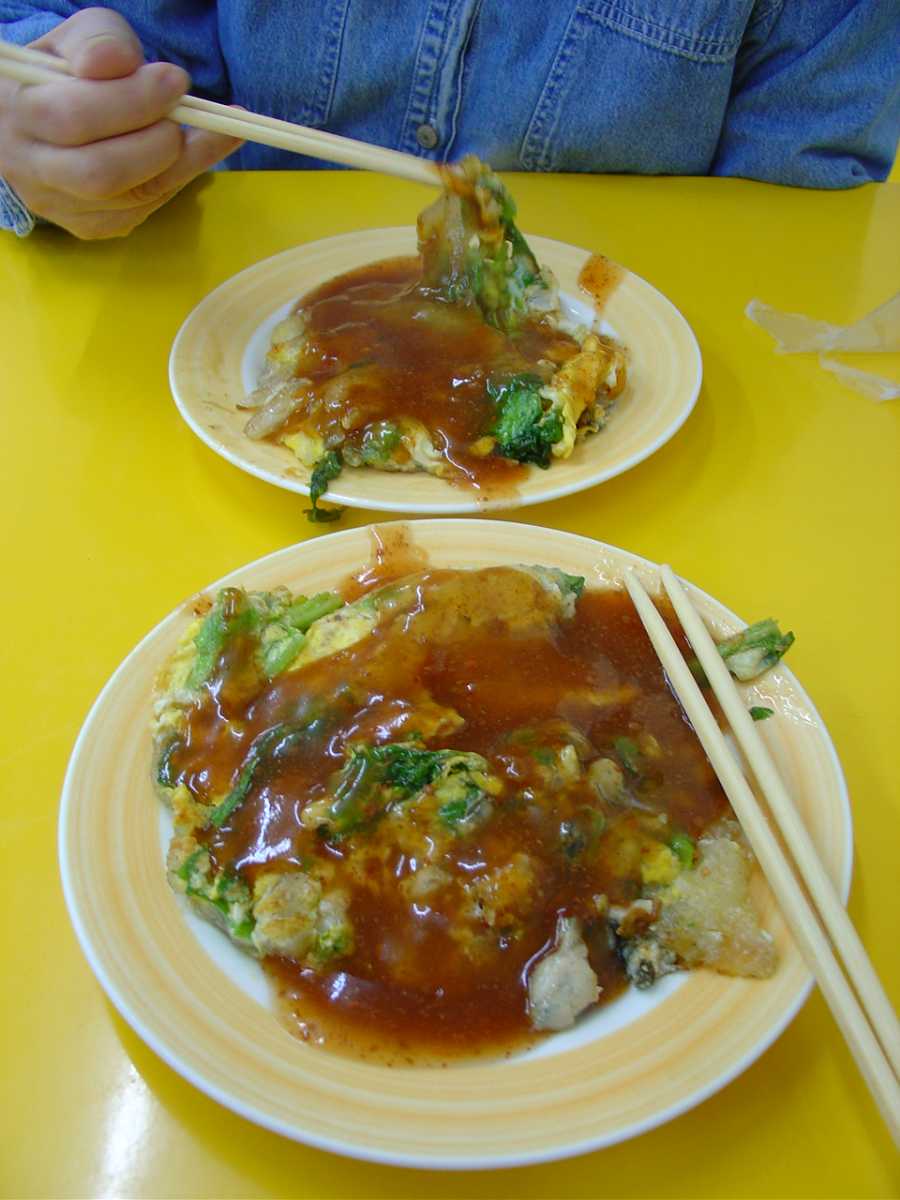 As the name suggests, it is a special omelette prepared with juicy, succulent oysters with fried eggs and flour to bind them together. Juicy oysters and savoury eggs form the perfect blend to form a quickly made dish, that is best presented and served with delicious garlic chilli sauce. 
Where to eat? : Bayan Baru Market Food Court Oyster Omelette
Address: Lintang Mayang Pasir 4, Bandar Bayan Baru, 11900 Bayan Lepas, Pulau Penang
Timings: 6:00 AM - 11:00 PM
17. Masala Dosa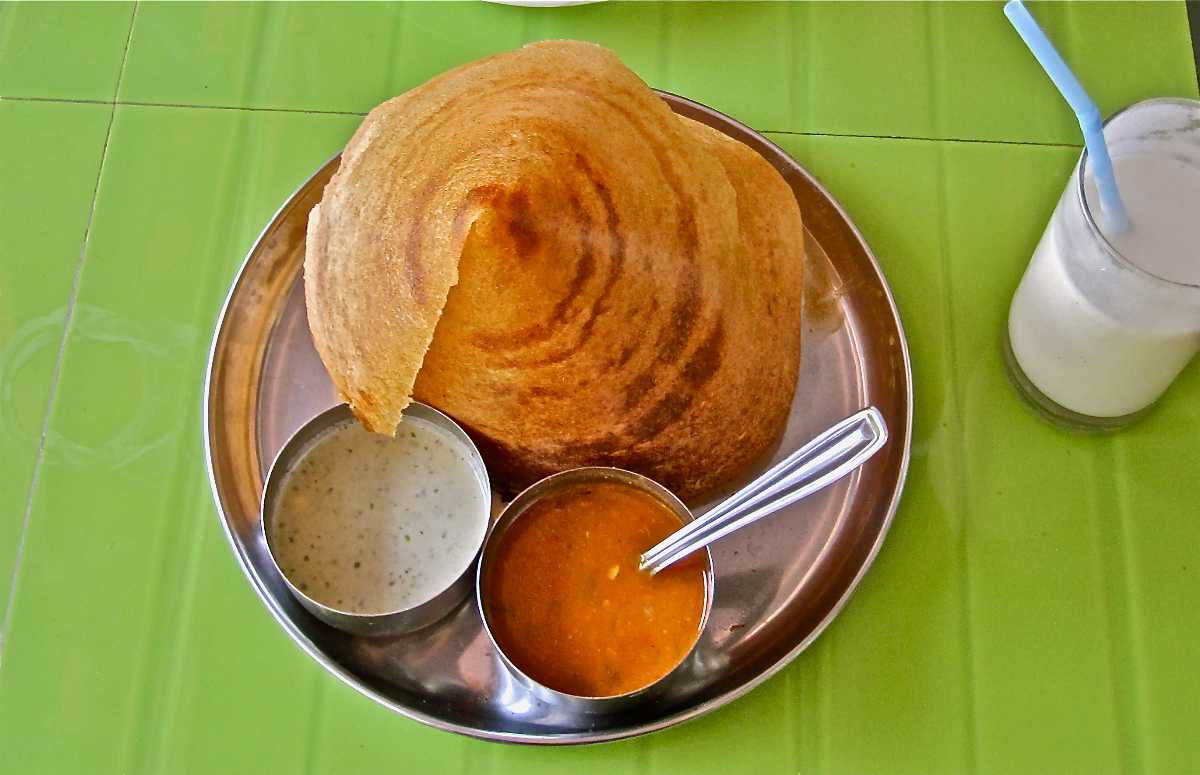 Head to Little India to enjoy the scrumptious South Indian that is Masala Dosa which is served traditionally on a tasty banana leaf curry. The dish consists of a thin layered rice batter, filled with a potato-based Masala. Masala Dosa is one of the most sought after breakfast food, and one can visit Little India in the morning hours to enjoy it. The sight of rice batter being skillfully spread on a piping hot griddle is also a delight to watch. The accompaniments alongside Dosa include curries and spicy chutneys. 
Where to eat? : Woodlands Vegetarian Restaurant, Sri Ananda Bhawan
Address: Little India
18. Oh Chien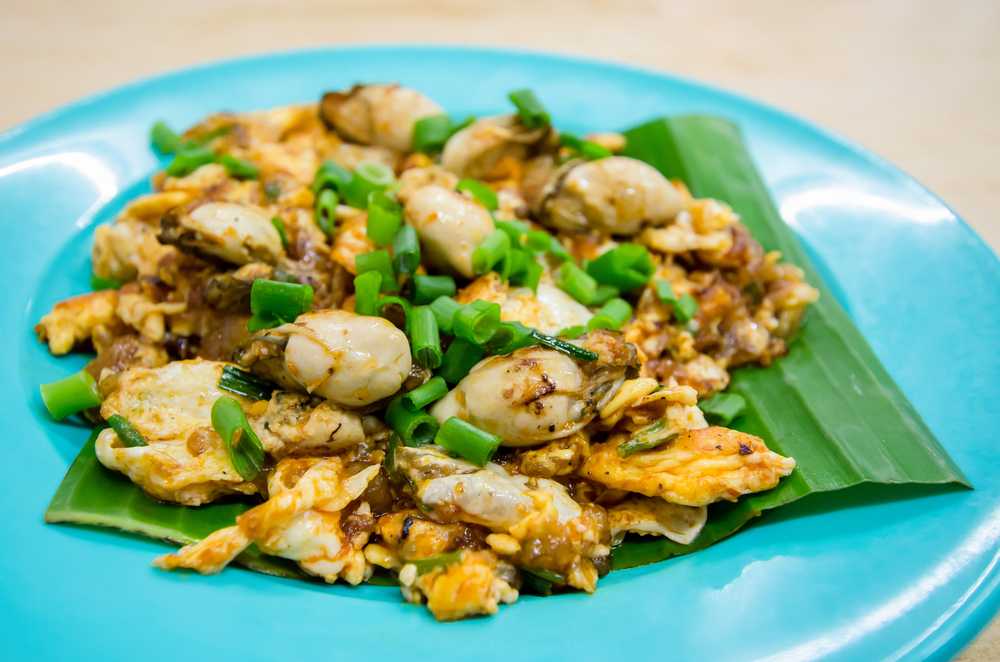 Oh Chien, as the name suggests is a Chinese dish and stands as the finest example of the fact that Chinese cuisines have seeped in immensely in the everyday food scenes of Penang. Oh Chien is an Omelette dish made with tapioca flour, that melts in the mouth. Other ingredients that come into play while preparing Oh Chien are oysters, garlic, chilli paste, shallots and fried eggs. This crisp, gummy textured omelette is a must-try for those who love eggs and seafood. 
Where to eat? : Northam Beach Cafe
Address : Jalan Sultan Ahmad Shah, Pulau Tikus
Timings : 5:00 PM - 12:30 AM
19. Popiah


Popiah is the Penang version of spring rolls made from little porous, savoury and juicy crepes that are made of soybean curd, eggs, vegetable stew, Chinese lettuce, stewed turnips and carrots. The wrap is then dipped in sweet-savoury sauces, like black sauce and chilli sauce. 
Where to eat? : Nur Poh Piah
Address: Padang Brown Food Court 2A Jalan Johor, George Town, 10400 Penang
Timings :
Tuesday to Sunday - 12:00 PM - 7:00 PM
Speciality : The stall follows a recipe that has been passed down since the 1950s.
20. Chee Cheong Fun


The name of the dish has a direct Cantonese translation meaning 'Pig intestine noodles'. However, the translation is misleading as there are no actual pig intestines in the dish. Chee Cheong Fun is made with rolled up flat rice noodles that resemble pig intestines and hence the name. The flavour of the dish comes from the blend of three different sauces, poured on top of the noodles: prawn paste, chilli sauce and a dark red sweet sauce. The dish is topped with shrimp paste, which is a thicker sauce. The consistency of sauces differs with the stalls. The amalgamation of these three sauces feels like an explosion of flavours in the mouth. Chee Cheong Fun is a light street food of Penang and can be best enjoyed as an accompaniment with some other dish. 
Where to eat? : Genting Kopitiam 
Address : Lorong Delima 3, Taman Island Glades, 11700 Jelutong, Pulau Pinang
Timings : 8:00 AM - 4:00 PM
21. Cendol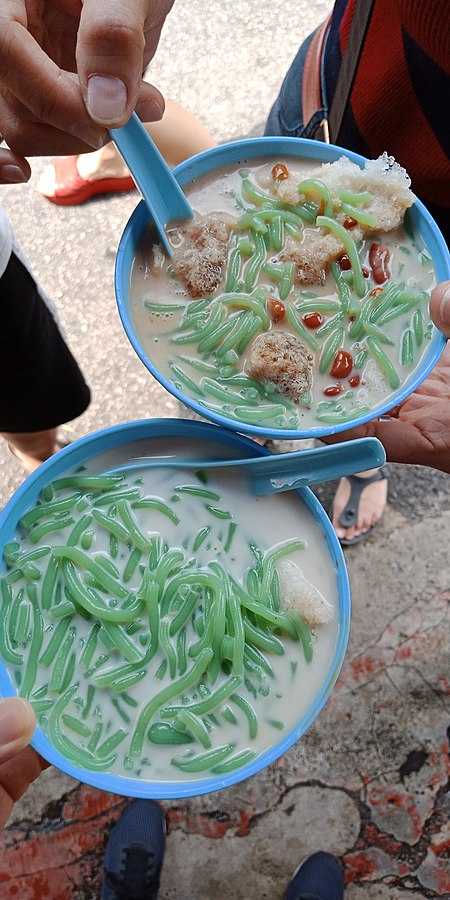 Cendol is a traditional South Asian dessert, that comes in a plate or a cup and is made of coconut milk which helps quench thirst, jelly noodles and red beans that add extra bite to it, heaps of shaved ice for the crunch and palm sugar for the sweetness. This delicious dessert also consists of glutinous rice, grass jelly and creamed corn. The nutritious value of the dessert is also high, in addition to the deliciousness. The ingredients that go into making Cendol provide a perfect balance of sweetness such that it can be enjoyed without hesitation by diabetic people as well as children because it is not that sweet. 
Where to eat? :  Penang Road Famous Chendul
Speciality : It is in operation since the 1950s. The long queues outside the stalls talks heaps about the taste. 
Address: 27 & 29, Lebuh Keng Kwee (beside Jooi Hooi Cafe, off Jalan Penang) 
Timings :
Weekdays - 10:30 AM - 7:00 PM
Weekends - 10:00 AM - 7:30 PM 
22. Lor Bak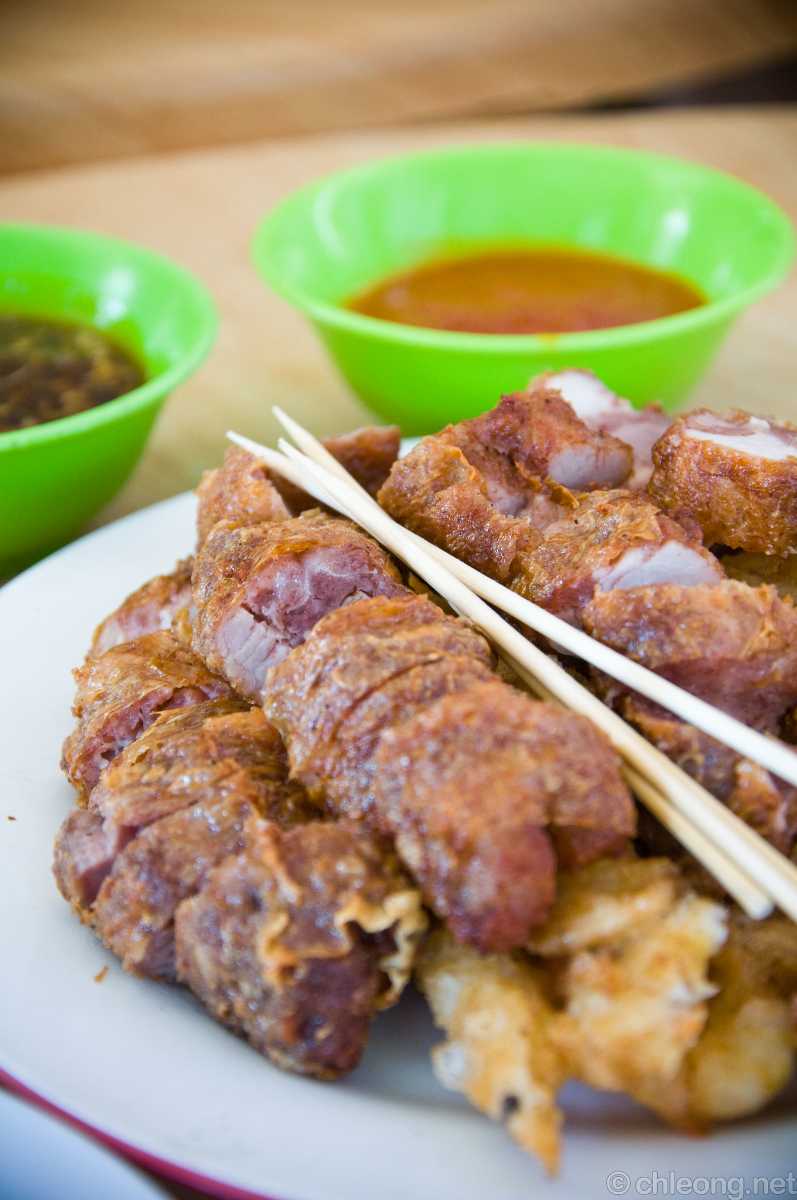 Lor Bak is basically pork rolls that best describes the bond between Malaysians and deep-fried food. Commonly found in various street food stalls, Lor Bak features pork marinated in Chinese five-spice powder, fried with various other ingredients like water chestnuts, jicama, carrots and onions, then rolled up with a sheet of bean curd and deep-fried to obtain a crispy texture. One can also choose to have it with other exotic items like pig head skin and century eggs for a change. They resemble spring rolls, but being deep-fried, they are darker in colour. They are sold with other deep-fried items like sausages, fish cakes and prawn fritters in stalls. 
Where to eat?: Neoh Khay Chye Lor Bak stall
Address: Trang Road (behind Gama Supermarket)
Timings: Wednesday to Sunday - 1:00 PM to 5:30 PM
Speciality : The stall has been around for 100 years and this is a testament to how tasty it is.
23. Tau Sar Peah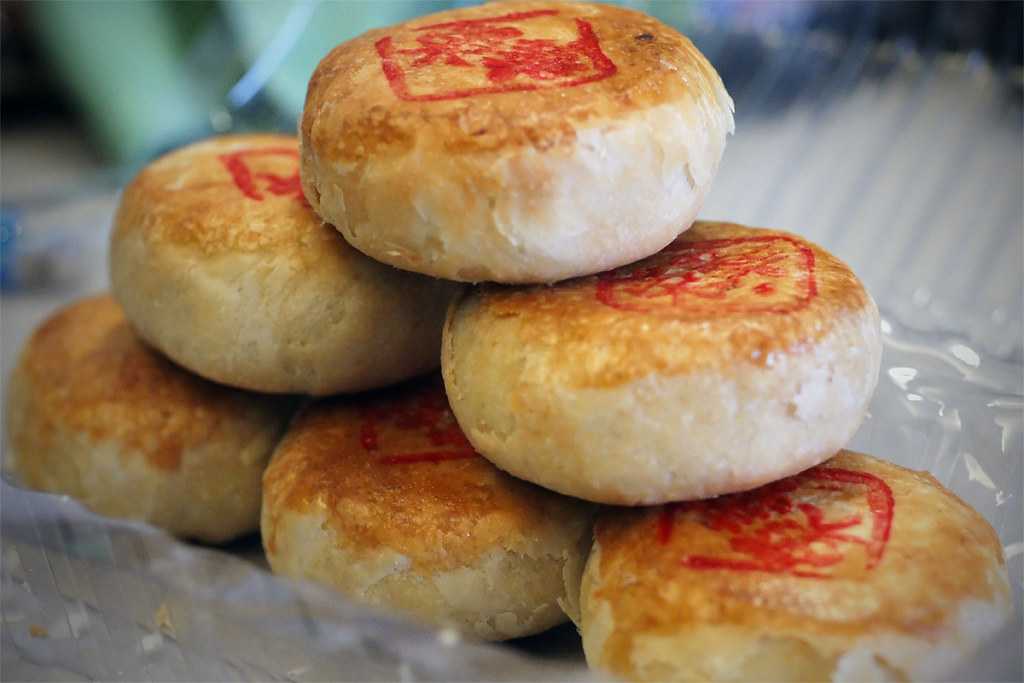 A delicious local snack, Tau Sar Piah is a traditionally baked food with fillings of soft mashed up mung beans such as red beans or green beans. The outside of this street food of Penang is crisp and crumbly with a salty taste. The inside is soft and sweet. The sweet-salty and soft-crumbly contrast give it an ultimate flavour. Tau Sah Piah is a must-have pastry in Penang and has become the most popular take-home souvenir for the visitors visiting Penang. This iconic fluffy crust pastry is an ideal gift to buy for friends and family.
Where to eat? :Hock Lok Siew Biscuit Trading
Address :120, Lebuh Noordin, 10300 Penang
Timings : 9.00 Am – 7.00 PM
Speciality: This local biscuit shop produces the authentic flavour of Tau Sar Piah and that too, in three different flavours : original, pandan and sambal prawns. They add a distinctive flavor and texture to the Tau Sar Piah. 
24. Apam Balik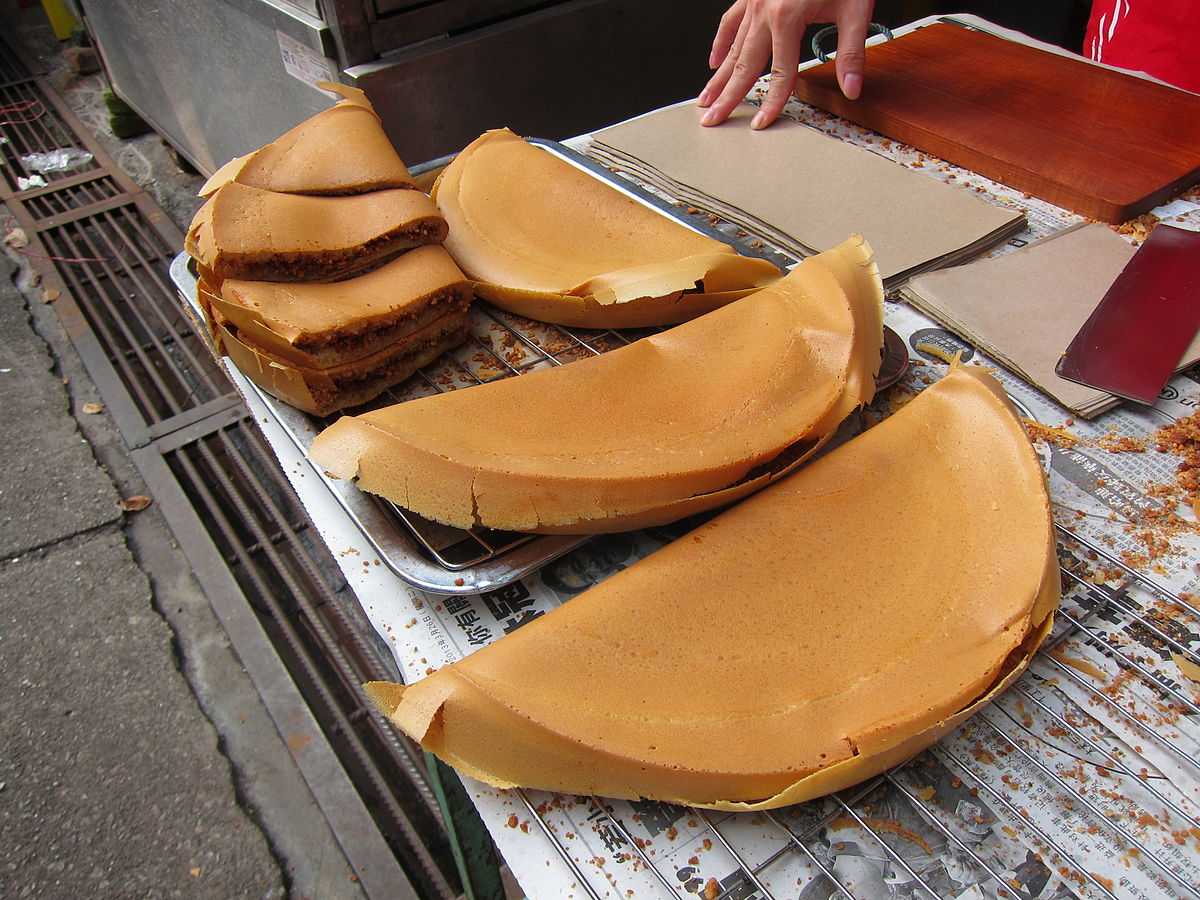 Among the top street food breakfast foods include Apam Balik, a simple and straightforward pancake with a pillow surface, holding savoury ingredients inside like a sandwich. These are palm-sized delights that make for a quick breakfast. The term 'Balik' means turning and folding before serving. This pancake sandwich is made with ingredients like peanuts, sugar, sweet corn and banana slices, depending on the order. Vendors can be seen cooking them on small, flat pans 
Where to eat? : Aki Pancake
Address: Super Tanker Food Court, Jalan Nipah, Taman Lip Sin , 11900, Georgetown
Timings :8:00 AM - 11:30 AM, 6:00 PM - 11:30 PM
25. Rojak Pasembur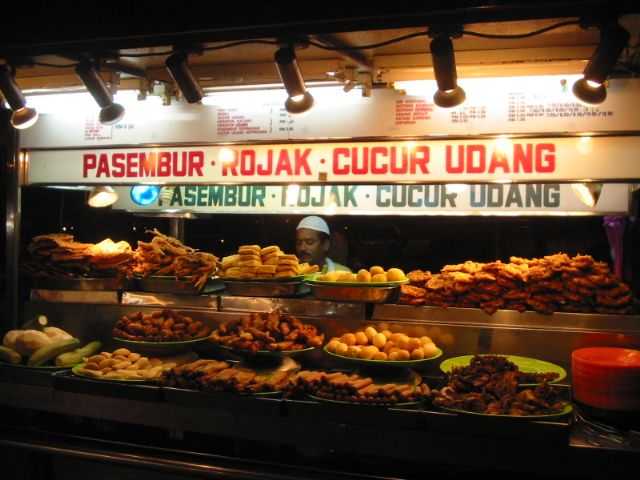 This is a dish somewhere between a salad and hummus. It's made up of a myriad of ingredients, but most commonly shreds of cucumber, turnip, crispy prawn crusts and tofu. Sometimes, seafood is thrown in as well, such as octopus. The egg is often added to make it a complete breakfast package. It is topped with a thick sauce and is made into a heap. Hence one has to delve deep into it using wooden sticks to find some particular shred of egg or octopus. Eating this without making a mess is an art in itself.
Where to eat? : GP Soon stall  some other stalls on the beaches, Gurney Drive Hawker Centre, 172 Persiaran Gurney
Timings : 9:30 PM – 2:00 AM
This comprehensive list will be good assistance for those planning a street food tour in Penang and give a rough idea of what to eat and where to eat. There are a plethora of options for street food in Penang, and each of them provides us with an insight into the Malaysian island that is held dear for its culinary traditions.