Besides mouth-watering food and clothes, night markets in Penang are known for their lively atmosphere that truly depicts Malaysian culture. Penang night markets are known to be better than their daytime counterparts. If you want to experience a good holiday in Penang, you cannot afford to miss visiting one of these markets.
1. Batu Ferringhi Night Market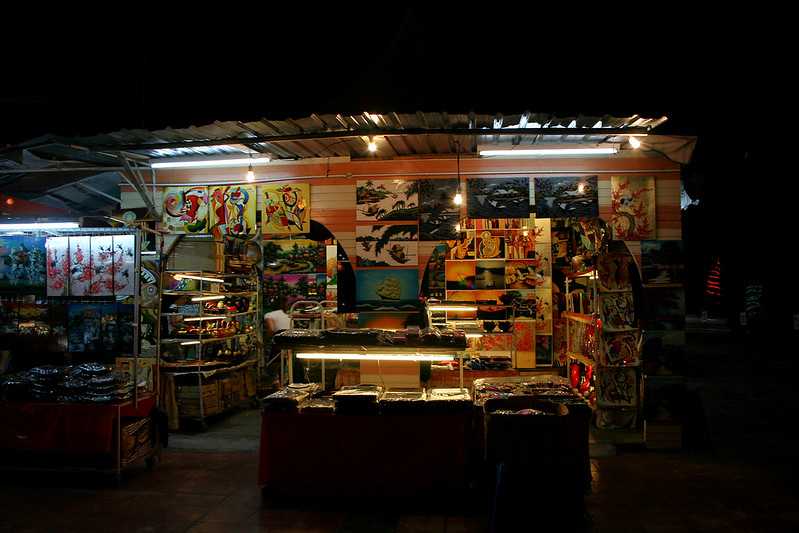 A bazaar of makeshift stalls operated by local traders, Batu Ferringhi night market stretches for 1 KM. Tourists visit the market to buy cheap accessories like clothes, watches, sling bags, magnets, key chains, coloured jewellery and pirated DVDs. The place is good to buy some souvenirs to remember your trip to Penang. The market also sells swimwear and beachwear, as the Batu Ferringhi Beach is located quite close to the market. This is one of the night markets in Penang that is bound to get crowded as the night approaches, so be prepared for the noisy shopping time. The sellers quote high prices, but the key to getting the right shopping fix is to bargain with them.
Location: Along Jalan Batu Feringghi, from Shangri-La's Rasa Sayang Resort & Spa to Shangri-La's Golden Sands Resort
Opening Hours: 7 PM - Midnight (everyday)
Things to buy: Seafood, Durians, Watches, Mangosteen
2. Chinatown- Petaling Street Market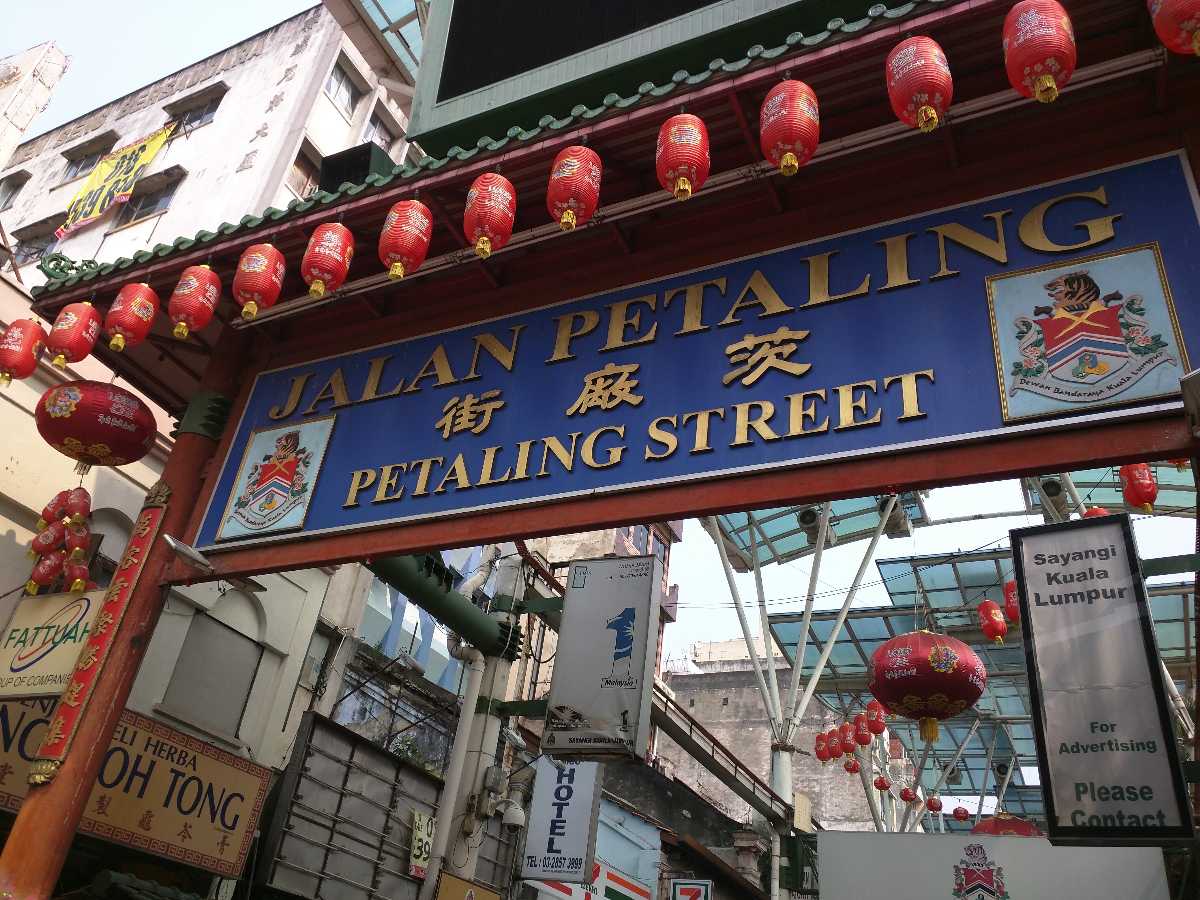 Based in Petaling Street, China Town is also known as "Chee Cheong Kai", meaning "Starch Factory Food". It is one of the most popular tourist spots in Malaysia and one of the top night markets in Penang, especially due to its rich oriental culture. Visitors can find everything is this night market at dirt-cheap prices. Petaling Street is known as a shopping district, as it transforms itself into a lively market in the dark. The street is filled with restaurants selling local food along with several fresh snack stalls. Some of the tourists spend their night in the market until 4 AM.
Location: Jalan Petaling, City Centre, 50000 Kuala Lumpur, Wilayah Persekutuan Kuala Lumpur
Opening Hours: Daily, Always open
Things to buy: Beef Noodles, Chicken Rice, Watches, Handbags, Woven Rattan Baskets
3. Macallum Street Night Market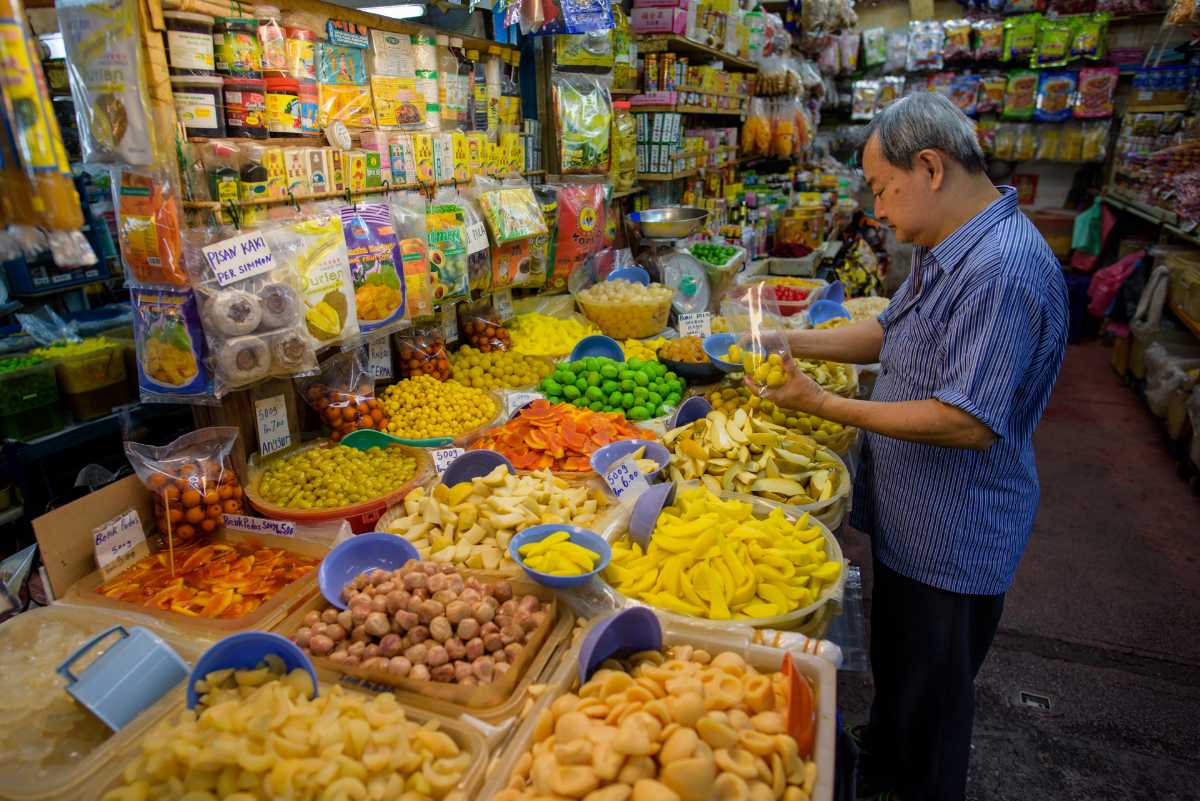 Located in Georgetown, Macallum Street Market sells T-shirts, watches, decorative items, phone covers, tables and mats. The price of the good here is usually lesser than in other night markets in Penang. As you walk through the market, you can hear the sizzling sound of Char Kuey Teow and Apam Balik. The market also sells exotic tropical fruits like mangosteens and durians. Readymade products like curry puffs, cookies, sweets and hot dishes are also sold in the stalls. Visitors can also try deep-fried duck meat and chicken roast.
Location: Lintang Macallum 1, Pengkalan Weld, Georgetown
Opening Hours: Monday, 7 PM-11 PM
Things to buy: Satay, Meat Skewers, Apam Balik, Bangles, Phone covers
4. Jelutong Night Market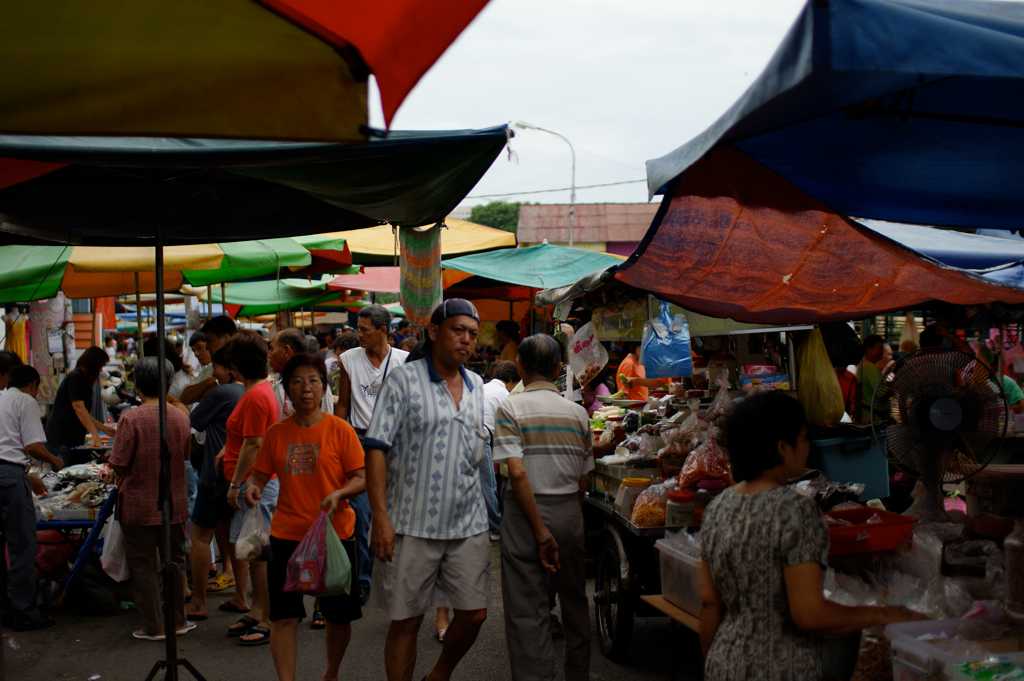 Located on Jalan Van Pragh, Jelutong Night Market is one of the night markets in Penang that is known for selling delicious local food. Footwear, carpets and other accessories are also sold in the market. The market is crowded as it gets darker, leaving little space to navigate through the narrow lanes. Medicinal drinks like Chinese Herbal Tea that refresh the body during the summertime are sold for less than RM5. Curry fish ball, durians, chocolate cakes, fried dumplings and dim-sum assorted dumplings are the special snacks that are sold in this market. Besides these, counter-branded clothes are also sold at low prices.
Location: Jalan Van Praagh, Jelutong, 11600
Opening Hours: Friday, 7 PM-11 PM
Things to buy: Yong Tou Foo, roast pork, prawn crackers

5. Paya Terubong Night Market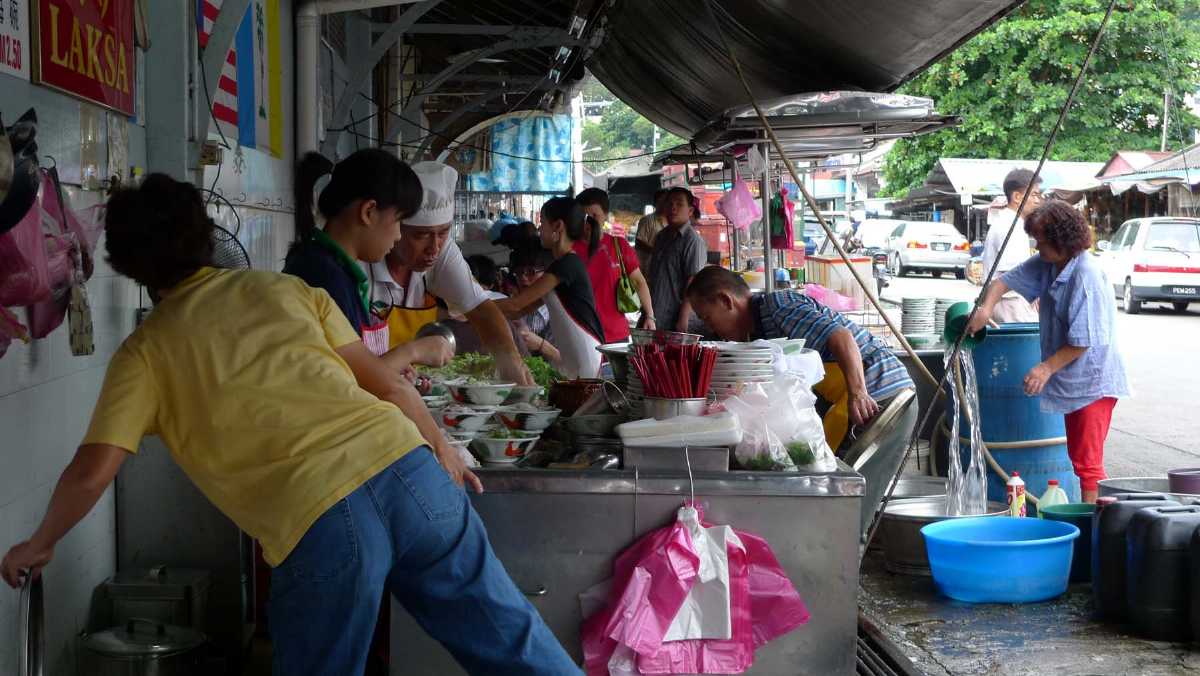 Located in Ayer Itam, Paya Terubong night market is an attraction for both tourists and locals. Like most night markets in Penang, stall owners in Paya Terubong market also sell a range of items like food, clothes, home gadgets, shoes, phone covers, beauty products and other accessories. One must definitely try Char Koay Teow, as it has a unique taste of fried seafood blended in various spice flavours. Some other food unique to this place included spicy rojak, Korean-style fried chicken and duck pancakes. A variety of biscuits, pastries and cookies in tin boxes can also be found on display. Some stalls also sell oil that helps in increasing blood circulation.
Location: Jalan Paya Terubong, Bandar Baru Air Itam, 11500 Ayer Itam, Pulau Pinang
Opening Hours: Sunday, 5:30 PM- 10:30 PM
Things to buy: Grilled Chicken Burger, Char Koay Teow, home accessories, Rojak, duck pancakes, body-massage oil
6. Farlim Night Market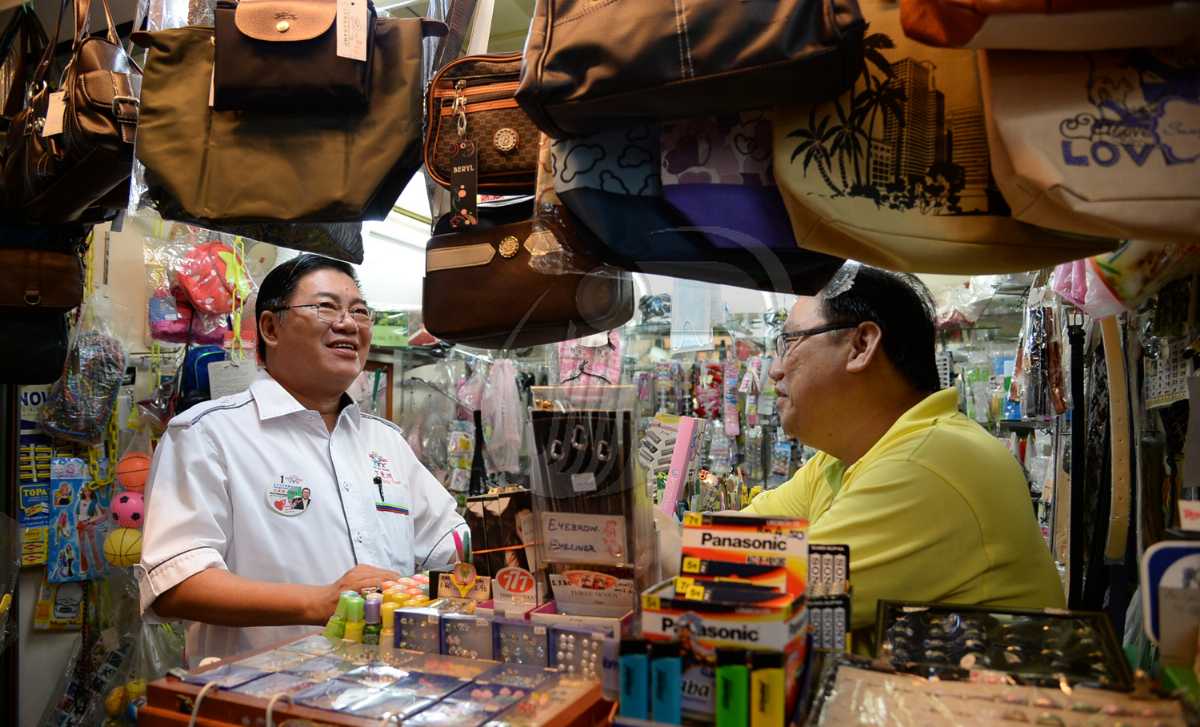 Considered to be the food paradise of Penang, Farlim night market is located in Ayer Itam. Besides delicious food, the market also sells clothes, leather handbags, kid's toys, decorative home items, footwear, wooden crafts, dry fruits and ice creams. Frankie Pizza in this market is very famous among the locals. It is also worth trying the desserts from Malaysian Mixed Dessert stall, as they serve desserts with a variety of mixture. This is one of the must-visit night markets in Penang for food lovers and shopaholics. One of the famous dishes sold here is Tau Fo Fa, a bean curd pudding. The pudding is served hot and silky smooth.
Location: 27-75, Medan Angsana, Bandar Baru Ayer Itam, 11500 Ayer Itam, Pulau Pinang
Opening Hours: Wednesday, 6:00 PM- 11:30 PM
Things to buy: Thai-style fried chicken, pineapple tarts, salted fish bao, Tau Fu Fa, wooden crafts
7. Tanjung Bungah Night Market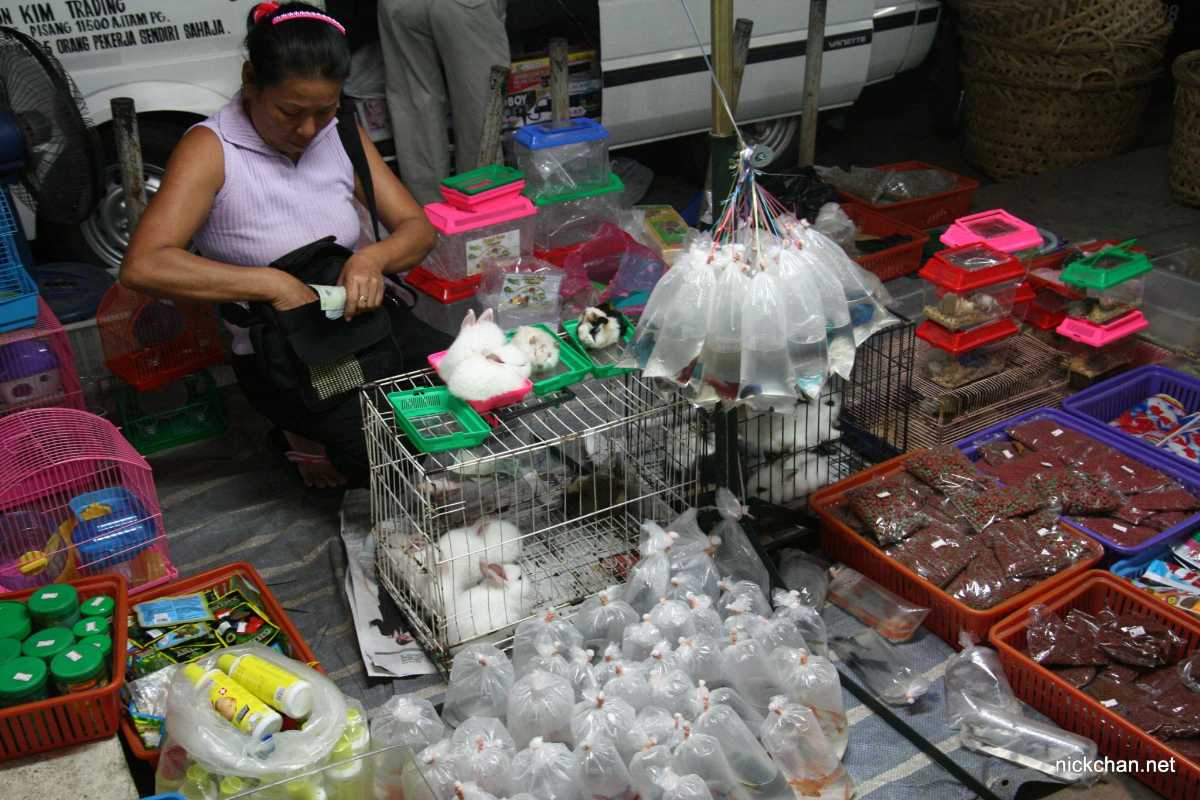 Tanjung Bungah night market is open on Tuesdays and is smaller compared to other night markets in Penang. However, it offers a wide range of items for sale. There are several Chinese restaurants in the market. Xiao Long Bao is a famous Chinese dish sold in these restaurants. It is a steamed dumpling with soup with a blend of soy sauce and fresh ginger. Another stall is famous for mixing mashed potatoes in cheese. The dish is sold for RM5 and is a favourite among the locals.  Some stalls also have an eating place, making it comfortable to have a full meal while relaxing on a seat.
Location: 98-GF-0, Jalan Tanjung Bungah, Taman Tanjung Bunga, 11200 Tanjung Bungah, Pulau Pinang
Opening Hours: Tuesday, 5:30 PM- 10:30 PM
Things to buy: Peking Aromatic Duck, reading glasses, Aligot Cheese, Bubble Milk Tea, Bean Curd
8. Sungai Dua Night Market
Sungai Dua Night Market is one of the famous night markets in Penang for selling a range of Malaysian, Chinese and Indian snacks. As the market gets set-up fully, people flood the market to feast on delicious snacks. Chinese stalls also sell shoes, clothes and other accessories. Some snacks sold here include Laksa, meat skewers, Nasi Lemak and burgers. Many stalls also sell fresh items like sweet corn, pumpkins, cucumbers, sugarcanes, ice golas, readymade sweets and raw fish. However, there is no space to sit down for a meal.
Location: Jalan Sungai Dua, Penang, 11900
Opening Hours: Every Saturday, 7 PM- 11 PM
Things to buy: Snacks like Laksa, Nasi Lemak, Nasi Biryani, Kebab and Satay
9. Nibong Tebal Sunday Night Market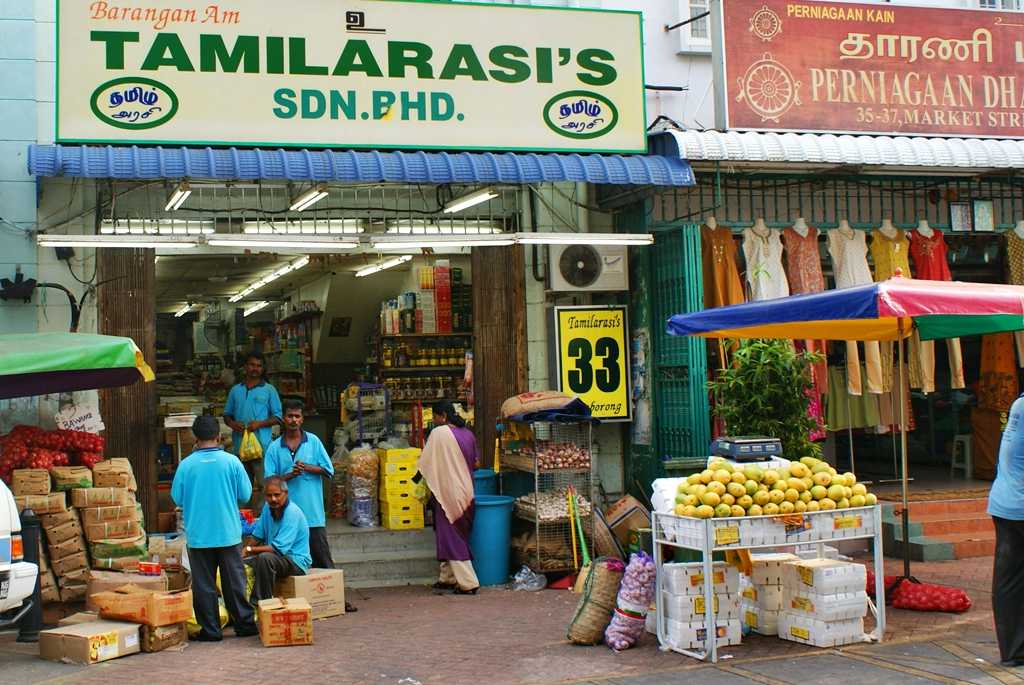 Nibong Tebal is an open-air Sunday market, and hence the name. It is one of the longest street night markets in Penang. A huge number of stalls sell general goods, lip-smacking local dishes and all other accessories. Chives and radish cake are the local favourites. Sugarcane juice, lime juice and Chinese iced tea and are sold in abundance for respite from the heat in summers.
Location: 14, Jalan Sungai Daun, Taman Nibong Tebal Jaya, 14300 Nibong Tebal, Pulau Pinang
Opening Hours: Sunday, 7 PM onwards
Things to buy: Kueh Teow soup (rice noodles soup), Nasi Lemak, Assam Laksa, Kuih Sayur
10. Kimberly Street Food Night Market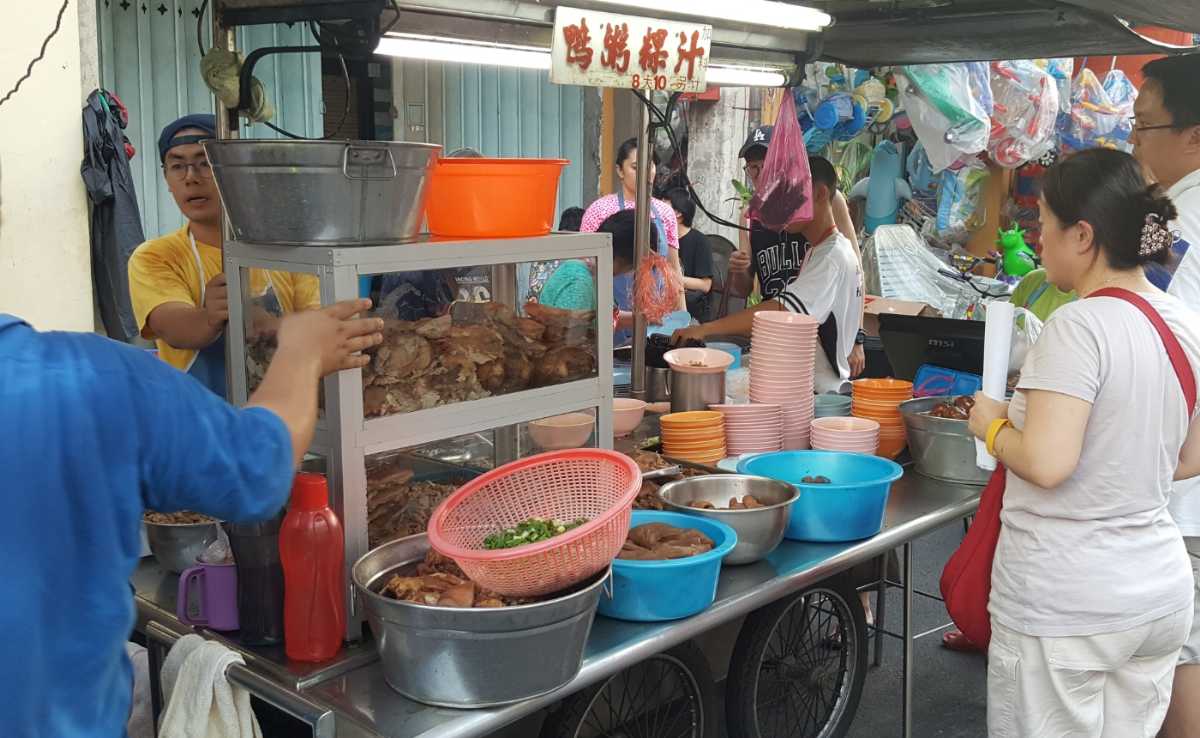 Considered to be a major street food place, Kimberly street food night market is situated between Rope Walk and Cintra Street. The place is famously known as "land of four heavenly kings", about the four famous hawker dishes here.  Duck Porridge & Kway Chap, Kway Chap, Sky Emperor Chicken Feet Koay Teow Soup and Chicken Meat Koay Teow Soup are considered to be the famous dishes here. Traditional Home of Desserts is another famous shop in the market which is known for selling a variety of sweet soup desserts. Clearly, the market is the best place for food lovers.  
Location: 1, Jalan Sungai Ujong, George Town, 10100 George Town, Pulau Pinang
Timings: 5 PM- 11 PM (except Wednesdays)
Things to buy: Duck Kway Chup, Sweet Soups, Char Koey Teow
Visitors can enjoy walking through these night markets in Penang, even if they choose to not buy from the stalls. Soaking in the lively ambience of these markets to get a vibe of Penang is going to be a unique experience. Are you ready to seize the night?