Chiang Mai
is a foodie's delight! The city has a variety of mouth-watering street food. They have diverse flavours like tangy, sour, and some sweet decadence along with a wholesome use of chilli and pepper to offer- which will leave you amazed. One definitely just can't stop relishing a few dishes as from the noodle soup, sizzling grilled pork and chicken to sticky rice; you just cannot stop gorging on them. One needs to get their hands on the street foods here and they sure are not pocket pinching.
Here is a list of the top ten street food in Chiang Mai you must-try:
1. Khao Soi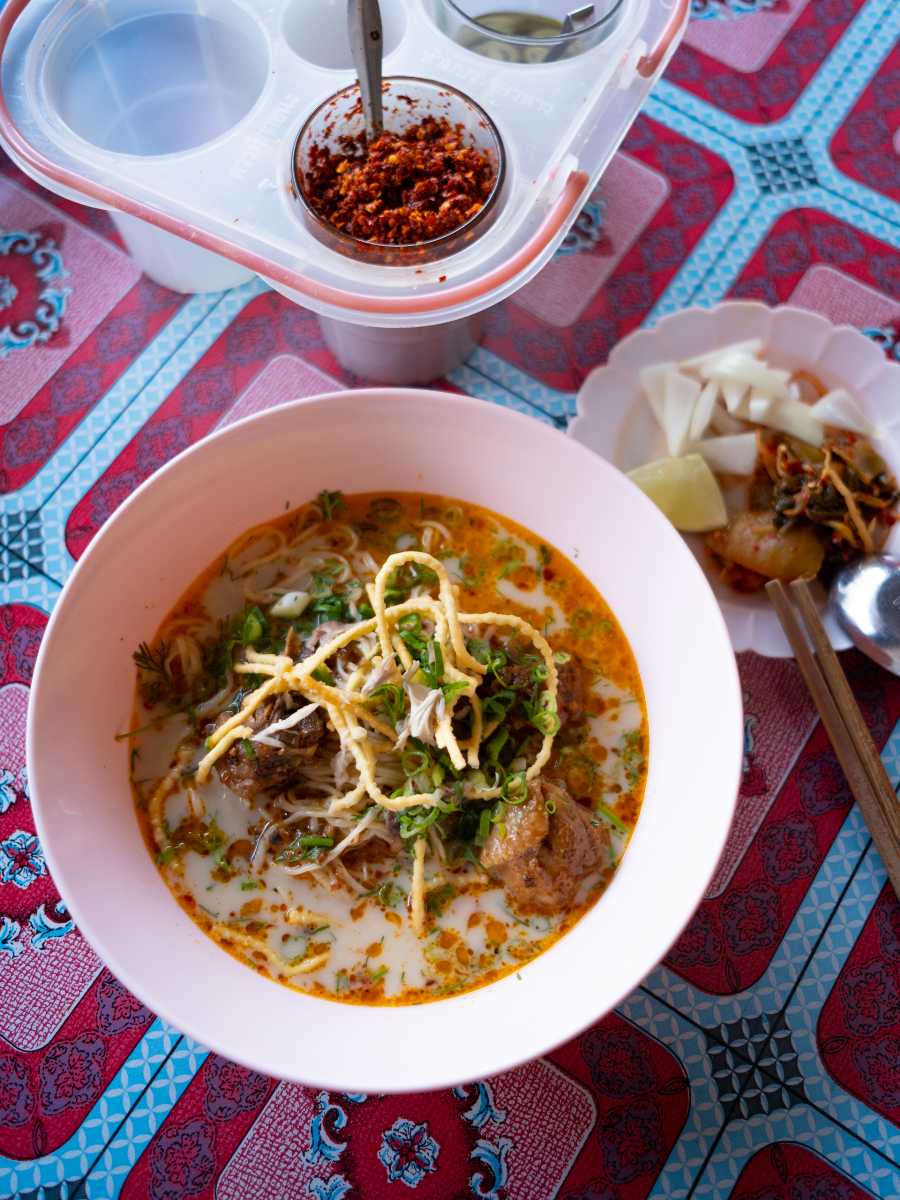 The humblest of all, Khao Soi is an unmissable dish. Traditionally prepared with chicken or beef, this dish is a comfort in a bowl with boiled noodles served with yellow curry prepared in coconut milk. It is rich and heavenly. Your visit here is definitely incomplete without a bowl of Khao Soi. They boiled noodles are topped off with fried noodles. The protein might vary depending on the regional choice but otherwise, the base preparation is the same. It contains a lot of spice which is perfectly harmonised by the sweetness of the coconut milk. You can also top it off with a roasted chilli paste, shallots, pickled mustard greens and some lime juice as it brings out the best in the dish.
Price- TBH 35 per bowl

Where to Eat-
· Khao Soi Khun Yai-  Sri Poom 8 Alley, Mueang Chiang Mai District (street stall)
· Khao Soi Lam Duan -  352/22 Thanon Charoenrat (street stall)
· Huen Phen- 112 Ratchamanka Road, Tambon Phra Sing Chang Wat (street-side restaurant)
· Tambon Si Phum, Amphoe Mueang Chiang Mai, Chang Wat
· Khao Soi Mae Sai -1 Ratchaphuek Alley, Tambon Chang Phueak, Amphoe Mueang Chiang Mai, Chang Wat.
· Khao Soi Nimman - Nimmanhemin Soi 7
2. Khao Kha Moo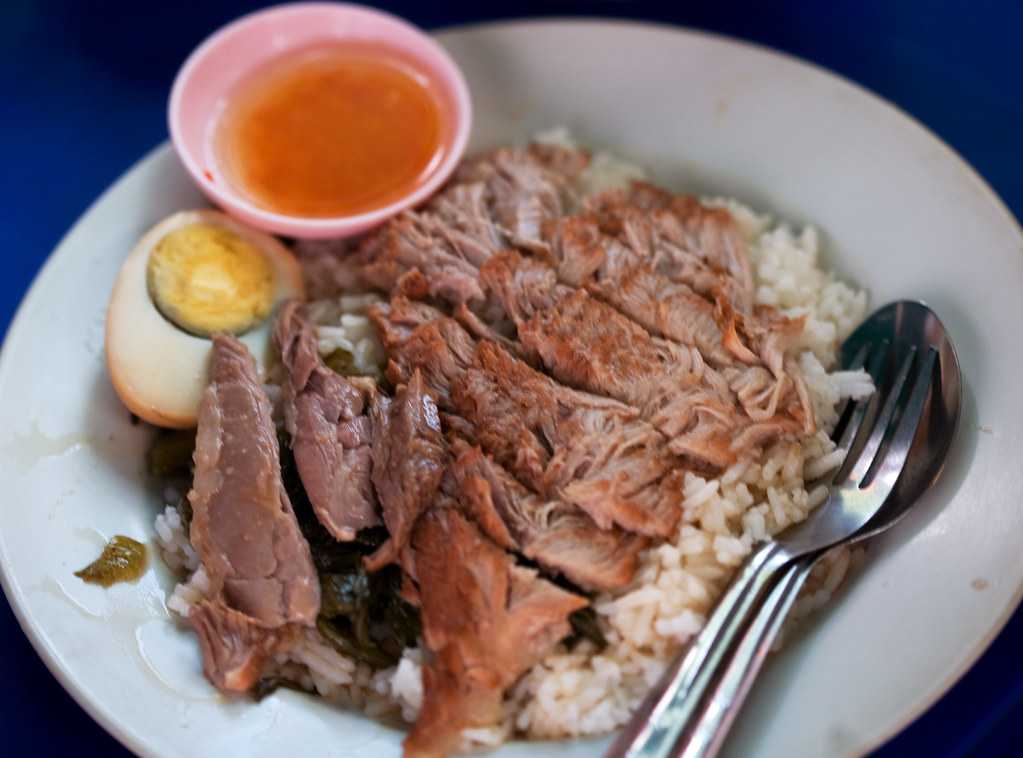 If Khao Kha Moo is to be eaten, ask for the 'Cowboy hat lady' and people already know about the dish you are looking for. It is undoubtedly one of the most famous dishes of Chiang Mai sold by a badass lady arming a cowboy hat. It is so good that this stall was made famous by Anthony Bourdain. If you want to eat the best Khao Kha Moo, you need to head to her stall. The dish is all about a deliciously braised succulent pork leg cooked typically in Chinese style with five spices, topped with a boiled egg. It's is a generous portion making it a perfect lunch meal. The meat is oh-so-tender and mouth melting. The dish is a little on the sweeter side. The accompaniments include the chilli paste and pickled mustard greens which are the best to eat along with.
Price- TBH 30
Where to Eat-
· Khao Kha Moo Chang Phuak- near the North Gate at Thanon Manee Nop Parat, Amphoe Mueang(cowboy hat lady's stall)
3. Roast Chicken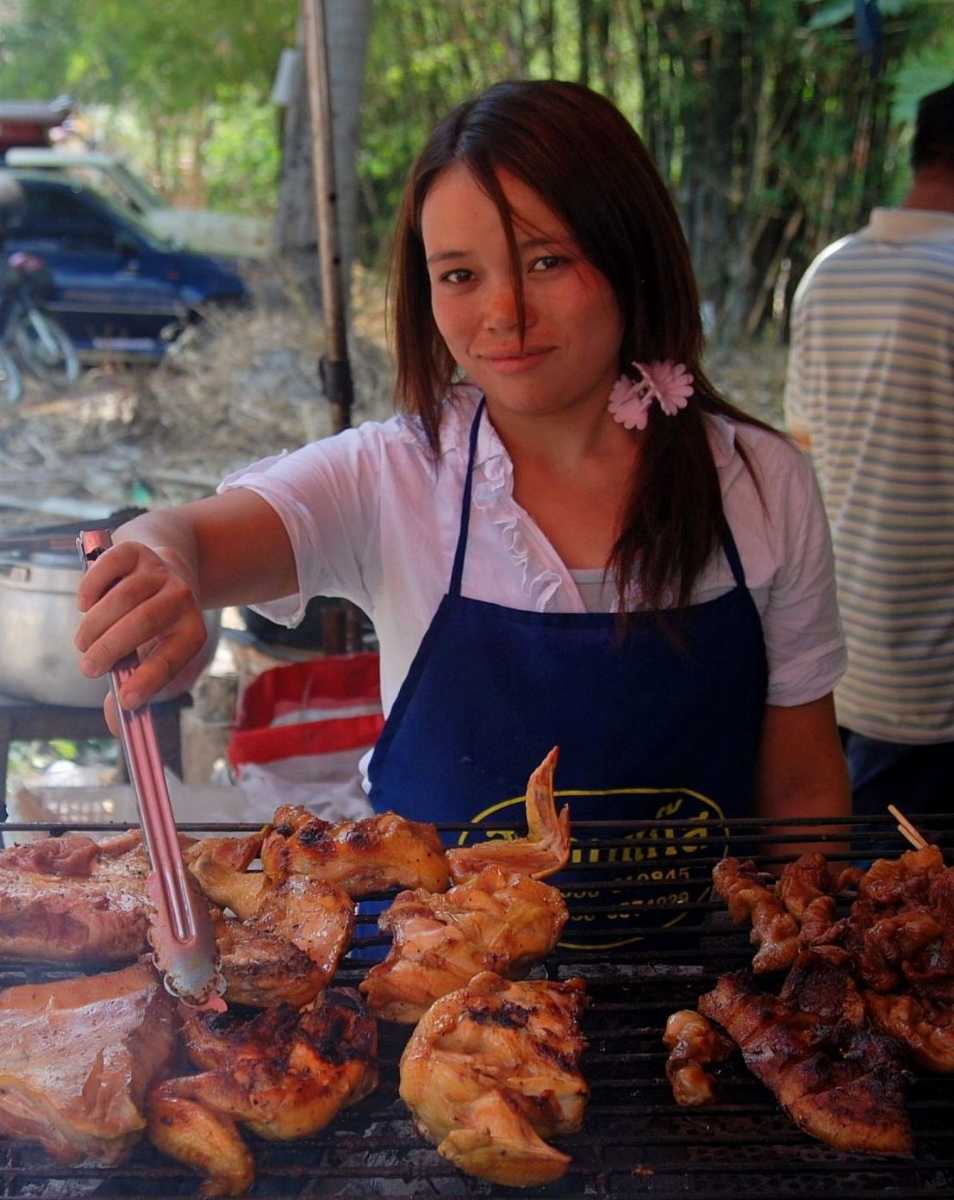 Meat lovers are undoubtedly fond of chicken as a protein and if it's a roasted preparation, no one can resist. The thing with this street food dish is it finishes in a jiffy and you want to keep buying more until it satisfies your taste buds. As the name suggests, chicken is pounded flat, marinated and roasted over a hot charcoal place until it is smoky, juicy, and succulent bearing a crispy outside and tender inside. The dish is best served with sticky rice or green papaya shreds. It has a sweet and sour taste, the perfect balance of which depends on the marinade that it is dipped into. Ah! It is a comfortable treat.
Price- TBH 35-40 (per plate)
Where to Eat-
· Cherng Doi Roast Chicken- Mueang Chiang Mai District, in the Nimman neighbourhood.
· Kiet Ocha - 41 43 Intaworos rd., Mueang Chiang Mai District
· SP Chicken -Samlan Road Soi 1, Mueang Chiang Mai District
4. Sai Ua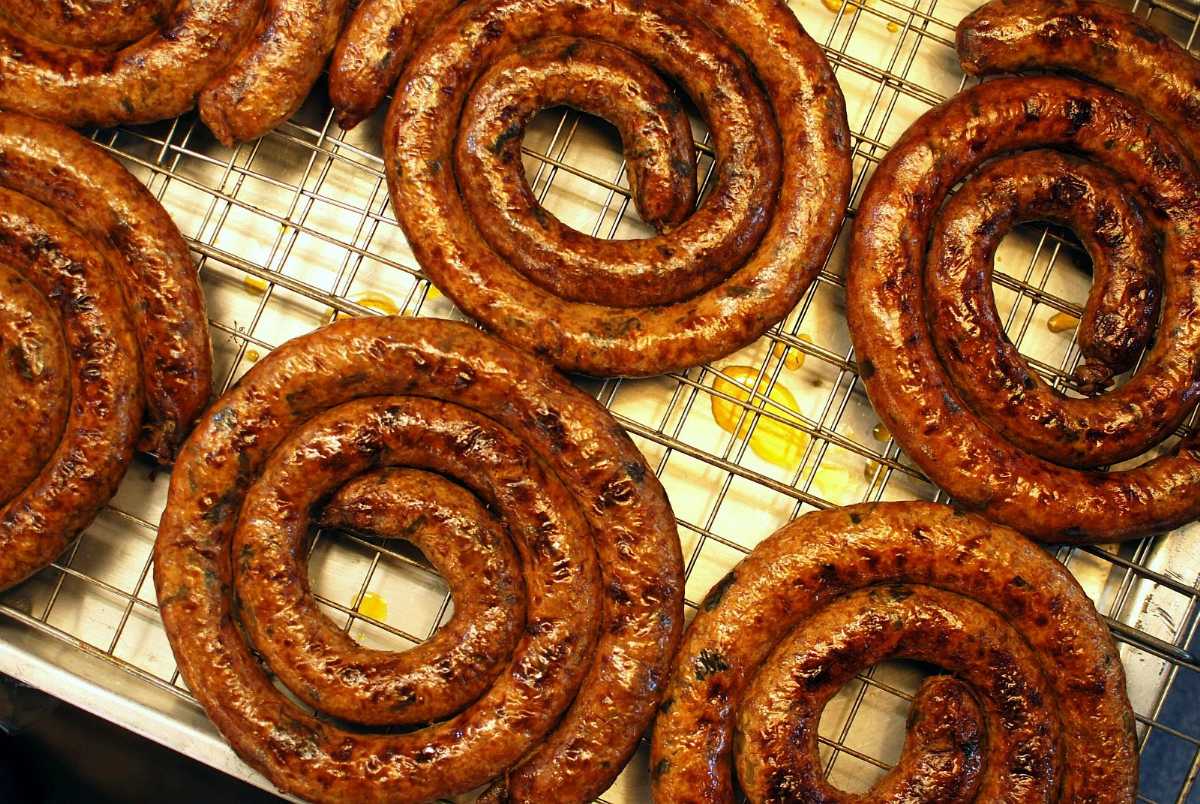 For the love of spicy and appetizing sausages, here's just the dish! A classic Chiang Mai sausage dish- Sai Ua is an age-old favourite of the locals. With Thailand's traditional chilli paste and spices, the sausage is made with flavours of lemongrass, kaffir lime, and galangal. You can relish this dish without burning a hole in your pocket. This dish is both a restaurant and street-side delicacy but the street stall Sai Ua has a charm of its own. A much-dedicated street stall in Ton Payom Market sells the most mouth-watering Sai Ua and also a healthier spin with added herby flavours.
Price- TBH 25 (per plate)
Where to eat-
· Ton Payom Market, behind Chiang Mai University, Tambon Suthep, (street stall)
· Dumrong, Mueang Chiang Mai(street café)
· G&M German Sausage- Mae Hoi Ngoen, Mueang Chiang Mai 
5. Thai Suki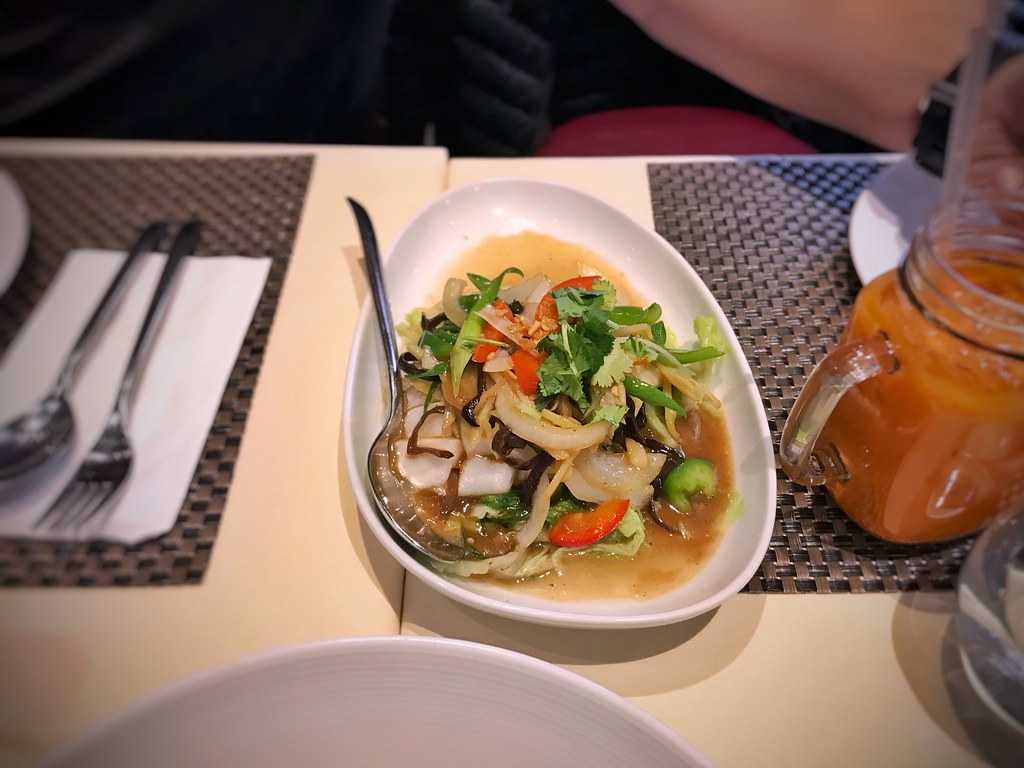 If you are a fan of a bowl full of veggies, Thai Suki is just the dish. It is a common Chinese and Japanese dish. It offers vegetables- two types; one consists of a pan-fried dry variation Suki haeng (dry suki) while the other is a wet mix vegetable dish with a broth Suki Nam (suki soup). Both are cooked with seafood varieties and mung bean noodles. It could also be a meat variant but vegetables overpowering the dish. Thai Suki has loads of cabbages at their crux and the dish is mixed over a wok at a high flame giving it a very smoky flavour. It makes for a wholesome meal which you can eat for lunch while excavating Chiang Mai from the street stalls. It is a big hit among the tourists here.
Price- TBH 40 (per Suki bowl, depending on the protein variation you pick)
Where to eat-
· Suki Koka- Thanon Manee Nop Parat, Amphoe Mueang(cluster of North Gate food stalls) 
6. Green Papaya Salad
If you want to binge on something light and healthy while exploring the street delights of Chiang Mai, Green Papaya salad will definitely be a delicious treat. The green papaya salad is available all across the city. It is a simple preparation with chillies, tomatoes, green beans, fish sauce, palm sugar and fresh lime juice. Other than this pure vegetarian version of the papaya salad, there are other variations with white pork sausage called Tum Mou, Tum Hoi Dong is papaya salad with fermented shellfish and Yum Suo Saknakorn is one variety with rice vermicelli noodles. These variations will definitely leave you spoilt for choice as they are all flavourful. The salads tend to be a little too spicy so as for a less spicy version of it if you can't eat much spice.
Price- TBH 30
Where to eat-
· Som Tum local eatery, Jed Yod-Chang Khian Rd Soi 7, Chiang Mai next to Chicken Ryder restaurant
7. Gaeng Hang Lay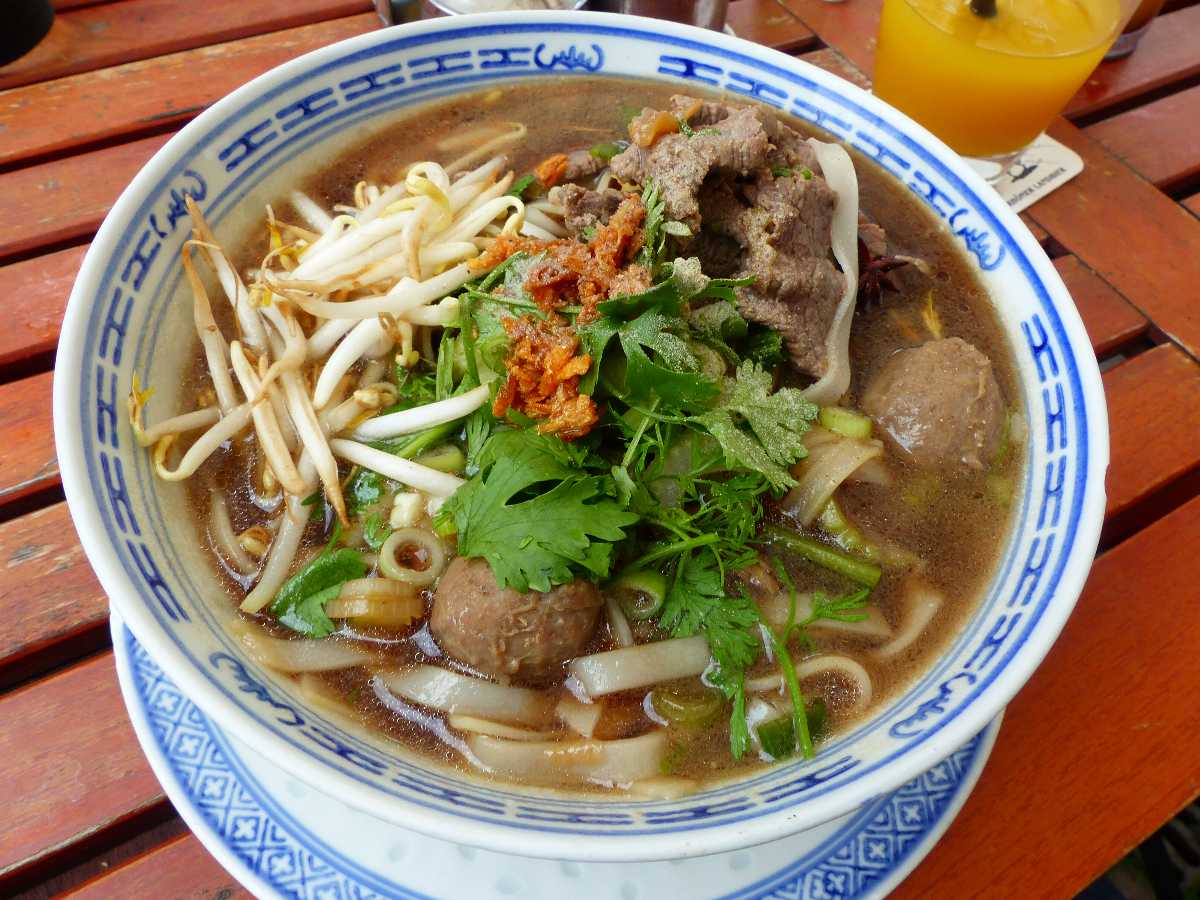 Gaeng Hang Lay is a ginger curry with northern pork preparation, which is a classic Chiang Mai street food. It can be found across many restaurants as well. This famous curry is so delicious that you just cannot have enough of it. This is a slow preparation with Indian spices, lots of ginger and tamarind.  It is cooked until the pork is tender and has soaked all the flavours of the curry. The dish is a little on the spicy end. It is also called the Burmese curry in a few restaurants so you know what you are looking for. This is one of the best curry dishes you will find in Chiang Mai and you should not miss out on this dish. Eat it with sticky rice alongside.
Price- TBH 60
Where to Eat-
· Laab Kai Mueang Pan Waen- South Gate – 11 Bumrungburi Soi 3 Rd Prasingha Muang(Local Eatery)
· Ton Payom Market- Behind Chiang Mai University, at the intersection of Suthep Road and Chiang Mai Outer Ring Road(street vendor)
8. Sweet & Savoury treats wrapped in banana leaf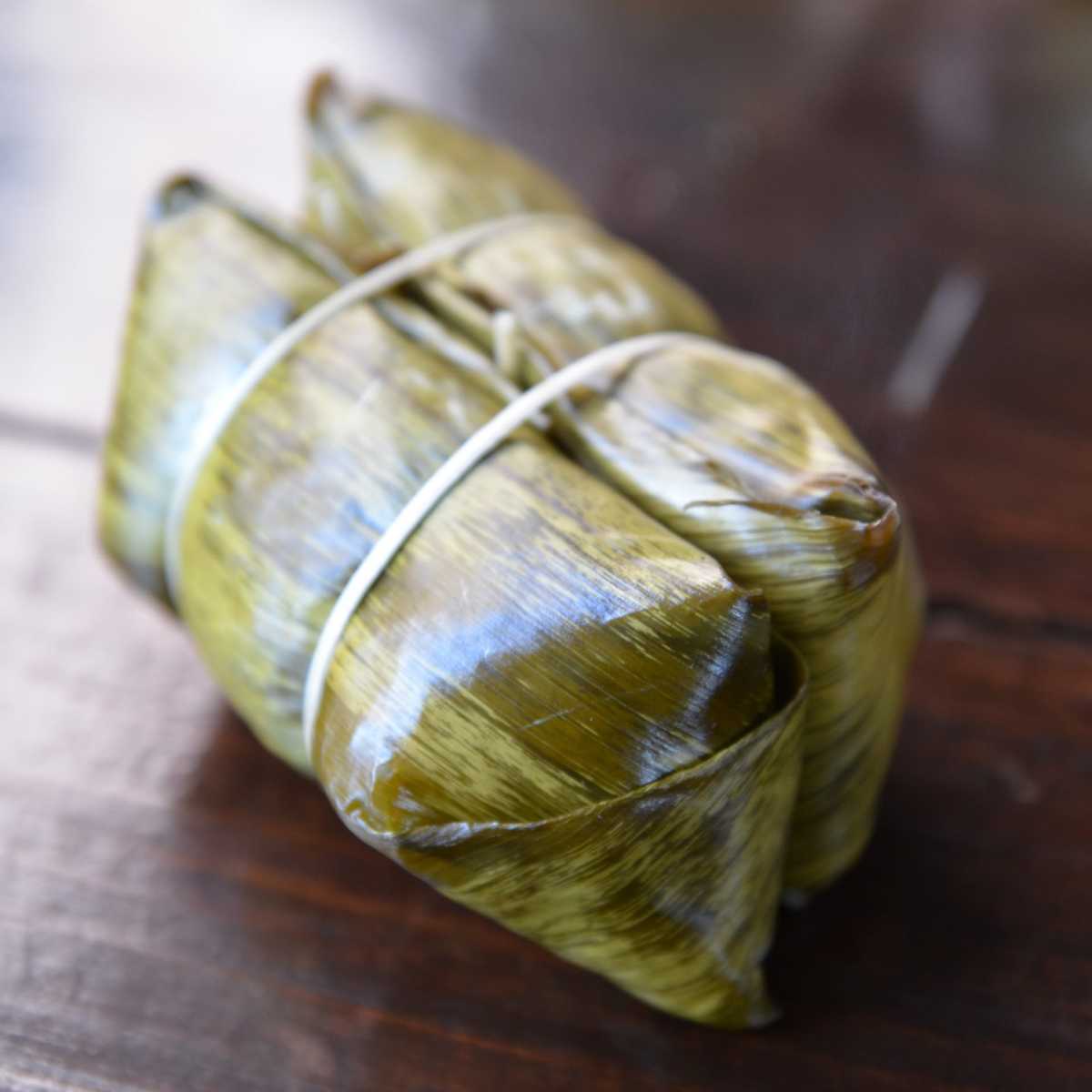 There are little treasure foods found across Chiang Mai, this one being the most renowned and delicious. They are literally small treats wrapped in banana leaves. The sweet treats called the
Khanom
are usually a base of sticky rice and coconut milk. They come with variations like custard, black beans and banana. The custard ones are the best of all and called Khao niao sangkhaya. It is wrapped with glutinous rice, egg custard, and coconut milk. The savoury ones are named Naem are pork sausages wrapped in banana leaf with pork skin, sticky rice, garlic, chillies and spices. They are flavourful and indeed delicious treats. You can buy these treats at local markets as that's where you can get them cheap and in a wholesale quantity if you want. It is usual to find a spin of Chinese influenced treats in the market.
Price- TBH 10-20 per sweet or savoury treat.
Where to eat-
· Warrot Market- Between Chang Moi Road and Thapae Road, a block west of Ping River 
9. Thai Grilled Chicken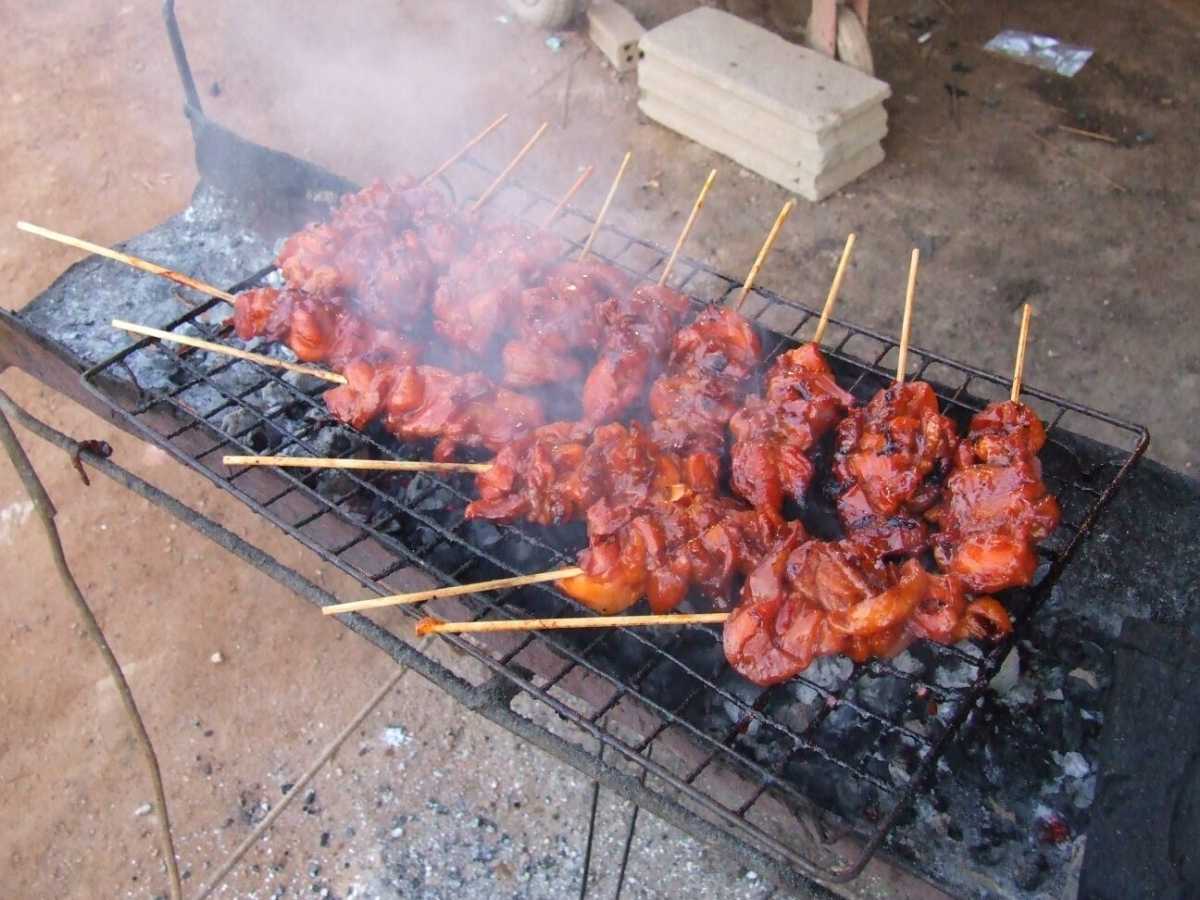 Who can deny grilled chicken? Especially when it has a spin of Thai flavours. Chiang Mai has a unique way of preparing this classic dish. The whole chicken is grilled without its backbone to get a crispy, juicy and tender piece of meat. The heart of the delicacy lies in the way it is marinated. The marinating is done with garlic, lemongrass, Thai soy sauce and fish sauce. It is then grilled on skewers in a special oven where they are rotated over sticks and given a smoky flavour. The piece of juicy, tender chicken will tickle your taste buds. Eat it with sticky rice or green papaya salad as it makes a killer combination and a succulent meal. Eat it off the street side vendors to get the best of authentic Thai flavours.
Price- TBH 20
Where to Eat-
· Sidewalk of Toy Roszab- 53 Kampangdin Rd, Located East of Wat Loi Kro before the Ping River. (street-side vendors)
· Cherng Doi- 2/8 Suk Kasame Rd, Su Thep ( popular restaurant)
10. Pad Thai Noodles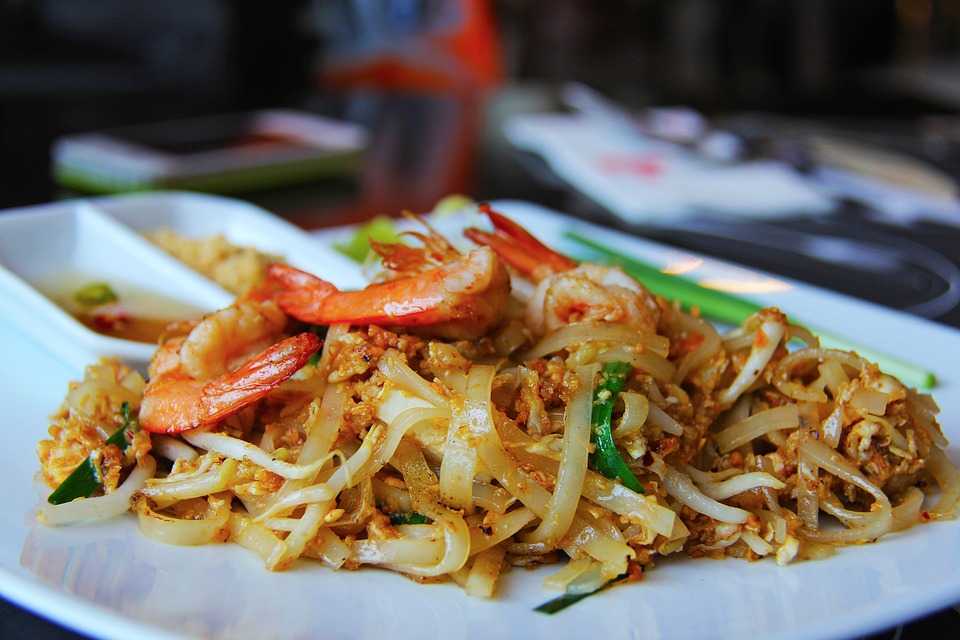 Who wouldn't know this or expect this in the list of traditional Thai food in Chiang Mai? There is no way you cannot eat this when you are here. Its popularity makes it a world-famous. For those who have never tasted it, it is a variety of stir-fried rice noodles. The dish is a mouth-watering one with different variety of sauces and toppings. You can find a street stall of Pad Thai noodles in every nook and cranny of the city. Pad Thai noodles stalls dominate the food and night markets.
Price- TBH 30
Where to eat-
· Ton Payom Market- Behind Chiang Mai University, at the intersection of Suthep Road and Chiang Mai Outer Ring Road. (street vendor)
11. Quail Eggs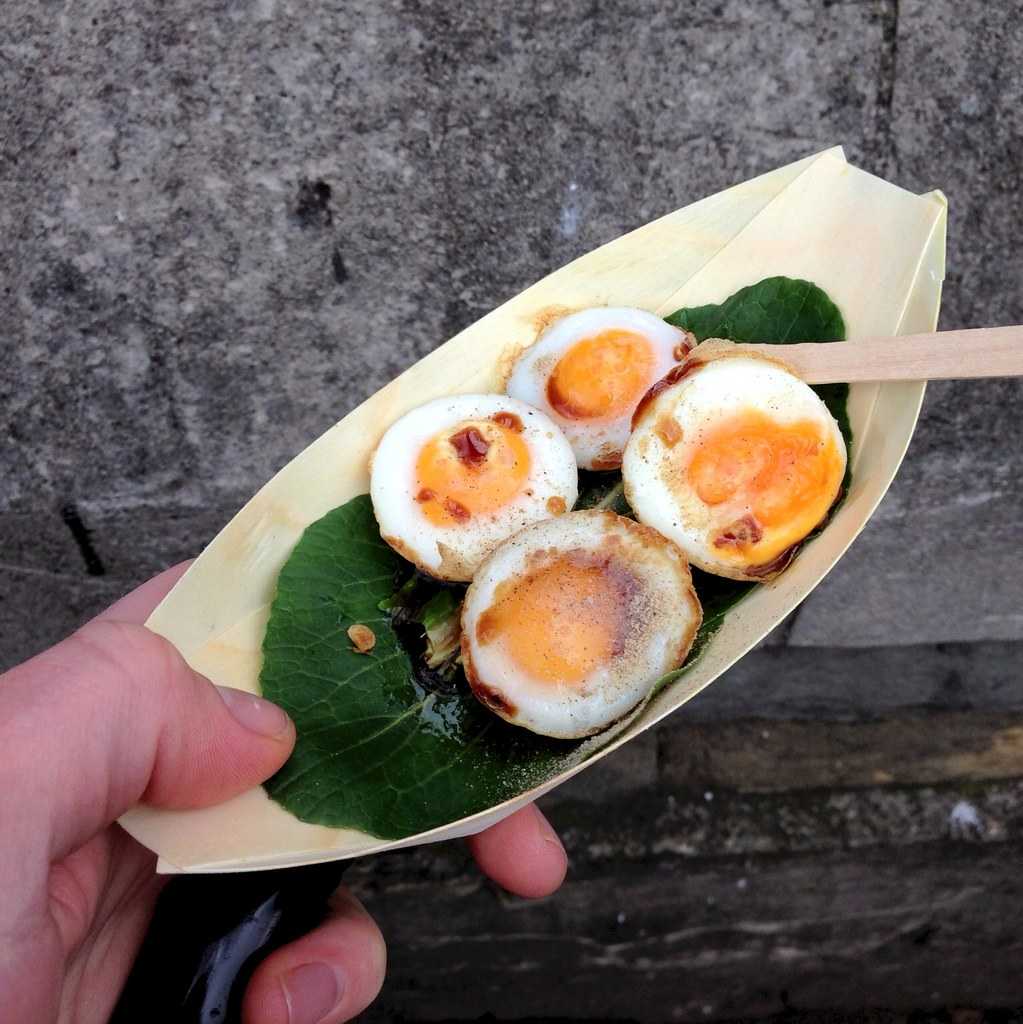 Another street stall which has a long line of people waiting to get their hands on the finger food is the popular quail egg stall. The dish is a fast food dish perfect to beat your hunger pangs. The dish is just a simple fried quail egg mixed with coconut milk. The eggs are then mixed with coconut milk. Other variations include mixing in soy sauce or fish. They are so simple yet flavourful and scrumptious.
Price- TBH 10-20 (depending on the quantity and vendor)
Where to eat- Night markets and Ton Payom Market are popular markets where you find street stalls. 
12. Khao niao mamuang- Sticky Mango Rice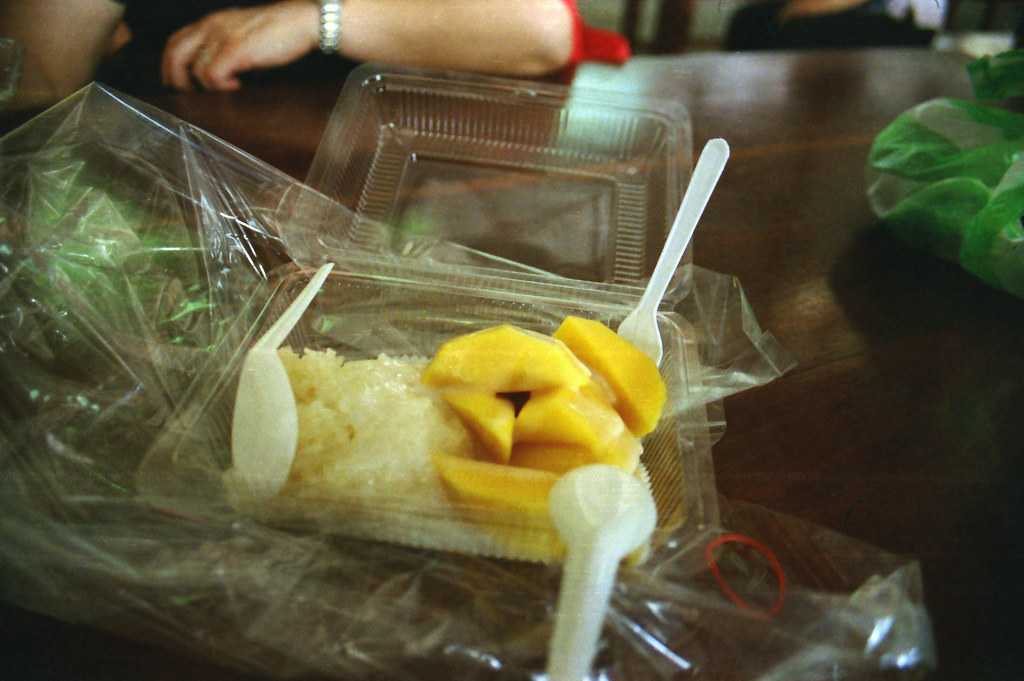 It is always a sweet ending with this traditional Thai dessert. Khao niao mamuang is a preparation of sticky glutinous rice, fresh mango, palm sugar and coconut milk. It is sometimes freshly prepared in front of your eyes. The mangoes are cut and presented on the plate while it is being sold. The freshness adds to the enhanced taste. The dessert is to die for and if you are in Ton Payom market, you are just in the right place to eat this dessert where there are the best street vendors selling Khao niao mamuang. It can definitely count as one of the essential dishes you need to try when in Chiang Mai.
Price- TBH 10
Where to eat-
· Tom Payom market (street vendors lined up selling Khao niao mamuang)
To sum up, Chiang Mai is a foodie's paradise with diverse, rich and traditional delicacies. When in Chiang Mai, you surely can have a nice food walk with the unbeatable food stalls and vendors who toss and serve some of the most delicious delicacies of Chiang Mai. You can have your fine-dines in the city but the street food stalls are an experience you just cannot miss out on. Eat away to your hearts' glory!