Chiang Mai
, a respite from the heavy-duty travelling one experiences in South
Thailand
, is a haven for backpackers and travellers. Situated one hour away from
Bangkok
by flight, Chiang Mai is a destination which is fast becoming famous with the crowd which wants to retreat from the hustle and bustle of the cities of Southern Thailand.
Nothing says a complete trip unless you take home some souvenirs from the city. So when it comes to shopping in Chiang Mai, the possibilities are endless. Lined with several malls, boutiques, markets and gallery-style stores, the city is a haven for all those shopaholics. From lacquerware pieces, embroidered bags, to designer knock-offs, souvenirs and handcrafted goods, there is a vast array of items for you when you go shopping in Chiang Mai. We have listed the must-visit places any shopaholic should visit when in Chiang Mai. 
Best Malls in Chiang Mai
When it comes to buying things in any city, malls are always the safest bet. Chiang Mai has some fairly modest malls and shopping centres. Here's a list of some top shopping malls in Chiang Mai.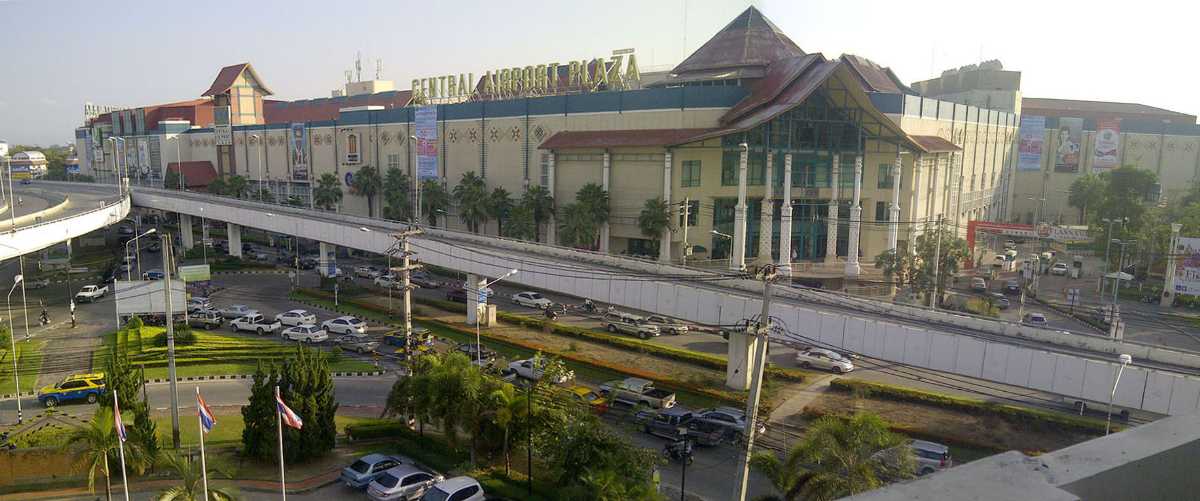 Ideally located within walking distance from the airport, it provides a wide assortment of international as well as local brands. The five floors in the mall cover diverse shopping and entertainment options including shops and boutiques, technology and gadgets, kid-friendly restaurants and a seven-screen cinema. With a number of transport facilities running to and from the mall, it is quite easily accessible for people staying in the old town. Hourly shuttle bus services from hotels like Amora Thapae and Imperial Mae Ping further enhance the commuting of visitors to this mall. 
Address: 2 Mahidol Road, Haiya, Muang District
Hours: Monday-Friday: 10:30 AM-9:00pm, Saturday & Sunday & public holidays: 10:30AM-9:30PM
2. Maya Lifestyle Shopping Centre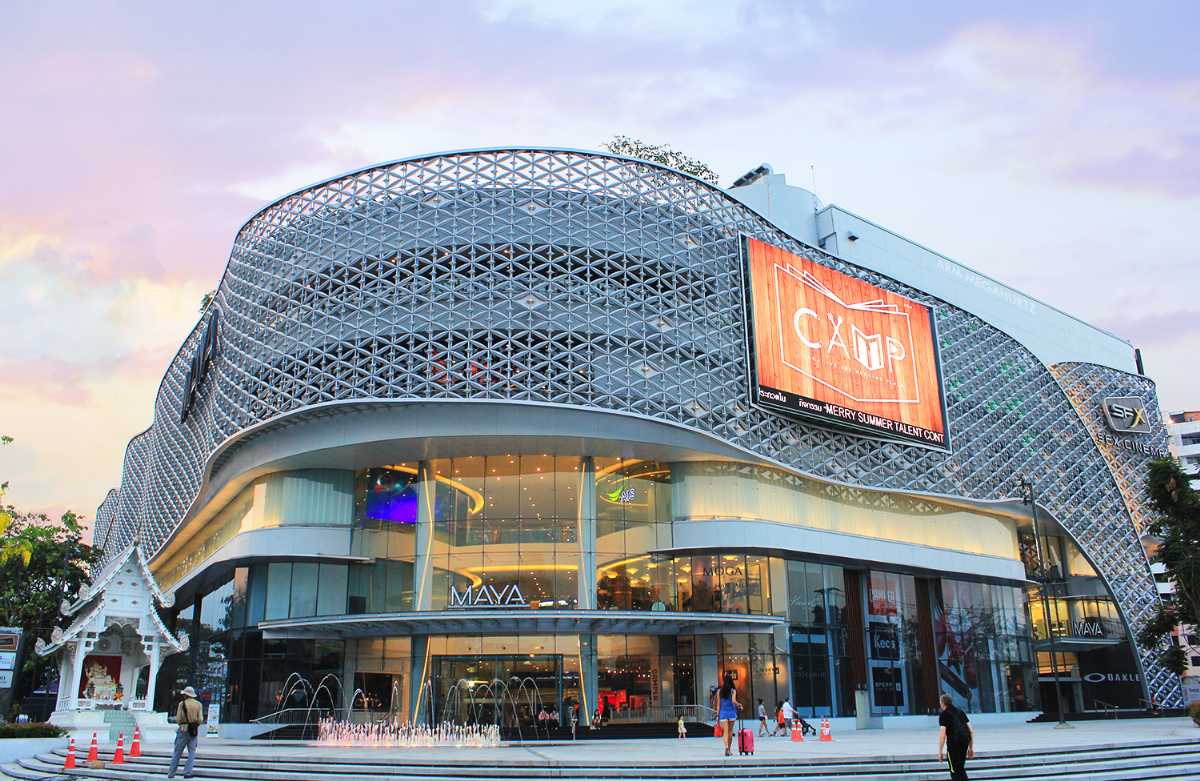 Owned and operated by the MBK group, this place for shopping in Chiang Mai is nothing short of a luxurious dream for shopaholics. This mega mall has six floors of fashion, health and beauty, restaurants, entertainment and so much more.
Some of the popular international brands like Lacoste and Adidas can be found here, along with stand out Thai shopping outlets like Jaspal and Panpuri. The aroma of delicious food coming from famous restaurants and cafes are enough to make the whole experience of being in the mall enjoyable. Japanese food lovers can satiate their hunger in Fuji, Miyabi, Shabushi, among other eateries at the mall. The 7D Galaxy Store, arcade game area and other entertainment centres make the centre a must-visit place if you are in Chiang Mai for people of all ages.
Address: Maya 55 Moo 5, Huay Kaew Road, Nimmanhaemin
Hours: 10:00AM- 10:00PM
3. Central Festival Chiang Mai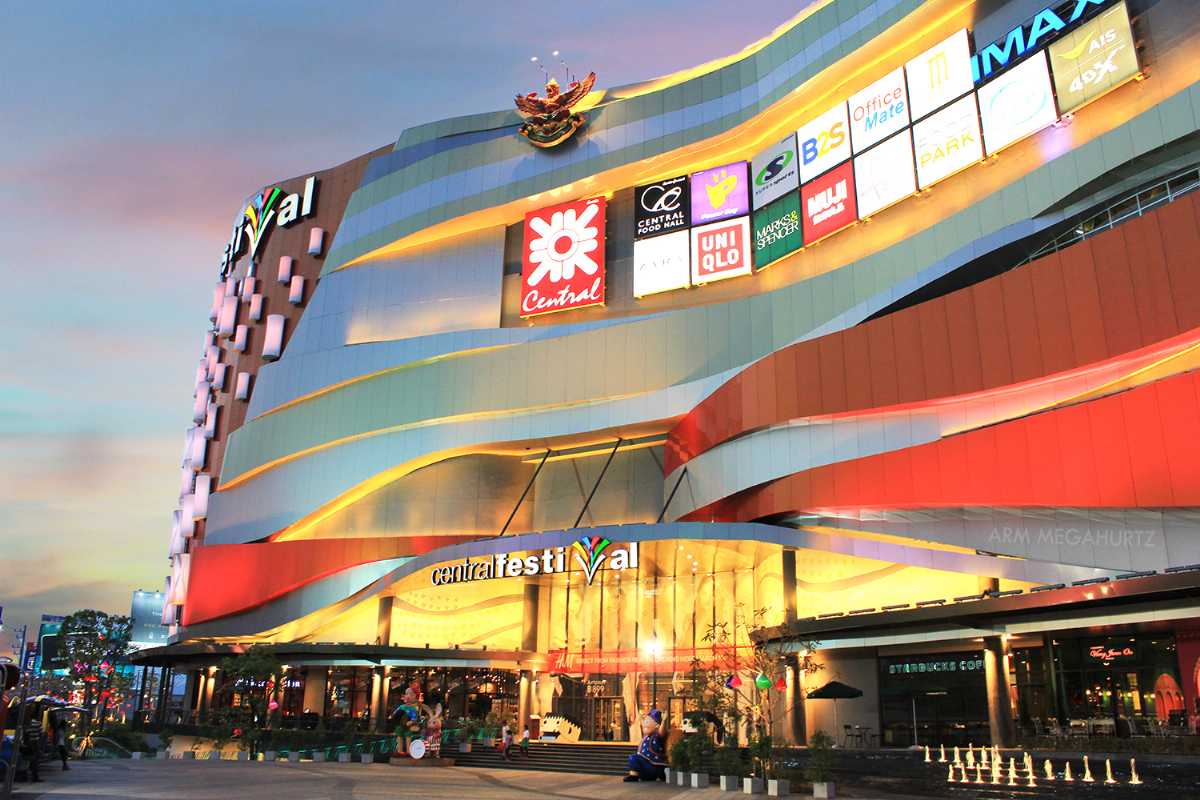 Part of the triad of new glitzy malls-Promenade Mall and Maya Mall- Central Festival is a lifestyle shopping mall. Popularly known as the Fest or Festival, it houses numerous International brands like H&M, Topshop, etc. which are difficult to find otherwise in Chiang Mai. With IMAX- 3D, an ice-skating rink and various Thai-Japanese and Korean eateries, the place has a variety of things for people to engage in for a more wholesome shopping experience.  
Address: San Dek Intersection, close to the outer ring road east of the Ping River.
Hours: Monday-Thursday: 11:00AM-9:30PM, Friday-Sunday: 11:00AM-10:00PM
4. Kad Suan Kaew Department Store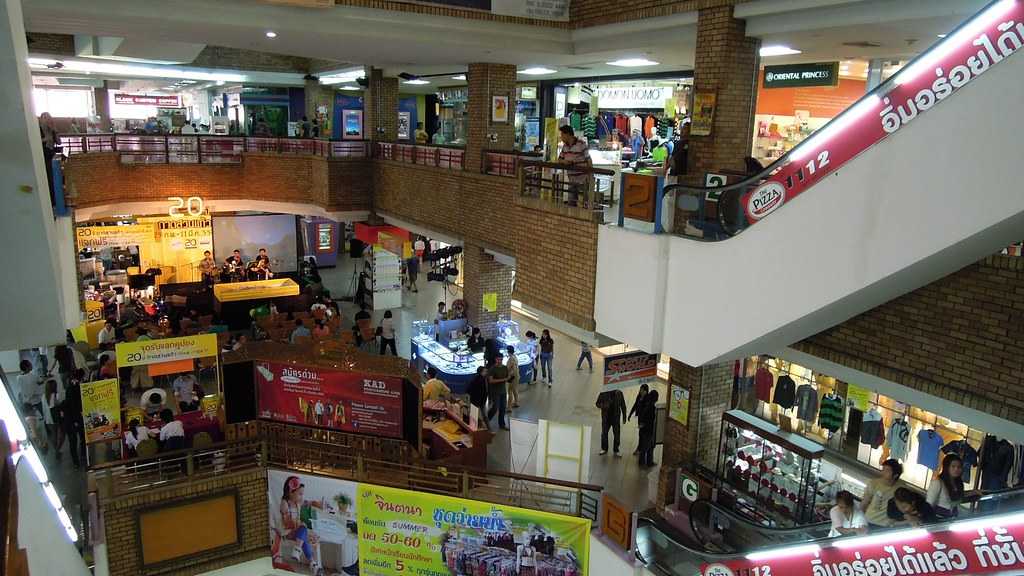 With a variety of shops, restaurants and a bowling alley, this place for shopping in Chiang Mai is one of the oldest shopping malls in the city. Devoid of a lot of brand stores, it does offer many export goods and a western-style supermarket. With a few mobile phone stores, health and beauty shops, it provides a good and relaxing shopping experience to the customers. This mall is a favourite amongst the locals and is a nice place to go for budget shopping in Chiang Mai. 
Location: 99/4 Huay Kaew Road
Hours: Monday-Friday: 11:00AM-9:00PM, Saturday & Sunday: 10:00AM-9:00PM
Markets in Chiang Mai
If you are someone who looks for more local handcrafted goods, who wants to snack on the regional food and wants to take to the streets for a little shopping spree, then these markets in Chiang Mai is your go-to place for street crawling.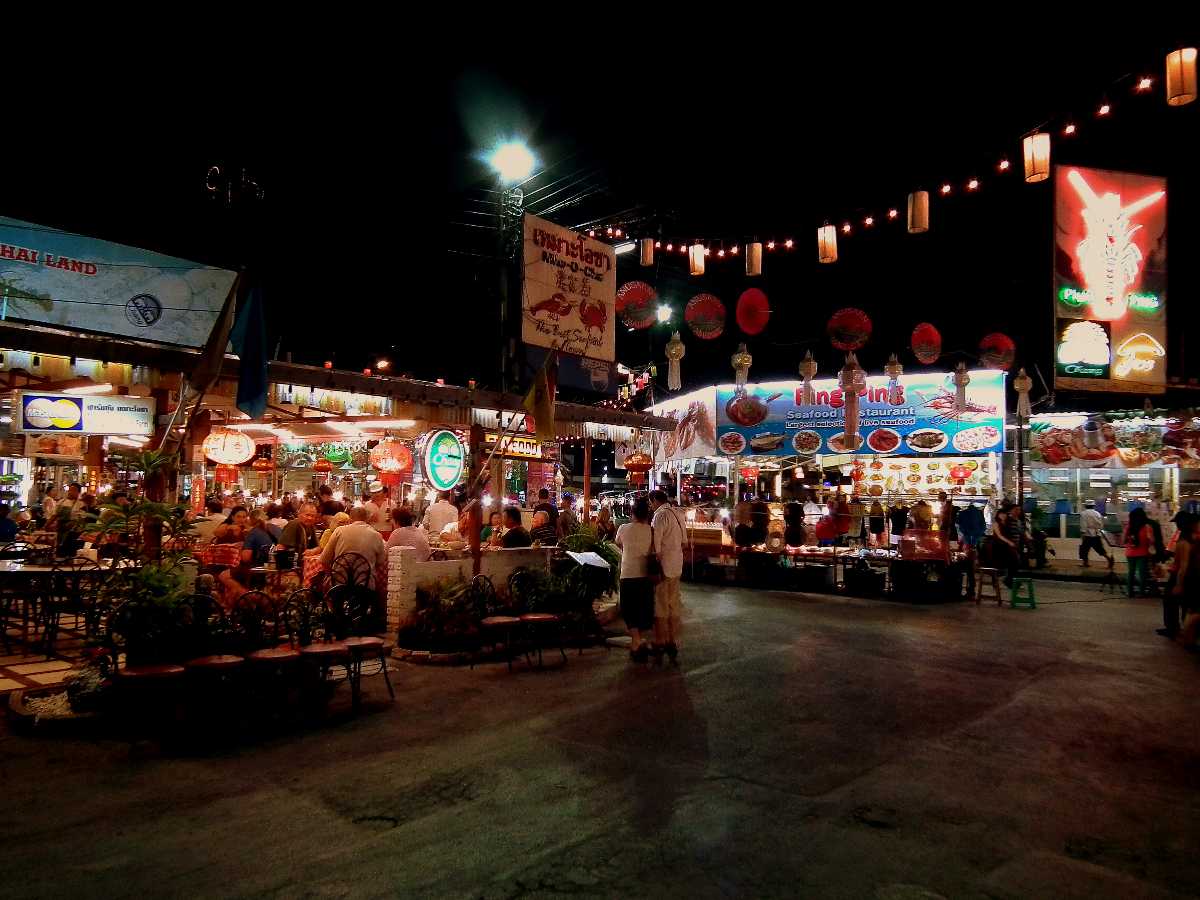 The night market provides a glimpse of everything the city has to offer. Numerous vendors put up their stalls here, selling items ranging from Thai silk, shoes, CDs, spices, clothes and antiques. Bargaining is a common thing in the market and you might require a few negotiation skills to get a good deal. The market is also lined with some delightful Thai seafood sections and noodle restaurants. If you are in the city, Chiang Mai Night Bazaar is a "can't miss" experience. 
Location: intersection of Thai Pae and Chang Klang Roads
Hours: 6:00PM-10:30PM 
Displaying the magnificent artwork and craftsmanship of the Northern Thai people, the streets of this place for shopping in Chiang Mai are buzzing with people as soon as it gets a little dark. With music being played by street buskers, the place is a magical one to be in despite the amount of walking it requires in order to really cover the market from all ends. Fresh fruit juice stands, puppeteers, handicraft products, and coffee shops make the highlights of the market. Ratchadamneon road is closed off to traffic whenever the market is open to allow the customers to freely roam around and shop without the worry of incoming vehicles throught the streets.
Location: Tha Pao to Ratchadamneon Road, Chiang Mai Old City
Hours: 4:00PM - 12:00AM
7. Wualai Walking Street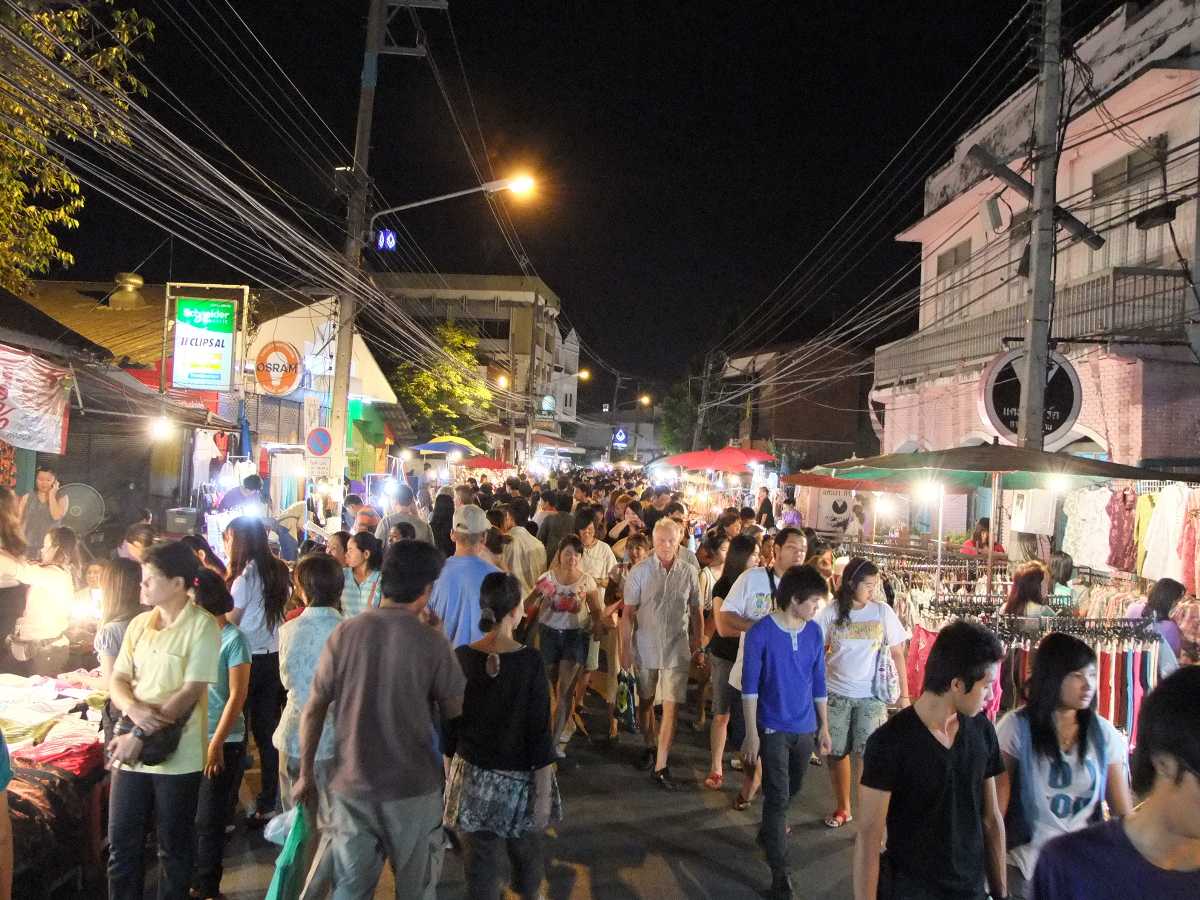 Opening up in the late afternoon, the stalls here provide a wide range of locally crafted goods, original paintings, clothes, and locally designed jewellery. Since walking down the street and shopping uses up a good amount of your energy, the quick food pit stops help to refuel yourself. There are many places and restaurants selling Thai food including barbequed fish, som tam, pad Thai, etc. as well as stands offering Thai sweets. With massage booths, spending the evening in the street is sure to become the best experience of being in Chiang Mai.
Location: Wualai Road, near the South moat of the old town
Hours: 5:00PM-11:00PM (approximately)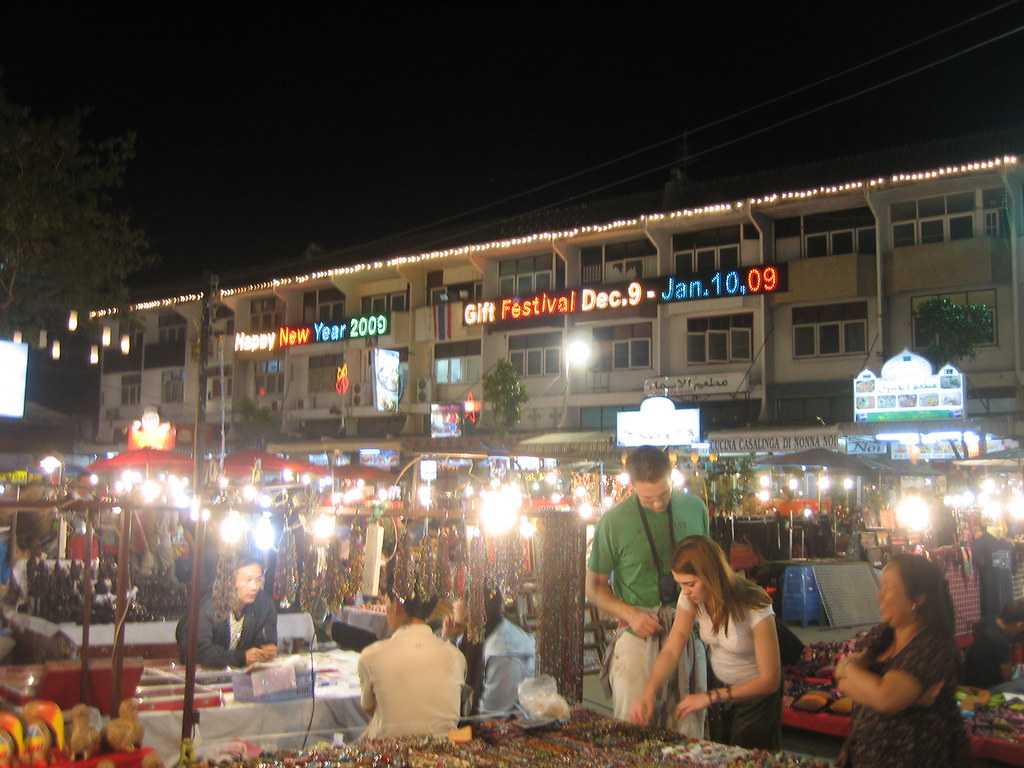 With rows and rows of stalls selling souvenirs and local Thai products, this place for shopping in Chiang Mai is popular among tourists who want an edgy shopping adventure. With massages booths working on affordable prices, 100 THB for 30 minutes and 160 THB for an hour, you can feel refreshed and ready to explore more. A fish spa is another interesting feature of the market which draws a lot of customers looking for different forms of relaxation. The low-cost delicious meal outlets add a whole new level of entertainment to the place. There are Thai, Indian, Israeli and Japanese food options.  
Location: 149/24 Chang Khlan Road, Night Bazaar
Hours: 6:30PM-12:00AM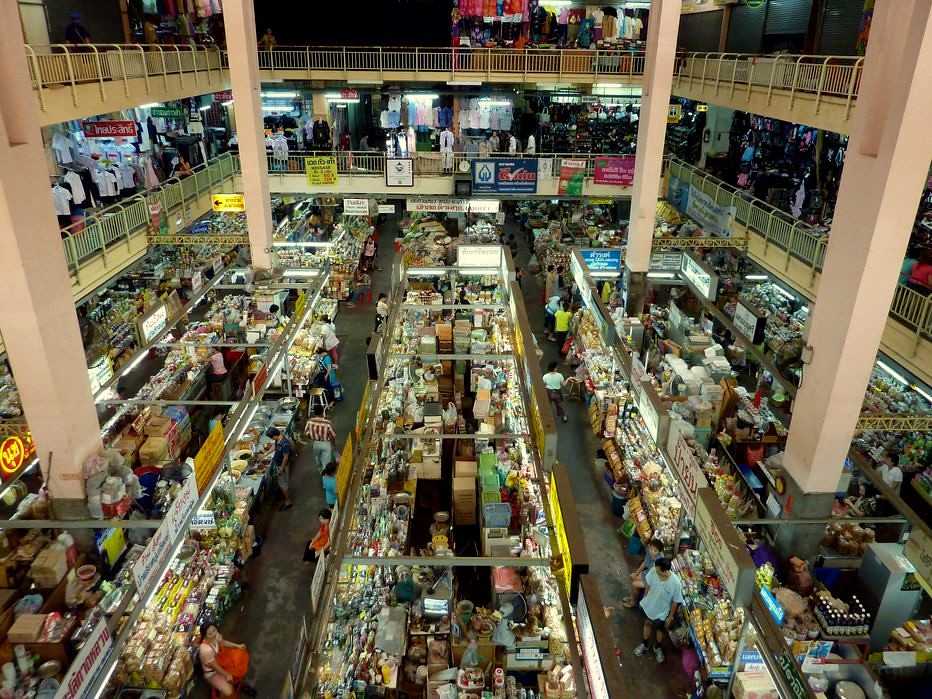 Also known as Kad Luang, this is a must-visit market for all the foodies and people looking for fresh produce and local street delicacies. From spices, herbs to delicious street food, you can find everything related to food here. The second and third floors are dedicated to clothing and everyday merchandise and you can also find cheap cosmetics and personal care products. However, the highlight of the marker is its tantalising selection of food.
Location: Chang Moi Road, close to the River Ping, north of Chiang Mai Night Bazaar
Hours: 6:00AM-7:00PM
Visiting a place is rarely complete without stuffing your suitcases with new purchases and carrying with you the memories of the whole shopping and entertainment experience, especially when going shopping in Chiang Mai. With modern malls and local markets, Chiang Mai makes up for a wonderful shopping destination in Thailand.