The hill tribes in Chiang were mostly originally animalists, although many of them have converted to Buddhists and Christians. Migrating from various parts of China and Southeast Asia, these tribes have now settled in northern Thailand, each with their unique histories, cultures, colourful dresses and language. There are mainly eight hill tribes which are famous among tourists and among whom you can spend some time on your next visit to Chiang Mai.
Hmong
Karen - The Long Neck Tribe
Lahu
Akha
Palong
Mien
Lisu
Lawa
1. Hmong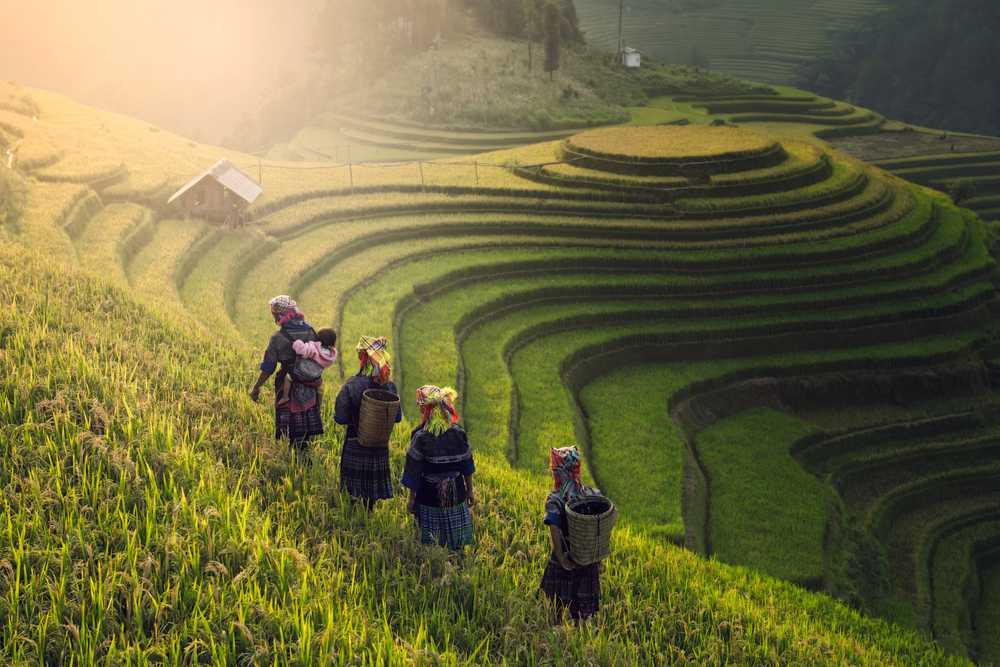 Originating from Tibet, the Hmong tribe is widespread in Northern Thailand and also a major minority group in South Thailand. They arrived in Thailand at the end of the 1800s with two subgroups Blue Hmongs and White Hmongs. These subgroups are distinguished by their traditional clothing.
Blue Hmong women wear intricately embroidered dark blue and white knee-length skirts, and white Hmong women wear long baggy trousers and long-sleeved jackets with collar flaps. Men wear black or blue collarless jackets with fancy fronts.
Location: Doi Pui Mountain, Chiang Mai Old City
2. Karen - The Long Neck Tribe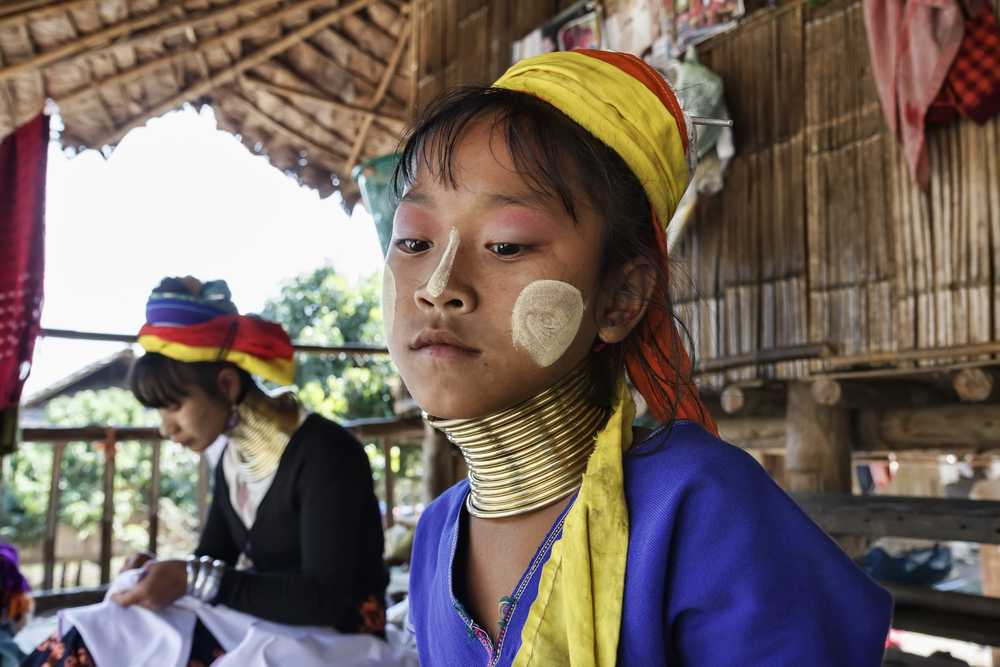 The Karen Hill Tribe is the most famous hill tribe in Thailand. They started migrating from Myanmar in the late 17th century. Most of them live in the west of Chiang Mai, stretching to Kanchanaburi. They are distinguished by their brass rings they wear around their neck, making their necks longer.
Unmarried women wear loose V-neck white dresses, and married women wear traditional V neck tunic and turban. The tribe women are famous for their weaving, and wood-carvings skills and men are famous for their eco-friendly farming practices.
Location: Chiang Dao, Chiang Mai
3. Lahu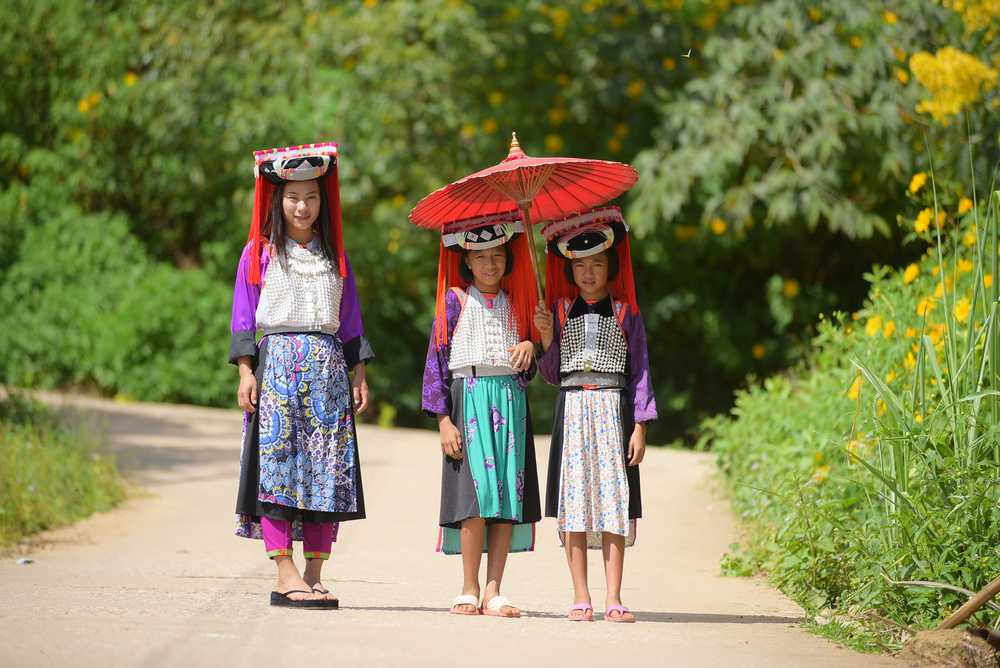 Originating from the Tibetian highlands The Lahu Hill tribe is a population of around 80000 people in Chiang Mai & Chiang Rai province. The Lahu consists of different groups including red, black and yellow Lahu.
One-third of the population converted to Christian. The remaining are animalists, who believe in a village guardian spirit, who is worshipped at a central temple.
The traditional clothes of the people are very colourful, long jackets with colourful baggy trousers. Despite their colourful dresses, they are known to be excellent hunters and one of the gender-equitable societies in the world.
Location: South of Thaweesin, Chiangrai Province
4. Akha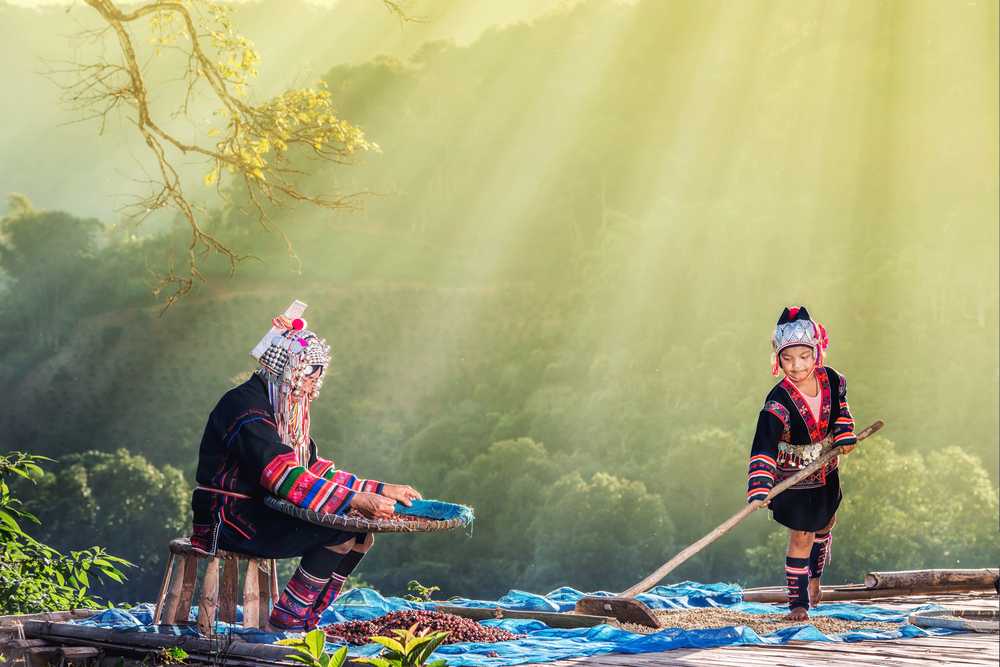 Akna is the poorest hill tribe in Chiang Mai. People arrived from Myanmar in the 1900s, established their village in the Santikhiri area of Chiang Mai. Akha villages have beautifully crafted wooden gates, believed to be the home of guardian spirit. The most distinct feature of their dress is the metal headdress they wear with different shapes.
The exact opposite of Lahu Tribe, Akha society is extremely gender-segregated, Men and Women have separate places on opposite sides of the village.
Traditionally they were involved in farming, but recently they have started to make and sell all types of handmade products, like vests, handbags, etc.
Location: Santikhiri, Chiangrai Province
5. Palong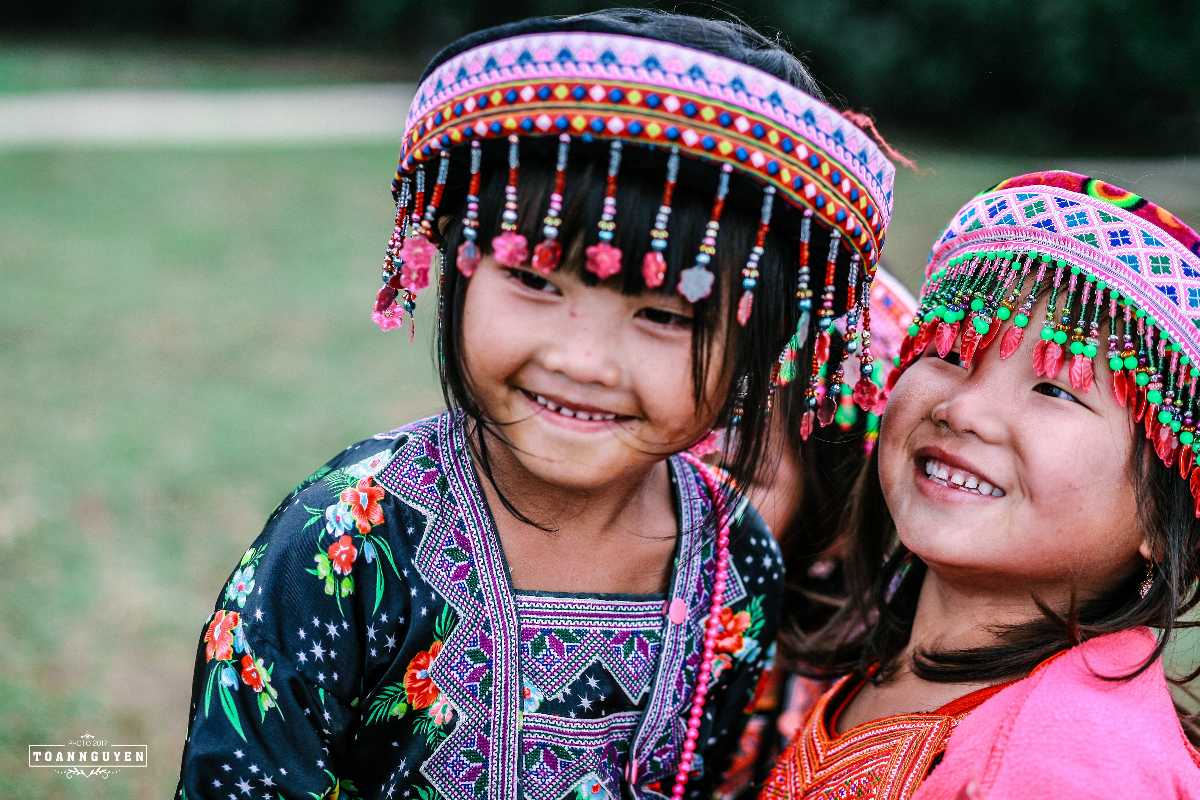 The Palong tribe came to Thailand from Myanmar and is the smallest group of Hill tribes in Palong. The main tribal village is Nor Lae Village. The Palong people are divided into three distinct groups with different cultures and languages. They live in wooden houses and mostly involved in the production of tea, chillies, and sugarcanes.
Palong women wear long red dresses with blue or pink jackets, silver wristband, and silver ornaments. Another distinct feature of the Palong tribe is their gold decorated teeth.
Location: Thai-Burmese Border, north of Doi Ang Khang Mountain
6. Mien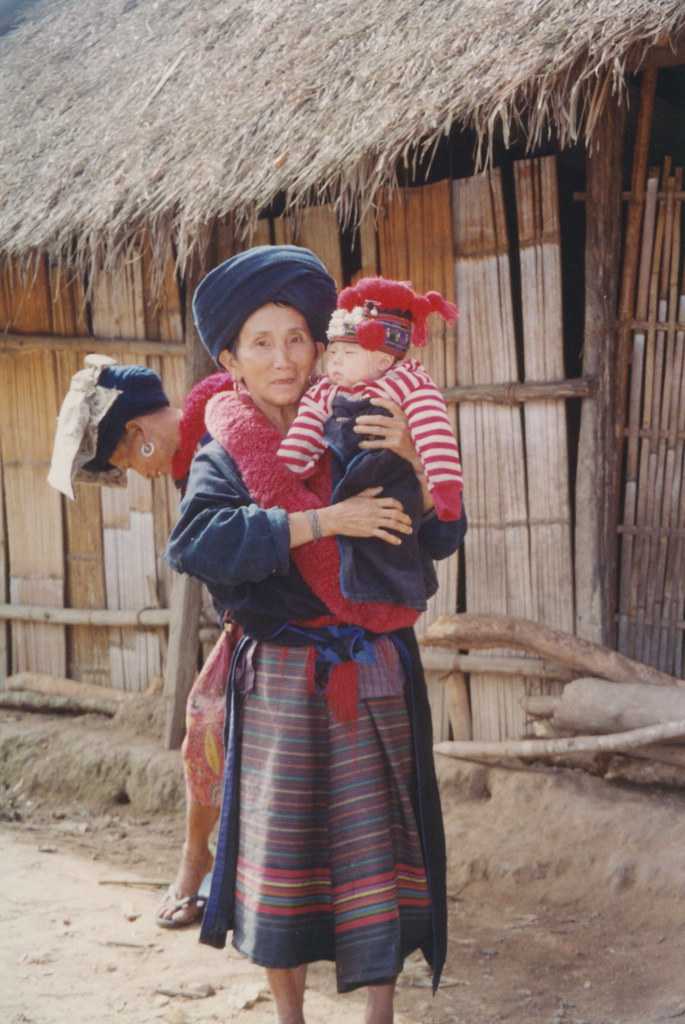 With a population of around 42000 people, Mien is one of the largest hill tribes in Chiang Mai. Originating from central China, these are the only tribes who have written language and a codified religion. The villages are small with a group of 20-25 houses.
Traditionally men wear black jackets with loose-fitting black trousers. Women wear long black tunics with a red ruff around their neckline.
7. Lisu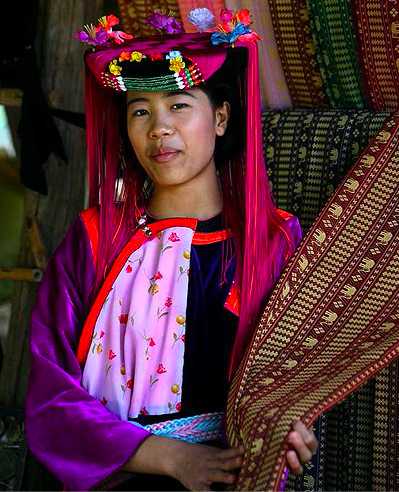 The Lisu hill tribe originated in southwest China and Tibet. They can be found between Chiang Mai and Mae Hong Son. They are also spread in India and Myanmar.
The Lisu tribe built their villages close to the water as they believe water has special powers. They have several clans, and due to clan rivalry, they often indulge in fights. They live in bamboo houses, and their villages have a rooftop pavilion where the village guardian's spirit stays.
Women wear very vibrant colour dresses,l long trousers with blue or green apron-like tunic and men wear green, yellow or pink trousers with blue jackets.
Location: West of Pai, Northwest of Chaing Mai
8. Lawa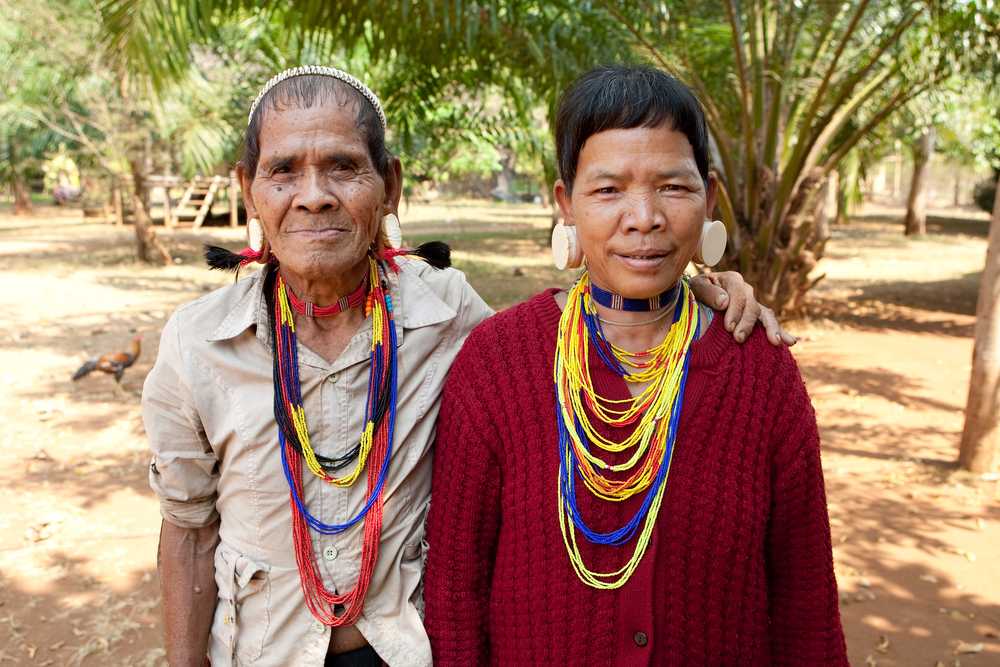 Over 900 years ago Lawa people migrated from Cambodia and settled into northern Thailand in Chiang Mai Province. Most of the population lives in between Chiang Rai and Chiang Mai province.
These Lawa people are animalists. They believe in the spirit world, and many elderly are believed to have spiritual powers, although many Lawa people converted to Christianity and Buddhism.
Unmarried women wear white blouses and can be recognized by orange and yellow beads worn around their necks. Married women wear bright colour clothes with blue, black yellow and pink stripes.
Location: Hod, Chomthong Mae Sariang, Mae Hong Son

The people of these hill tribes in Chiang Mai lead simple lives which you can experience on your tours to their villages. Be sure to be aware of their culture and customs, and always be respectful when you interact with them. If you have had the chance to visit any of them, share your experience with us down below in the comments!