Sikkim
is a small slice of paradise tucked away in the north-eastern part of India. It is the go-to place for all you guys who are mountain freaks and enthusiastic trekkers or even if you are looking for a laid-back break, to take a retreat in nature's bliss. Sikkim not only boasts of mesmeric natural charm and prismatic beauty, but it also has myriad adventure activities. So, if you like hills, and you like good vibes, and you love nature, head up to Sikkim.
How to Reach Sikkim by Air

The nearest accessible airport to Sikkim is in Bagdogra which is approximately 124 km from
Gangtok
, the capital city of Sikkim. Bagdogra airport has both public and private transport options for the onward journey. 50 meters away from the terminal building, the local taxi stand has both shared and private jeeps for
Darjeeling
,
Siliguri
, Gangtok etc. Further down, around 700-800 km from the taxi stand, there is good availability of public buses and shared autos for the same.
Sikkim Helicopter Service
Bagdogra is also connected with Gangtok by daily helicopter service operated by Sikkim Tourism Development Corporation, and it takes only 20 minutes to reach Gangtok from Bagdogra. The 5-seater helicopter makes travelling to Sikkim easier, along with being an incredible way of witnessing the majestic state, like never before. The passengers on this helicopter are awarded a Certificate of Participation by the Sikkim Tourism Development Corporation.
Timings:
Gangtok to Bagdora - 11:00 AM
Bagdogra to Gangtok - 2:30 PM

Flight Duration: 35 minutes

Cost: INR 3500 per person

How to Reach Sikkim by Train
Sikkim does not have a proper train network. The nearest major railway station is New Jalpaiguri (NJP) which is about 6-7kms from Siliguri and 130 km from Gangtok. Very few selective trains pass through Siliguri, which is approximately 114 km from Gangtok. Onward journey from Siliguri or New Jalpaiguri railway station is possible by road.

How to Reach Sikkim by Road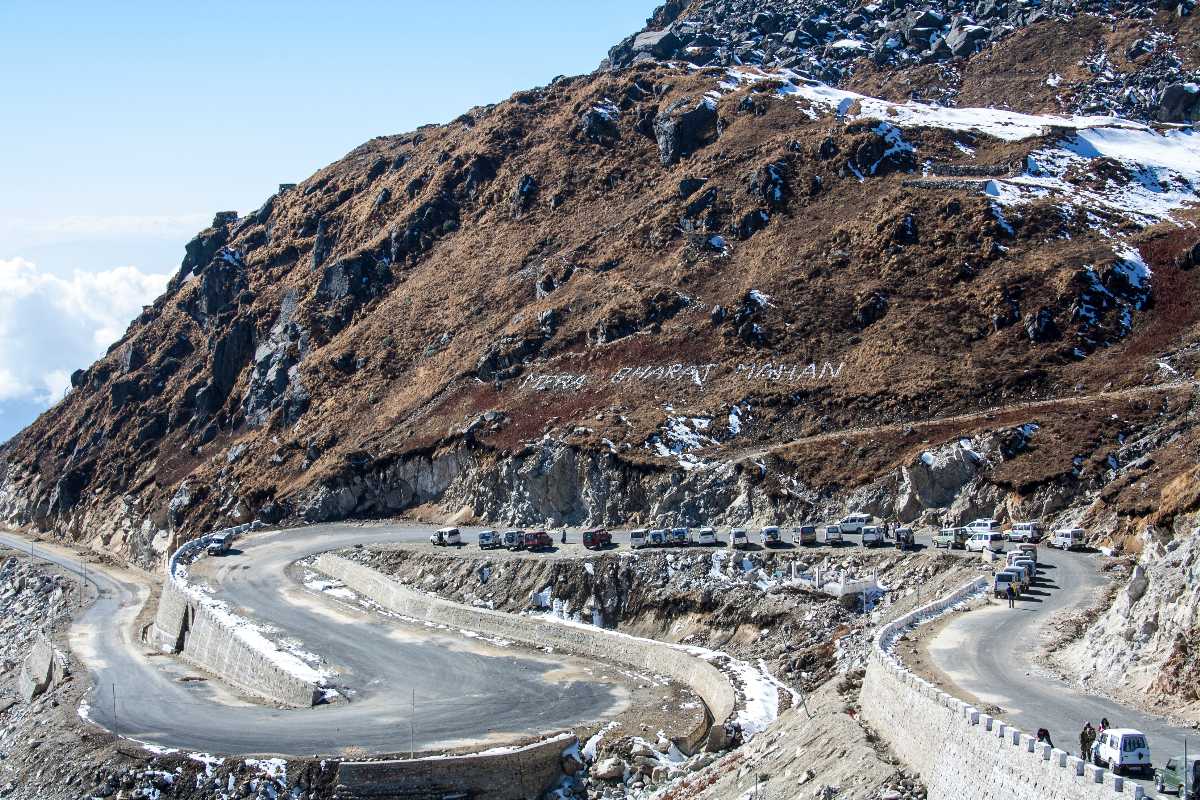 Siliguri is more or less the main gateway to Sikkim. National Highway 31A connects Gangtok to Siliguri. The scenic lush green forests on the banks of river Teesta on one side and the Eastern Himalayan range on the other side make the drive worthwhile. As stated earlier, public vehicles including buses, shared jeeps and auto-rickshaws are available from Siliguri to Gangtok, Kalimpong, Kurseong, etc. at frequent intervals. You can also opt for a private cab from Siliguri to travel further.
Siliguri to West Sikkim
Siliguri to Darjeeling
Right outside the Siliguri Railway Station, buses and shared jeeps are available for West Sikkim. The best route considered is usually through Darjeeling (journey of approximately 3 hours).
Darjeeling to Jorethang
The jeep stand is located in front of the Old Super Market, almost a kilometre away from the Mall Road. The journey takes approx. 1.5 hours with a beautiful view of the hilly terrain. Frequent buses also pass from the jeep stand which can drop you in Jorethang for a lower price.
Jorethang to Peling-Yaksom
Jeep stand in Jorethang also has shared jeeps for the onward travel to Peling and Yaksom. Gangtok etc.
Siliguri to South Sikkim
Shared jeeps, as well as public buses, are available right outside the Siliguri Railway Station for the journey to Namchi in South Sikkim.
Journey time - 1 hour approx.
Siliguri to East and North Sikkim
Shared jeeps are available from Siliguri to Gangtok at frequent intervals till sundown. The buses and jeeps are occasionally available after sunset too, but it is recommended not to travel post-sunset due to the hilly terrain and steep valley.
Travelling between North and East Sikkim
The northern and the eastern part of Sikkim usually doesn't provide any independent travel opportunity. If you are lucky enough, you might get a shared ride/jeep to your destination. However, the best way to travel is with one of the group tours offered by numerous travel agents, on a sharing basis.
Sikkim Entry Permit
Foreigners (except citizens of Bhutan) are required to have a valid Protected Area Permit (PAP) or Restricted Area Permit (RAP) to enter Sikkim. Individual tourists are only allowed to visit Gangtok,
Rumtek Monastery
, Phodong,
Pemaytangtse Monastery
, Kechoperi, Tashiding,
Yuksum
, Mangan, Singhik. Also, four district headquarters and all subdivisions which include Rangpo, Roarathang, Rhenaka, Aritar, Rongli, Soreng, Namchi, Pakyong, Barapthing except Chung Thang. All the foreign tourist are allowed and expected to travel to these places. For all other places, foreign tourists are required to travel in groups with a travel agency. The permits are issued for a 15 days period which can be extended to a maximum of 30 days in two splits of 15 days each. In most cases, the validity is not extended beyond that period.
Indians are required to get a permit issued to visit North Sikkim - beyond Singhik towards
Gurudongmar Lake
,
Yumthang Valley
,
Lachung
, Zero Point, etc. and parts of East Sikkim - Chhangu Lake,
Nathu La
and Baba Temple. No permit is required to visit places like Namchi, Pelling, Yuksom, Ravangala, etc.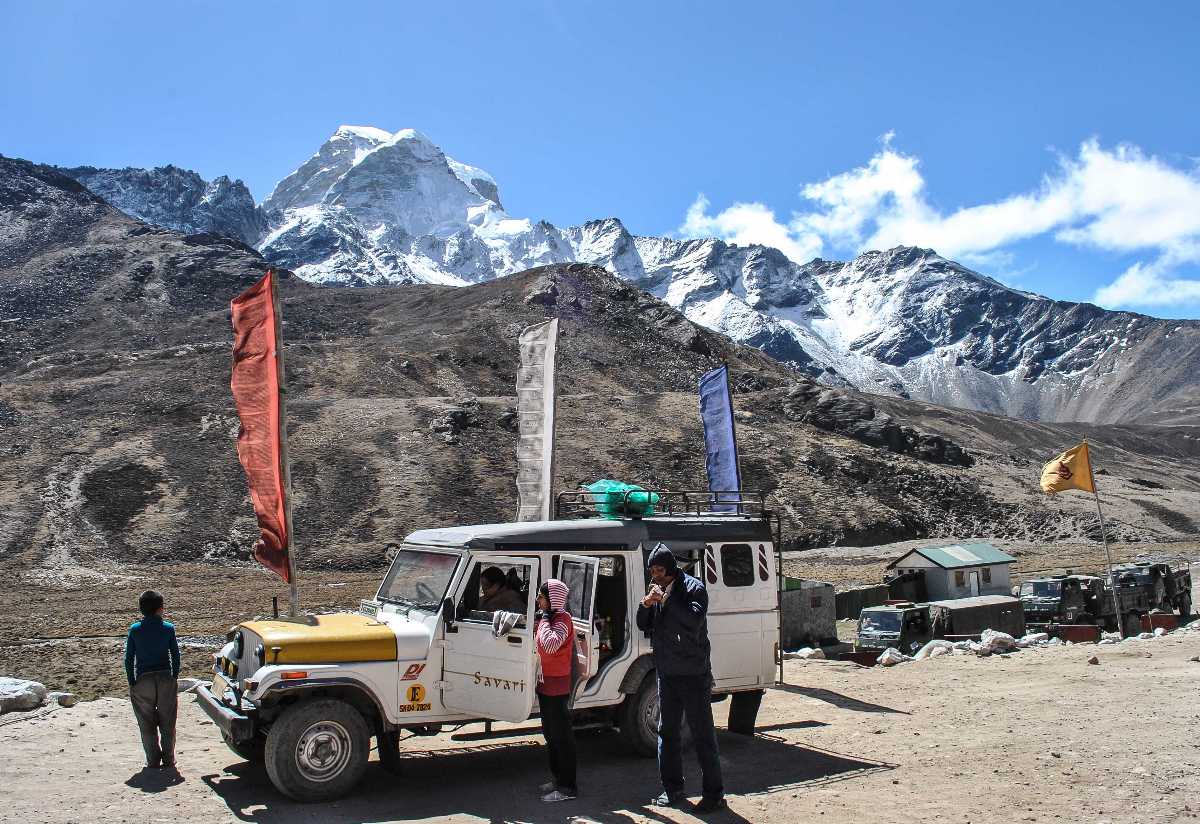 How to get the Permits
There is no fee charged for the permits. You can apply on the spot at the Melli Checkpoint and Rangpo (permits issued between 8:00 AM to 7:30 PM). Although if you are not in time for this, you can apply for a permit in advance at the Sikkim Tourist booth at the Bagdogra airport itself (open 10:00 AM to 4:00 PM). You can also apply at Sikkim House in Kolkata, Sikkim Tourist Office in Siliguri or Sikkim House in Delhi.

There is also a slightly complicated two-step process in Darjeeling-
Step 1- Applying at the Foreigners' Registration Office (FRO)
Step 2- Applying and obtaining the permit from the District Commissioner's Office (DCO) across town.

Other than that, you can also ask for a 15 days Sikkim permit at Indian embassies abroad when applying for your visa.

Special Permits
Special Trekking permits are required for high altitude trekking organised by trekking agents (in all cases, you must be accompanied by a guide) for a trekking tour in Yukson or Utterey. The application for such permits is made in Gangtok, and it takes at least a day for the documents to be delivered to the capital and back.

For further treks up the Lachen and Lachung valleys (up to the Tsopta and Yumthang) in North Sikkim, foreigners need Restricted Area Permits.

Indians need a police permit to travel north of Singhik but can venture up the Thanggu valley to Gurugongmar Lake, Zero Point and Yumthang. Permits can be procured in Gangtok through registered agencies.

Documents needed for the Permit
- Passport-sized photographs (2 or 3). Usually, it is advisable to carry a few extra copies in case you need some at the hotel check-ins also.
- Photocopy of the passport and visa (plus the original copies too)

So, we think we have given you enough motivation to go and meet the mountains right now. Because why not, YOLO!