Rhododendron groves and beautifully dense subtropical woodlands. Snow-capped Himalayan mountains featuring the third-highest in the world, the Kanchenjunga. A mesmerizing sight on the north-western horizon at dawn. Tibetan Buddhist monasteries coexisting with Hindu shrines. Lip-smacking momos and thukpas finding their ways to meet an end to a perfect day. Cloaked away and shrouded in the mystery of seclusion, Sikkim is nothing short of a slice of (tourist) heaven. The place owes its charm to its detachment from the chaos and commotion of modern-day concrete jungles we always want to get away from.


The grandeur of Sikkim as a favourite offbeat holiday getaway does not lie only in its outstandingly picturesque sceneries or its lip-smacking cuisine but also in its extremely warm-hearted populace which is so diverse yet so intricately connected. The clothing of Sikkim shows this diversity and exemplifies social and cultural lives of the three main resident communities - the Lepchas, Bhutias and the Nepalis. People from other states like Biharis, Bengalis, Marwaris, Punjabis and South-Indians have also settled here and they follow their own traditional items of clothing.
Let's discern types of traditional dresses of Sikkim worn by the different communities
Clothing

Bhutia Tribe
In addition to the basic garment, the Bhutia men wear Jya Jya, a waistcoat, the shirt called Yenthatse, Kera, a cloth-belt and Shambo, the cap. They pair the entire outfit with loose trousers.
Bhutia women, in contrast to other tribes in India, enjoy a much higher status than their male counterparts. They wear the Bakhu with a full-sleeved silk blouse, ethnically known as Honju. In the front portion, a loose sheet of multicoloured woollen cloth with exotic geometric designs is tied. This is called the Pangden and is a symbol of a married woman. This traditional outfit is complemented by embroidered leather boots and Kushen, a jacket.

The Bakhu has found modifications over the years. Women nowadays pair it with a pair of jeans to add a western twist to the look. Shawls popularly known as Majetro and classy blouse designs like Chaubandi Cholo and Tharo Cholo are also in fashion.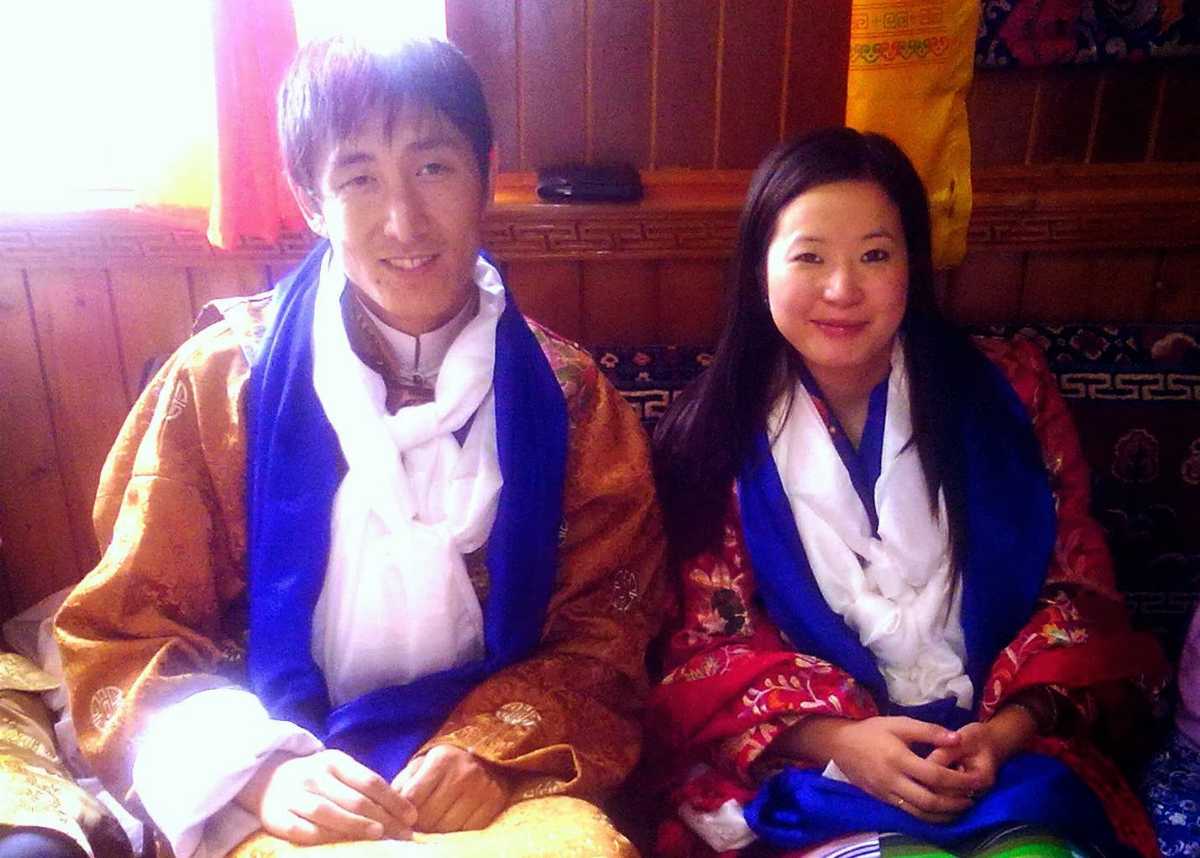 Thokro-Dum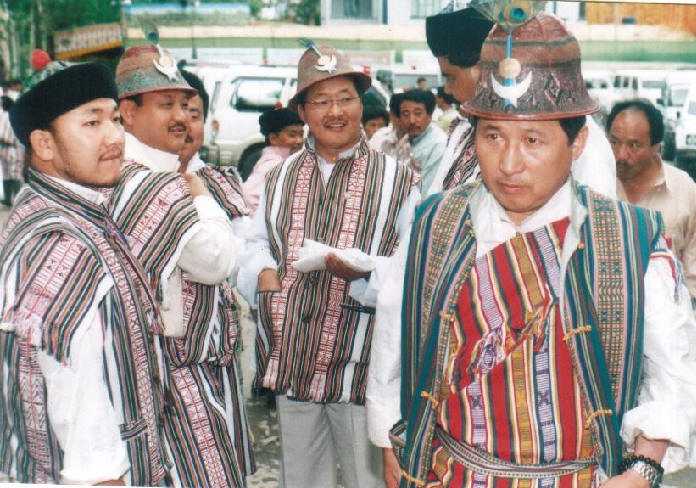 The Thokro-Dum is the primary outfit for the Lepcha community members. Usually, the Lepcha bread makers sport this. It consists of a white pyjama stretching up to the calves, almost resembling a karate player's outfit. Yenthatse, a Lepcha shirt and Shambo, an embroidered cap are paired with it. A multicoloured, hand-woven cloth called the Dumpra is pinned at one shoulder and held in place by a waistband. The short length of the pyjama indicates that the men have originated from or lived long in a marshy land. The texture of the material is rough and long-lasting, suitable for a hard day of toiling in the field. Many times, traditional cone-shaped bamboo and rattan hats are also worn. The Thyaktuk and its types are intricately woven hats true to their roots buried deep in history and authenticity. These hats are normally made from fine canes from bamboos, straws and leaves apart from Anok Thakytuk which is made from fine velvet cloth. It was used as a traditional headgear of royal soldiers during the regime of the Chogyal dynasty. Even today, this headgear is a must during marriage ceremonies or religious festivals.


Dumvum
The traditional attire of Lepcha women involves a sari-like garment known as Dumvum or Dumyam. It is an ankle-length outfit, silky and smooth binding comfort and culture together. Underneath, a loose-fitting blouse in a contrasting colour is worn known as Tago. To complete the look, a type of belt called the Nyamrek and Taro, a cap is worn. A scarf called Gorey is often used to cover the head.

There is an interesting distinction between the costumes of Lepcha men and women. While the calf-length bottom of the Thokro-Dum indicates their life in a marshy land, the flowy Dumvum suggests that they are dry-land inhabitants. While the male costume is coarse, made for the rugged nature of their labour in the fields and forests, the female costume is a lighter, softer material rendering the outfit graceful and feminine.
Bakhu/Kho
The main costume donned by Bhutias is the Bakhu (according to the Nepalese dialect) or Kho (according to the Bhutia dialect). Worn by men and women alike, Bakhu is very similar to the Tibetan Chuba, except that it is sleeveless. It is a loose cloak-like garb which is tied at the neck and tightened around the waist by a belt made of silk or cotton.

Shuruval
The Nepalese men of Sikkim wear this outfit. A long double-breasted garment flows below the waist along with a trouser. The churidar (bottom) is called Shuruval and the pyjama (shirt) is known as Daura. Askot, a waistcoat and Patuki, a belt is worn to complement the Shuruval. They also carry the Khukri ? a heavy weapon carried in a leather case known as Daab.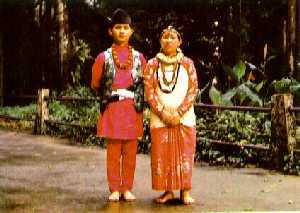 Traditional Nepalese couple, with the man wearing the Shuruval
Pharia
Augmenting the grace of Nepalese women, the traditional attire called Pharia is available in a variety of different hues. Like in the case of the Bhutias, a long, loose blouse fastened on four sides is worn, standing true to its name, Chaubandi Cholo. For extra covering, the upper body is wrapped elegantly with a piece of cloth that comes in beautiful prints, known as Hembari. Majetro shawl is also used by them.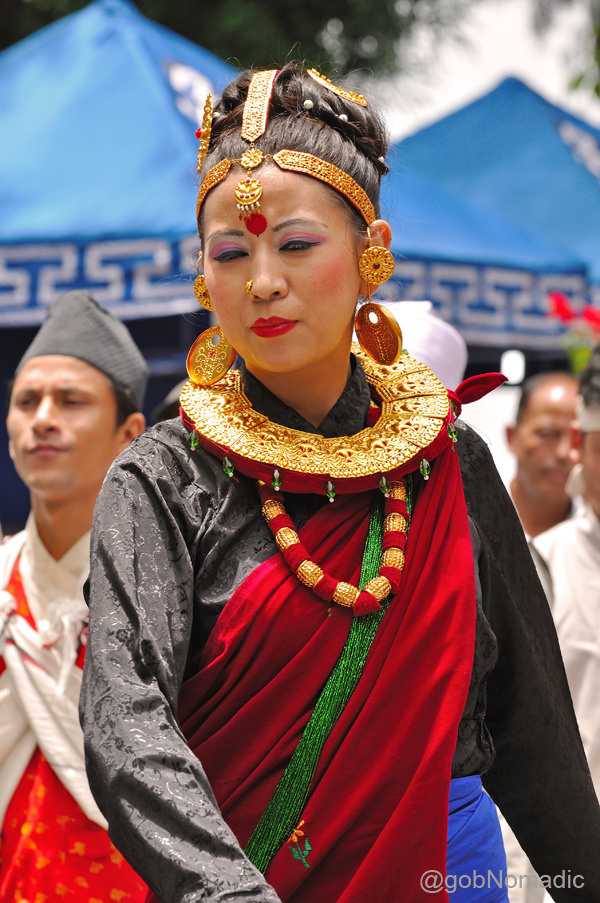 In addition to the Pharia, Nepalese women wear a piece of colourful cloth suspended from head to waist while dancing. It is called Pachauri.

Folk dancers sporting the Pachauri on their heads
Wedding Attire
Especially when wedding bells toll in the land of the eastern Himalayas, the bride is usually adorned by the ethnically royal Bakhu made from the finest of silks. A similarly designed outfit is also donned by the groom. The only distinctive addition to the outfit is a loose trouser. Men and women alike, wear leather boots adding to the grandeur and gaiety. And when it comes to accessorizing, the purest forms of gold are used as jewellery exhibiting simplicity and tastefulness simultaneously.
Jewellery
Ornaments various tribes of Sikkim like to deck themselves with:
Lepchas
During festivities and other occasions, women can be spotted wearing traditional jewellery like the Namchok (ear-ring), Lyak (necklace) and Gyar (bracelet). Mostly, gold and silver are used in their making.


A Lepcha woman wearing the Namchok

Bhutias
Bhutia women accessorize themselves with jewellery known as - Yencho (earring), Khao (necklace), Phiru (pearl ornament), Diu (gold bangle), Khalli (thick silver-coated anklets) and Joko (ring). They are known to have an affinity for gold, especially the pure 24-carat gold. They essentially prefer pure, heavy gold ornaments.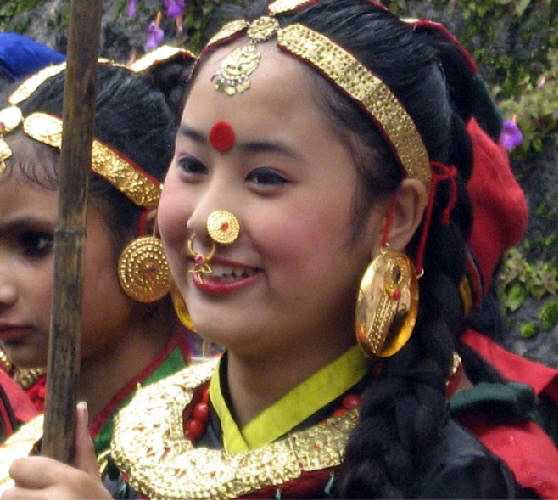 Nepalese
The ornaments that give a gaudy appearance to the Nepalese women are Sir-Bandi or tiara, i.e., a jewelled head-ornament, Kantha, a necklace, Naugeri, a pearl-necklace, Charanihari, again a necklace, Tilhari, a green bead with an elongated gold pendant attired mainly by married women, Bulaki, a nose-ring, Dungri, a nose-pin, Gadwari, an ear ring, a silver Chura, a bracelet, and Kalli, a thick, substantial, silver anklet, just like the Bhutias.
The outfits and jewellery worn by the Sikkimese are a perfect blend of tradition, diversity, comfort, and not to mention, beauty. They perfectly suit the earthliness and tranquillity that Sikkim carries in its air. If you happen to be in Sikkim, make sure that you try them on yourself. Only then the culture will truly make itself felt.