Gurudongmar Lake is named after the famous Guru Padmasambhava, who was also known as Guru Rinpoche. This saint was the founder of Tibetan Buddhism and had visited the lake in the 8th century. The frozen condition of the lake is also linked to the saint, and it is believed that while on his way back from Tibet, he realized that it was worthy of reverence since it represented the holy location of Chhoedten Nyima.
The lake, however, remained frozen throughout large parts of the year, and thus there was no way that it could meet the drinking water needs of the people. The locals then appealed to the guru, who decided to help them. He placed his hand on the part of the lake, and the ice in that particular spot began to melt. Ever since, the mesmerizing Gurudongmar Lake is considered to be holy, and people carry back the water of the lake in containers since the water is considered to be sacred and possess healing properties.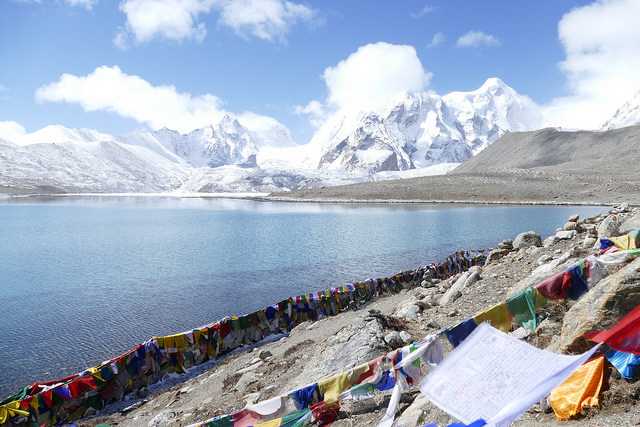 Gurudongmar Lake was also blessed by Guru Nanak in the 15th century when he passed through the area. According to this version of the legend, the locals appealed to him to make the ice melt, so that they could use the water. Guru Nanak touched a part of the lake with his walking stick, and it became free of snow ever since. He also blessed the lake and stated that whosoever would take its water would gain strength and virility.