The National Monument of Malaysia was designed and sculpted more than 50 years ago by the Austrian-born designer and sculptor named Felix de Weldon. The bronze figurines symbolize extreme courage, strength, leadership, suffering and self-sacrifice. This glamorous monument stands about 15.54 meters tall and cost about RM 600,000 to design and sculpt.
The sculpture depicts a group of 7 soldiers of which one holds onto the national flag of Malaysia and another soldier armed with a decorative rifle and bayonet and a third soldier who is armed with a machine gun. Two of the soldiers have been shown to be tending to a wounded ally and this gesture is highly symbolic of their hard earned victory whereas the remaining two are slumped on the feet of the memorial representing the defeated communist forces. Additionally, the strong granite base is carved with a prominent message,
"Dedicated to the heroic fighters in the cause of peace and freedom, May the blessing of Allah be upon them"
, in English, Latin and the Malay Jawi script.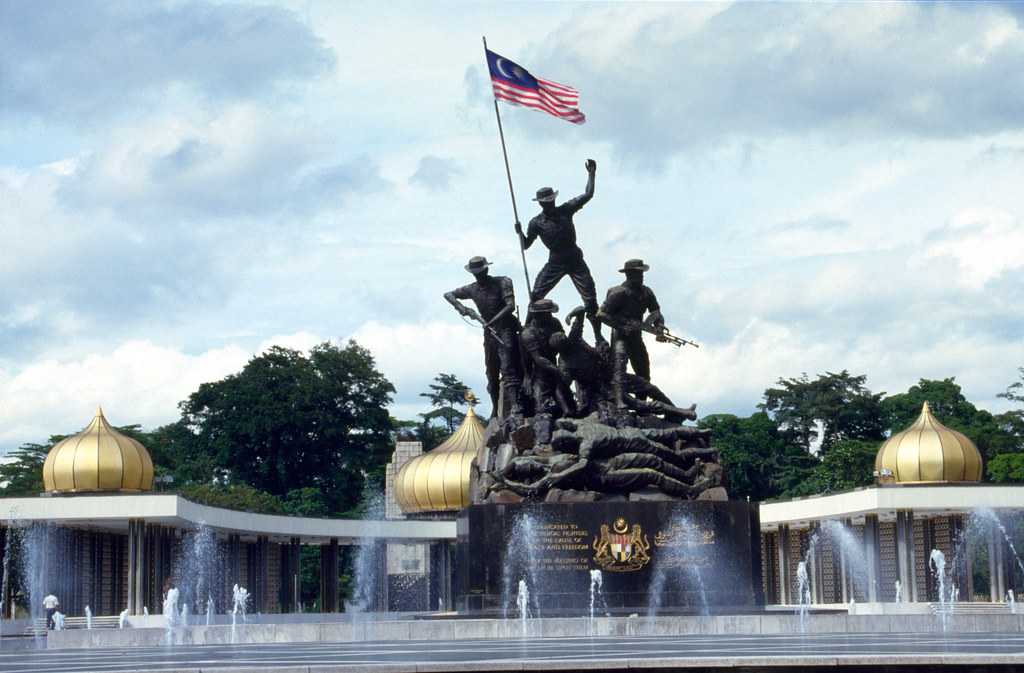 The sculpture at Tugu Negara was cast a Roman foundry and Swedish stones on which the soldiers are proudly hoisted upon were imported from Karlshamn which is a Swedish coastal city. There is a reflection pool right beneath this monument. Also, there are mini fountains and decorative pewter-made water lilies around the area where this historic monument has been erected to give the surroundings and absolutely serene appearance.
The crescent-shaped Central Pavilion has two special features- A microfilm vault where the names of all the fallen heroes are engraved, and the metal grille that not only houses the vault, but also displays the different state emblems of Malaysia.