Unlike other museums, the Museum of Illusions encourages interaction with the exhibits. Taking approximately an hour, you'll be guided from room to room and encouraged to make the most of each exhibit. The exhibits are either photos, rooms, or installations that are categorised as 'Master Illusions', 'Grand Illusions', and 'Optical Illusions'.
1. Mirage installation
places you in the middle of the desert
2. Stereogram
is a 3D puzzle with a hidden object inside, but you can only discover it if you find just the right position to view it.
3. Ambiguous Cylinder
is either a quadrant or a cylinder based on how you're looking at it and lets you rotate it around with a handle moving right or left.
4. Clone Table
is a round table that reflects your reflection back through two mirrors angled at 60 degrees – making it look like there are five versions of you sitting around the same table!
5. Head on a Platter
is similar to a magician's trick, where you'll stare at the platter and wonder where the rest of the body is being hidden.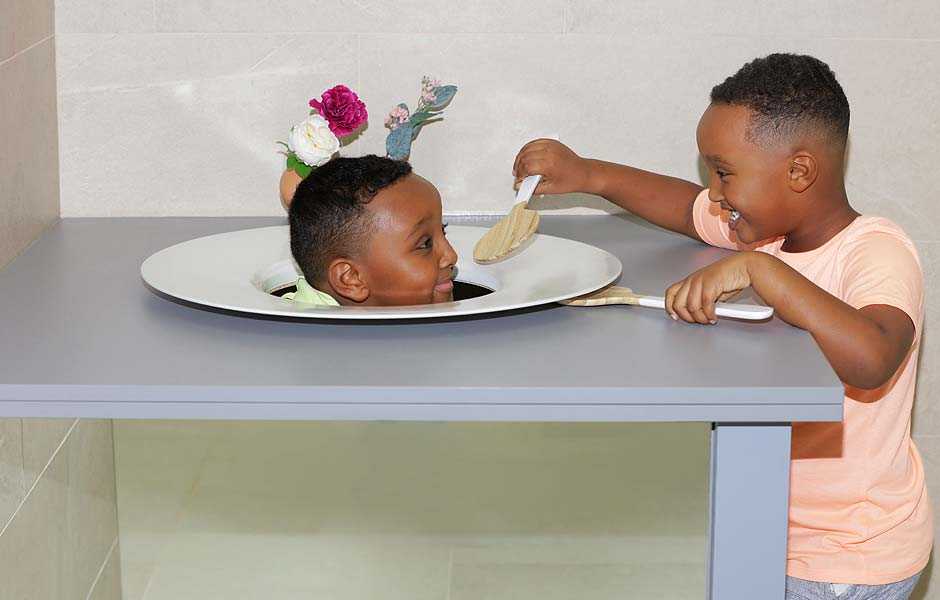 6. Chair Illusion
, inspired by psychologist Jean Beuchet's work, exhibit plays with proportion and perspective, a picture from just the right angle creates the illusion of an extremely tiny person standing beside an average-sized person.
7. Ames Room
distorts perception, making the person standing on the left look like a dwarf while the person standing on the right looks like a giant. The sizes shift as you move from side to side.
8. Anti-Gravity Room
which, as the name suggests, makes you look like you're floating in space or even floating upside down, depending on where you stand. In the Playroom, you'll find a bunch of mind-boggling puzzles to be solved.

9. Dilemma Games:
They include brain teasers for all ages that stimulate your cognitive abilities and decision-making abilities.

10. Playroom Tour
encourages young children to solve each puzzle and offer help at each step of the way.