Thailand in February is at the last leg of the chaotic peak season for tourism to the nation. In this month, Thailand plays host to the final influx of tourists before the offseason starts somewhere around mid-March. Although the crowds may be large, it is comparatively lesser than the peak months of January and December. Conversely, the prices for hotels and flights see a drop than the previous months making it economical to travel to Thailand this month, while still getting great climatic conditions. In this article, we will talk about the weather, best places to visit and some of the festivals and events you should visit while on a visit to Thailand during February.
Is February a Good Time to Go to Thailand?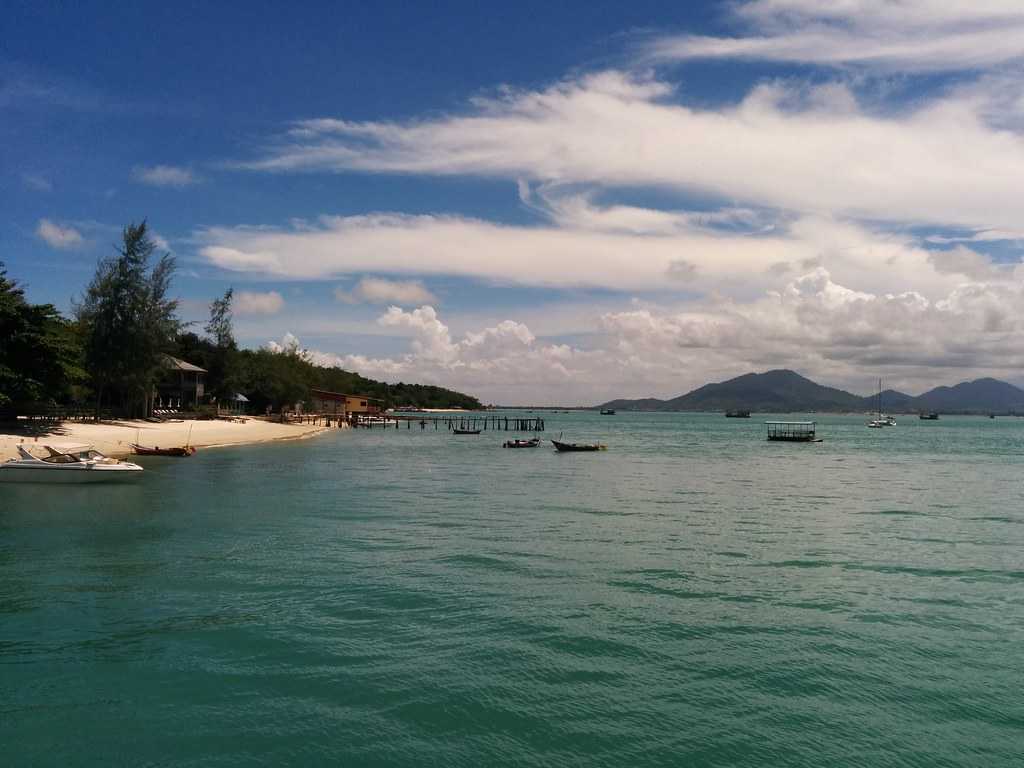 February is a great time to go to Thailand as the weather conditions across Thailand are suitable to travel around in tropical conditions. February is effectively the final month of the winter season in Thailand and hence coincides with the on-season for travelling within the country. The weather is mostly cool and dry along both coasts except for a few parts along the eastern coast, which might experience minimal rainfall.
Around this time, the holy festival of Makha Bucha is celebrated, and the entire nation comes together for it. Other famous festivals include the flower festivals in Chiang Mai and Bangkok which attract many viewers. With there being a large Chinese community in Thailand, the Chinese New Year is also fervently celebrated in the country. This festival falls either in January or February depending on the Lunar calendar.
Weather in Thailand in February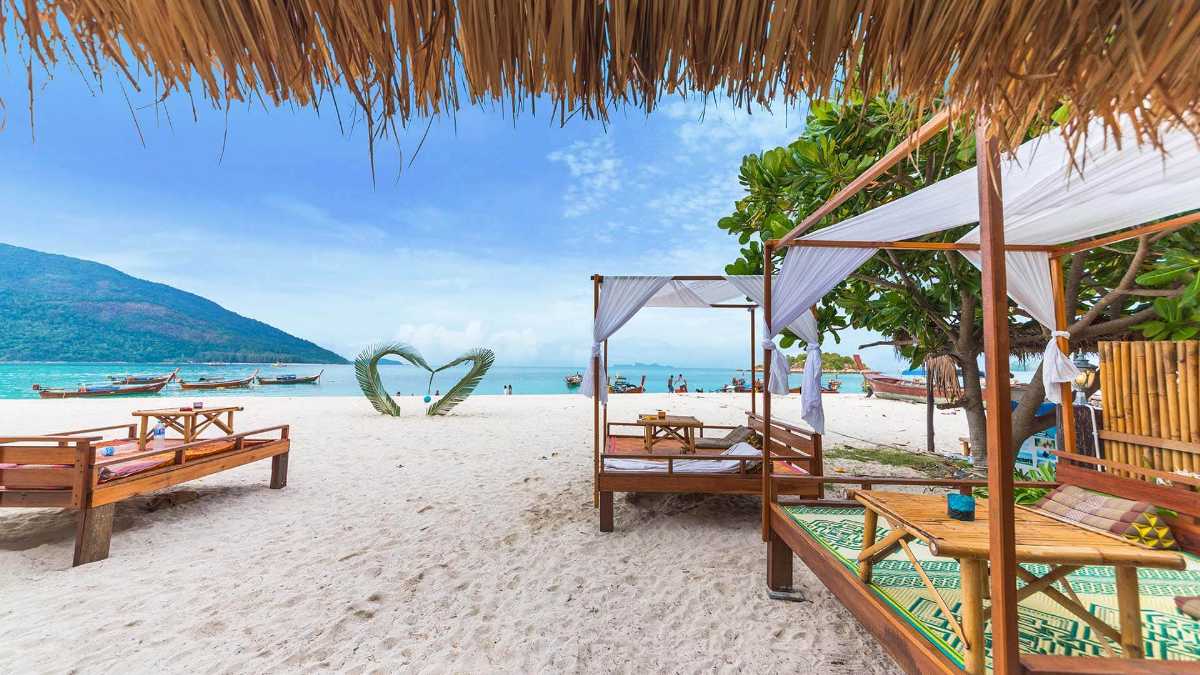 The climate across Thailand in the month of February generally remains cool and dry. Temperatures are slightly higher than the months of January and December but remain suitable for outdoor activities and travel. The eastern regions tend to experience a bit of rainfall with the coastline along the east generally experiencing some rainfall (if any) during the day in short spans.
Northern Thailand experiences an increase in temperature from the ideal temperatures of January. Although the days are warm and sunny, the nights equally see a dip in temperatures, and warm clothes are recommended. Temperatures can go up to 32°C during the day but dip down to around 16°C as the night grows older.
Bangkok and Central Thailand are warmer than previous months but not unbearably so. Daytime can get quite sunny with humidity levels on a low. There isn't much fluctuation in temperature after the sun sets either. The average range of temperatures is 24°C-32°C.
Eastern Thailand is also warm but lesser than central Thailand due to receiving a higher amount of rainfall. The rainfall helps in keeping the temperatures cooler but somewhat adds to the humidity as well. Somewhat similar to central Thailand, the average range of temperatures is 23°C-30°C.
Southern Thailand is generally quite warm with lots of sun throughout the day. Beaches in Phuket and Krabi provide a relaxing environment around this time under the sunny blue skies. February is also an ideal month for water activities because of minimal or no rainfall. Temperatures generally range from 24°C-30°C.
Events and Festivals in Thailand in February
1. Chiang Mai Flower Festival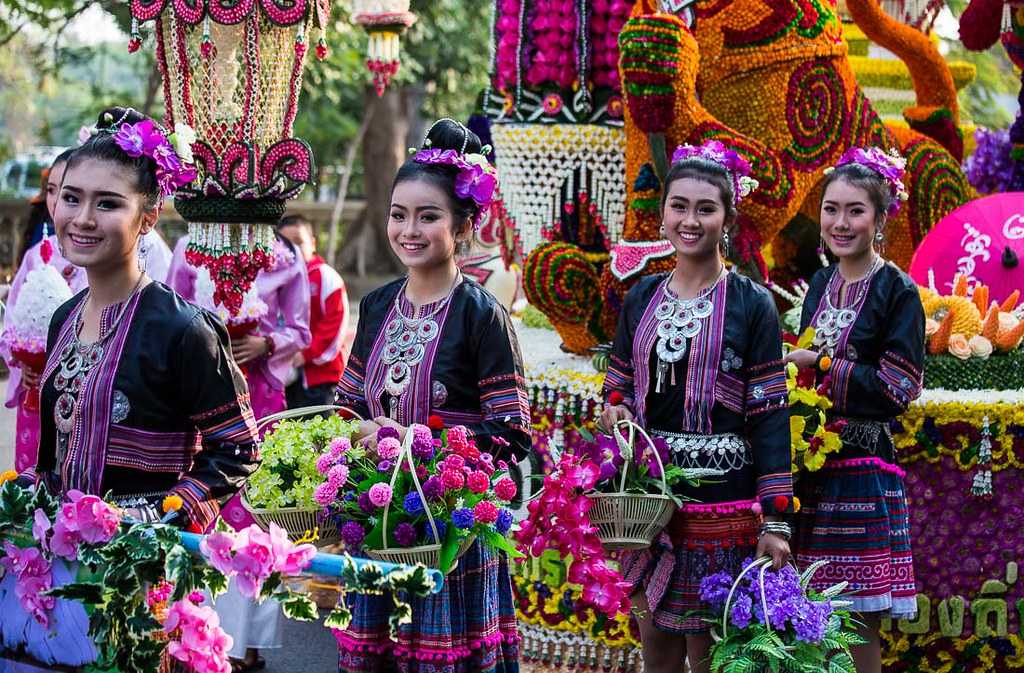 The Chiang Mai Flower Festival is usually held in the first weekend of February. This festival showcases the Chiang Mai's extraordinary floral culture. This colourful festival is supplemented with a street parade of floral floats, live music and local people in traditional attires.
Read More About the Chiang Mai Flower Festival Here
2. Makha Bucha Day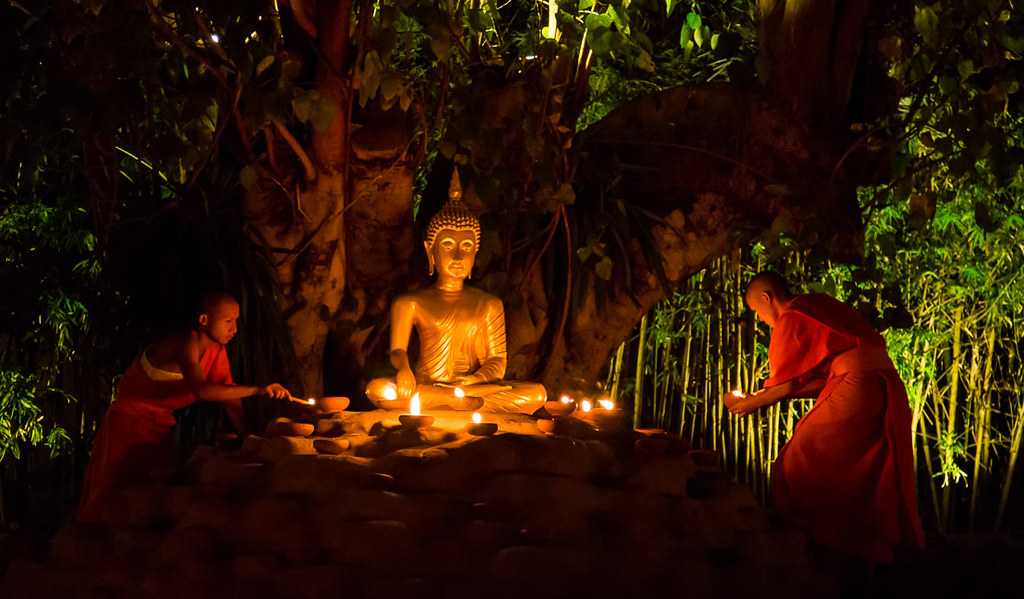 Makha Bucha (also known as Magha Puja) or Makha Bucha day is the second most important festival celebrated in Thailand. This festival marks a special date in the Buddhist calendar and is celebrated in the third lunar month, on a full moon day. Thailand observes a public holiday on this day. On this auspicious day, Buddhists visit temples, perform the candle ceremony known as Wian Tian and take part in merit-making activities with the spiritual aim of purifying one's mind and not to commit any sins.
Read More About Makha Bucha Here
3. Chinese Lunar New Year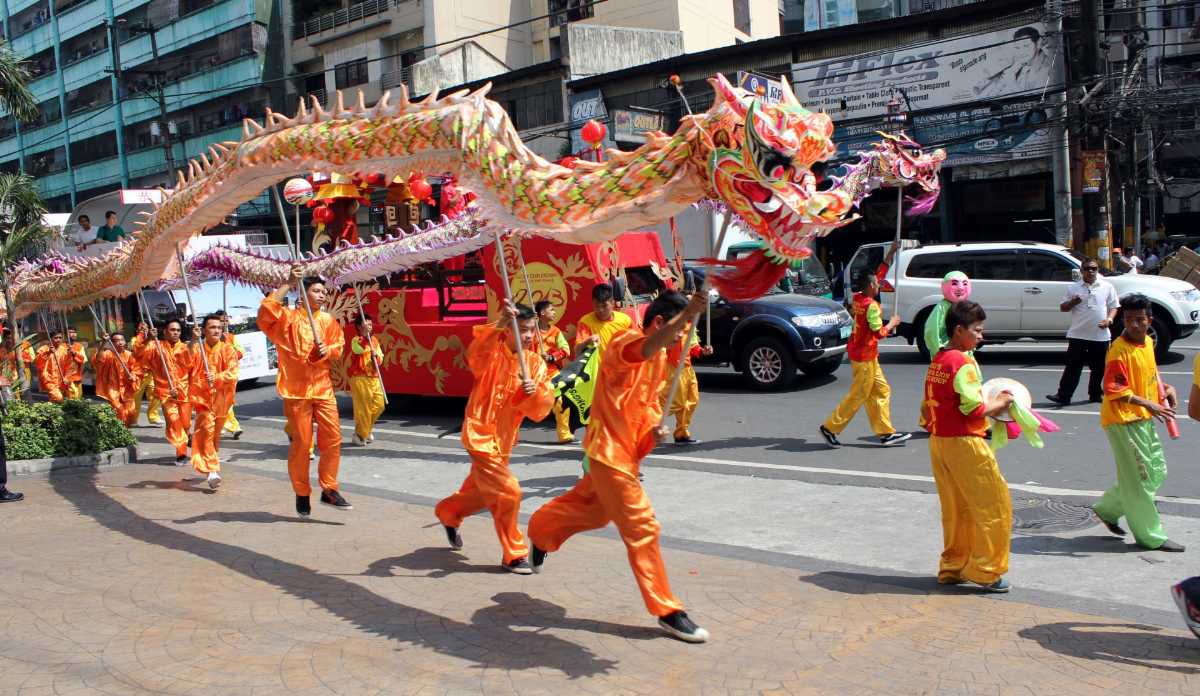 With there being a large Chinese immigrant community in Thailand, each year, the Chinese New Year is celebrated on a grand scale. It is a lovely time, where different communities come together, break bread and wish each other good fortune for the year ahead. Streets are decorated in bright red with gorgeous Chinese paper lanterns hanging from above and dragon dancers along the road.
Chinese New Year basically takes place according to the Lunar Calendar, and it falls either in January or February. To get the feel of this day, you should visit Bangkok's Chinatown, Chiang Mai or Phuket where Chinese people reside the most.
Read More about the the Chinese New Year in Thailand Here
4. 14th February - Valentine's Day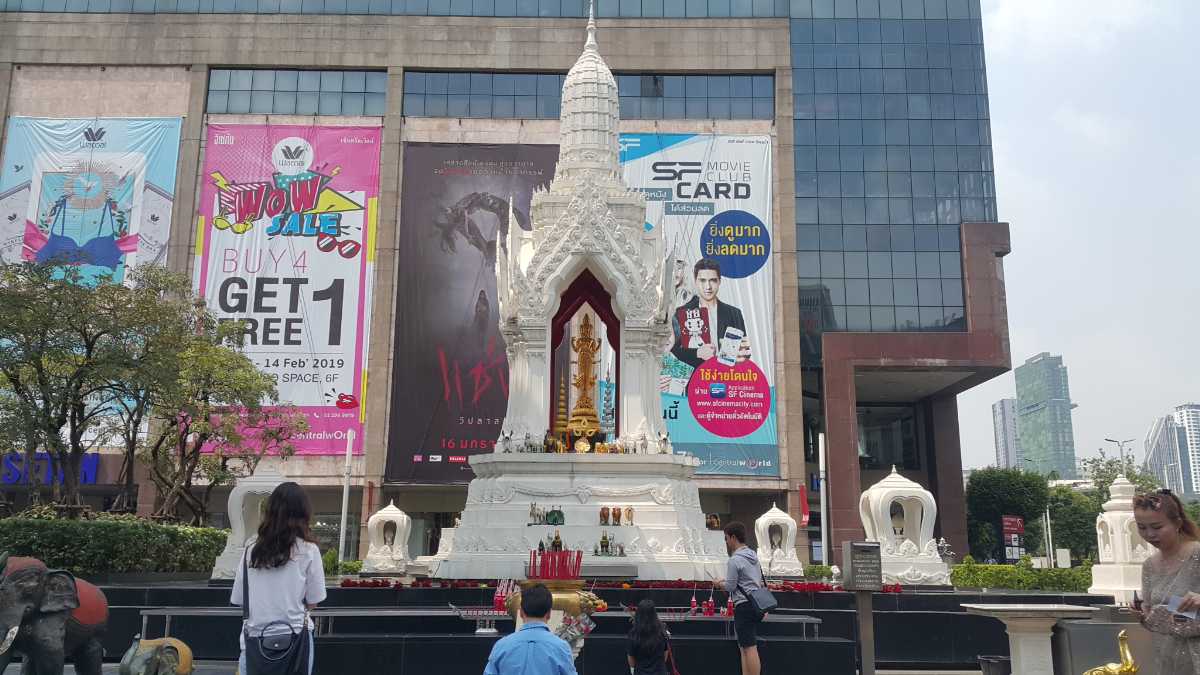 Celebration of the universal day of love in Thailand is seen as - 'Old wine in a new bottle'. For Valentine's Day in Thailand, people make a trip to Bangkok's 'shrine to love', the Trimurti Shrine located in the heart of the Thai capital. Trimurti stands for three most powerful Hindu gods; Brahma- the creator, Vishnu- the preserver and Shiva- the destroyer. Altogether they represent love and unity. Couples can be seen making a beeline for the shrine to light red candles and place red roses.
5. Underwater Wedding in Trang 
Couples in recent times are choosing exotic unconventional ways of tying the knot. While some choose to marry 33,000 feet up in the sky, others choose to do so underwater, just like the Underwater Wedding Ceremony in Trang.
The Trang Chamber of Commerce has started organizing Trang Underwater Wedding annually from February 13th-15th with the actual wedding ceremony held on Valentine's Day. The couple is taken by boat to the island of Ko Kradan, and there the ceremony takes place. On completion of the ceremony, a waterproof marriage certificate is handed over to the couple. The catch to be eligible for this ceremony is that you need to be certified divers.
6. Burapa Bike Week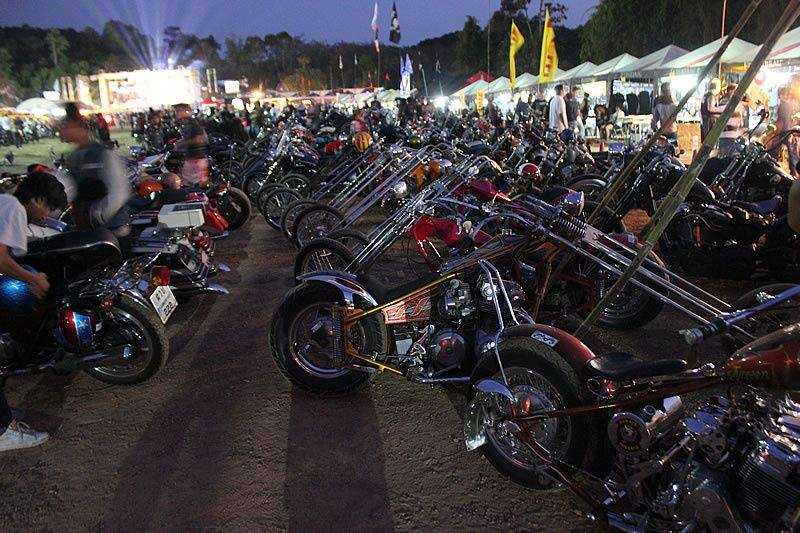 This events is basically for bike enthusiasts. It takes place in Pattaya around Mid-February. Loud music, electric environment and loads of foods garner young bunch of people luring around bikes.
Travel Tips to Keep in Mind While in Thailand in February
Hotel and flight prices are more affordable than in January and December. Be sure to check for the best deals to suit your budget.
If travelling up to the north, be sure to pack some warm clothes as nights can be chilly.
Days can get sunny so be sure to pack sunscreen.
Free live concerts in the park by Bangkok Symphony Orchestra take their stage to entertain people and light up the moods.

February is a great month to go travelling in Thailand. With the average cost on the more economical side and pleasant weather across the country, we guarantee that it is arguably the best time to visit Thailand.