South
India
n food is revered and loved around the country and beyond it. The unique flavours, the tangy twist, the sweet infusions and the plethora of vegetables used in any recipe is a head-turner for most vegetarians and non-vegetarians alike. But, it is also considered criminal to group all south Indian food under one broad banner.
Tamil Nadu
Food is very different from the food of other regions like
Kerala
,
Andhra Pradesh
and
Karnataka
. We bring to you a list of Tamil Nadu food dishes and specialities which will leave you craving for a south Indian spread!
1. Uttapam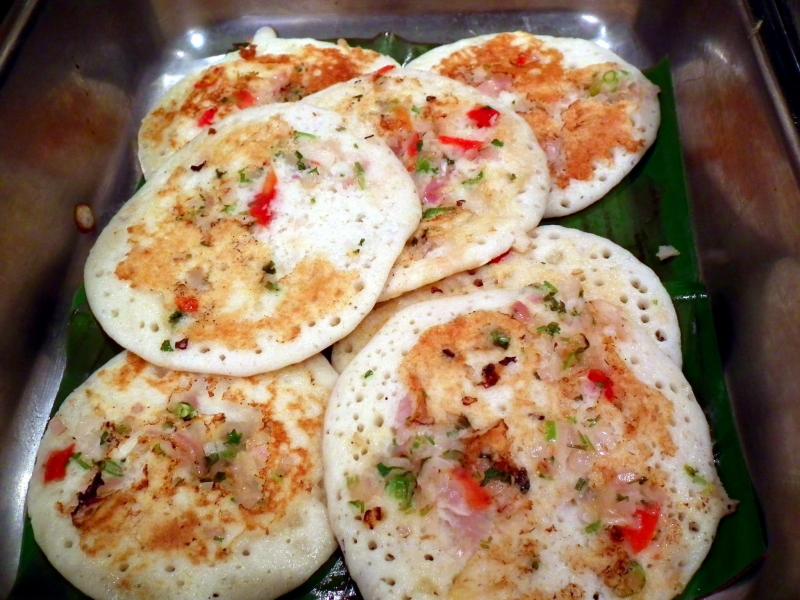 Uttapam is a dish very similar to the dosa and is a speciality of Tamil Nadu food. It is made by grinding the Urad Dal and rice powder together. It is then allowed to ferment for a few hours and then slow fried over very minimal oil over a skillet. Uttapam is flat and crispy at the sides just like dosa but soft and doughy in the middle like an Idli. The uttapam is then given a little topping of tomatoes, onions, capsicum etc. It tastes delicious with either coconut chutney or Sambar, however, I would recommend the coconut chutney. You can also try it with the spicy tomato and chilli chutney which tastes quite heavenly.
2. Banana Bonda
Tamil Nadu food surprises!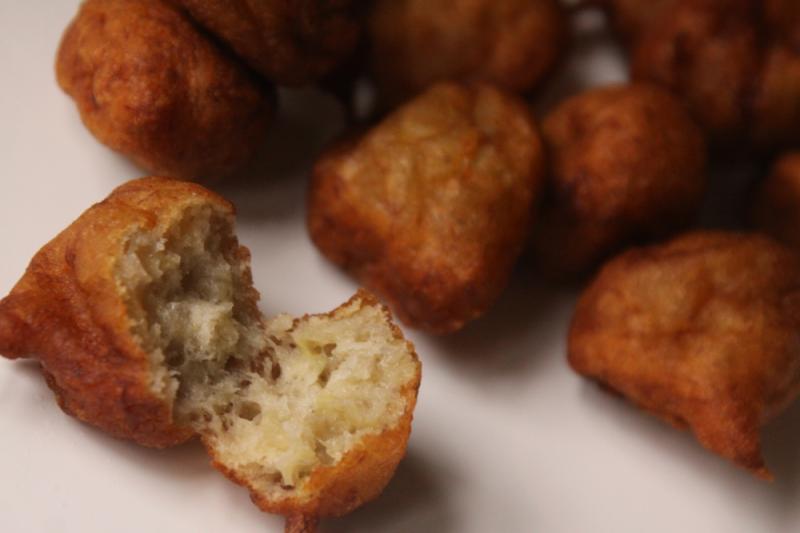 I know all of you have seen and eaten Bondas, but this bonda has a different stuffing though cooked in the same way. Instead of adding potato and other veggies to it, it is stuffed with banana which is then fried in oil. Contrasting the usual spicy Bonda, this is sweet due to the banana and is eaten as a snack with tea. Tamil Nadu food never ceases to amaze!
3. Rasam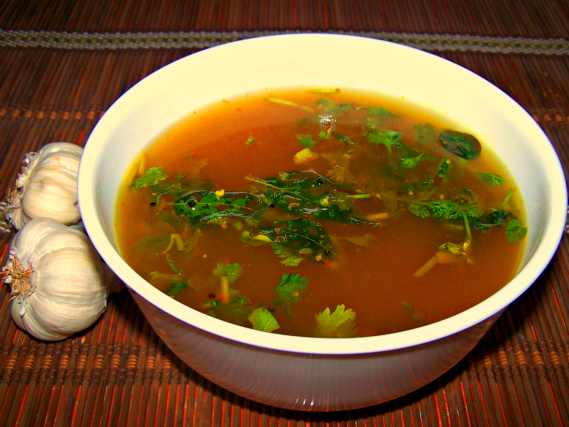 Rasam is my personal favourite! Tamarind forms the base of this soup-like dish, and added to it are tomatoes, pepper and cumin seed. The rasam is almost a pre-meal appetizer, which is light and doesn't fill you up too much before a meal. The rasam is a famous dish that is poured over the rice like a normal curry. Though it is almost colourless, it has a burst of flavour. You can also drink it as you would a soup. It is good for a sore throat too.
4. Dosa
The Poster boy of Tamil Nadu Food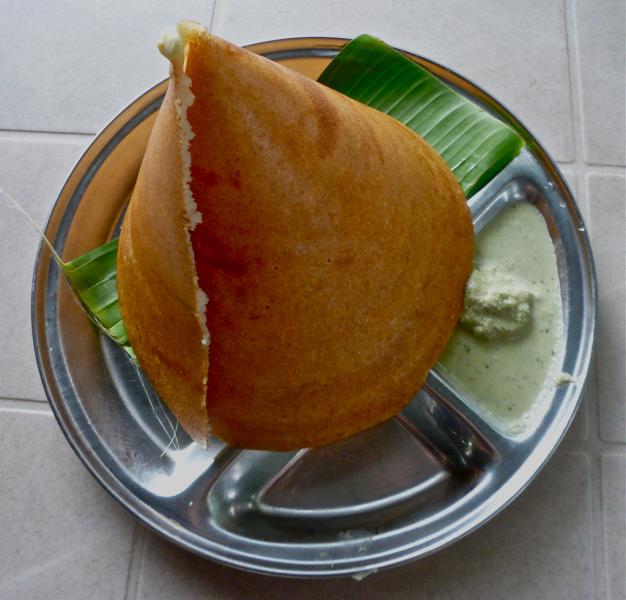 There are so many types of Dosas. There are a few famous kinds of dosa which are available all over the country. Let's start with paper dosa. Most of the dosas are paper-thin and like all the other Tamil Nadu Food, it is made by a batter with the mixture of urad dal and rice, spread over a pan and cooked mildly. It is then shaped into a thin paper-like layer and served in a cone shape along with some chutney and sambar. All the other dosas are made in the same way but depending on their names the extra ingredients are added. Like the egg, dosa has the same procedure but an egg is cracked and poured onto the dosa, spread across and cooked along with the dosa in some oil/ghee.
Some other kinds of dosas are:
Tomato Dosa, Onion Dosa, Rawa Dosa, Vegetable Dosa, Plain Dosa, Masala Dosa etc.
5. Murukku
Something to munch on with tea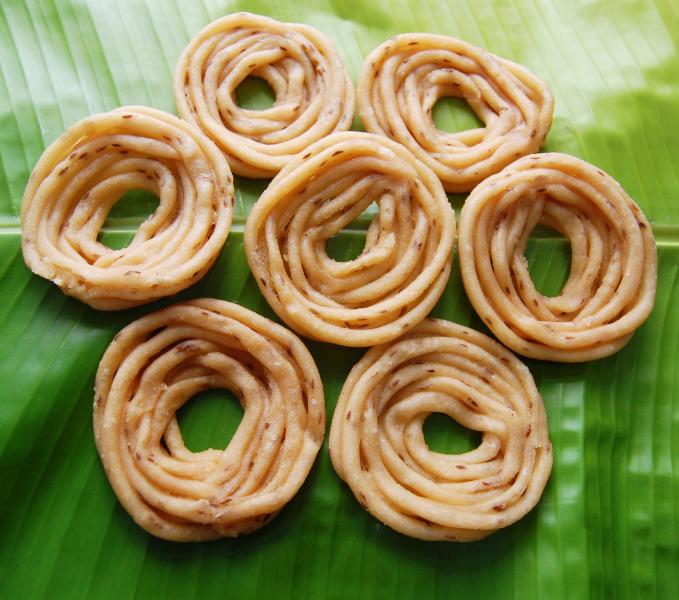 Murukku is one of the most famous snacks that got its origin from Tamil Nadu, and its name means twisted. Again, the batter for the murukku is made by a mixture of rice flour and urad dal with some salt, water, cumin seed etc. It is then deep-fried in oil in various shapes until it turns hard. It is loved by people all over India.
6. Sambar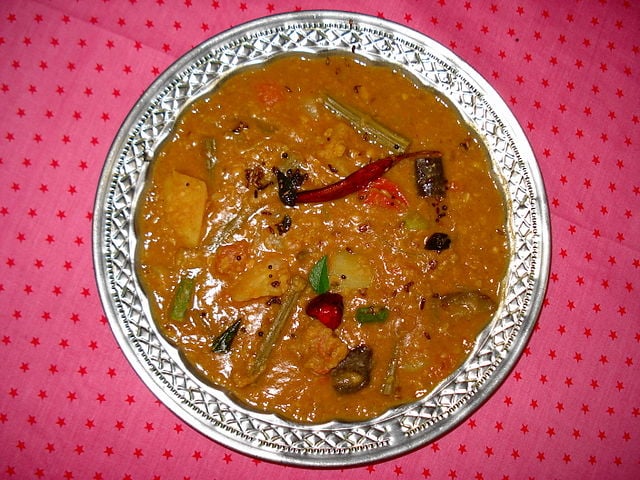 Sambar is a curry just like the dal but what makes it different is the different spices and vegetables that are used to prepare it. Sambar is a little sour because of the tamarind base that it is prepared in, and consists of various vegetables. Some of the famous vegetables used to make Sambar are: Drumsticks, Brinjal, Pumpkin, potatoes and radish. One of the main ingredients that give it the taste is the use of curry leaves. This Tamil Nadu food accompaniment is served with almost all the South Indian dishes be it rice, idli, dosa etc, and it tastes brilliant with almost all of them!
7. Coconut chutney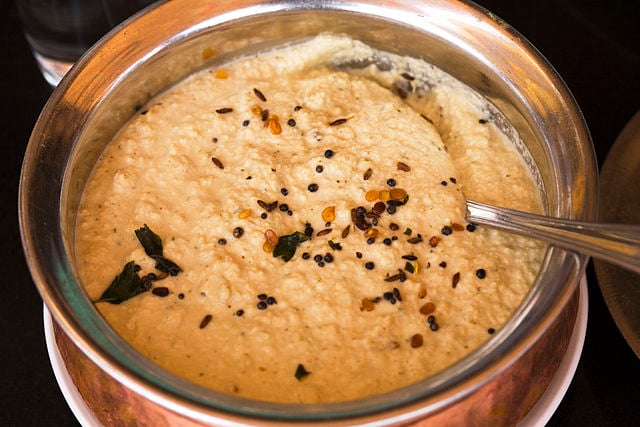 Uruttu Chammanti is the local name for coconut chutney in Tamil Nadu. It is made with grounded coconut, dry red chilly (particularly roasted red chilly) ginger, mustard seed and served cold along with the dishes such as Dosa, Idli, Vada. It tastes delicious and the coconut gives it a flavour that perfectly balances out with all the other dishes.
8. Idli and Vada
Tamil Nadu food to relish!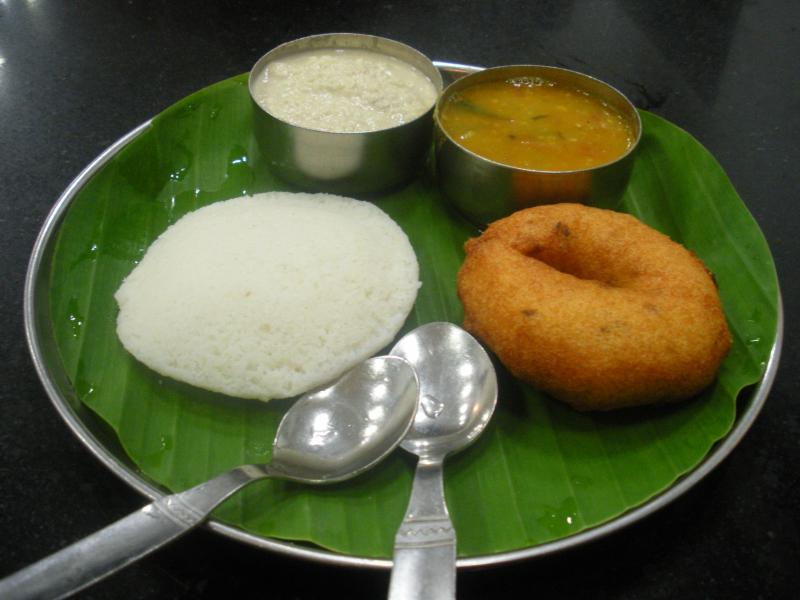 Idli and Vada, collectively save breakfasts for people who are late in the mornings, almost every time! These Tamil Nadu food items complement each other beautifully and are total comfort foods. Idli is made with a mixture of urad dal and rice and looks like a small, spongy pancake once cooked and is one of the signature dishes of Tamil Nadu.
Vada, on the other hand, is either doughnut-shaped or round like idli and is prepared with fermented Bengal gram mixed with curry leaf, cumin seed and mustard seed. The vada is then shaped and deep-fried giving us a crispy yet soft food served with sambar and coconut chutney.
9. Lemon Rice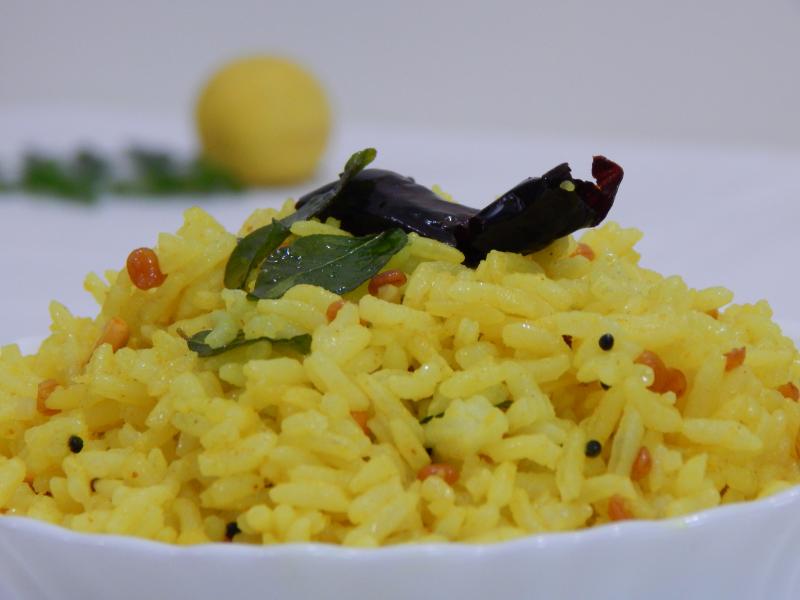 A lifesaver dish for all those moms who are running late on tiffins, this Tamil Nadu food dish has oodles of flavour that pops in your mouth with its unique tang. Moreover, lemon rice is a quick and tasty dish 0and is pretty easy to make! A seasoning of onions, tomatoes, curry leaf, red chilly, salt and lemon juice is made and cooked rice is added and fried with the seasoning. Some groundnuts and added to the dish to give it some crunchiness and balance out the sour taste of lemon and served with chutney or vegetable salad.
10. Paruppu Payasam
A simple sweet treat from Tamil Nadu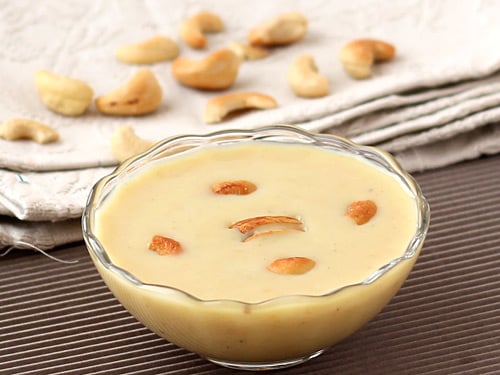 One of the best sweet dishes of Tamil Nadu is the Paruppu Payasam. It is made by roasting Moong dal and cooking it in the pressure cooker. Some jaggery syrup is added to the mashed moong dal and stirred till completely cooked. This is then served with roasted cashew nuts and tastes very rich and creamy.
11.
Poriyal
Poriyal is a bit sauteed vegetable dish that's made of shredded or diced vegetables fried in spices. The recipe is a fusion of frying mustard seeds, onions and urad dal with the vegetable of your choice in turmeric, dried red chillies, spices and coriander. In certain places, shredded coconut is used to dress the dish. Poriyal is served as a side dish to a three-course meal in Tamil Nadu with sambar/ rasam and tayirsadam (yoghurt). Poriyal has regional variations such as Palya in Karnataka and Porutu in Andhra.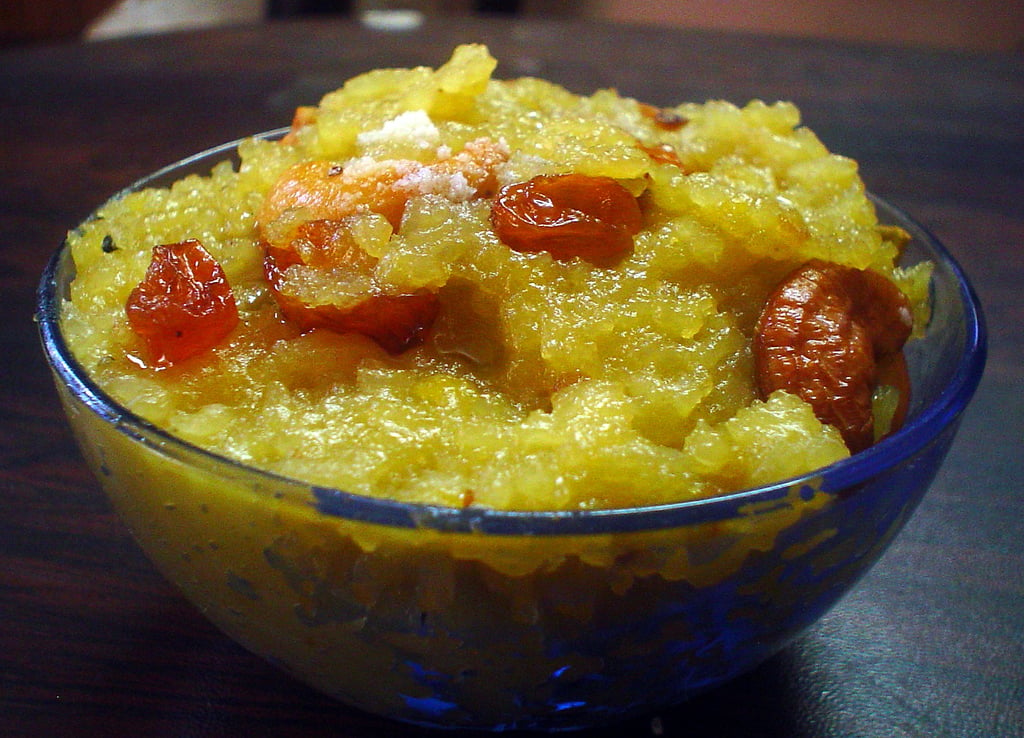 This is a staple meal during every auspicious festival of Tamil Nadu. Besides the rice and sweet milk, the dish is cooked with ingredients like cardamom, green gram, raisins and cashew nuts. According to the traditional beliefs, Pongal is cooked in open space in the sunlight, as it is dedicated to the sun god. The dish has two variants- one that's sweet another that's savoury which is served on banana leaves. Pongal is cooked in a colourful clay pot that's decorated with patterns called Kolam.
13. Kuzhi Paniyaram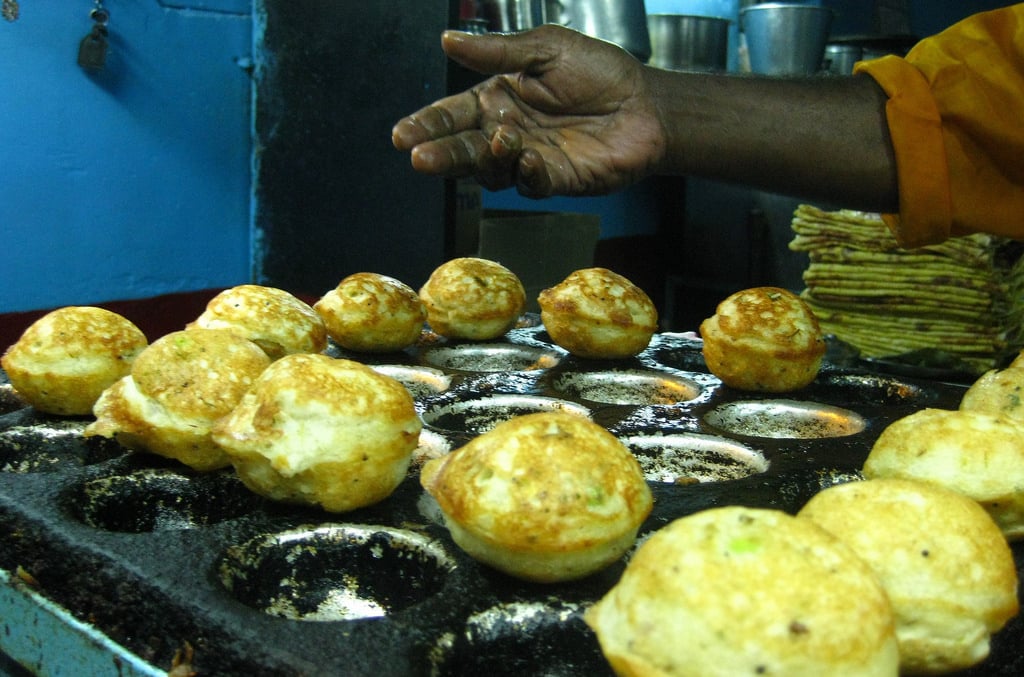 Paniyaram is a South Indian dish that's made of steaming batter using a mould with cavities. The dish has various names in other states of south India such as paddu in Kannada and Gunta Ponganalu in Telugu. The batter is made of rice and black lentils, similar to the one used for idly and dosa. People have experimented with the dish in many ways, it can be made spicy, savoury, sweet depending on your likes. Only ingredients like jaggery, chillies, masala vary. There is a special pan that's used to make Paniyaram. It is a pan with many small fissures. Apart from the given names, Paniyaram is also called as gulittu, gundponglu, ponganalu, guliappa, appe and so on.
14. Kootu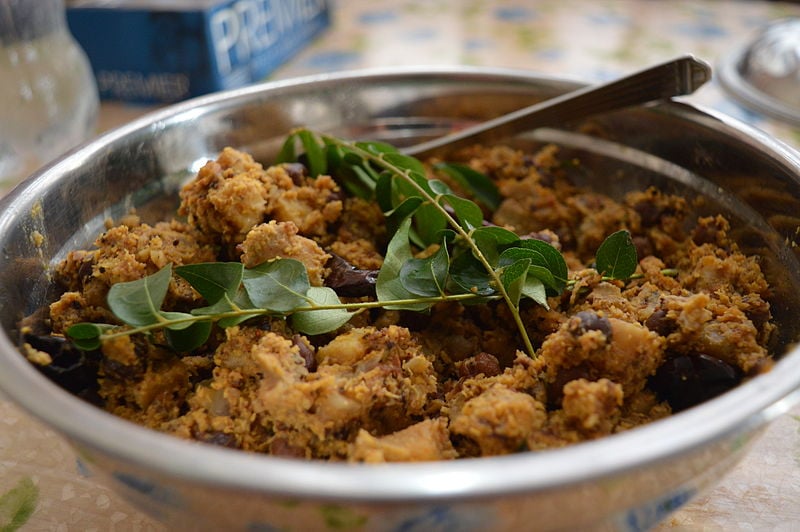 Kootu is a semi-solid side dish that's made of lentils and vegetables. It is most commonly served with Virundhu Sappadu that's a combo of boiled rice, curd, rasam, poriyal and pickle. There are many variations of Kootu that are prepared in Tamil Nadu. Poricha kootu or fried kootu which is made of Urad dhal and pepper fried in red chillies, cumin and fresh coconut made into a paste. Vegetables and moong dal are cooked separately following which they are heated and mixed with the paste. Snake guard and beans are the common ingredients in this kootu. The other variants of kootu are Araichivita kootu and Araichivita sambar.
15. Puliodarai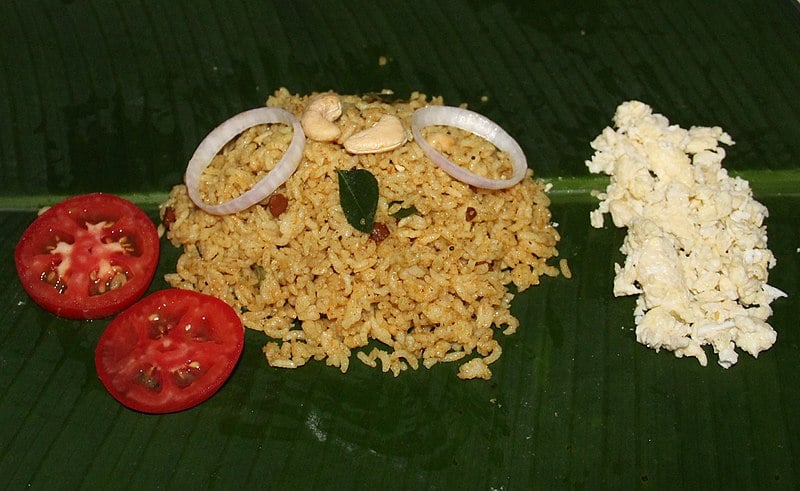 The typical tamarind rice that can be translated as 'sour tasting dish'. There's nothing extra that's added to Puliodarai apart from the essential ingredients such as dried coconut seed, lentil seeds, Imli, Chataka powder, olive oil, curry leaves, mustard seeds, groundnuts, Urad dal and of course the ready to mix Puliodarai paste. Puliodarai is otherwise called as Pulihora and Puliyogare. As per traditional beliefs, turmeric powder is a symbol of auspiciousness hence the meal is cooked on special occasions and presented to God.
16. Koozh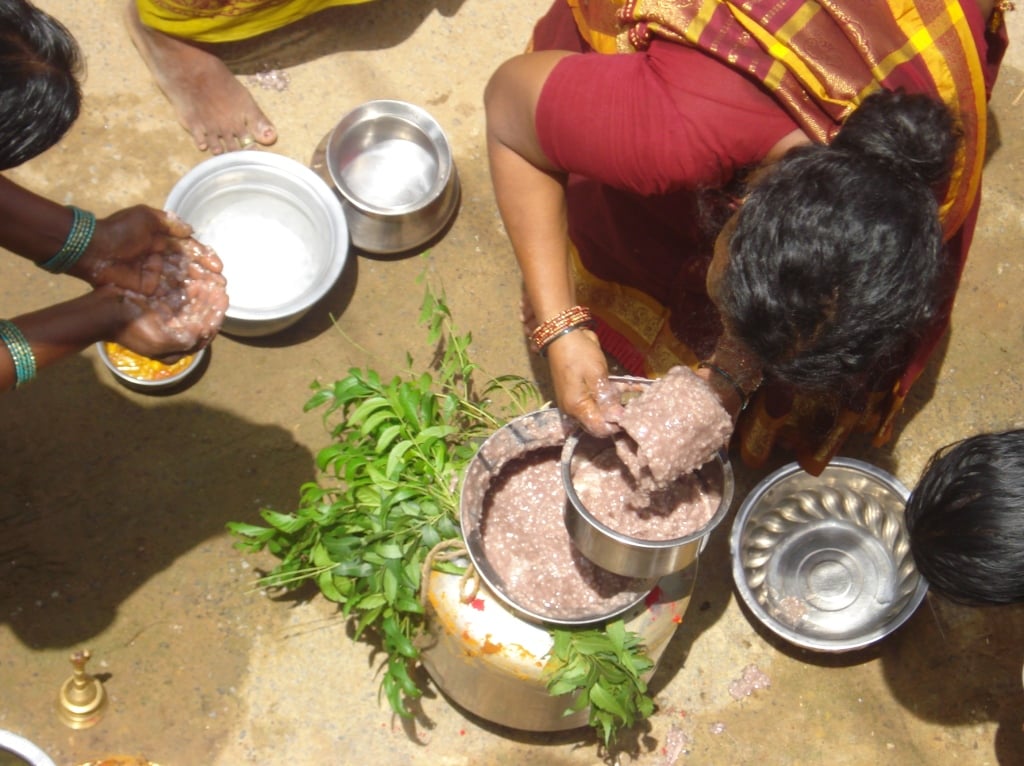 Koozh is the Tamil name of Millet Porridge that's commonly sold by street vendors. It is made from Cumbu flour or broken rice in a clay pot. Although it is a vegetarian recipe, Koozh is also made of fish, chicken and crab. If fermented, the porridge gives you a tangy flavour. It is slowly liquified and mixed with onion, buttermilk, curry leaves and coriander leaves. The koozh is served as a side dish with raw onion, green chilly, pickles, and mango spiced with pepper and red chilli and at times with Dry fish gravy. The dish is served during Mariamman temple festivals across the rural areas of Tamil Nadu.
17. Filter Kaapi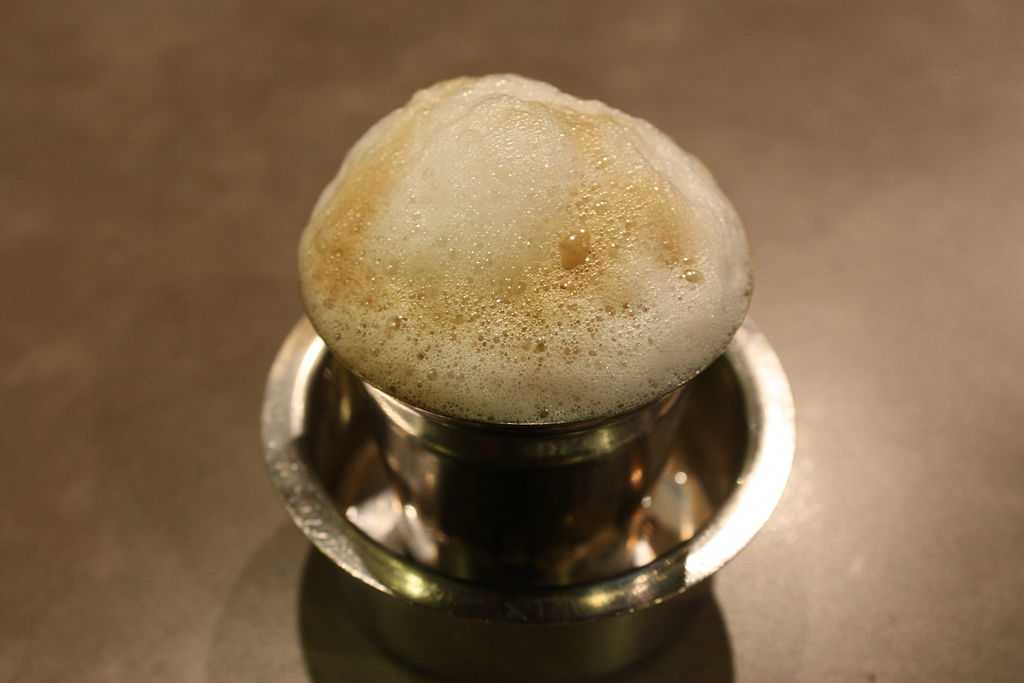 The beverage for Tamils ​​to kickstart their morning is nothing better than Filter Kaapi. This South Indian filter Kaapi is different. Hot water is added to coffee grounds in the coffee filter. The coffee concoction that comes out is mixed with boiling milk. Sugar is added as per taste. This Strong Filter Kaapi is then served in two cylindrical cups. The upper cup is served with foamed coffee. It is then poured into another cup known as Dabarah so that all the ingredients mix well and allow it to cool and then sip.
18. Sundal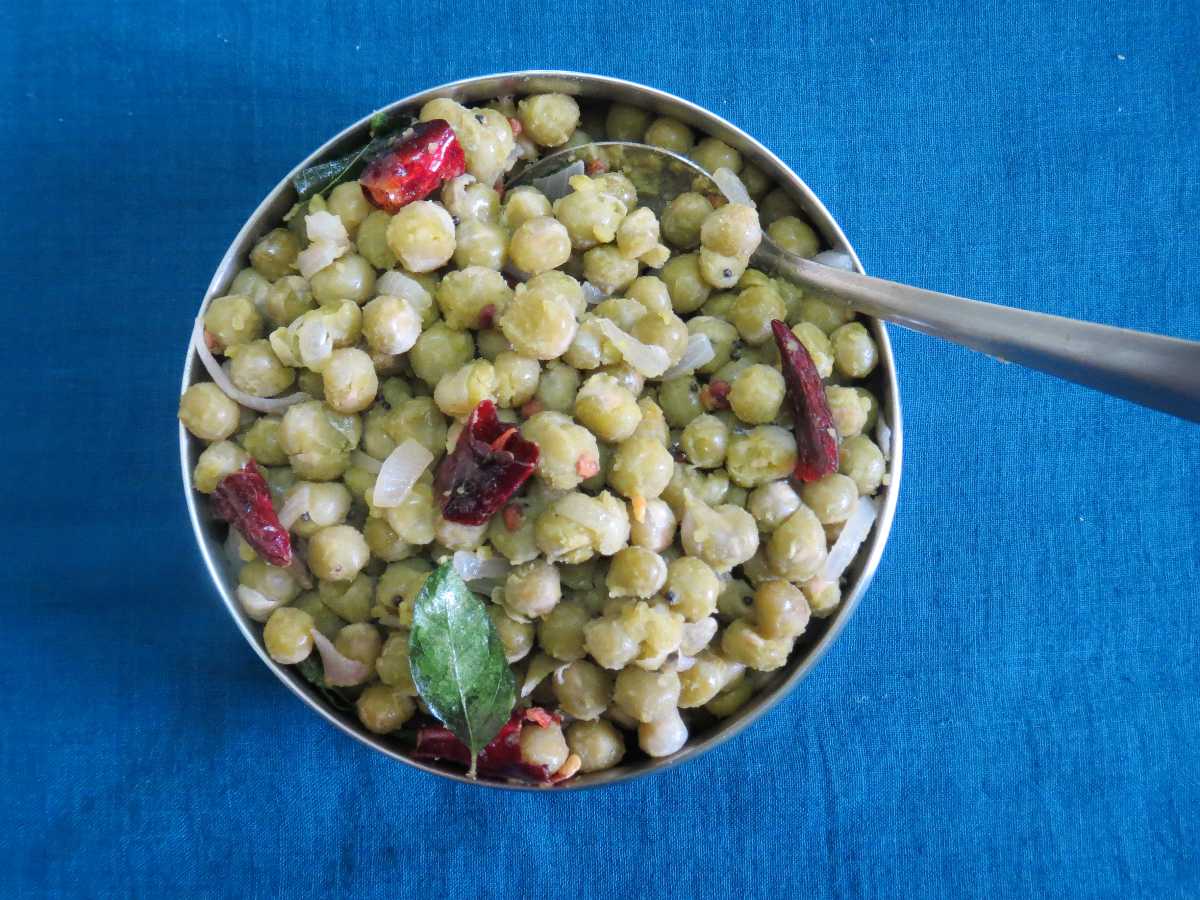 Wondering what Sundal is? By the way, Sundal is a type of South Indian dish /salad made by roasting gram or black chickpeas. It is then served with finely chopped green chillies, ginger and grated coconut. This brings out the real flavours of the dish. This dish is also served as a sacred offering in temples. You can find a variety of Sundal in Tamil Nadu with different ingredients and flavours.
19. Medhu Vada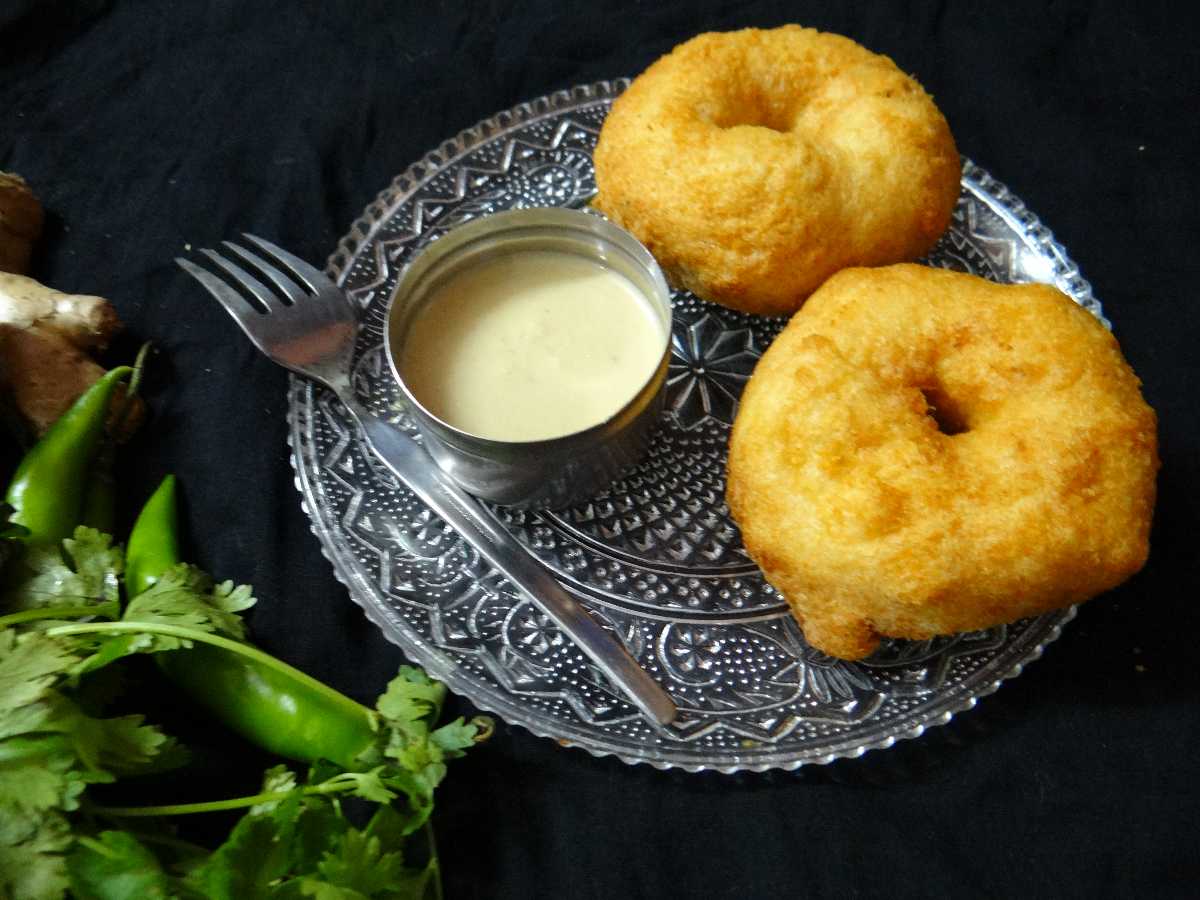 Medhu Vada is popularly known as Vadai or Garelu. This is a doughnut-shaped crispy and fluffy Vada made from lentils. This savoury food made by grinding split black gram and then soaking it to the batter and finally deep-frying in oil in small portions. Apart from this, ginger, onion, pepper, green chillies, cumin are also added to increase the taste. Finally, it is then served with Coconut Chutney or Sambhar.
20. Sambhar

Tamil Nadu cuisine is incomplete without Sambar. Usually, mashed toor dal is cooked with ingredients like chopped onions, freshly grated and roasted coconuts, and tamarind water. For additional seasoning, a preparation of fried mustard seeds, fenugreek seeds, asafoetida, and dry red chilli is added. Often vegetables like tomatoes and carrots are also used. The dish gets completed with sprinkled curry leaves. This goes well with idli, dosa, and rice.
The versatility of Tamil cuisine reflects an incredible meeting of cultures. Like we believed it to be- it isn't just the dosas and Vadai. Be it Chettiars,
Arcot
, Kongunadu or the Iyengars; Tamil Nadu Cuisine is an Ocean of scrumptious dishes.