Nightlife in Maldives is not that well-known about as the island-nation is a predominantly Muslim country that adheres to religious norms. Not surprisingly, because it is a Muslim country (people of other faiths are denied citizenship), and Islamic laws forbid an individual from the consumption of alcohol. However, the island nation does have some cool pubs and bars to ensure that its tourists are not deprived of any entertainment!
Some of the hip spots for relishing the nightlife in Maldives are listed below.
Nightclubs
1. Kurumba
A five-star resort in the island of Vihamanaafushi in the Maldives, Kurumba offers various kinds of nightly entertainment options for its guests. Sway to the beats of retro, as well as latest music, churned out by the DJs, enjoy traditional Maldivian dance and music performance - the Boduberu, grab a cocktail and watch sunsets on its open beach bar or learn about marine life and get some tips on where to visit and what to do from the resort's guests and staff. At Kurumba, expect to enjoy the nightlife in Maldives just as much as the days on the islands.
Location: Vihamanaafushi, North Male Atoll
Timings: 7:00 PM to 2:00 AM every day
Approximate cost: MVR 900 for two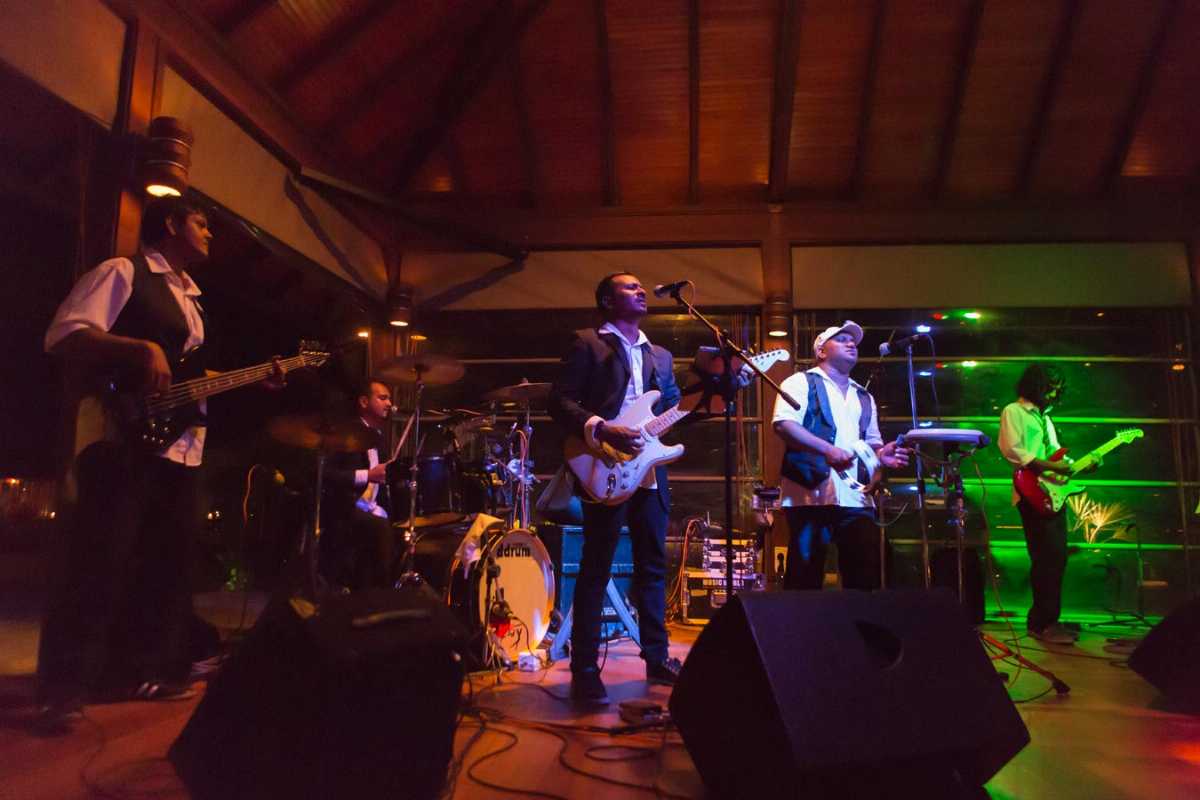 2. Subsix
People, have you ever partied underwater? If not, then get ready to on your next trip to the Maldives! Subsix at the Per Aquum Niyama Private Islands Resort is the world's first underwater nightclub. Though similar places have opened up in other islands of the Maldives and elsewhere in subsequent years, Subsix continues to be one of the best that provides world-class services at affordable rates. Enjoy superb views of underwater creatures through its large glass windows while feasting on delicious dishes or dancing to the latest international hits being played. The blue ambience with the ocean-themed decor will keep you mesmerised. Not only people staying at the resort, but visitors from other islands also come in to enjoy this memorable nightlife in Maldives 20 feet under the ocean, at Subsix.
Location: Huluwalu, Dhaalu Atoll
Timings: Wednesday and Saturday only, 9:00 PM to 2:00 AM
Approximate cost: MVR 1100 for two
Dress code: Smart casual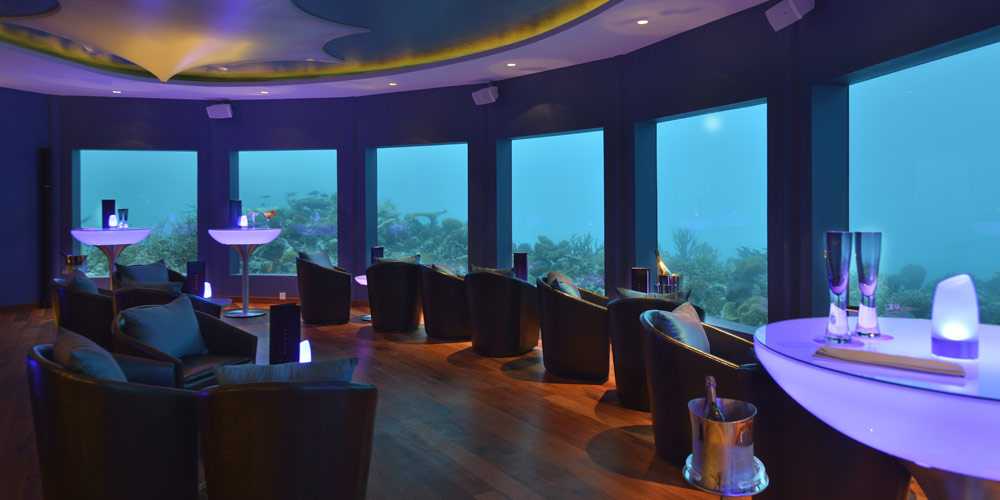 3. 15 Below
Done enjoying the nightlife in Maldives underwater? Now it's time to party underground! As the name suggests, 15 Below lies 15 feet under the beach. Choose from as many as 93 vodkas and other drinks, glow in the dark cocktails, and grab a seat in their comfy sofas. Apart from their resident DJs, international DJs are also invited to keep the patrons entertained. If you want to savour some Japanese cuisine, then know that they have a sushi bar too and anime-themed decor.
Location: W Maldives, Fesdu Island
Timings: Tuesday, Thursday and Saturday 7:00 PM to 12:00 AM
Approximate cost: MVR 1100 for two
Dress code: Casual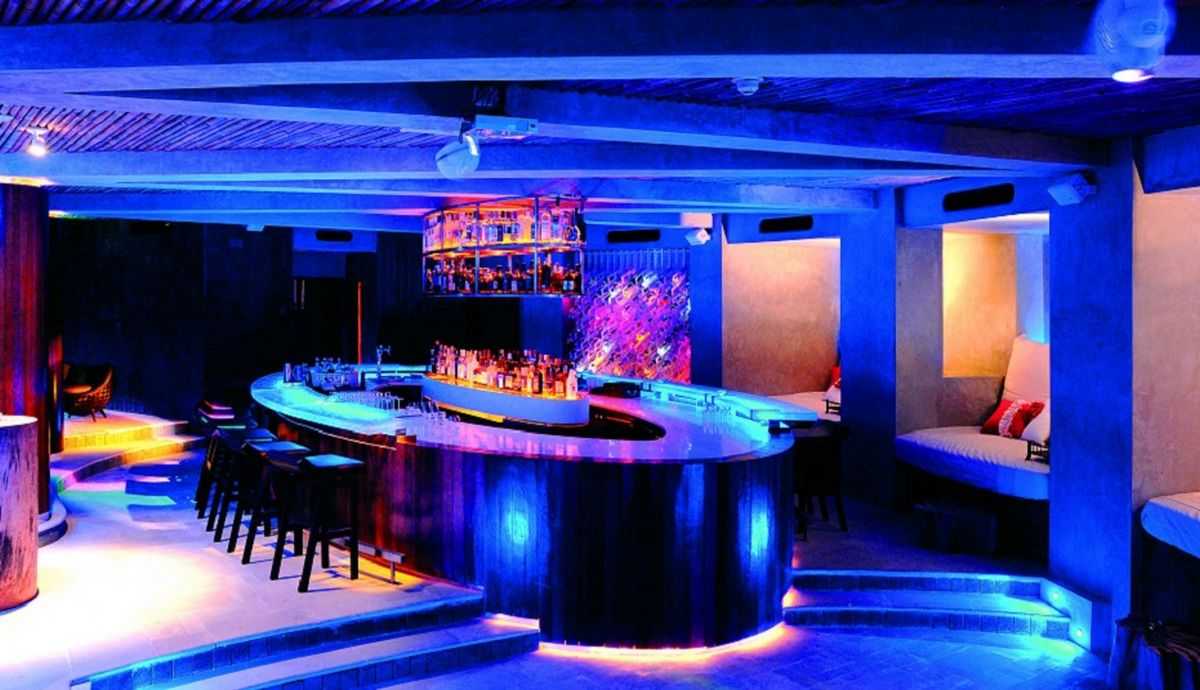 4. Babuna Bar
The Kuredo Island Resort has various bars for nightlife in Maldives among which Babuna Bar is the most popular. Their White Night Parties in which everyone has to dress up in white attract many revellers. The pulsating atmosphere with UV lights, evening animation and rocking band performances will surely impress you. If you like your parties wild and crazy, then Babuna is a must-visit.
Location: Kuredu Island Resort & Spa, Maldives
Timings: 9:00 AM to 1:00 AM (White Night Parties on Fridays)
Approximate cost: MVR 800 for two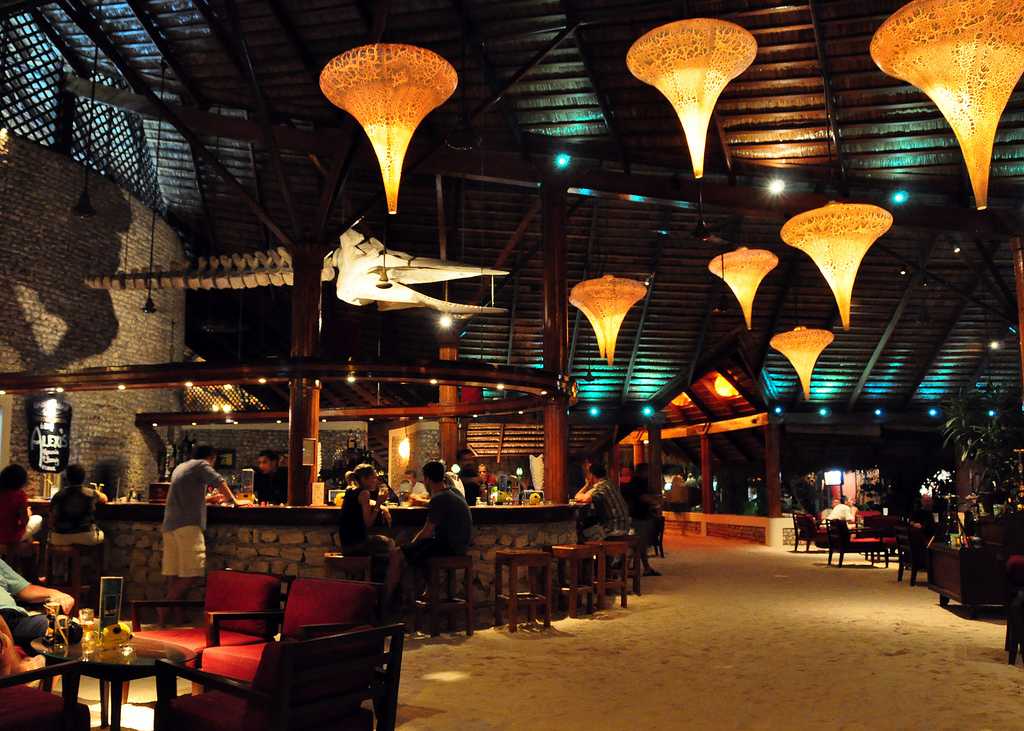 Bars
1. Moodhu Bar and Restaurant
This thatched-roof bar atop the ocean has more of a relaxed vibe. It is for those times when you want to grab a drink and soak in the cool ocean breeze or dig into a delicious meal with lovely views of the ocean and the faraway islands. The prime advantage of this place is that it is open 24 hours, so you can visit the place as per your convenience to relish the nightlife in Maldives.
Location: Reethi Beach Resort, Baa Atoll, North Province
Timings: Open 24 hours
Approximate cost: MVR 1000 for two
Dress code: Resort casual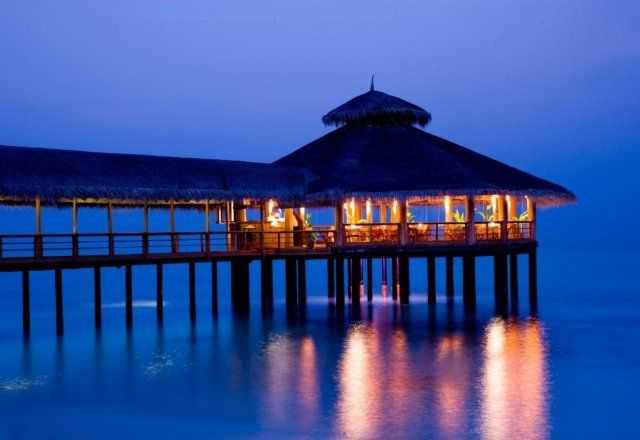 2. Club Med Kani
Another popular resort for nightlife in Maldives, Club Med Kani has as many as three bars to take care of nightly entertainment for its guests - The Sunset, The Iru and The Manta Exclusive Collection Bar. Located on the beach or over water, open-air or closed, these bars ensure that you can have a drink and also gorge on scrumptious food items like finger sandwiches, sushi, etc., all the while enjoying the stupendous views of the ocean, the overwater villas and the coconut trees. At the Iru, shows and other events are organised in the evenings to entertain the guests.
Location: Kaafu Atoll, North Central Province
Timings: Open 24 hours
Approximate cost: MVR 1200 for two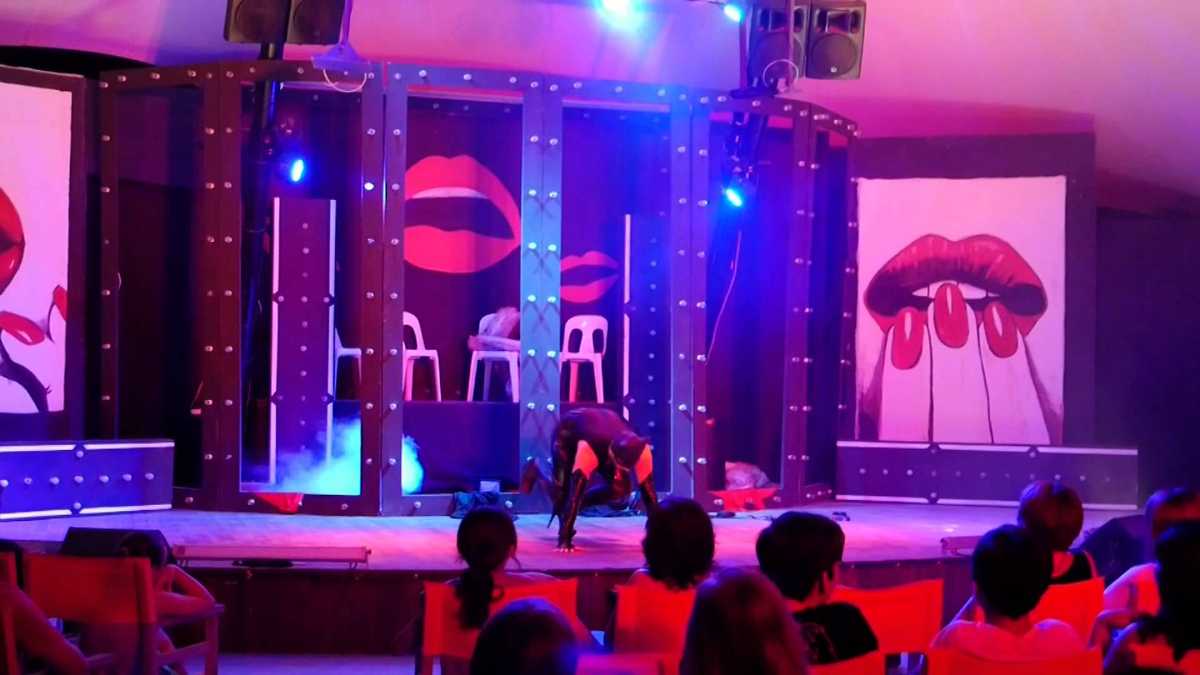 3. Paradise Island Resort
The resort at Paradise Island is a pretty cool place to visit after sundown. Be it Japanese, Italian or seafood, a la carte or buffet, they have it all. Athiri Bar is their main bar, where you can have drinks and cocktails of your choice while enjoying the rocking music and socialising.
Location: K. Lankanfinolhu, North Male Atoll
Timings: 11:00 AM to 12:00 AM for the bar, timings vary for the restaurants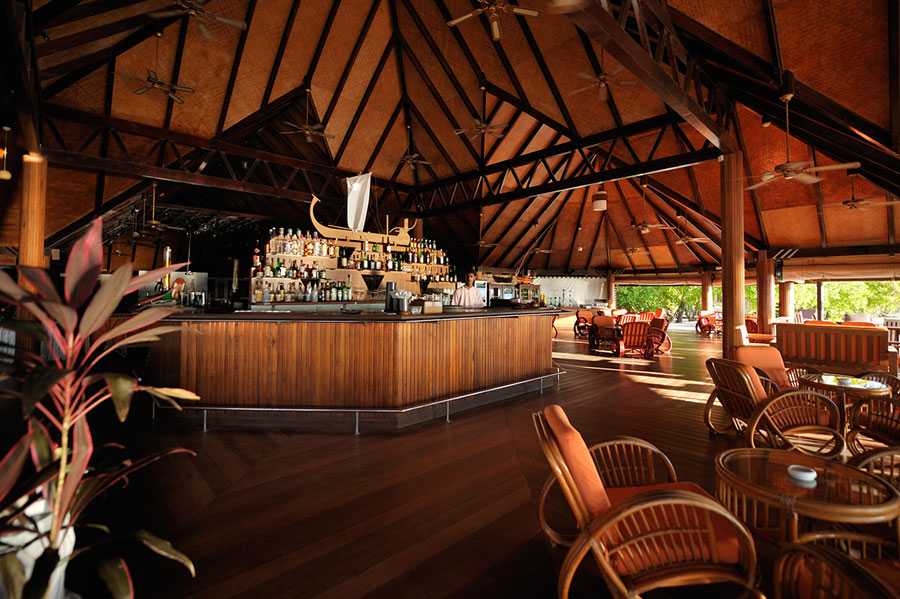 Some other resorts where nightlife in Maldives is worth mentioning include Huvafen Fushi in North Male Atoll, Sun Island Resort & Spa, Conrad Maldives on Rangali Island and The Lux Resort in South Ari Atoll.
Activities
Apart from all the clubbing, dining and drinking, there are some other fun activities too in which you can indulge in the Maldives' nightlife.
1. Outdoor Cinema
You have watched movies in theatres all your life - while on your next trip to the Maldives, don't lose the opportunity to watch a movie outdoors amidst nature. Two resorts in Maldives - Gili Lankanfushi and Soneva Fushi, offer this service. While the former is set in a garden in a secluded part of the island, the latter is on a beach. A large screen screens the movie, mostly Hollywood, which you can enjoy while lying on the recliners with drinks, popcorn and other munchies by your side, or you can choose to have a full-fledged dinner under the stars.
Jungle Cinema, Gili Lankanfushi
: More appropriate for couples
Location: Lankanfushi Island, North Malé Atoll
Timings: Open 24 hours
Cost: MVR 800
Cinema Paradiso, Soneva Fushi
: This place is more family-friendly as they screen kids movies too.
Location: Kunfunadhoo Island Baa Atoll, Maldives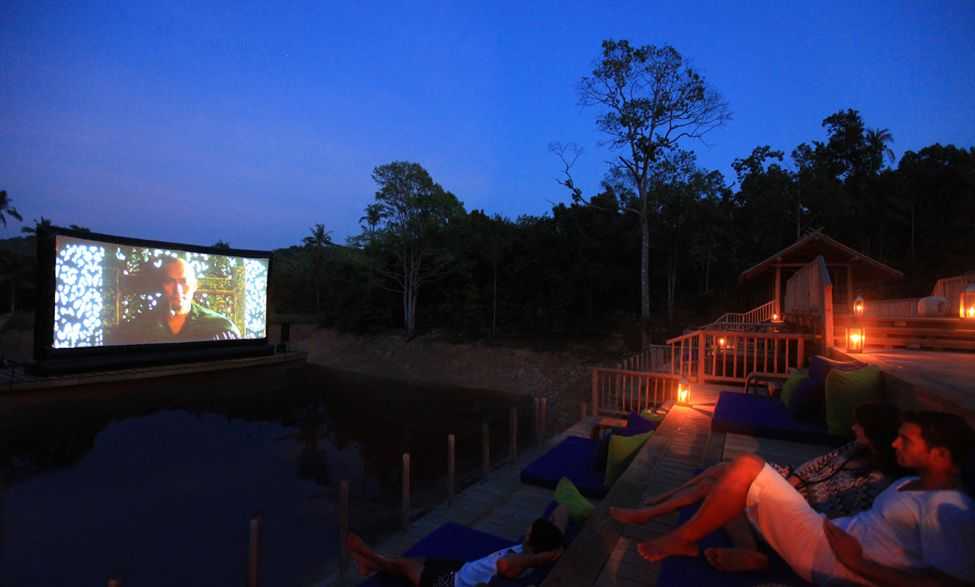 2. Crab Racing
Yes, you read that right! You can indulge in crab racing in the evenings in the Maldives! It's a favourite pastime of the Maldivians. Some crabs are placed inside a circular boundary and allowed to go in random directions - the first one to cross the boundary line wins. You can choose your crab, and if it succeeds, you get attractive prizes! Many hotels and resorts offer this unusual yet fun activity like Kaani Beach Hotel in
Maafushi Island
, Babuna Bar,
Olhuveli Beach & Spa Resort
in South Male Atoll, etc. If you are sojourning on a local island, then you can find locals arranging crab races sometimes, and you can also take part and add to your nightlife in Maldives.
Approximate cost: Resorts charge a fee for the activity, but locals organise it free of cost.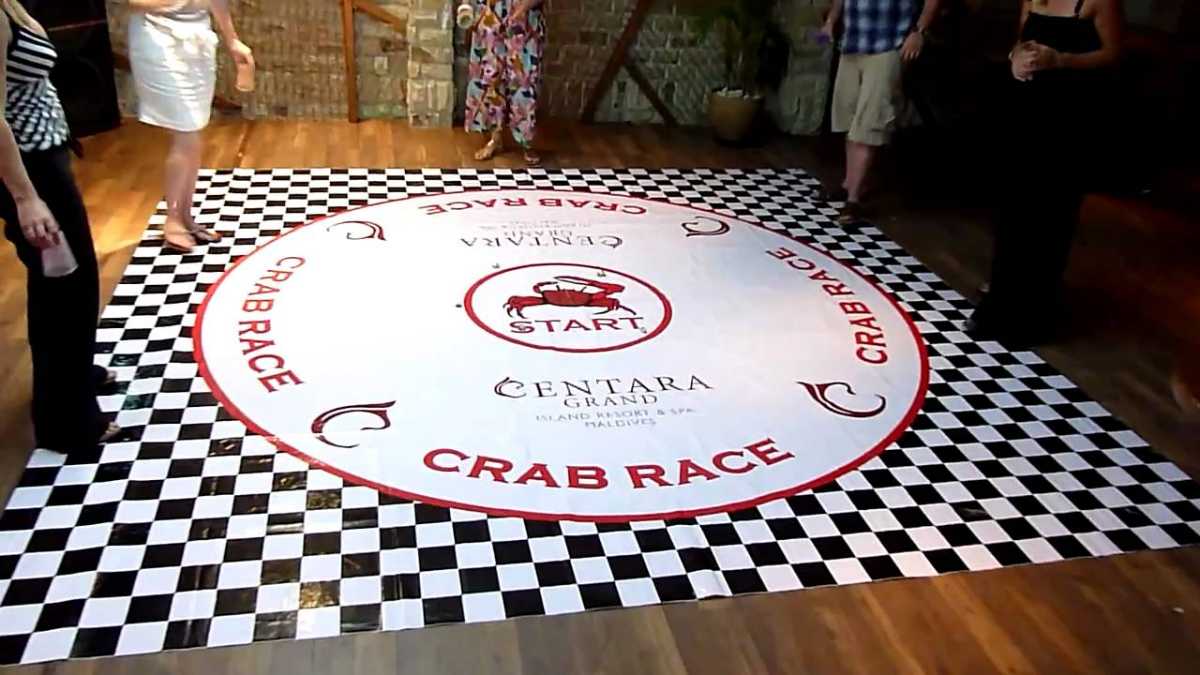 3. Karaoke Room
Put your singing skills to use at Karaoke Room in Aaaveee Nature's Paradise Resort. The place might look like a thatched roof hut from outside, but in the evenings it turns into a chic place with a lot of people coming to take part in the karaoke. Food and drinks are also served to complete your experience of nightlife in Maldives.
Location: Aaavee Nature's Paradise, Dhoores Island, Dhaalu Atoll
Timings: 5:00 PM to 1:00 AM every day
Approximate cost: MVR 800 for two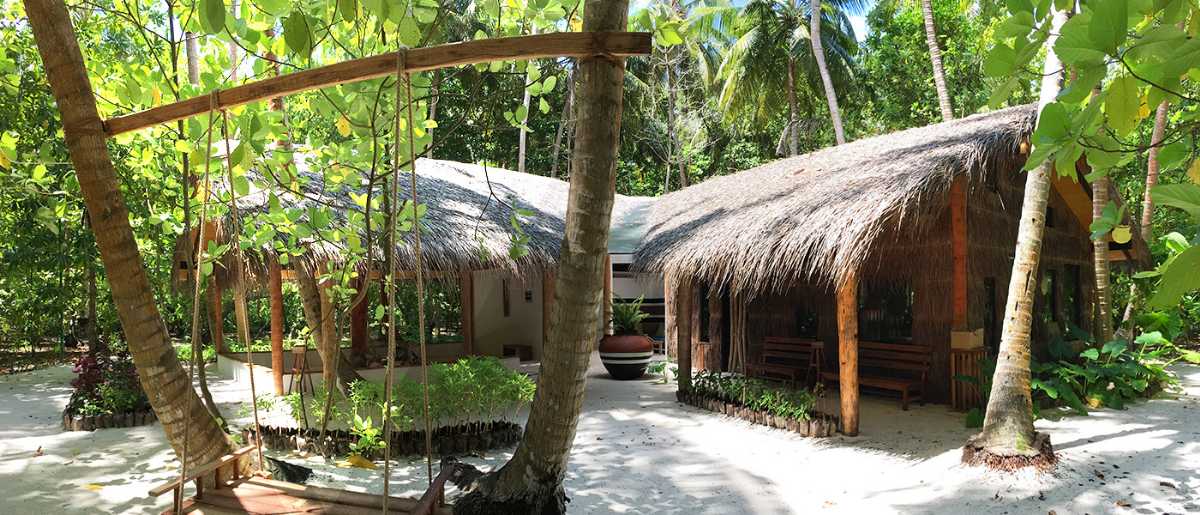 4. Night Fishing
Most of the resorts, as well as many guesthouses, organise night fishing excursions for the tourists once or twice a week. The fish caught by you will be cooked as per your choice, and you can have a lavish dinner out of it! Most of these fishing excursions are accompanied by skilled personnel who will assist you even if you have never gone fishing before.
Approximate cost: Varies according to the hotel or resort. In general, it is MVR 540 and above.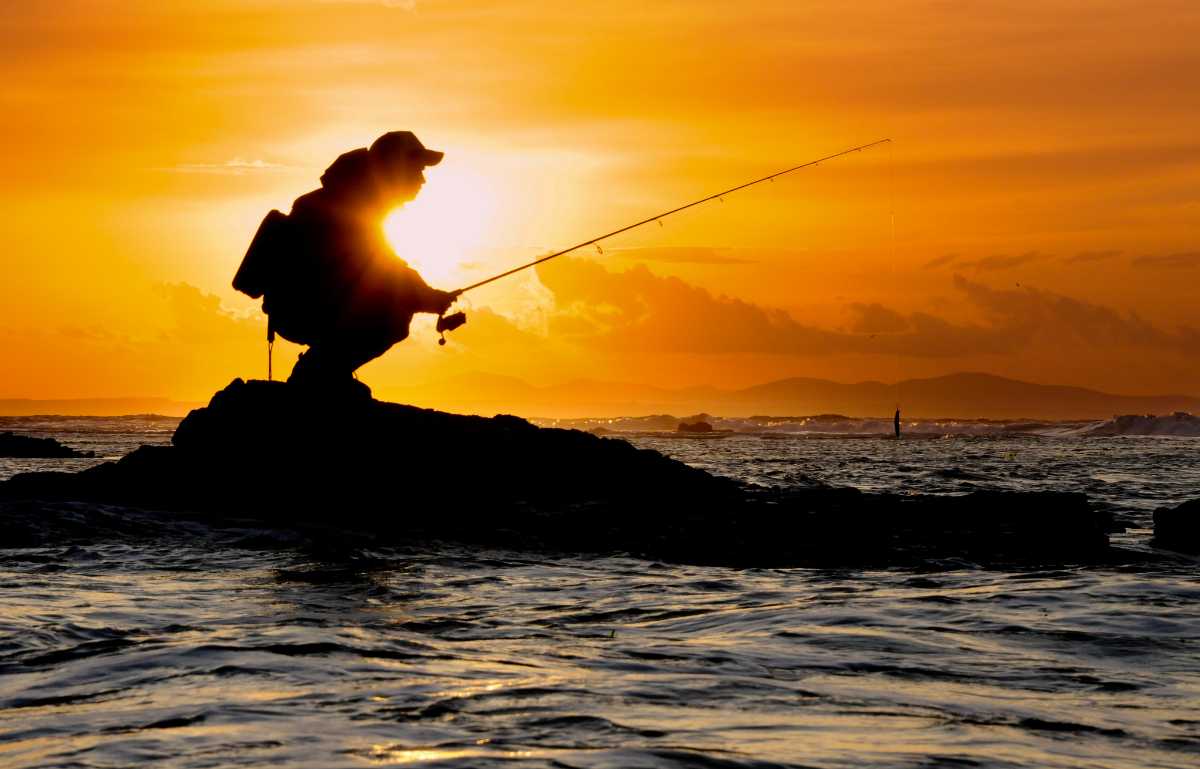 Nightlife in Maldives for Couples and Singles
The Maldives islands are a
favourite honeymoon destination
for couples all around the world - no doubt, the remote islands with private beaches, the overwater villas and everything else makes for a perfect romantic set up. In addition to visiting any of the clubs, couples can opt for special candlelight dinners on beaches or gardens. Most of the resorts and guesthouses generally make arrangements for these.

Singles, whether on a solo trip or with a gang of friends, can also have some fun nights clubbing but some resorts are specially designed for couples. So, don't be surprised if all the people that you can find around you are lovebirds!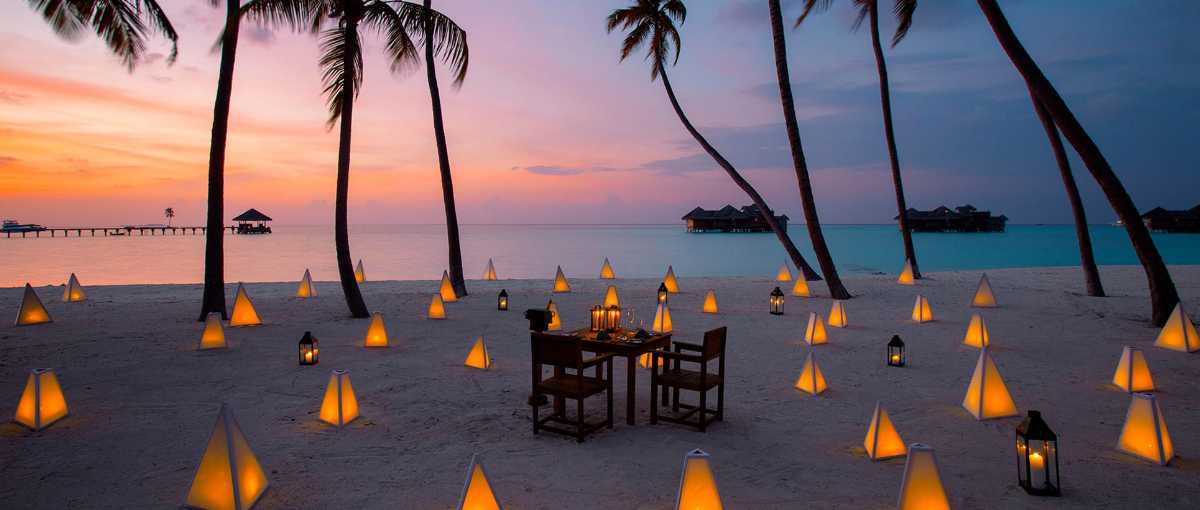 Tips
In Maldives, most of the clubs and bars are located inside the resorts on private islands. On the islands inhabited by locals, you will hardly find a pub, and even if you do, they won't serve alcoholic drinks because except for the resorts, it is mostly a dry nation. However, this does not require you to stay at these resorts to enjoy their nightlife - you can choose to stay on a local island and travel to these places in the evenings. Don't plan on carrying a bottle of wine back to your guesthouse because that's illegal!


Unless you stay at a resort, you have to be very careful about your attire. In general, anything that reveals the shoulders or knees is unacceptable, for both men and women. Better keep your pretty off-shoulder top or LBD for partying elsewhere. Or an alternative could be to go and change at the resort! Though most of the clubs have a casual dress code, dressing up is also preferred. Avoid high heels.


Some islands set their own time which is one or two hours ahead of the standard Maldivian time to let their guests enjoy more time out in the sun. So, always make prior enquiries to avoid ending up at the wrong time.


If you find it difficult to order your favourite drink at these nightclubs, you can use the Maldives language guide to sail you through it smoothly!
So, start deciding which of these party places you want to visit and enjoy the nightlife in Maldives. Those people who told you that the scintillating island has nothing to offer in terms of nightly entertainment, it's time to prove them wrong!