1. Cage Snorkeling:
Tourists are also provided with the fantastic opportunity to snorkel in the 10 million litres of the water-filled tank that teems with a diversity of marine life. The visitors remain within a cage that is lowered into the depths of water, bringing them close to the sharks, rays and colourful fish swimming at close quarters.
Price: AED 370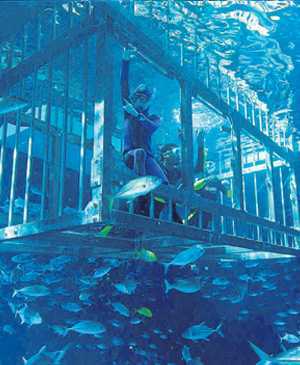 2. Shark Dive:
Many of the visitors at Dubai Aquarium & Underwater Zoo are eager to experience the wonders of diving by jumping into the water of the tank as well. The zoo authorities provide diving gear and instruct tourists about the do's and don'ts of the dive before starting. Tourists get to swim amongst beautiful marine life, including the sand tiger sharks deep within the water.
Price: AED 595
3. Shark Walk:
Many of the visitors prefer to watch the sea creatures without the encumbrance of heavy gear. The sea walk within the aquarium tank provides them with the right opportunity where they can watch the beautiful marine life at close quarters by merely donning a helmet.
Price: AED 620
4. Photography:
It is also possible to rent the unique underwater Go-Pro cameras for AED 230 that helps the visitors bring unique moments with sea animals to life. The photographs are clear and entirely life-like, thus enabling the happy tourist to relive the priceless moments for decades afterwards.
5. Kids' Adventure Activities:
Children between the ages of 5 to 15 are thrilled to experience life underwater and participate in several activities, including feeding the sharks as they ride a glass-bottom boat at the aquarium.
6. Animal Feeding:
Visitors wait patiently for the aquarium's feeding time as they get to watch experienced divers feed sharks, rays and the king crocodile.
7. Boat Ride:
Riding on a glass-bottom boat that skims the surface of the water in the tank is a fantastic experience for people not too keen on adventure.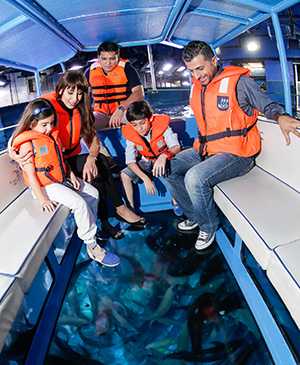 8. Virtual Tours:
Visitors to the Dubai Mall can opt for taking a virtual tour of the aquarium tank as well as the underwater zoo without getting their feet wet. The shark exhibits along with a tour of the rear portion of the house, make it an enjoyable experience with the tourists gaining knowledge about marine life.