Airports are like the lifelines of a country that never stop working be it anytime of the day. Some of the busiest airports in the world have multiple flights flying in a minute to thousands of flights in a week. Considering United Arab Emirates (UAE) air travel picture, the country consists of world class airports ranked for their service, performance, quality and the infrastructure.
Here is the list of all the airports in UAE and details about them:
1. Dubai International Airport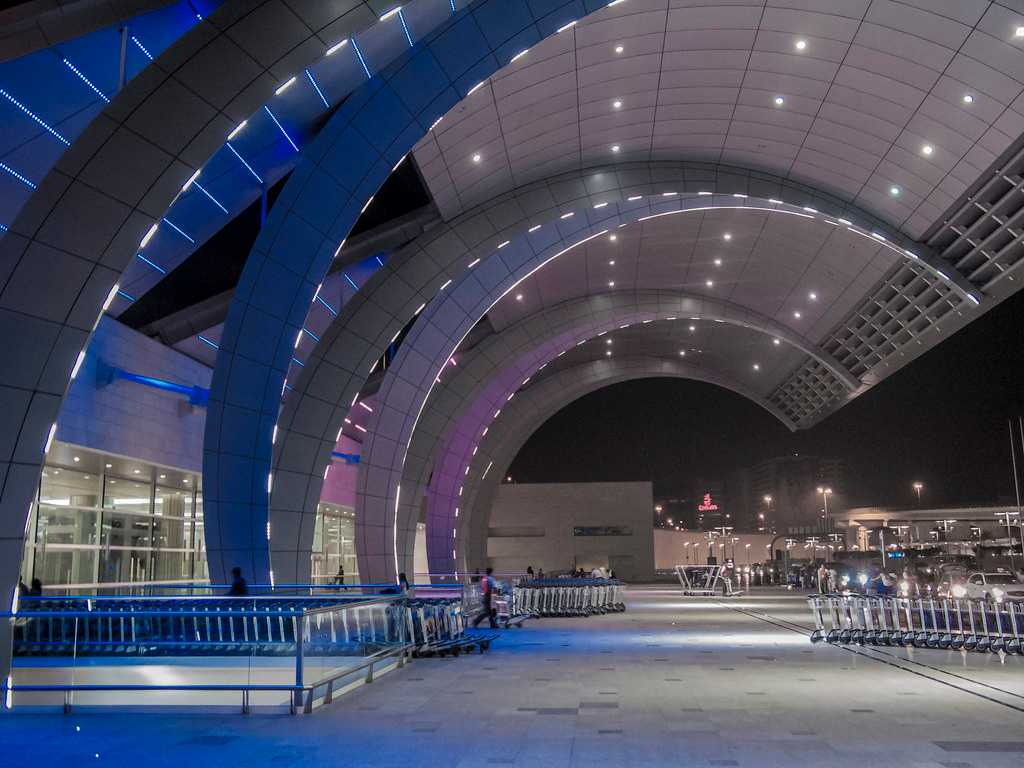 Luxury is the one word that defines Dubai and its international DXB (abbreviated) airport has also won many accolades in recent times. It is primarily an international airport serving flights all over the world; the travellers have always loved and rated it as a posh experience altogether. Accessible from any part of Dubai by taxi or even the metro, this airport on 3100 acres of land makes travelling to and from the city a hassle free journey. This 3 Terminal airport is also the hub for UAE's largest airline Emirates; also the Terminal 3 exclusively operates for Emirates and Qantas. According to the passenger traffic, DXB is the third busiest airport in the world with a record of handling 88 million passengers in the year 2017.
The airport offers great retail therapy and dining options for its passengers at Dubai Duty Free area in between the connecting flights time. Either shop from the high end brands like Chanel, Jimmy Choo or relax at the lounges of any terminals, you certainly are spoilt for choice. With free Wi-Fi option WOW-Fi available at DXB you can keep the layover period relaxed by watching latest movies. It also takes care of children with the Kid Zone at Terminal 3 where your kids can enjoy games before a long flight ahead.
Location: In the AI Garhoud district, 4.6 km east of Dubai
2. Abu Dhabi International Airport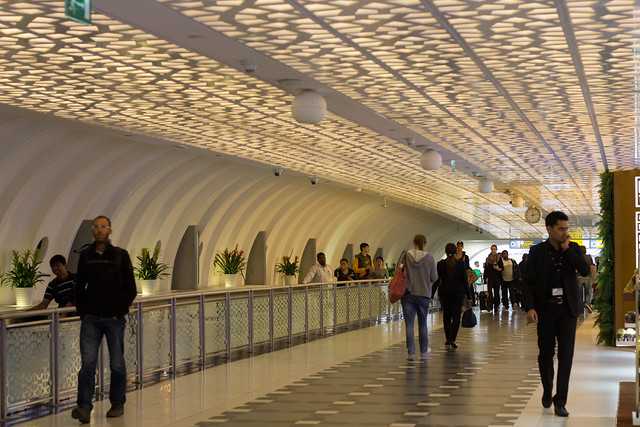 Being the second largest airport in UAE, it was inaugurated on January 2, 1982, with the plan to modernize the country. Wholly owned by Abu Dhabi Government, the 3 terminal airports have 2 parallel runways 13R/31L and 13L of 4.1 m length and is 60metres wide. Terminal 3 is the newest addition in the recent years, chiefly operated for Etihad Airways including the Airbus A380s. Currently, the airport serves as a base for more than 30 airlines flying to more than 100 destinations ranging beyond 50 countries.
You can also save the long queues at the airport by the check-in feature available at City Terminal, a building located in the downtown Abu Dhabi. Introduction of Abu Dhabi Bus service in 2008 made travelling to the city and back to the airport an painless option.
Location: 38 km southeast of central Abu Dhabi
3. Sharjah International Airport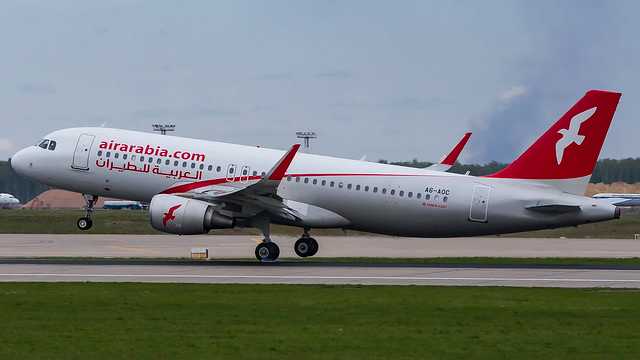 Ranking third on the list of airports in UAE according to its size the airport also features 8 departure gates along with 25 aircraft stands. Air Arabia, Etihad Airways, Saudi Airlines, Egypt Air are few of its operating airlines since its inception in the year 1977. Considered as the second largest and busiest freight centre in the Middle East, the airport has a cargo handling capacity of 500000t per year. As per the reports in the year 2012, the airport had handled 5 million passengers and 332796t of cargo.
Talking about the infrastructure, the 4060m runway happens to be the longest one in the UAE region. With major construction on the success of traffic generated by Air Arabia, the passenger terminal went for an expansion in 2008. Now the terminal includes prayer rooms, 4000 square metres of check-in area, duty-free area, food kiosks, seating area of 1100 metres along with lounges. Travelling back and forth the airport is easy with car rentals, Sharjah Transport taxi or Muwasalat's bright orange buses. The Air Arabia air-conditioned coaches are again a comfortable option equipped with baggage trolleys and frequently travel between the airport and Dubai, Al Ain and Ras al Khaimah.
Location: 15 km away from Sharjah City Centre.
4. AI Bateen Executive Airport
This is an exclusive business aviation airport which was the main aviation centre until AUH opened in 1982. With the capacity to hold 30 private jets and an ideal fuel stop location, this executive airport is located at the heart of Abu Dhabi and easily accessible to major business hubs. Providing world class facilities like a luxury car from the terminal to aircraft, fast baggage screening, gourmet service, conference rooms, an opulent lounging area and secure parking being the highlights.
Location: Around 50min from Dubai, 5 minutes from Abu Dhabi Exhibition Centre and 15 minutes from the city
5. Ras Al Khaimah Airport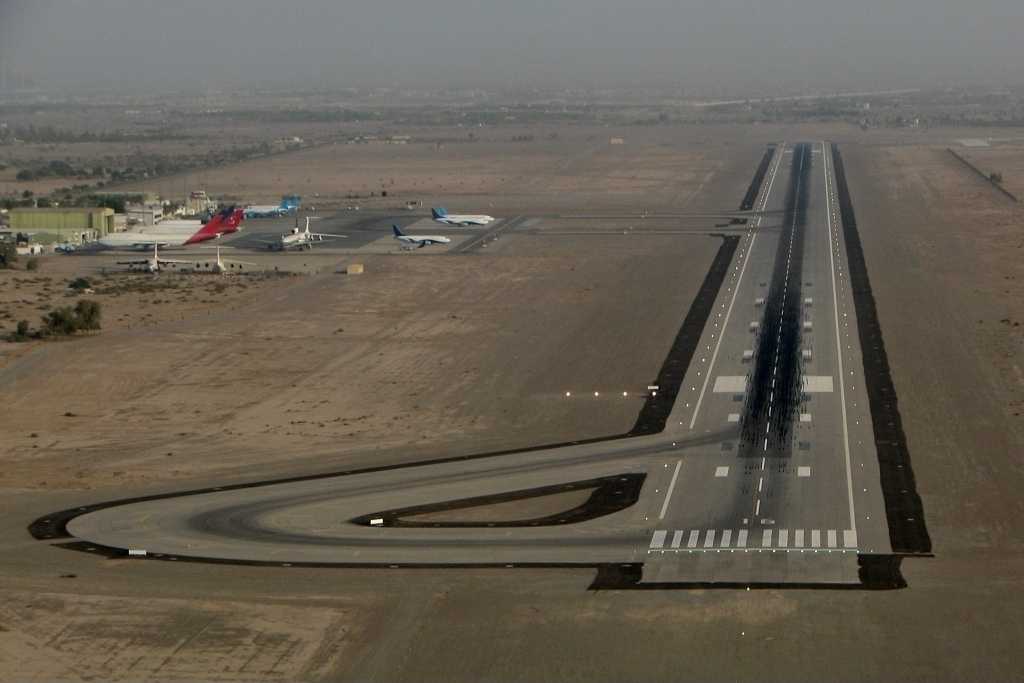 Majorly aimed to serve cargo business, the airlines that operate here are Air Arabia, Air India Express, Luxair, Ural Airlines, Smartwings Poland and Pegasus Airlines. Along with two passenger terminals Ras Al Khaimah Airport also offers aircraft maintenance and training services. It also has a decent range of facilities like VIP terminals, lounges, smoking areas, dining area, shops, police station and medical centre. Muslim passengers are privileged with prayers rooms at both arrival and departure terminals. Free Wi-Fi makes you accessible to stay connected online or watch movies before boarding a long flight.
Location: In the Persian Gulf of Ras Al Khaimah, 20 km south from the main town
6. Al Ain International Airport
The one terminal airport is also the second largest one in Abu Dhabi. With four gates and 4000m runway, there are plans to expand this airport for better functionality.
Location: 18 km northwest of Al Ain City
Other small airports in UAE are Delma Airport and Sir Bani Yas Airport, both located on different islands at around 250 km south of Abu Dhabi. Mainly catering to the tourists visiting both the islands, plans are in progress to fully develop them into an airport for domestic and short journey international flights.
Over the years airports in UAE have gained prestigious awards and recognition at both national and international aviation industry. With DXB already ranked in top 5 best and busiest airport of the world, the country certainly has a bright future ahead.