If you are visiting Delhi for the first time and do not have a hired taxi, there are many other ways of commuting:
1. Cab Aggregators Ola/Uber
Make sure that you have Ola and Uber downloaded. Booking a cab is a super convenient way of commuting in Delhi. These services will ensure that the fare is fair! Sometimes this can be an expensive affair, mostly, these services ensure hassle-free trips.
2. Delhi Metro
If you have to cover long distances and the roads are jam-packed, the Delhi Metro is the best alternative. The minimum fare that can be charged is INR 30 and the maximum is INR 60, for one trip.
Smart Card:
While tokens are available, if you are looking forward to a lot of travelling by metro, a smart card is viable, which can be issued at a cost of INR 150. Then it has to be recharged (the minimum amount has to be INR 200 and maximum INR 2000). Metro cards can be recharged using Credit Card/Debit Card as well as cash.
Routes: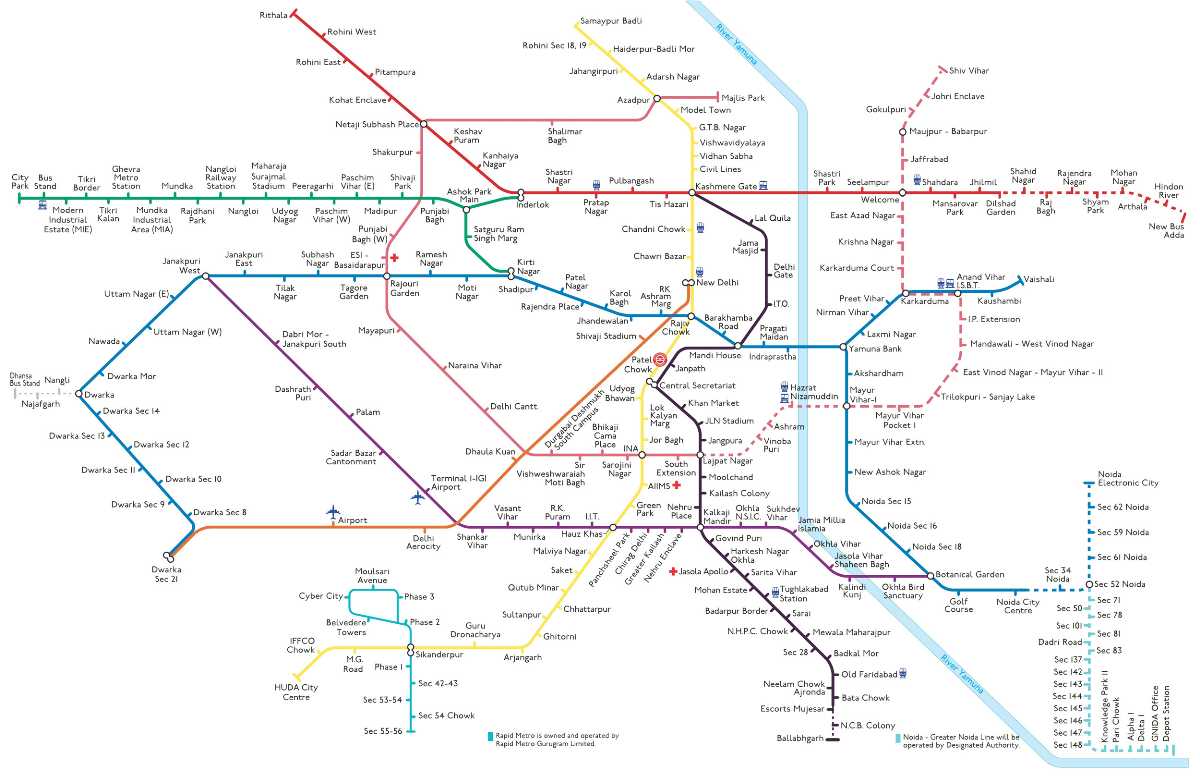 3. Autos and Rickshaws
If the distance to be covered is extremely small, then Pedal Rickshaws, E-Rickshaws and Autos are the best. However, much of your time might go into bargaining with these drivers. While the pedal rickshaw drivers are still reasonable, the auto drivers might charge unfairly. Try to ask them to charge according to the fare tapped by the meter (quite a difficult task for Delhi). You can also use Ola Auto option, as the rates will be reasonable. Another option from hopping on from one place to another in the same area is of availing the option of e-rickshaw, which accommodates four people, for a charge of INR 10.
4: DTC Buses
Buses are the cheapest form of travel in Delhi. The fare can be as low as INR 5. If you are lucky enough to get a slightly less crowded bus, then it is an extremely cheap form and efficient form of travel. Otherwise, buses in Delhi are overcrowded, and being non-Delhiite it might be difficult to manage. There are three types of buses:
Red Bus (AC)
Fare: Minimum INR 10, Maximum INR 25
Daily Pass: INR 50 (applicable in both Red & Green Buses)
Green Bus (non-AC)
Fare: Minimum INR 5, Maximum INR 15
Daily Pass: INR 40 (Applicable only in Green Buses)
Orange Bus (non-AC buses run by Delhi Integrated Multi-model Transit System)
Fare: Minimum INR 5, Maximum INR 15
Daily Pass: Not Available
*Please note that women can travel for free on all these buses and they will be given a pink ticket upon boarding the bus.
Read More