The interior setting of this historic house has been carefully preserved and recreated without overtly disturbing the original ambience of Robert Edward's home even after transforming it into a museum. The reason behind doing so is because the prevailing atmosphere of this place takes the visitors back in time and acquaints them with the lifestyle led by this Mauritian poet.
There are four rooms inside the museum - two bedrooms, one bathroom and an office cum drawing room. Most of the property belonging to the poet was recovered after his death and are now exhibited in the museum. Things like his works, manuscripts, publications, furniture are displayed.
Right at the main entrance of the museum, you will find a reception counter. Postcards and publications are on sale in the counter itself. You will also see the different panels depicting the biography of Robert Edward Hart. There are also several photographs related to the opening of the museum in 1967 displayed right at the entrance.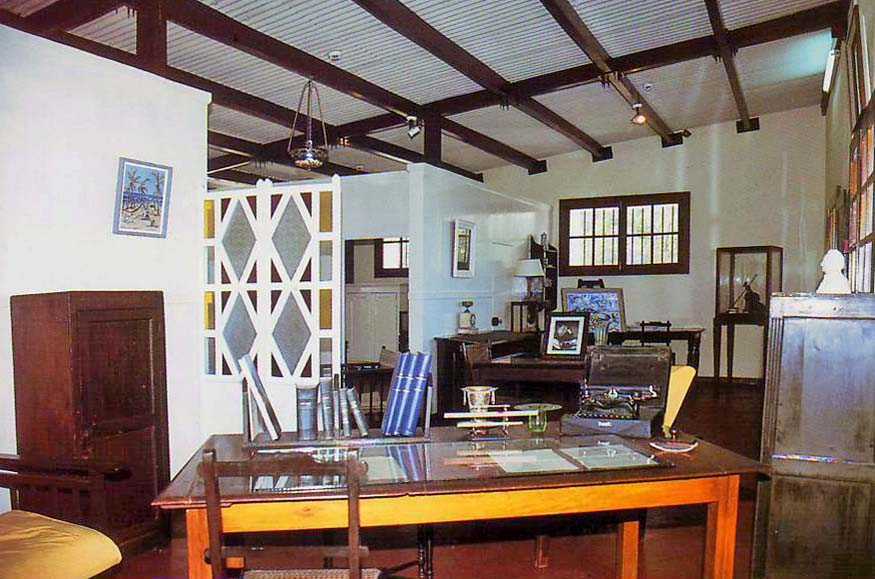 The most significant exhibition area inside the museum is the drawing room cum office. The room accommodates Hart's office comprising of things like a wooden desk and wooden chair, pen, inkpot, ink blotter, paintings and a personal diary. The office desk that he used during his time as the Curator and Librarian at the Mauritius Institute is on display as well. The room also exhibits a painting of La Nef painted by Roger Charoux in 2003 along with other items like kitchenware, a colour glass screen, a sofa set, his poems and publications, manuscripts and letters, his violin, a typing machine, a table lamp and so on.
To the left side of the reception counter, you can find the bedroom of Robert Edward Hart. The bedroom furniture present in the room includes a bed and bedside furniture. All his personal belongings are contained in a showcase where you see his identity cards, photographs, certificates, medals, spectacles, etc. apart from that, books, poems and manuscripts are also displayed in a showcase in that room. The bathroom is adjacent to the bedroom in which you can find a shower, a water closet and a couple of furniture.
A documentary named 'Robert Edward Hart' In Memoriam' was produced by the Mauritius College of the Air in 2003 and it is shown to the public regularly in a room that has been converted into an audiovisual room.