Architectural Style
Surrounded by a lush garden filled with palm trees and with complete hints of Baroque, St Lawrence's Church is a neo-classical structure, an architectural style based on the European classical architecture (Baroque). This church looks imposing and has a solemn hue with cream and white walls and symmetric bell-towers flagged on its two sides, one housing a clock for telling the time and the other is a bronze bell for announcing the mass.
Main Building - Exterior
The main facade of the church has three divisions, each measuring about 21 meters long, the centre held up by two square towers and full of classical features like the pilasters and volutes over the windows. The front entrance is a double swing wrought-iron gate with a simple Greek cross symbol. The ground blueprint of the church is has been made in the shape of a Latin cross with dimensions as 37 meters by 29 meters. An old and ornate stone-carved cross is perched on the tiled roof and the ceiling has been painted a gorgeous turquoise with white and gold beams.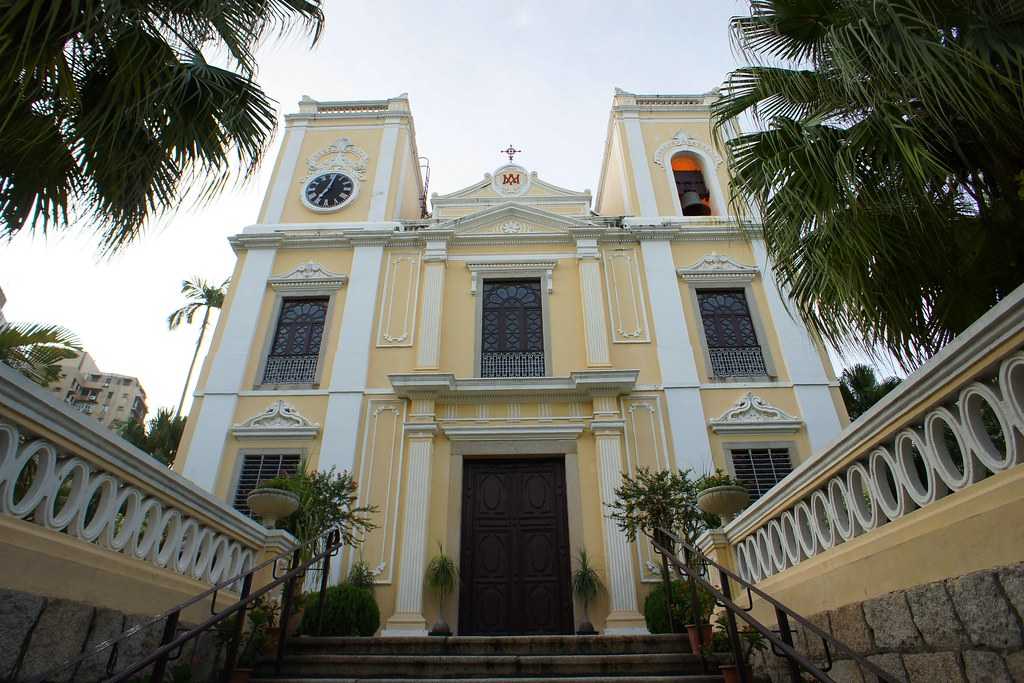 Interior
The altar is marked by a handsome statue of St. Lawrence depicted to be holding a bible in his right hand and carrying a staff in the left hand. Two interior chapels are formed by the shorter arms of the church where the longer extension of the building corresponds to the main nave inside and the main altar with the statue is separated by an embowed arch. The interior is equally grand and impressive in its appearance having huge and ormented columns/pillars, delicate drop lights, opulent chandeliers, all of which heighten the ambience in an elegant manner.