The entire Oli Oli space has been divided into six galleries, each of them focusing on a specific skill or aspect of life. The galleries are dedicated spaces with several exhibits (over 40 in total) and help develop and ascertain the child's curiosities. These galleries include Air, Water, Creative Lab, Toshi's Net, Cars and Ramps, Future Park, Forts and Dens and Toddlers.
Air:
The Air Gallery on the ground floor of Oli Oli is an interactive space where children learn all there is to know about air and the way it reacts. Special focus is given to aerodynamics, rockets, wind, gravity, friction and resistance. Children visiting Air can also interact with the Air Curtain which teaches air flow, the Amazing Airways, the Bernoulli's Blower which explains floating shapes and finally the Hurricane Booth which explains nature's wonders with the help of a 110kph airflow.
Water:
The Water Gallery on the ground floor is one of the most popular and playful galleries with at least 10 interactive activities that the children can engage themselves with. Activities such as dancing in the rain, using ball cannons, washing a car and using a water vortex can be made possible with the help of the exhibits in the water gallery. Children learn aspects of water such as buoyancy, density, pressure and gravity with the help of these exhibits. Splashing around in water also adds to the fun element of this gallery and is the main reason why all children love it so much.
Creative Lab:
The creative lab is located on the ground floor of Oli Oli and is the go-to gallery for exploring your imagination and making it a reality. In the creative lab, individuals can use real tools (safe ones!) and workspaces to create whatever they wish to and develop their motor and development skills. The exhibits in this gallery are also temporary and they change many times in a year, making it a dynamic space which gives you something new each time you visit.
Toshi's Net:
The Toshi's Net is a special gallery located on the ground floor of Oli Oli. This gallery was named after its maker Toshiko Horiuchi MacAdam who is a Japanese textile artist. She was the creator of "Toshi's Net" which is a hand woven monstrosity that makes up the entire gallery. The Toshi's Net is a part trampoline, playground and Alice in Wonderland-esque beauty with strange shapes and colourful holes. This gallery has always been an object of fascination and a test of a child's gross and fine motor skills. However, there is a height restriction where only individuals who are 90-150cms tall can enter (taller individuals can enter at the Oli Oli Staff's discretion).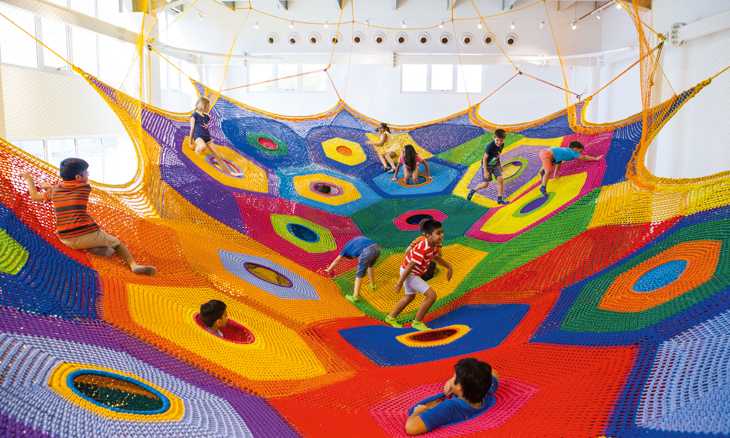 Future Park:
Located on the first floor of the Oli Oli Space this gallery is a futuristic approach to learning. The park tries to assure that a child develops all the skills required to create a sustainable future, especially the skill to collaborate and co-create. With the help of several team building activities and fun corporative exercises, your child can not only make new friends but also learn to share and create various artefacts with the help of a team.
Forts and Dens:
This Gallery is a space on the first floor of Oli Oli which is dedicated to spatial arts. As the name suggests, the gallery consists of various forts and dens, most of which are created by the children themselves with the help of everyday articles such as chairs, ropes, sheets, etc. Children use their active imagination to make magical castles, palaces and forts from mere objects, widening their imaginative capacity. Besides, the children have a gala time playing in the forts after making them!
Cars and Ramps:
On the first floor of Oli Oli lies a strange mix of wonderous machinery under one gallery. The Cars and Ramps Gallery is a place where children can bring out their inner mechanics and engineers. The space tests their risk taking potential by allowing them to build, test and modify cars as well as design them according to their whims and fancies. To add a bit more fun to this gallery, children can also race their cars and use the ramps to make their cars do all kinds of adrenaline filled stunts.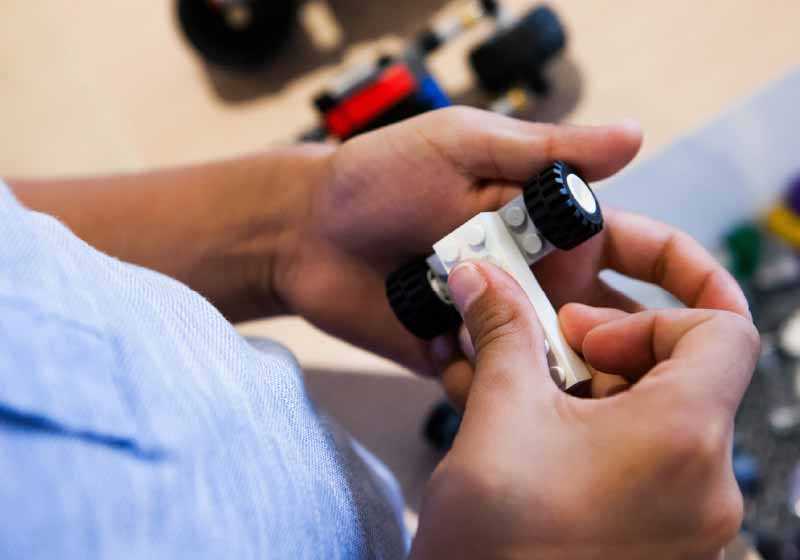 Toddlers:
The final gallery is reserved for the toddlers and is located on the first floor of Oli Oli. The gallery is a mix of puzzles, play areas, and other fun activities like bubble making or building blocks. The main aspect of this gallery is to develop a toddler's learning potential while also giving room for the parents to bonds with their young ones. Due to this reason this area is available to children who are 2 years of age and below (accompanied by an adult). Also, this gallery is a socks only gallery so make sure to remove your footwear and carry a pair of socks if you wish to visit.