1. Ubosot of the Wat Benchamabophit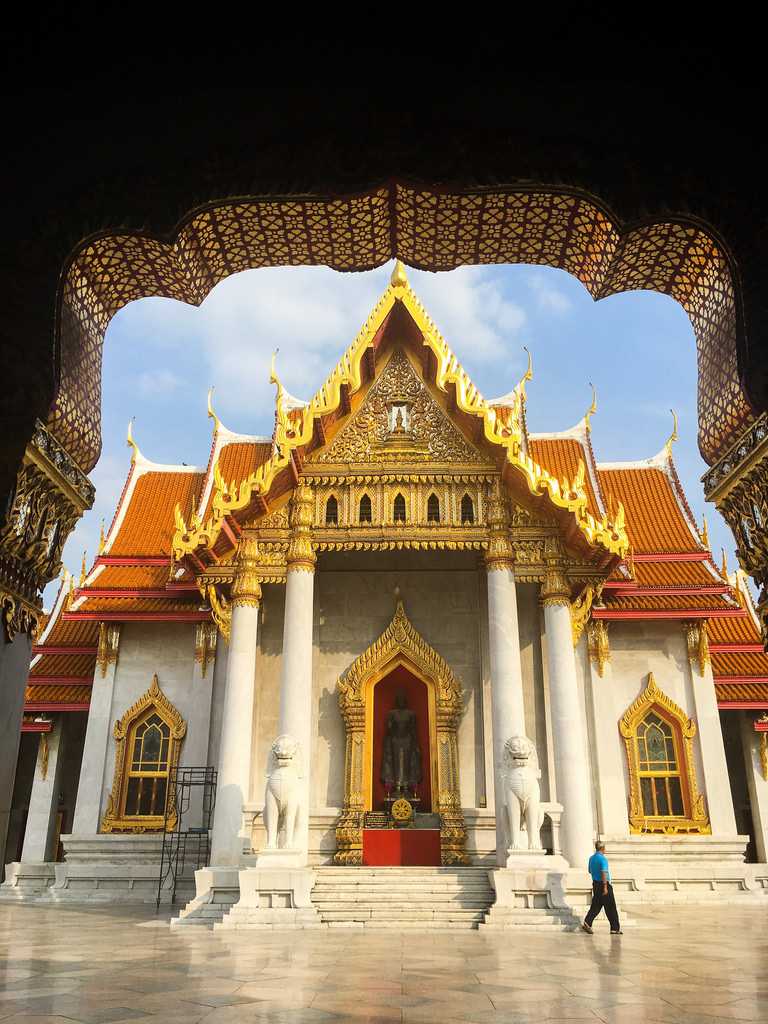 As the name suggests, the ordination hall / Ubosot of Wat Benchamabophit is covered on the outside with white marble imported from Italy. The entrance is marked by four marble pillars and two statues of lions on either side of the gate, guarding the temple. As you enter the hall, a long aisle will lead you to the altar where the central Buddha statue is placed. The multi-tiered roof of the ubosot with elegant chofahs at the top end and the intricate gold carvings is a unique example of Bangkok architectural style. Do not miss the gothic shaped glass windows stained in yellow and white which further enhance the beauty of the temple, and complement the murals on the wall depicting several important Thai stupas.
2. Phra Buddha Chinnarat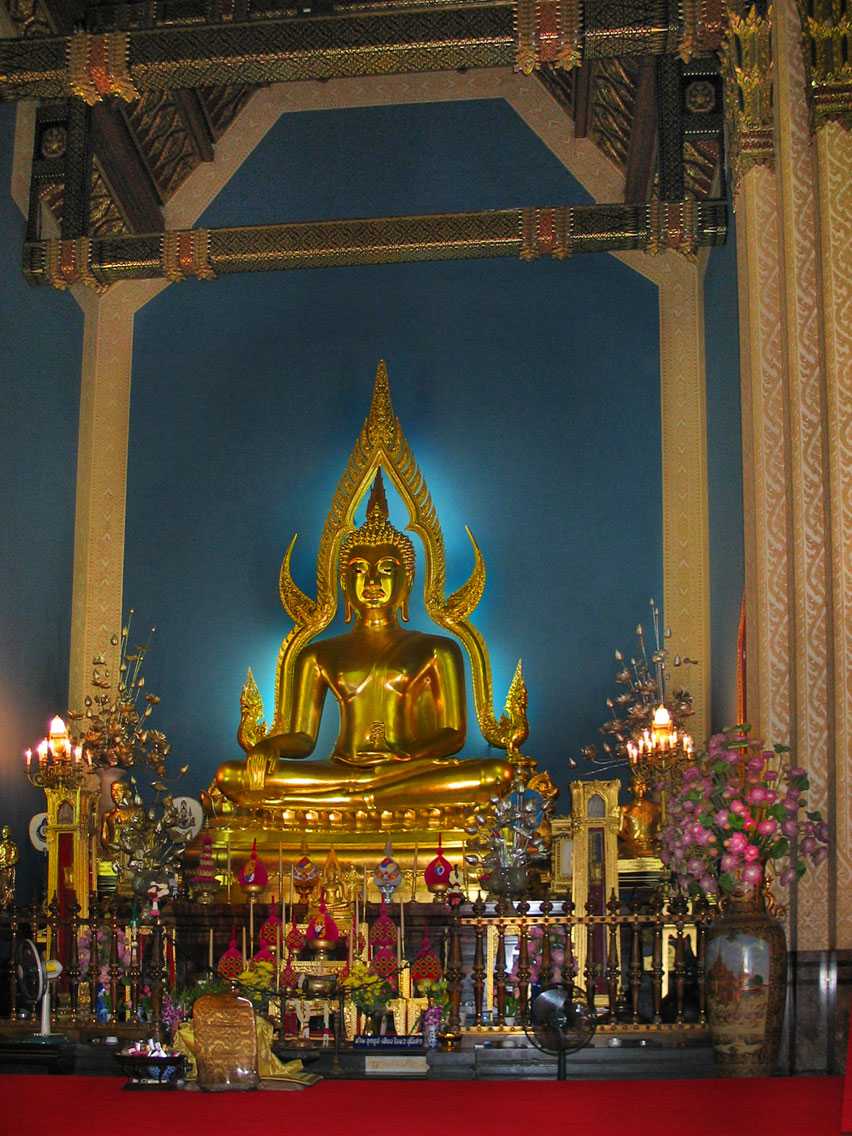 A giant bronze statue of Buddha in 'subduing Mara' position, outlined by a golden frame sits against a bright royal blue background in the main Ubosot of Wat Benchamabophit. It is a copy of the highly revered image of Phra Buddha Chinnarat in Phitsanulok province. The ashes of King Rama V, who himself presided over the casting of the model in Bronze, are buried beneath the bronze Buddha statue.
3. Gallery/Cloister Surrounding the Ubosot

The cloister surrounding the Ubosot enshrines 52 images of Buddha, representing different image styles of Thailand, i.e. Dvaravati,
Lopburi
,
Sukhothai
,
Ayutthaya
. Although the monastery is a common feature of Thai temples, what sets Wat Benchamabophit apart is that unlike other temples, every image here is different. Some photos are seated while others are standing, with different postures and hand gestures. Some of these images are original images brought from different parts of the kingdom and abroad, while some are copies of the important Buddha images.
4. The Bodhi Tree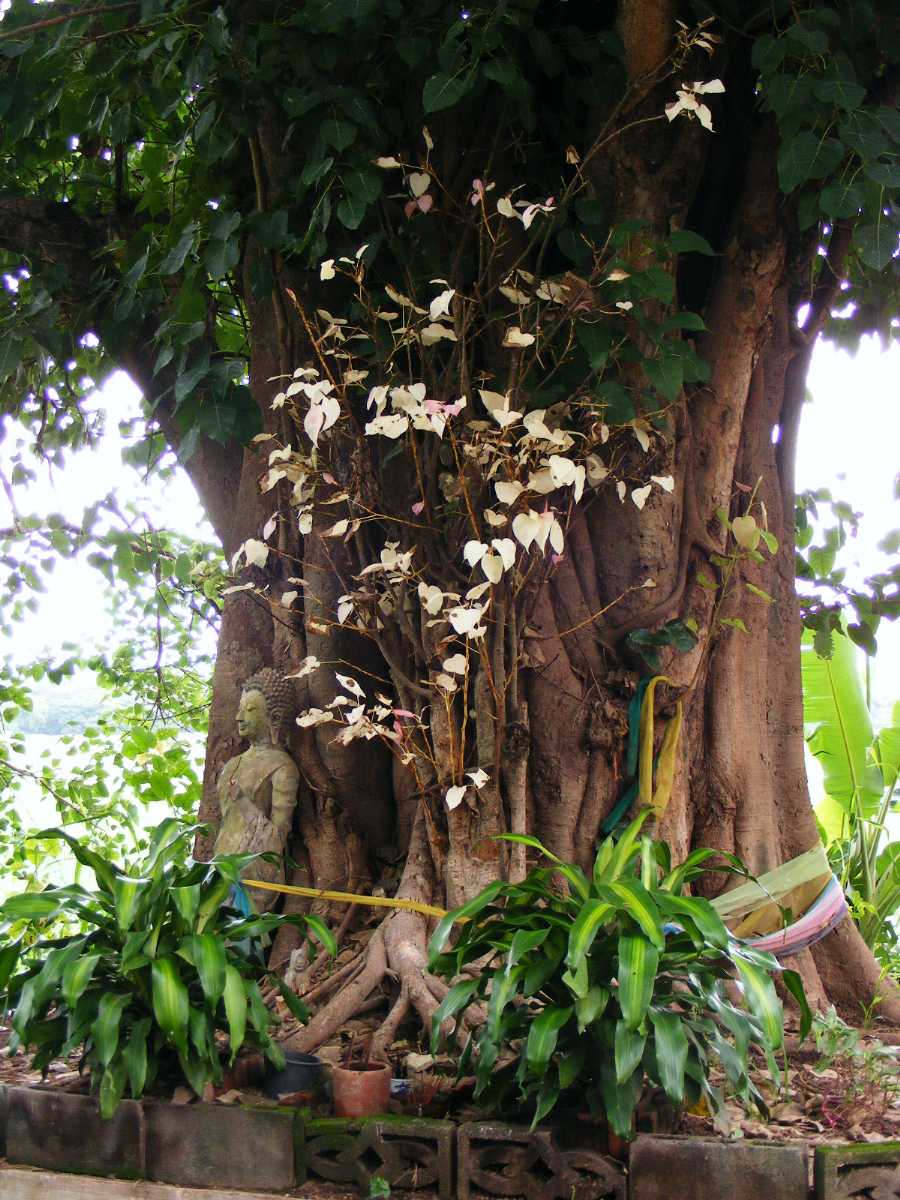 Don't forget to pay a visit to the Bodhi tree which stands right behind the sanctuary of Wat Benchamabophit. It is believed that this tree was brought as a gift to King Rama V from
Bodh Gaya
in
India
where Buddha attained enlightenment.
5. Song Dharm Hall
This hall was constructed in 1902, at the behest of Queen Saovabha Phongsri in the memory of her late son, Royal Crown Prince Vajirunhis. You will find Thai decorative motifs, the royal emblem of the crown Prince, and depictions of Prince Siddhartha's life on different pediments of the structure. Today, the hall is used for organising certain annual events and lying in state of the bodies of royals and dignitaries during funeral ceremonies.
6. Canal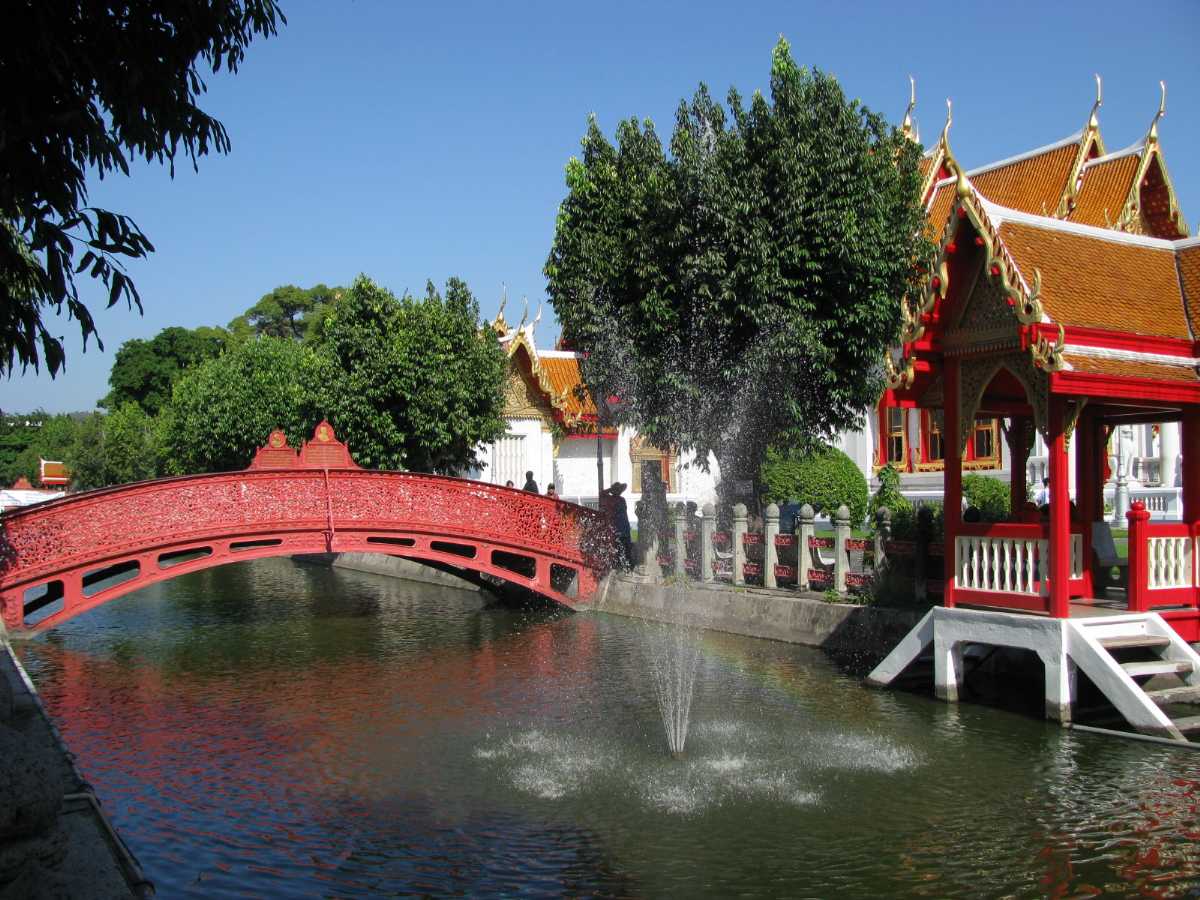 There is a canal that separates the Wat Benchamabophit temple compound from the monk quarters, and three red coloured bridges can cross it. Notice the floral-design iron-cast fences with lotus bud-shaped tops, on both sides of the canal and the 12 Chinese figures that decorate the bridge approaches. Also, don't forget to take a short stroll through the colourful monk quarters.