Apart from the fast-paced lifestyle,
Boston
is known for its museums, parks, and retail therapy. If you are someone who loves shopping, you are going to fall in love with Boston. From high end branded merchandise, designer boutiques, antique stores to departmental stores and budget-friendly souvenirs, shopping in Boston is a sheer delight. Get ready to be swept off your feet!

Shopping
in Boston is incomplete without going to Newbury Street. Like California's
Rodeo Drive
and
New York
's Fifth Avenue, this street is a treat for people who are fond of all things branded and high-end. This street is lined with stylish and eye-catching shops that will lure you to go overboard (caution Chanel, Vera Wang, Valentino, Armani, and Burberry ahead). Starting from
Massachusetts
Avenue to Arlington Street, Newbury is also a great place for shopping casuals from affordable brands like Jacks Wills, Niketown, H&M, and Forever 21. Tired of shopping? Newbury Street has some amazing restaurants and cafes where you can sit and enjoy some good food.
Location - Newbury Street, Boston, MA, USA

Must buy – Clothes, boutique/designer wear, fancy costume jewelry. Newbury Street has more than thirty art galleries where you can explore exemplary art and buy some good pieces for yourself.
2. South End Open Market

South end open market brings together local food, music, art, and fashion. This shopping place in Boston is a culmination of a food market, farmers market, art market, and beer garden. Everything in this market is handmade by local artisans, and the food prepared is piping hot and fresh. South end open market is the place to go if you are looking for an exotic variety of fruit and vegetables. Beer is a must-have as every Sunday, a different local brewer runs the watering holes. Earlier billed as the SoWa open market, this place remains open from May to October, and that is too only on Sundays.
Location - 460 Harrison Ave, Boston, MA 02118, United States

Must buy - Funky clothes and exotic products are the highlights of this market.
3. Prudential Mall

The Prudential mall is where you can spend the entire day shopping in Boston with your friends or family. This mall has 75 retail outlets like Barnes and Noble, Saks Fifth Avenue, Lacoste, Lord and Taylor, and Club Monaco. Prudential is connected to Copley place, the Sheraton, and the Mandarin Oriental. Like this, you can cover a great deal of Backbay without leaving the mall periphery. Here you can find high-end stores like Louis Vuitton and Tiffany's. The mall has good options for eating too like Prudential city Centre Centre home, legal seafood, and the Cheesecake factory. Looking for something bespoke, make way to 'Fire+Ice.' If you still have time in hand, go to Prudential Tower's Skywalk
Observatory
for a scintillating view of the entire city.
Location - 800, Boylston Street, Boston, MA, USA

Must Buy - Branded clothes and makeup
4. Harvard Square

As the name suggests, Harvard Square is near the iconic
Harvard University
, where history comes to life. Graceful in appeal and enchanting to the senses, this place will win your heart as you gorge on local food with music being played by the street performers in the background. Like other shopping places in Boston, Harvard Square is home to several brands and designer boutiques. The only difference here is that Harvard Square never goes dull and boring during any time of the day.
Location - Brattle Street, Cambridge, MA, USA

Must buy - Visit Mint Julep for women's apparel and accessories. Go to Lush Cosmetics if you wish to buy some handmade products. Also, you can take up some local souvenirs for your loved ones. While in Harvard Square, do not forget to visit the Harvard bookstore.
5. Downtown Crossing

Downtown Crossing is located near Boston's Old Statehouse. This place is for budget purchases and not for high-end shopping in Boston. You will be flawed with the prices you see as the merchandise is on sale throughout the year. There are more than 200 retail outlets and 300 jewelry shops in this crossing. At Downtown Crossing, you will find big stores like Macy's, TJ Maxx, Old Navy, and Primark.
Tip - Do not forget to compare the prices to get the best bargain.

Location - 59 Temple PL, Boston, MA, USA

Must buy - Clothes and affordable accessories
6. CambridgeSide

Formerly called Cambridge side galleria, the CambridgeSide mall is strategically placed and easily accessible from all transport modes. This mall has Boston's largest Gap store and is home to brands like H&M, Old Navy, Ann Taylor, TJ Maxx, Best Buy, Banana Republic, Abercrombie, and Victoria's secrets. Cambridge has amazing dining options that serve a variety of cuisines like Chinese, Japanese, and Mediterranean. You can also grab a quick bite from Dunkin Donuts, Taco Bell, and Cheesecake factory. While you are shopping in Boston's CambridgeSide mall, do make the best use of exclusive offers going on.
Location - 100 Cambridegeside Place, Cambridge, MA, USA

Must buy - Do visit Sears and Borders
7. Copley Place Mall

Connected to Prudential Mall with a classy glass bridge, Copley Place mall is meant for the creme de la creme. If you have a massive pocket and a heart to spend on top-notch designer merchandise, Copley Mall is where you should be for shopping in Boston. Known as the top luxury shopping mall in Boston, you are likely to find good footfall at high-end stores like Neiman Marcus, Jimmy Choo, Tiffany and Co, Barneys New York, and Tory Burch.
Location - 2 Copley PI, Boston, MA, USA

Must buy - The Gucci store in the mall is just spectacular. Do you have a look at the store and buy something if you have a budget. You can also buy gifts for yourself and others from other shops in the mall.

Standing tall and proud since 1742, Faneuil Hall Marketplace is the oldest marketplace in Boston. Formerly known as Quincy Market, fishermen, merchants, and vendors occupied the space. Today it has evolved to be a place that is frequented a lot by tourists. Not only shopping, but this market also has so many eating joints, food stalls, pedestrian walkways, and performances to keep you entertained.
Location - 4S Market, Boston, MA, USA

Must buy - Clothes from GAP and Urban outfitters, local souvenirs.
9. Formaggio Kitchen

Foodies alert! Formaggio Kitchen is known for its gourmet delicacies that are likely to get you hooked. Formaggio curates international cuisines that are made with traditional methods. From shopping finger foods for yourself to picking gifts for your loved ones, Formaggio Kitchen has something for everyone. Beware, you might end up spending more than you had thought - everything is just so tempting!
Location - 244 Huron Avenue, Boston, USA
Must buy - Cheese and scones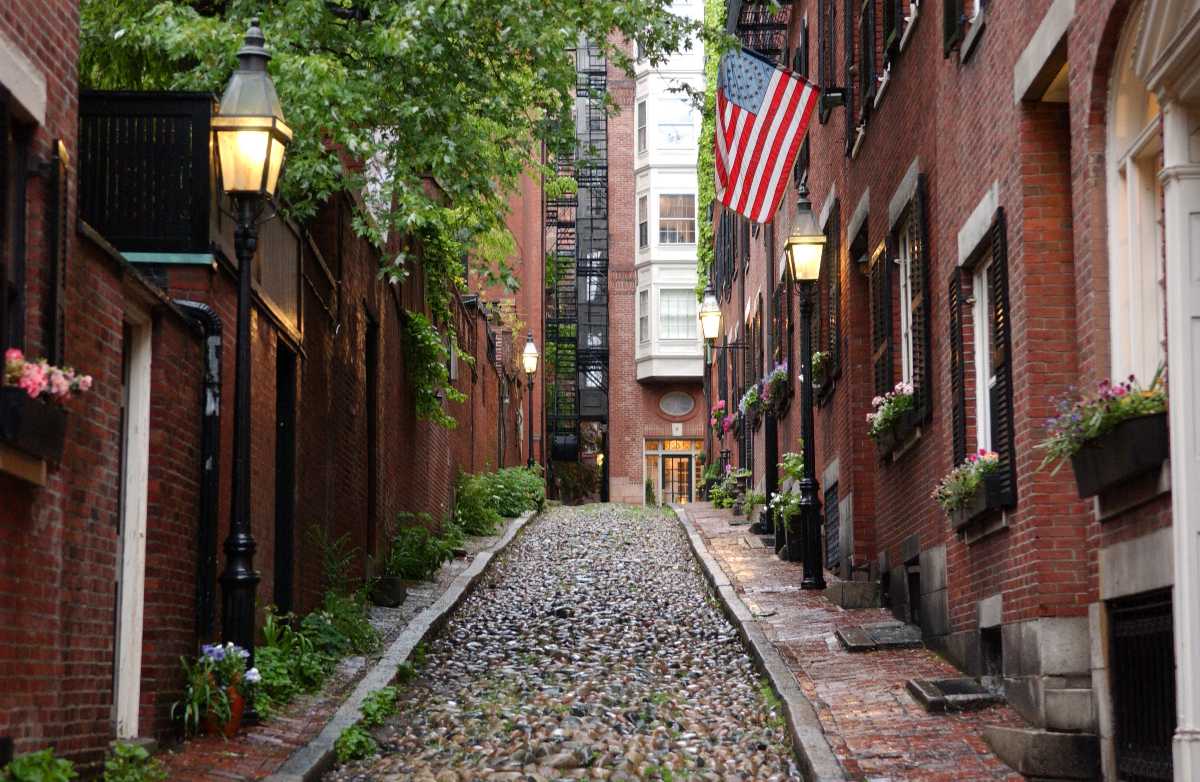 Cozy and comfortable, Beacon Hill Streets are aligned with Victorian-era inspired brick houses. It is perfect for shopping in Boston and sightseeing. It is not a budget destination. Here you will find boutique stores, specialty stores, and antique shops. The shop owners are hot and welcoming. There will be a story that the shop proprietor will be happy to share behind every piece you like or wish to buy. This place is a must-visit as it is a combination of both shopping and sightseeing.
Location - Neighbourhood in Boston

Must buy - Antiques and crafts
11. Wrentham Village Premium Outlets

Located 40 miles from Boston, Wrentham village premium outlets are a bargainer's paradise. With more than 170 brand outlets, Wrentham is a huge shopping center. It offers premium goods at lower rates from discounts ranging from 25% to 65%. This is a perfect place for a day trip with family friends too.
Location - Outside Boston, MA

Must buy - Clothes from Nike, Polo Ralph Lauren, and stuff from Coach
Make your way to the above-mentioned places for shopping in Boston and splurge your heart out.