Will you not call it a perfect life when the journey becomes more important than the destinations? Isn't it interesting when you open your eyes and you find yourself in a new destination every morning? Isn't that beautiful to share a smile with strangers on the highway? Isn't that awesome to travel on the highway when life takes you to a ride of serendipity? Will you not call yourself blessed when you acquire the luxury of moving around in the midnight and all you can hear is the auditory sensation of wind in complete silence and to your delight "The full Moon" in the sky?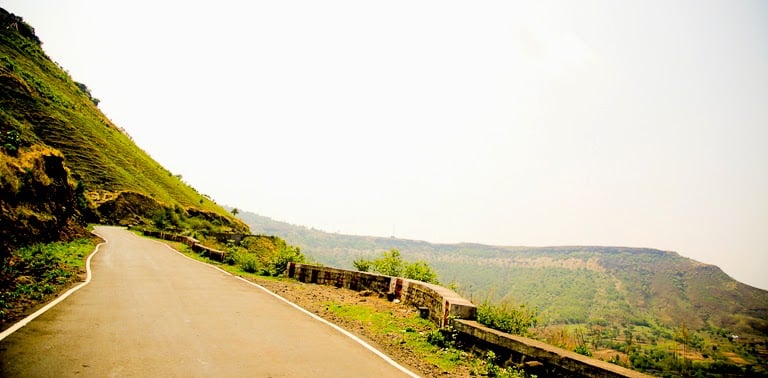 Life on the highway is one big celebration of itself. While moving aimlessly on the highway unwinding , you get that rare opportunity to let go everything you are holding back for years. Even when you pop your head out of your window, you are not only amazed to experience natural wonders all around, but it precedes you to those realities of life that we never realize in our daily life. With every turn on the highway, you are introduced to a whole new world of cultures, traditions, languages, and lifestyles. It gives you the diversity in its best. I feel high when I share a smile with strangers, even though we fail to understand each other's language. Their warmth in behavior and always helping attitude makes it worthwhile to travel those corners of India with high spirits. Moving has always been adding value to my life. I truly believe that travelling is only an expense which makes me richer.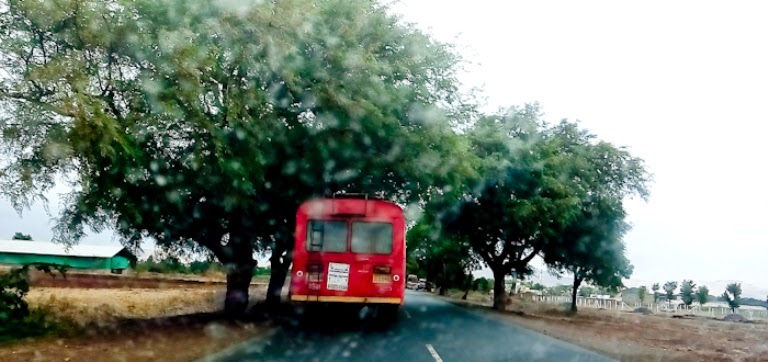 And I got the lifetime opportunity to go on a social road trip for MTV for a show called Nano Drive with MTV (season 3). And I had it all. Yes, you heard it right. 4 states, 21 days, and 21 destinations covering 5000 KM across western India in a Nano car.(Don't you dare to ignore the Car?) Sounds fantastic right? Yes, it was. A journey like never before where without any planning, any itineraries, any prior bookings, you are just moving on the highway. An endless journey of exploration, fun, discoveries, excitements, craziness and a hell lot of surprises. It was like, we were turning a new page of a travel book every single day with 3 fellow travelers whom you have never met in your life before.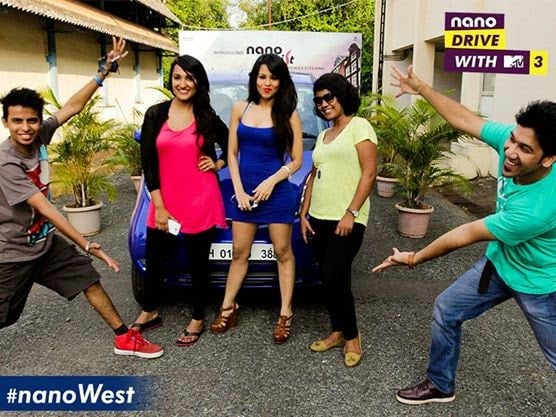 As scheduled, we started our journey from Goa. Though I am not a beach person, but it was always on my bucket list to live few moments at the seashore. And what better than Goa.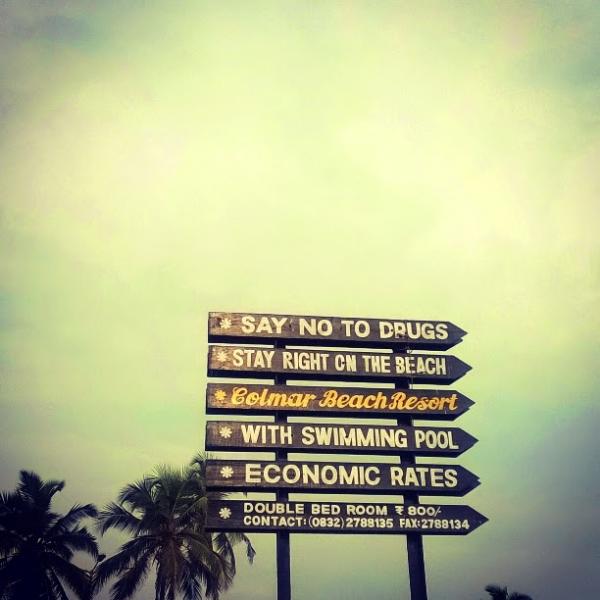 It took me by surprise when I was riding through the distant region of south Goa. The lush greenery, well constructed roads, mouth watering Goan food, and their architectural structures are all around. That's not the end. I realized soon why people escape to break from their maddening city. Goa is not only a popular tourist destination and simply gives you that rare opportunity to find yourself in its gorgeous lap. It was early in the dawn when we commenced our day at Kolva beach in south Goa. It happened to be the introductory episode for the show and we were supposed to give our introduction in front of camera . Facing camera for the first time and that also for a Travel show for MTV was damn fun. It was almost 7.30 am when we reached Kolva beach. I instantly felt the calmness all around. All I could see was water and the horizon. Walking towards the sea while all those tiny waves and tides touch your feet, when you slip through the sands at the beach and you hear nothing but the incessant sound of water in your ear, I felt I was seeing something magical and divine. I stood still for few moments witnessing the vastness of Arabian Sea. For some time I got lost in my thoughts.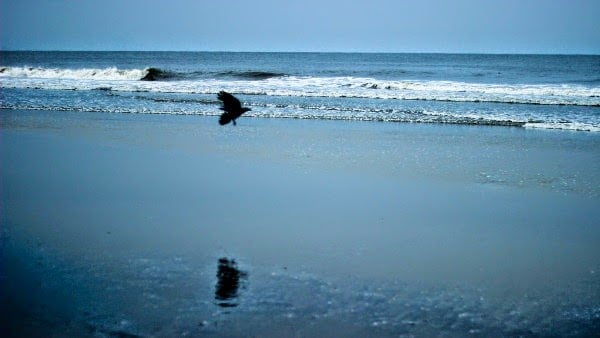 I never felt so calm within. I was hearing the musical sound of those high tides which run towards you with wide swing and lie down slowly.
Our next destination was Tarkali. This is a tiny little place in Sindhdurga district. Interestingly , Sindhdurgha fort lies on the shore of the Malvan town in the Konkan region of Maharashtra. So we took a ferry to reach the fort. Travelling by ferry with a bunch of local Marathi people was absolute Fun.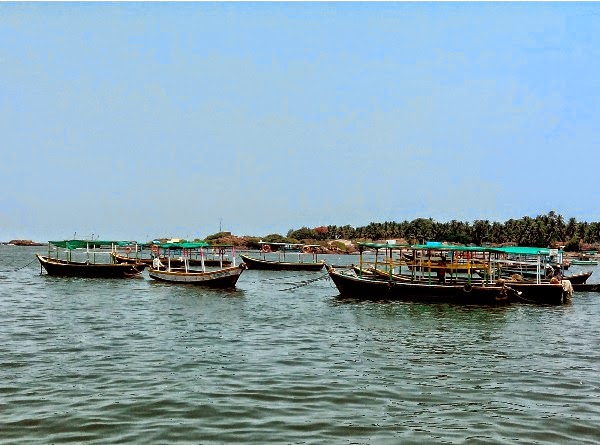 Tarkali is known for white sand beaches and the famous Sindhdurgha fort , which was built by Shivaji Maharaj in 1665 on a rocky island called Kurte.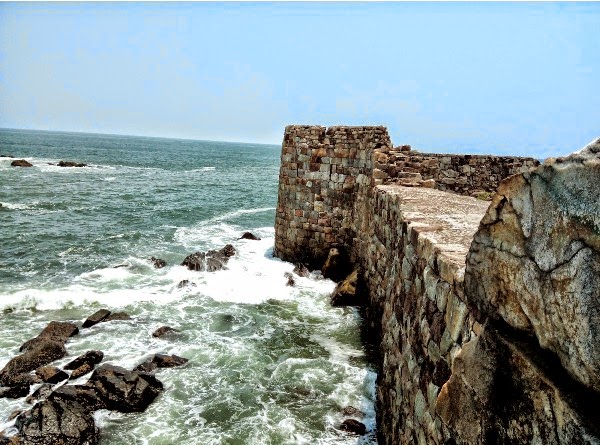 From Tarkali we drove down to the famous Kolhapur. The drive from Tarkali to Kolhapur was simply amazing. The landscapes, multi layers of hills, fantastic weather, clouds in the sky and the gushing sound of wind was something which accompanied us throughout.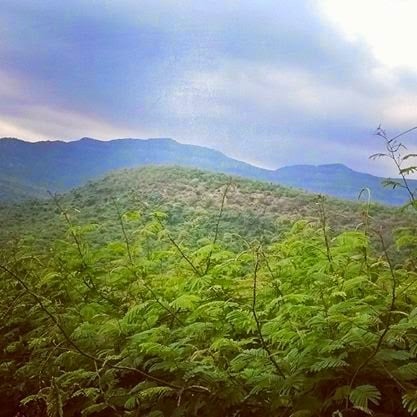 Taking twist and turns on those hilly roads, witnessing the sun hiding behind those layers of hills, looking at those distant villages was like those moments of happiness which you want to live again and again.
I personally did not find Kolhapur that interesting except those kolhapuri chappals.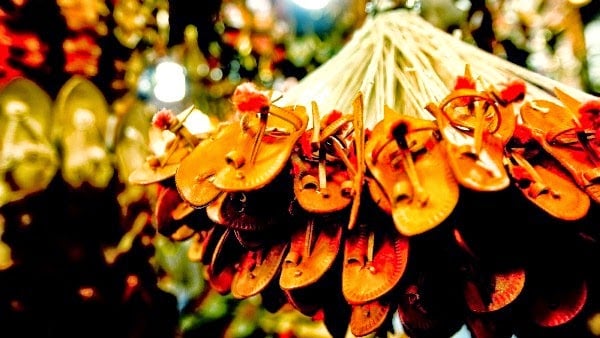 So after spending a night in Kolhapur we headed towards a place called Bamnoli. This is a sleepy little village located on the banks of Shivsagar Lake formed by koyna dam.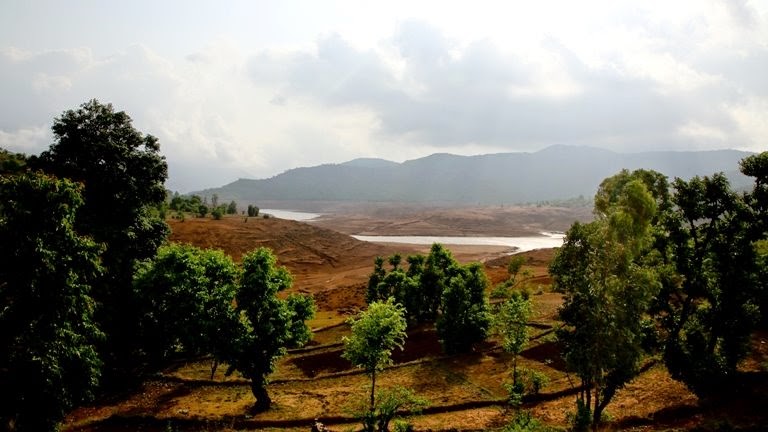 One of the picturesque villages I have ever visited in my life .This little unexplored place can be best determined by driving the highway. The breathtaking vistas of the landscapes, stoned hills, well constructed twisted roads, water bodies; a heavy forest with shining sun in the clear sky surely takes you for the ride of your life. It was enchanting.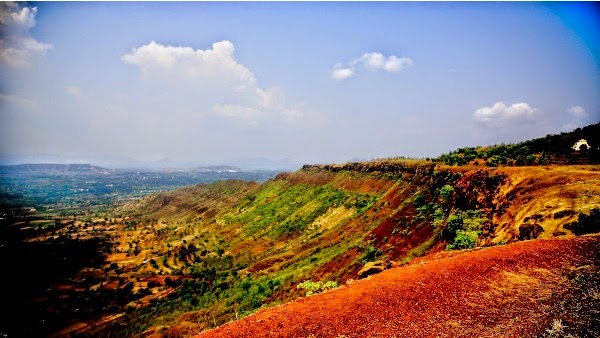 While having lunch in a small shop in Bamnoli , I happened to talk to a few locals and got to know that the water from the lake comes right up to the roads leading to the village flooded and because of which many villagers left this sleepy village. It was almost 5 pm when we left Bamnoli and headed towards a placed called Kolad. Every place I was exploring was a complete surprise for me as I never heard of these places earlier. Since I never traveled west India, anything came my way was exciting. Kolad is a lazy small village in Raigad district of Maharashtra which lies on the banks of Kundalika river. And to my surprise, this place is known for the adventure sports like river rafting.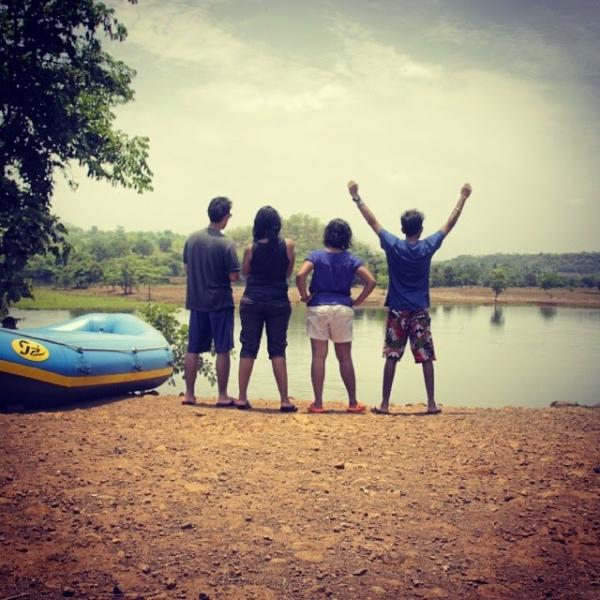 That's why I truly believe that the more you travel more you realize the importance of exploration. Anyway ,as always I with my three fellow travelers were all ready for a bumpy river rafting experience in kolad. It was 8 am in the morning when we all geared up with safety instructions and prior training to ride in Kundalika River. Rowing your boat, singing loud in groups, shouting with excitement, facing those big rapids, plugging out wild berries, feeding them with joy, competing with other boats was incredible.
From Kolad, we headed towards Pune. What I really enjoyed was the drive on the highway.
All I could see was those lush green fields, lands in the foothills of those towering hills, stone curved mountains, few water bodies, and the sleek pitch road where no matter where you are, you would love to let yourself go with the wind. After spending a night in Pune, last stop for Maharashtra was Malegaon. I did not know much about Malegaon apart from the Spoof industry where we had fun meeting the makers of "Malegaon ki Superman".
Leaving behind the Western Ghats, those spiral roads, smiling faces of Mahathi people, stoned curved hills, & the amazing landscapes, we headed to explore a new cultural landscape.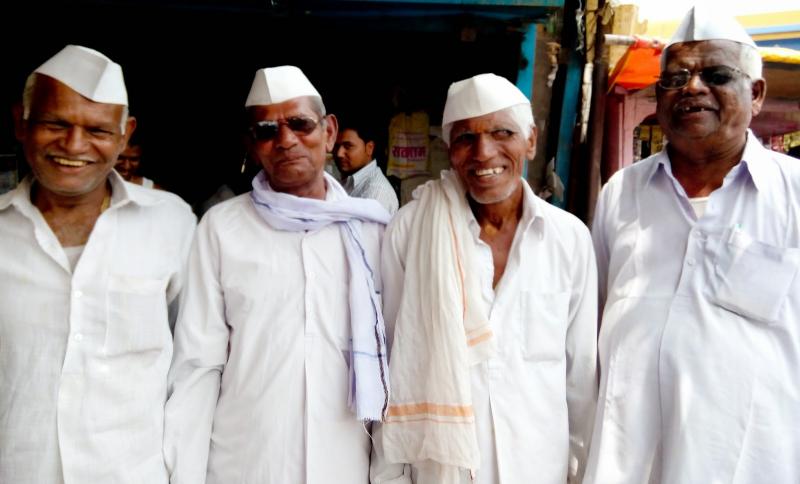 A state which is known for its food like Dhokla, khakra,Thepla, khandvi etc , the famous Dandiya dance , dry state status , and of course a man who just gave a new face to Gujarat , Mr Narendra Modi. The moment you start enjoying the smooth road, factories, and unique smell of the soil, and then you have surely entered Gujarat. A state with rich culture, landscape, food and the language. The very first city we visited was Surat. But instead of exploring Surat, but we headed towards a beach which is known as one of the most haunted beaches in India. And it's called Dumas Beach which is 25 KM away from Surat city. It was around 11 PM when we reached Dumas Beach. The adventure was to visit Dumas beach at midnight and experience the supernatural existence. After reaching Dumas Beach, I decided to find out the truth behind its reputation. Though few locals agreed to that fact that its haunted and paranormal activity is active at that beach, though few simply denied. It is said that people used the beach as a cremation ground where they burnt the dead bodies on the beach and this is advised that one should not walk the beach alone at night. Though we did not come across any ghosts (hahaha) in person, but one could feel the uneasiness in the air. The experience we had at that beach was one the spookiest experience I had in my life.
After this spookiest experience in Surat, we headed towards Baroda and for the first time we tasted the famous Gujarati Thali. The food was mouth watering.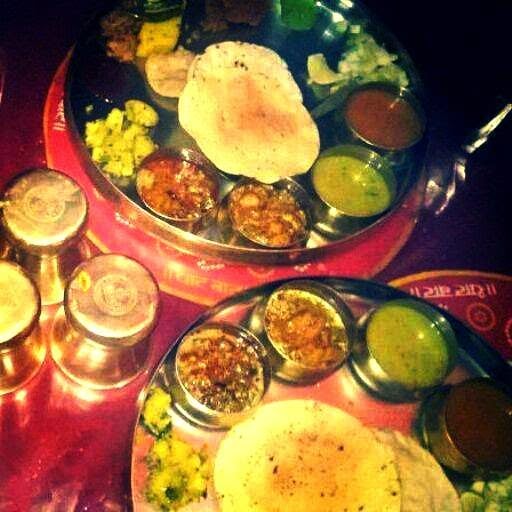 I simply love the way they serve their food with so much love. On our way back to our hotel, we saw a Baraat on the road…and guess what? Nothing beats the experience of dancing crazily in the middle of the road in a new city with a bunch of strangers in that Barat. It was absolute fun.
It was around 10 am, the next day when I reached Ahmedabad. The first thing I noticed was the cleanliness all around. A well planned city with plenty to offer. Doing something unique in a city like Ahmedabad was our agenda. So why not speed boating in Sabarmati river?Though I have been boating several times in my lifetime, but crushing the waves and travelling with high speed in a river was a singular experience.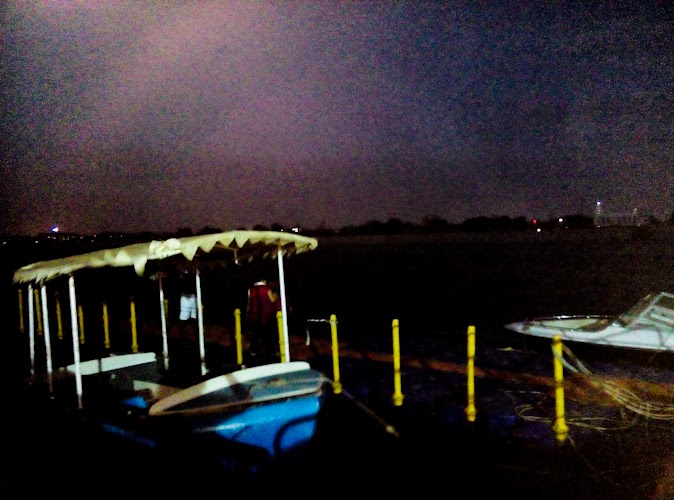 I was high on happiness, fun and craziness. The sound which still constantly ringing in my ear is the gushing sound of those waves. An absolute ending to my beautiful day in Ahmedabad. The next morning I with my fellow travelers decided to have the famous Muska Bun and Tea in a restaurant which is located in a cemetery. Sounds crazy right? Yes, New Lucky Restaurant in Lal Darwaza area in Ahmedabad is one of the unique restaurants where you eat your food with dead. Literally, there are graves in all over the restaurant. According to Siddique Ansari , the cashier of the restaurant , around 65 years ago, they started off as a small tea stall next to an old Muslim graveyard in Ahmedabad. With the time , business boomed and then-owner K.H. Mohammed expanded the walls and covered the graveyard. But though they are running this restaurant from past 65 years, they make sure that everyone who visits this place respects the graves as they do every day. They also believe that the graves are lucky for them as they attract a lot of people. So, if you in this city, you should surely try Muska Bun and tea in this place and this should be the must do on your list.
Dwarka was our next stop. For me, more than exploring the city, what took my breath away was the highway ride from Ahmedabad to Dwarka. I would say that one should travel to this highway at least once in a lifetime. It is about 436 KM from Ahmedabad. You heard many things about highway journeys, but when you actually on the highway, it's suddenly a whole new story for you.

When your arms are wide open, when cold breeze just touches your face, when you smell the soil, when you cross those tiny villages, when the road is blocked by cows, sheep and shepherds,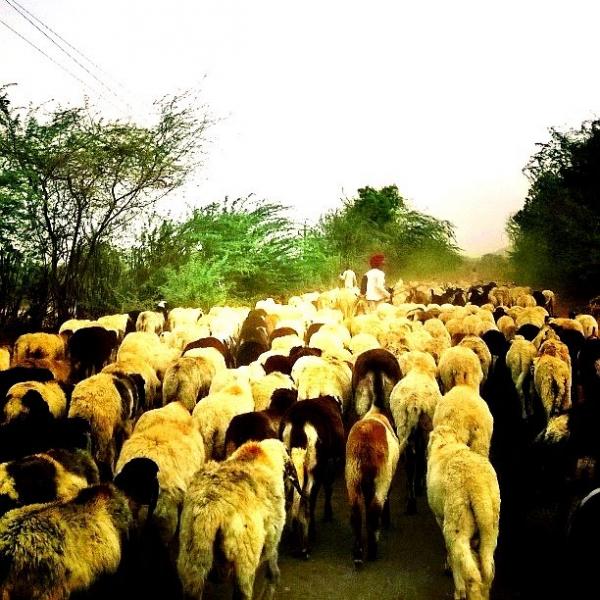 and when at times you can only see the straight highway with barren land and you know that you have not reached your destination yet is what I call the epic feeling which can't be explained in words. It's like moving on the highway has become an addiction. It was 2 AM on the clock when we reached Rajkot and decided to spend the night.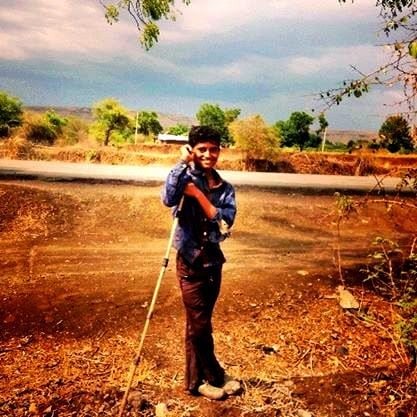 When you open your eyes in the morning and all you do is to pack again to travel to a new destination and when you actually hit the highway with a bundle of excitement to explore something new is the best feeling. And it's been happening with me throughout this journey. When I did not even know what will be my next destination, where will I be spending my night, whom I am going to meet next, and what it all will be? Spending every night in a different place can become such a high for me which I never imagined The knowing the unknown became the urge of the hour. And on the top of that when at midnight you are driving high on the highway with barren land all around, when you could hear the sound of wind loud in silence, when you roll down the window to feel the cold breeze and got lost in thoughts completely and to your delight, you witness the Full Moon in the sky… What will you call it then?
It was 7.30 am when I visited the famous Dwarikadish Temple in Dwarika.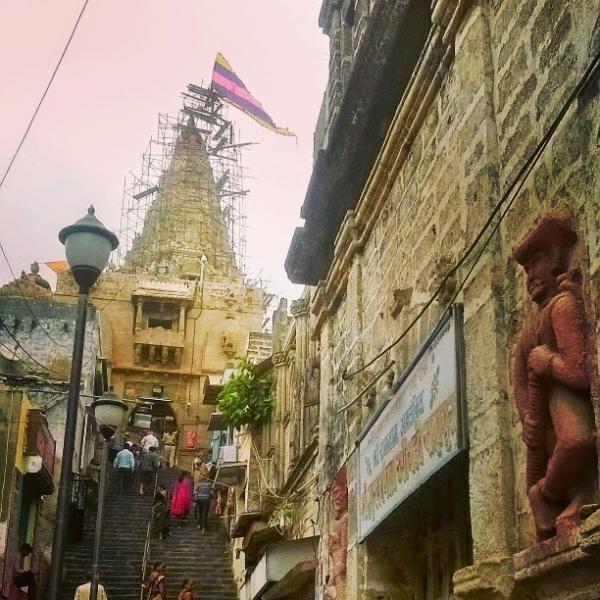 The temple became part of the Char Dham pilgrimage which is considered sacred by Hindus in India. This temple was built by Vishwakarma around 5200 years ago. It is believed that the actual Dwarika which was built by Sri Krisna is still under the sea and the present Dwarika is the eighth edition of it. After visiting this religious site, it was time for some breakfast in a local restaurant. We filled our stomachs with a lot of food as we knew that we had to travel another 106 KM to Porbandar. The birth place of Mahatma Gandhi is not only having historical importance, it also offers some of the fantastic view of the Arabian Sea and the astonishing Huzoor Palace. Visiting the beautiful Indian treasure, the Huzoor Palace by the Arabian Sea was a complete surprise. The lesser known too many, Huzoor Palace was built by Maharaja Natraj Sighji after the First World War. Interestingly, if you notice the architecture of the Palace, it's a European architectural delight.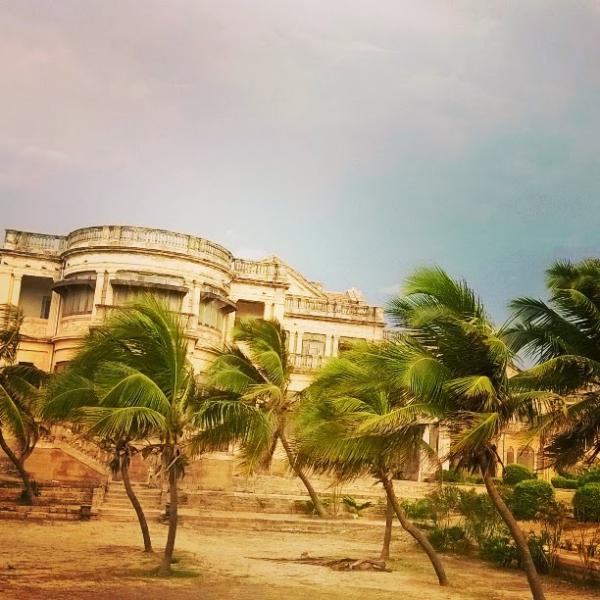 I got to know that Maharaja Natwar Singh travelled whole Europe and he got really inspired by their architectural style. So when he came back and decided to build this palace, he implemented all those European style elements. The Huzoor Palace has 170 rooms and out of which only 7 are bed rooms. And, add to my surprise, they had intercom facilities at that time. I was spellbound. I happened to meet the care taker of the Palace Mr Suman Singh, who shared many small stories about the palace . He told me that Maharaja Natwar Singh was not only a great visionary of his time; he was a multi faceted person. He was an architect, a writer, and to my surprise a musician who loves to play piano at that time where Maharani was an Interior Decorator. According to Suman Singh, they both were the perfect couple who loved to spend their time on the balcony facing the Arabian Sea. While sitting on the beach I was not only witnessing the changing colors of the sky turning red from blue, the floating boats from a distance, and the high tides , I was so amazed to see Huzoor Palace standing tall representing the royal lifestyle of that era. I was lost in my thoughts. That was one of those rare moments when I never wanted to close my eyes for a second.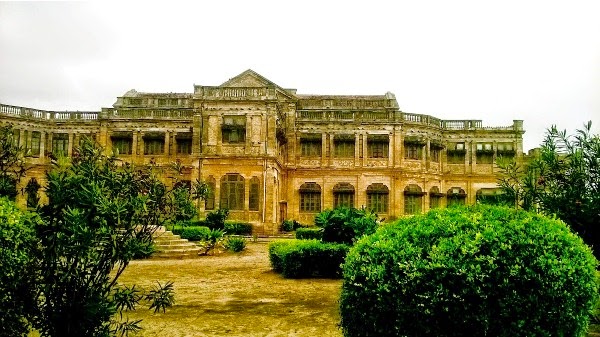 And you see "Padharo mhare desh" - The road sign board . I was thrilled to realize that I had entered Rajasthan. A state which celebrates the colors in true sense. Everything about the Rajasthan is colorful , be it their costumes, the food, the palaces , forts, houses , or be it the cities. It's a treat to witness the colour palate where in every few Kilometers , you witness the new colourful cultural landscape. The interesting part of Rajasthan is that though the dialect of their language changes in every city and but the best thing about this is that you can feel the same warmth in every tone . If someone defines the true meaning of "Atithi devo Bhovo", then it has to be people of Rajasthan. So after travelling three states in last 20 days, spending some amazing moments on the highway, we reached Udaipur.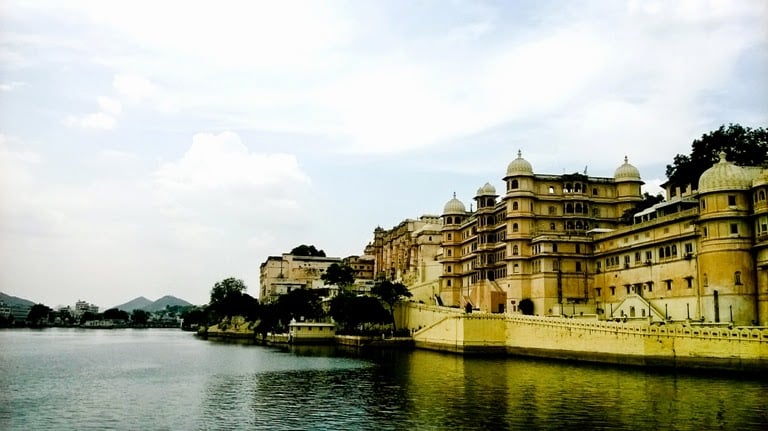 The "Larger than Life" lifestyle, lakes and scenic view of the Aravali hills and mouth watering authentic Rajasthani food was what I experienced joyfully in Udaipur. The towering City Palace in front of lake Pichola was an absolute delight. Sitting in front of lake Pichola, witnessing the sun hiding behind the layers of Aravali Hills, and the contemplation of the gorgeous Lake Palace in the lake was one of those few beautiful seconds. After experiencing the glimpse of royal lifestyle in Udaipur, I headed towards Kumbhalgarh Fort. This fort is a Mewar fortress in the Rajsamand district of Rajasthan. Almost 100 KM from Udaipur city. Apparently, Kumbhalgargh Fort has earned the reputation of having Second-longest continuous wall after the Great Wall of China. Not only that , this fort is also a World Heritage Site. It was 10 am , when were ready to visit a religious site…since I never visited Ajmer Sharif before , so I was excited about the whole holy trip .
As scheduled , we reached Ajmer around 3 PM. Walking through the narrow lanes , crossing all those shops selling flowers and sweets , I managed to reach Ajmer Sharif. It was a divine experience. While coming back to the hotel, we noticed a wedding , just next to our hotel. Since its been quite a while that we have been struggling with everything on road compromising on many things, me and my fellow traveler friend decided to crash the wedding . As planned , we reached the venue and pretended to be an invited guest. To make it more real , we started talking to other guests . Not only that we had our plate full with variety of cuisines and to top it up I decided to go up to the stage to greet the newly wed couple. It was absolute fun when me and my friend went up to the stage and greeted the couple , we are asked to even pose for photographs. It was hilarious as the way we managed everything . And that's how we crashed a wedding in Ajmer. Surely , a night to remember.
The next destination was Jaipur where we went to Choki Dhani and had one of the most amazing fun time exploring every corner of it , dancing with local dancers , having Rajasthani Thali and shopping .

Ranthambore was our next destination.It was 10 PM at night when we reached Ranthambore. After spending the night , we set out for a Jungle safari early in the morning around 6 AM. It was 3 hours safari into the wild. Hoping to see the tigers , we entered Ranthambore National park and were moving forward to the point where tigers were expected to be seen. But unfortunately we did not spot any tiger , though to our delight , wild deers , peacocks and variety of birds showed up in the forest.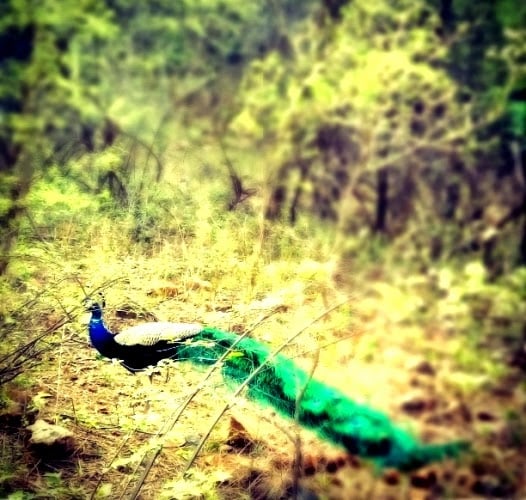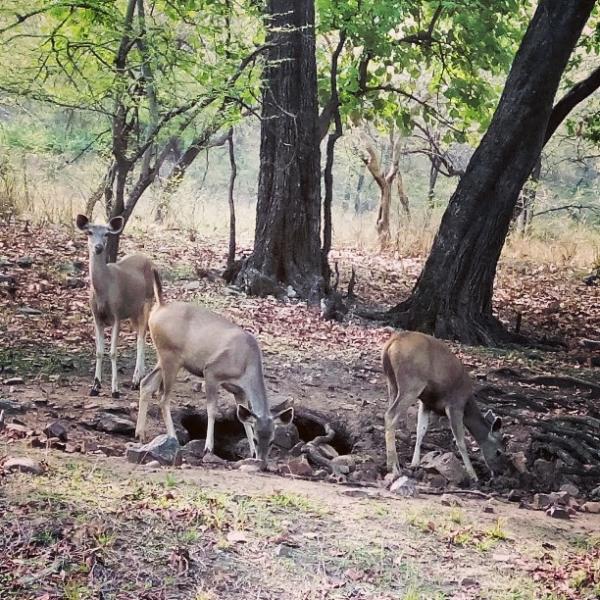 What I really enjoyed was calmness inside the forest. When sun spreads its ray through the branches of those trees in the remote corners of the forest , when the sound of wind dominates the surrounding and when you can see the peacocks and deers moving freely with any fear , it's a treat to watch . Finally, it was time for our last and final destination and its Nimrana.
After spending almost a month in remote corners of western India, if I sit back and think today, I find it hard to express every single emotion in my words. It's like sitting alone and seeing the world walk by. A world where you don't mind being lost forever. I believe life is all about journeys. It does not matter where you have been, how far you can go, what you have seen or what you have explored new….. There will always be farther to go, explore, and discover.When the breathtaking landscapes, the shining sun, the sound of wind, and a bunch of strangers literally change the meaning of your life even without your own knowledge, Will you still not call it " The Perfect Life "?
This entry has been shortlisted for Holidify's Travelogue Writing Contest in association with Linger. The content and pictures may not be used without prior permission of the author.
Submitted by: Parnashree Devi
The original post can be found here.