Art is in the air—Imagine being at the centre of contemporary art in India and in a great location like Fort Kochi, a mixed pot of culture! Brace yourselves, art fanatics, the fifth edition of the Kochi Muziris Biennale has arrived.
Kochi Muziris Biennale Dates 2023
Begins: 12 December 2022
Ends: 10 April 2023
What is the Kochi Muziris Biennale?
The Kochi Muziris Biennale 2022-2023 is a biennial international contemporary art exhibition that runs for four months on the island of Fort Kochi in Kerala. Get immersed in modern art forms from Indian and International artists portrayed through various mediums like contemporary art paintings, sculptures, installations and more.

This edition will see works of over 90 artists with over 45 new commissions from more than 25 countries. The central exhibition at Aspinwall House, Pepper House and Anand Warehouse will showcase "embodying the joy of experiencing practices of divergent sensibilities, under conditions both joyful and grim..." as envisioned by the curator.

Besides this, there are other flagship programmes which includes Art by Children and Students Biennale, where young talents from across 50 state colleges in India exhibits their art works. In addition to this, there are a range of local programmes such as film screenings, theatre editions, regional music and its revival, local arts that will take place in Cabral Yard for over 120 days.
People: Shubigi Rao (Curator); Bose Krishnamachari (co-founder and president of KBF)
Founded: 2012
Where: 📍Fort Kochi

Over 2.4 lakh people have already visited
the Fifth Edition of the Kochi-Muziris Biennale
since its launch, and it's all about narratives of the passage of time, displacement and female gaze.
'At the heart of my curatorial adventure lies a desire for liberation and comradeship where the possibilities for a non-alienated life could spill into a 'politics of friendship.' Where pleasure and pedagogy could sit together and share a drink, and where we could dance and sing and celebrate a dream together.'

Why Should You Attend?
Experience contemporary art and art installation from india and across the globe.
Explore over 12 historic venues in Fort Kochi and Mattancherry in Kerala.
Taste the exemplary art styles, music, film screenings and so on.
Kochi Muziris Biennale Ticket Price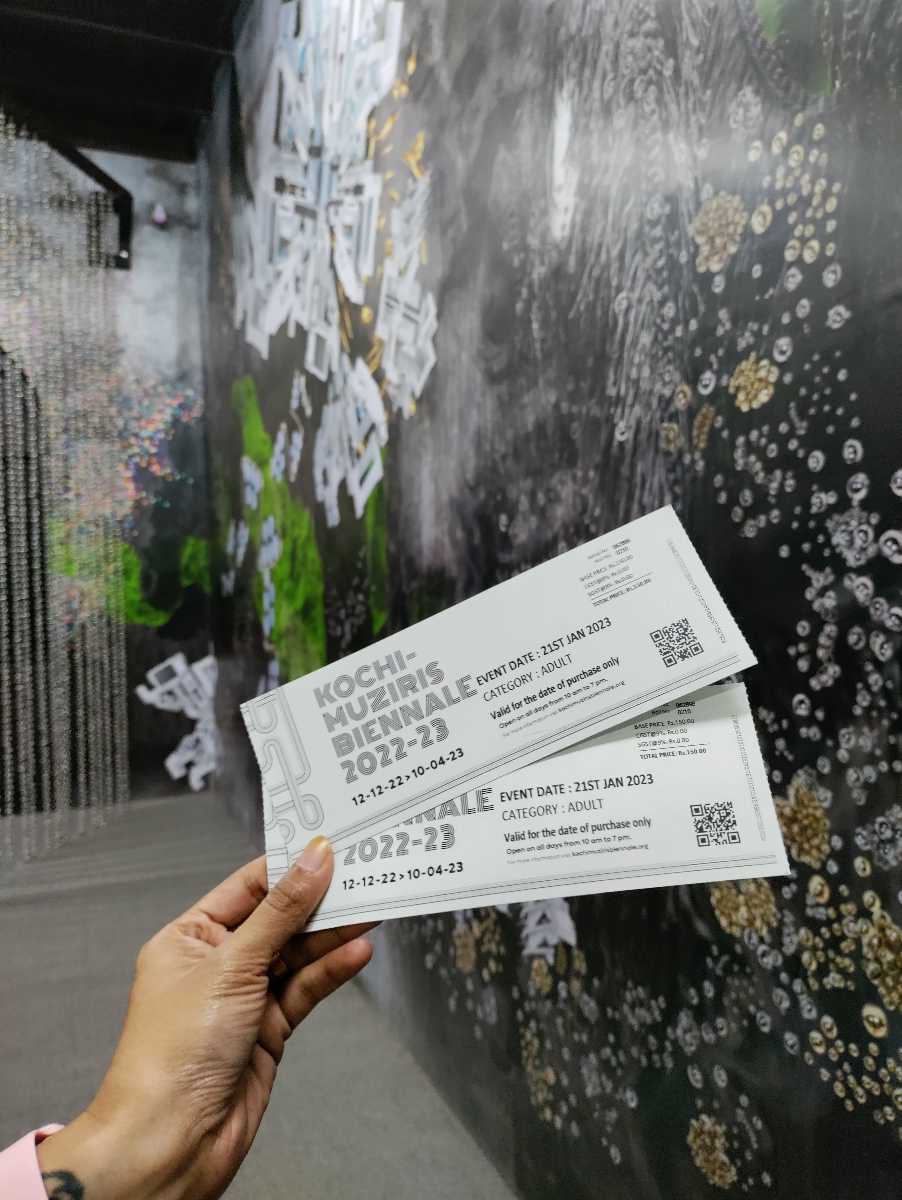 What's special about the ticket?
Scan the QR code to get a map of the venues!

This gives a thorough guide of all the venues and events and lets you plan your next venue visit without any confusion. Treat the venue map as your bible for the duration of your trip there.
| | |
| --- | --- |
| Students and Children | INR 50 |
| Senior Citizen | INR 100 |
| Adult | INR 150 |
| Weekly | INR 1000 |
| Monthly | INR 4000 |
Glimpses of the Kochi-Muziris Biennale 2022-2023


"Bombay Tilts Down"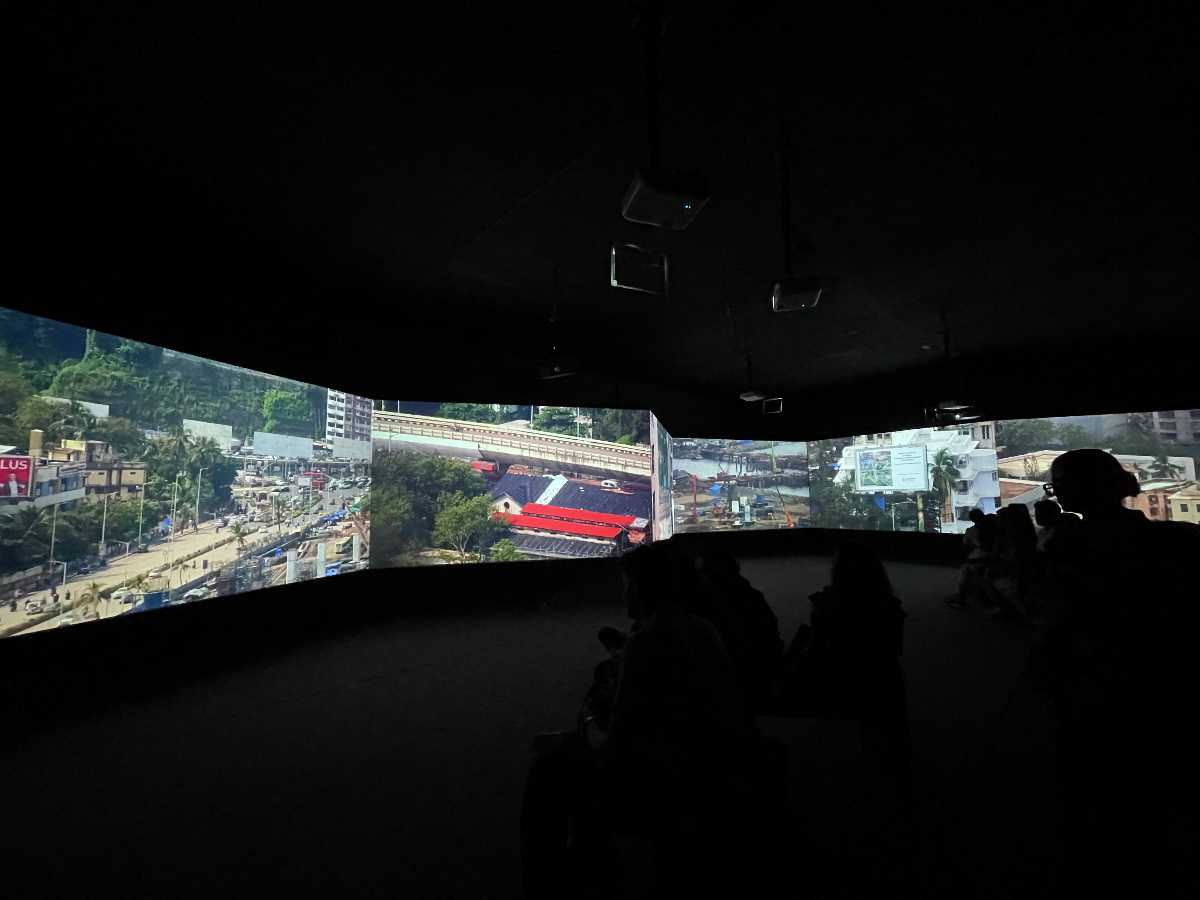 CAMP's multi-channel video display depicts a panorama captured via a remote-controlled CCTV camera atop a 35-story building in South-Central
Mumbai
. This is a 13-minute 14-second looping visual installation with music haunted by sirens and poets. The movies transport viewers through the sky and oceans, as well as other portions of the stacked and tiered Parel and Worli neighbourhood. When humans emerge in the photographs, many appear to be aware of this eye in the sky, and a new agreement is formed between the subject and the camera. This piece, which is part of CAMP's long-term research into the histories and futures of the moving image, housing, infrastructure, and pleasure, is motivated by the possibility of such relationships.
This project is co-commissioned by the Nam June Paik Art Center
Displayed at: 📍 First Floor, Admin Block, Aspinwall House.Until 10th April 2023
Almanac of a Lost Year (2020-2021)
The Distance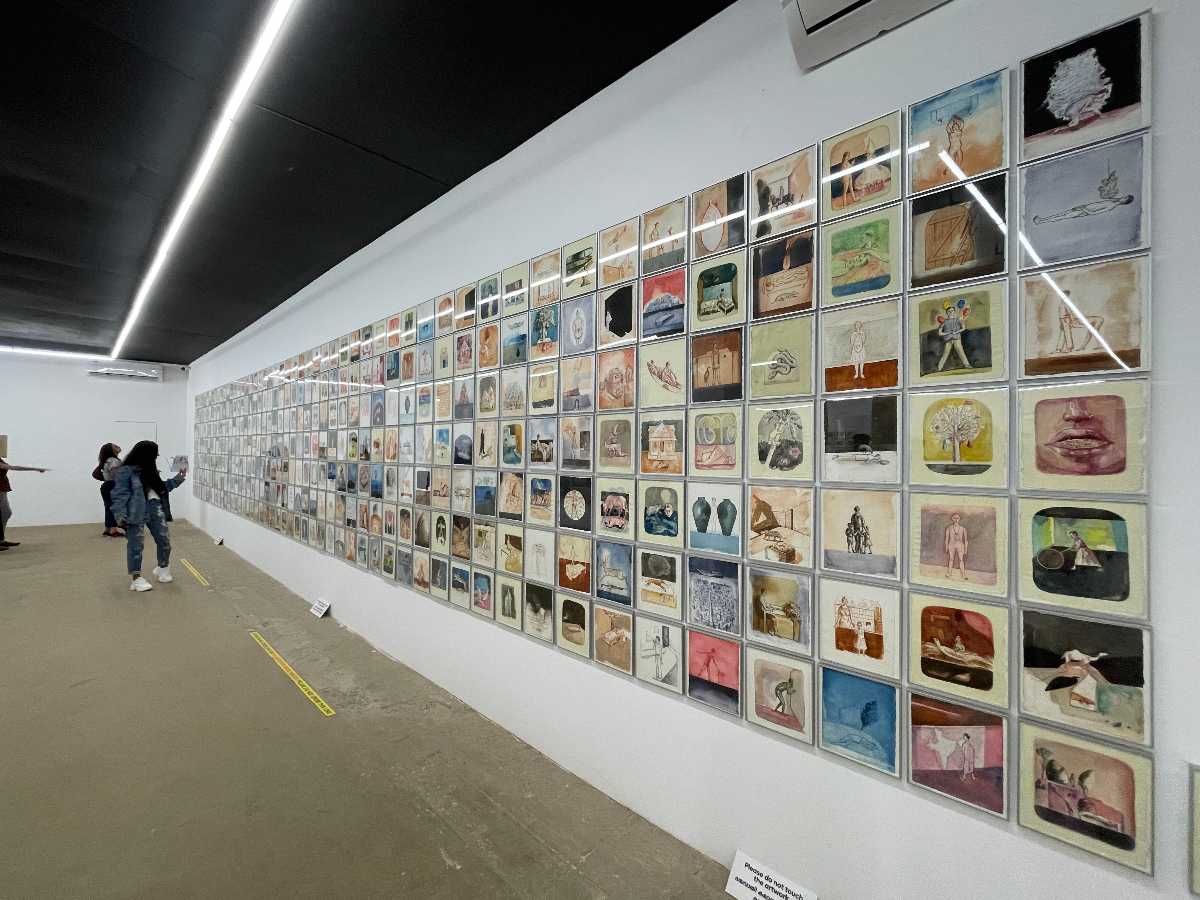 Lives and Works in Baroda

Vasudevan Akkitham
Lockdowns were implemented shortly after Vasudevan Akkitham was invited to participate in the Kochi-Muziris Biennale 2022-23 to combat the spread of the COVID-19 epidemic. Almanac of a Lost Year (2020-21) contains 365 miniature watercolours, one for each day of the following year. Akkitham would paint a concept or a picture that entered his mind each day and in a single session, much like a journal entry or an exercise. Painting became a way for him to reflect on the outside world, which he had suddenly lost access to, a place where his thoughts and visions, dreams, and news collided to create new realities and fiction.
Absences, both obvious and ridiculous, occupy the world Akkitham chronicles. A crow sits on a broken branch, a guy on a ladder repairs a chandelier, and a candle burns on a table with no people and no seats. Akkitham's sensitive, mystical watercolours merge the social and political with a highly intimate autobiographical urge. There is no way to tell the past from the present. They are spread across a wall, offering new connections and meanings across time and environments.
Akkitham's oil on canvas triptych is divided into three sections: departure, travel, and arrival. The Distance recounts the supposedly autobiographical journey of a young child from rural to metropolis, linking the personal with collective experiences. Akkitham's art is inspired by the narrative-figurative tradition of the Maharaja Sayajirao University of Baroda, where he studied and later taught. 'The presence of that which is unseen to the vision is as significant as what is painted,' the artist has remarked.
Displayed at: 📍Coir Godown, Aspinwall House, Fort KochiUntil 10th April 2023
'Geographies of Imagination: Language is my Bedouin Thief.'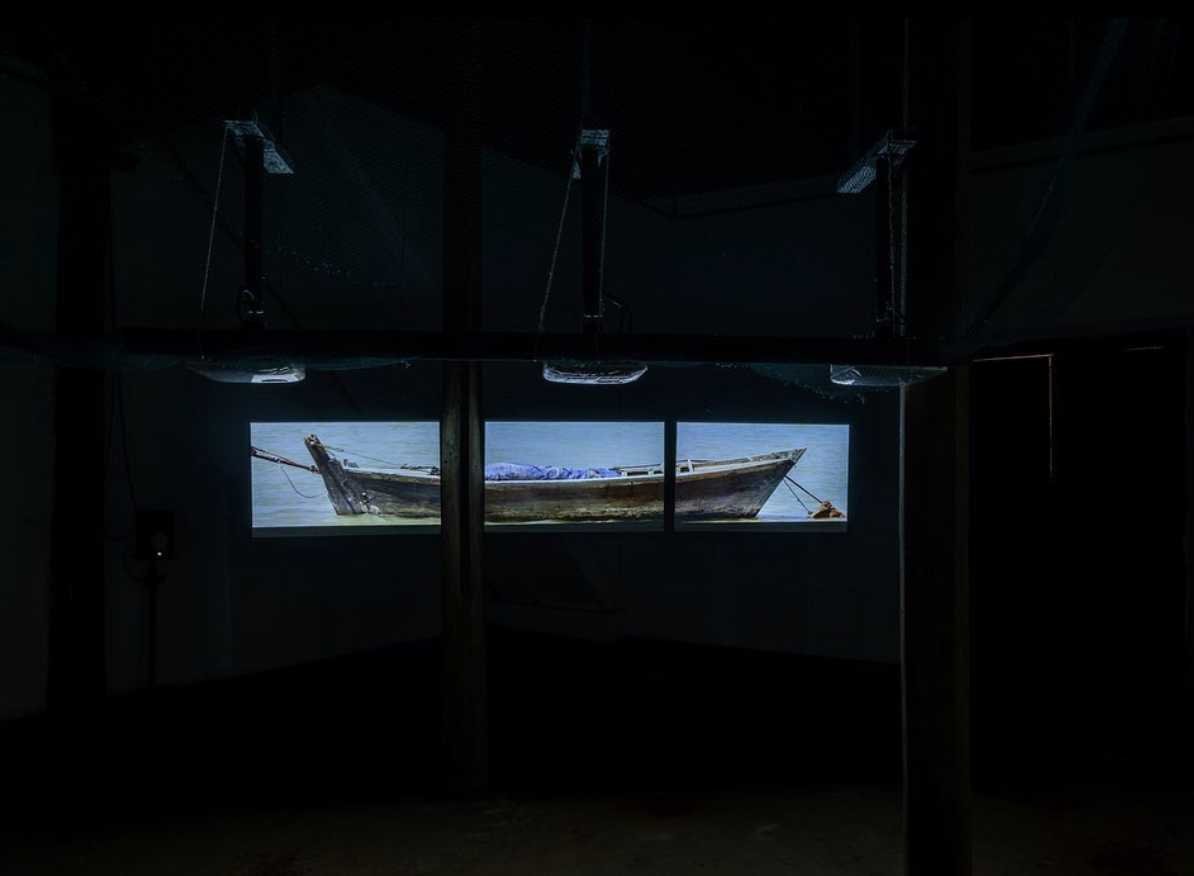 'The initiative seeks to rethink, restructure, and distort history in general, as well as cartographic histories in particular. Each iteration of Geographies of Imagination takes a new starting point and places itself within a distinct real or fictional territory.'
Featuring Fazal Rizvi, Samra Mansoor Gladys Kalchini, Yara Mekawei Hera Büyüktasclyan.
Displayed at: 📍Dutch Warehouse, Fort Kochi10 am - 7 pm; until 10th April 2022
Zhanna Kadyrova
Lives and works in Kyiv, Ukraine.
Palianytsia (2022)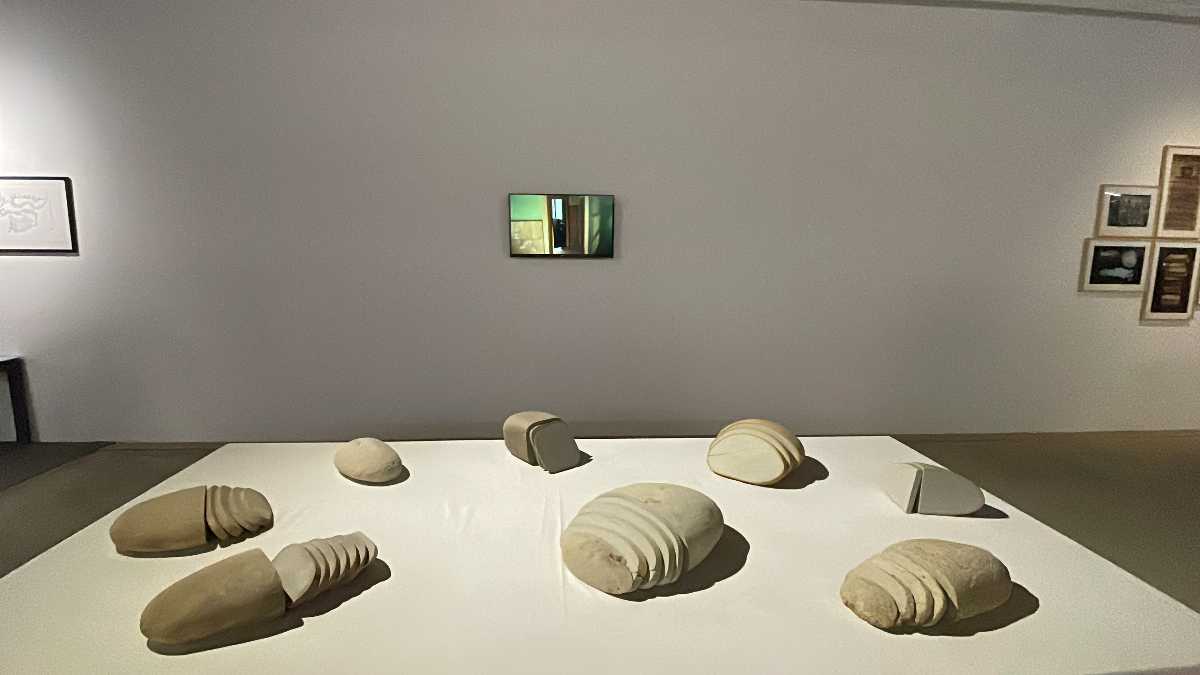 Jannkad frequently employs architectural debris and other found materials, especially from the Soviet era. She questions the history represented by such materials, as well as their toughness, by repurposing them into new shapes in order to provide new interpretations.
Following the commencement of conflict, Kadyrova, who was based in Kyiv before to Russia's 2022 invasion of Ukraine, fled to the Transcarpathian area in the country's west. She collected boulders cut round by the flow of the river on the outskirts of the town of Berezovo. Noticing the resemblance to the form of palianytsia, a circular Ukrainian bread, she slices the rocks and arranges them on a table, as if for a dinner or gathering.
While palianytsia symbolizes Ukrainian hospitality, hearth-baked bread became a tool of distinguishing aggressors during the invasion. The regional bread is pronounced very differently in Russian.
During this period, Kadyrova also drew landscape sketches of Kiev and Berezovo. Kadyrova continues to do these sketches from her window in Kochi. The seemingly relaxed and breezy views of the island are disrupted by the texts "attention beginning of air alarm" and "end of air alarm," suggesting to the abrupt onset of an emergency or an aggression and the ensuing disturbance of lives.
Displayed at:📍Aspinwall House, Fort Kochi.Until 10th April 2023
Zobop by Jim Lambie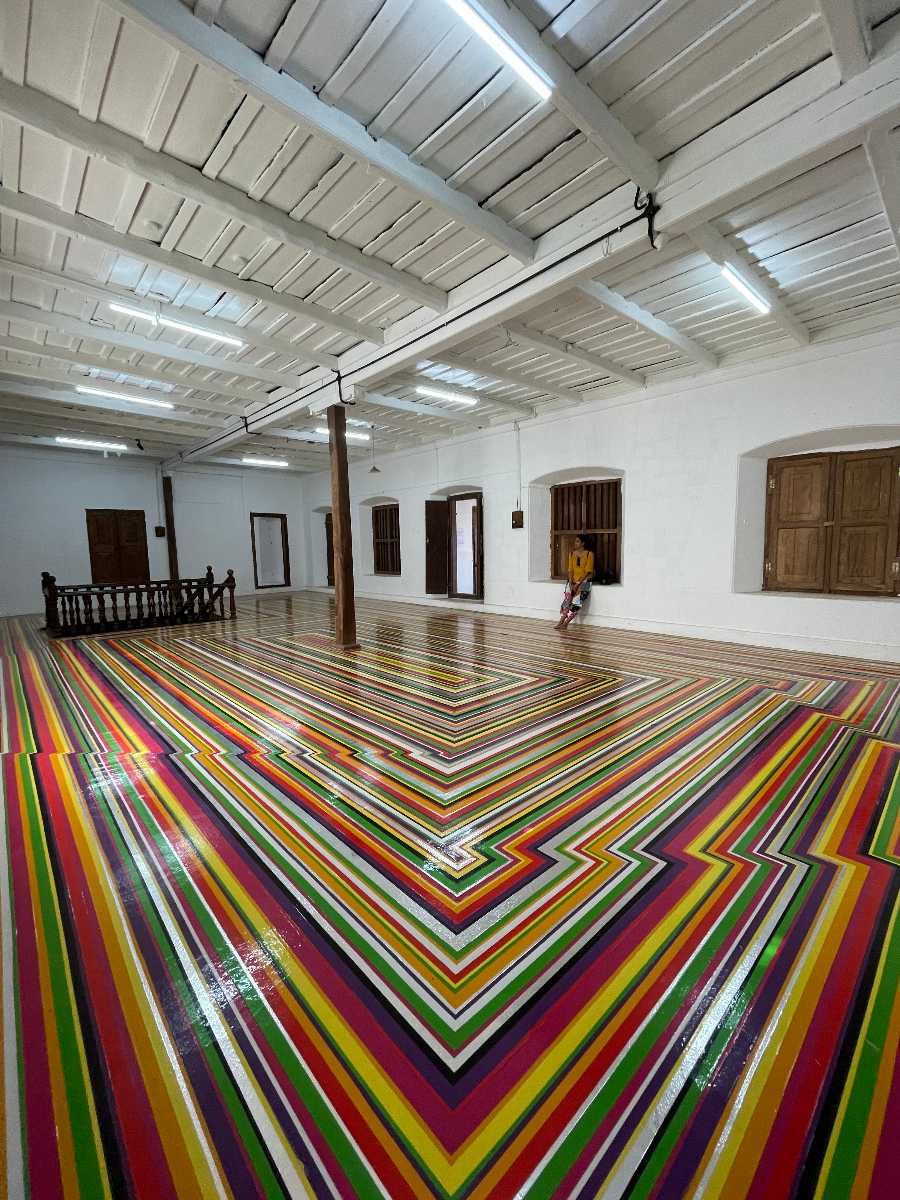 Jim Lambie's floor-based artwork, Zobop, has been a continuous series since 1999. Lambie's Zobop, like the beat of Bebop or Rebop, a 1940s jazz style, aesthetically generates a sense of unexpected progressions. The colourful vinyl strips cover walls, staircases, and floors fluidly, frequently taking on the contour of the room, and their size and brilliant colours entice spectators to move naturally with the stripes.
Displayed at:📍Dutch Warehouse10am to 7pm; until 10th April 2023
Glimpses of the past Kochi-Muziris Biennale

It all started back in 2012 as an initiative to create an international contemporary art festival in the state of Kerala. Now, three successful editions later, the project has gone from having 200,000 visitors in the first edition to over 600,000 visitors in the third edition in 2016. It has gotten art enthusiasts flocking from all over the globe to this gathering of the arts.
The 2018 edition was Set across
12 venues
across the island, with
76 artists
. The Kochi Muziris Biennale Foundation had also taken into account the tragic floods that hit the state of Kerala by doing its part for its welfare. They had initiated
Art Rises for Kerala (ARK)
, which auctioned artwork from 40 Indian and international artists on January 19, 2019, where all proceeds went to the
Chief Minister's Distress Relief Fund
.

With 'graffiti' or art from renowned street artists already splashed onto various structures of Kochi's streetscapes, the ghosts of the exhibition have already crept its way into the city.
With the final list of artists out, aspiring visitors get a gist of what to expect at the festival, one that hints at the widest variety of art and art styles one could possibly imagine in one little capsule of magic! The previous edition brought out some impactful work like the Sea of Pain, The Pyramid of Exiled Poets, River of Ideas, and many more. Here's a little flashback as to what went down at the last Biennale.

Sea of Pain by Raul Zurita is what one could call as a poetry installation. He told a story with his art, a story about two brothers amidst the Syrian refugee crisis. With the work on the lines of experiential art, visitors got to experience the heavy impact the artist was trying to portray by getting into the warehouse that was filled with feet deep water with his poetry written along with ceiling-high whiteboards.

River of Ideas by Chittrovanu Mazumdar
is a piece that puts into perspective the beauty of light. The artist takes into perspective the ghats of
Varanasi
at night, lit greatly by lamps that give a blanket of light and life to the banks of the river. This installation is another experiential art exhibit portrayed by a million bulbs burrowed in metal cones.

The Pyramid for Exiled Poets by Ales Steger
is a haunting representation of the lives and struggles of some of the most controversial poets of our time like Brecht, Alighieri and others. In a clay pyramid that represents the one at Giza, visitors walk into this structure blind due to the lack of light, with the voices of people reading various poems from these dead poets, all while desperately looking for a way out of the pyramid. The artist wanted to show people how these poets felt during their lives.
Things to Carry During the Exhibition
All-Access Ticket:This ticket is issued only at the Aspinwall House venue and is the one ticket that will give you access to all the other venues as well. At the Kochi Biennale keep this motto with you - keep your friends close but keep your Kochi Biennale ticket closer.
A Hat:The places are at walkable distances from each other, but these walks can be pretty exhausting with the scorching sun burning into your skull if you don't have a hat on. Don't let the heat get the best of you, stay cool with a hat. In Kochi, hats are always in trend.
A Bottle of Water: Although there are many restaurants and vendors selling water at every nook and corner, it does take a while for you to get out of each venue due to the exhibition's comprehensive nature. Stay hydrated and energised at all times by carrying a bottle of water.
Wear Lighter Clothes: Due to the humid conditions, wear lighter clothes for maximum comfort. This way, you won't need to keep going back to your accommodation to freshen up.
A Power Bank for your Gadgets:One doesn't simply visit all the venues at the Kochi Biennale in one cell phone battery capacity, in fact, it takes a few recharges, especially with all the pictures you'd be taking. With the extensiveness of the exhibition and venues spread across the entire island, stay prepared by carrying a fully charged power bank. Keep your gadgets charged and save time from those unnecessary trips back to the hotel.
About Fort Kochi

Fort Kochi is a peaceful seaside town in the south-western part of Kochi known for its old-world colonial charm. The place still holds every single cultural change it went through over the centuries. Although we see remnants of British rule all over the country, tourists flock here all year round to get the essence of the Portuguese and Dutch colonialism that affected this part of India. Enhance the Kochi Biennale experience by staying at a hostel or a homestay. It gives you 'room' to meet like-minded aficionados and explore different minds from different walks of life. Make a friend or two, who wouldn't want that.
After or before visiting the Kochi Biennale, you can visit other attractions in Fort Kochi, hit two birds with one stone when it comes to getting a full money's worth with your trip. Here are a few things you can do while you're here -
Fort Kochi Beach: A trip to Fort Kochi is incomplete if you haven't visited the beach. Just like any other beach, this one has its charms. From tourists to families, the crowd is bustling with positive energy. But the one thing that's sets this beach apart from the rest is the Chinese fishing nets.
St. Francis Church: Remembered as the original burial site of traveller and discoverer, Vasco Da Gama in 1524, the church holds a very significant name for the country's Portuguese history. Although his remains aren't here anymore since it was moved to Lisbon fourteen days after, it's involvement in history is what makes a visit to this church worthwhile.
Kerala Kathakali Centre: Since you're in Kerala for the art, might as well learn more about the state's traditional form of art, the Kathakali. Delve into a storytelling experience that has been moving people for over four centuries.
Go for a Walk: What better way to see a city than to walk around or ride a bicycle. The streetscapes of Fort Kochi are picturesque, with its cobblestoned roads and buildings of Dutch and Portuguese character, the culture clash of ambience and the locals, and more. Explore the nitty gritty details of Fort Kochi and see where your legs take you.
Cafe Hopping: After all the walking/cycling around, treat your taste buds as well as your eyes at the beautiful cafes. And they've got plenty of it too. So you can just spend one evening jumping cafes and eat to your heart's content with the city's delectable local cuisine and scintillating continental flavours.
Check out these Cafes in Kochi.
Dutch Spice Market: This market is located in Jew Town. Vasco Da Gama travelled across the globe to India for its spices. And this was the specific trade market. Give this market a visit and take home some spices some people would travel across the globe for.