Nightlife in Kochi is very limited as the recent government regulations have taken the already nascent nightlife here two steps backwards. Though most places are allowed to serve beer and wine, only hotels with 3-stars and above are permitted to serve hard liquor. If you are looking to shake a leg after drinking, we hate to break it you, but Kochi has no discotheques as the government has banned dance floors too (unless it is a private party and special adjustments are made). Moreover, nightlife in Kochi does not go beyond 11:00 PM, so dreams of dancing till the wee hours of the morning is almost utopian.
That said, Kochi knows to make the most of the situation and have quite a few happening lounges and resto-bars that illustrate exciting times for their customers with a combination of exotic drinks, palatable food, and groovy music. Below are 9 places you can get the party started and have an assured fun time:

1. Mezzo, Avenue Regent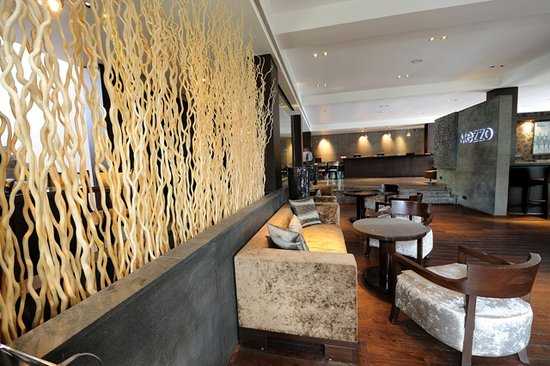 Situated in the heart of Ernakulam, Mezzo is one of the most popular resto-bars in town. It's chic, casual and almost always packed. The place has an extensive international selection of liquor and wine along with an exclusive cocktail list. The food too is par excellence. A delectable range of European and Oriental fusion alongside, local seafood delicacies, tapas touchings, and steaks are the perfect companion to your tipple. If you do visit Mezzo, pop by the cafe next door called Coco tree famous for its mouth-watering desserts.
Timing - 11:00 AM - 12:00 AM
Cost for two - INR 1500
Address - The Avenue Regent, Mahatma Gandhi Road, Pallimukku, Kochi
2. Sky Grill Lounge Bar & Restaurant, Crowne Plaza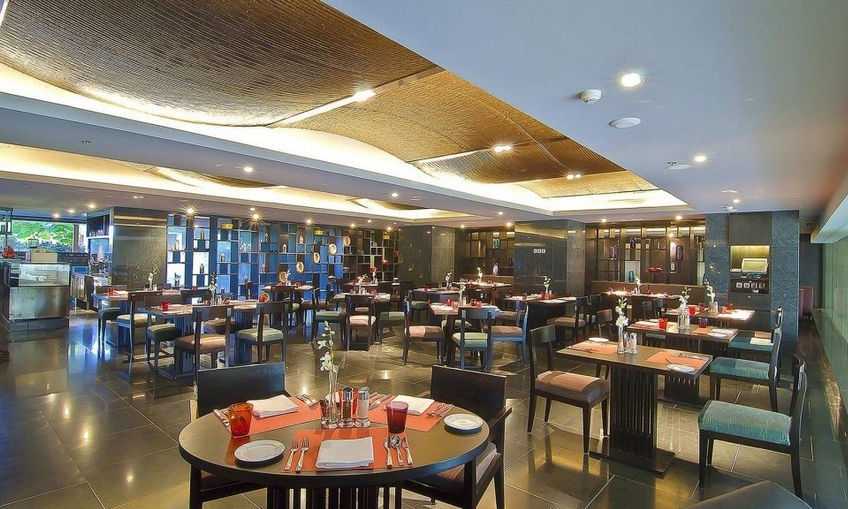 Sky Grill is a rooftop bar and offers panoramic views of the glistening backwaters with the Kochin Oil Refinery standing tall on the horizon. This may not be your ideal choice for dinner as their menu is skewed towards finger food that goes well with alcoholic beverages. They have both indoor and outdoor seating. That apart, there's no place better for nightlife in Kochi that allows you to savour the experience of dining under the stars at a sophisticated elevation.
Timing - 06:30 PM - 11:00 PM
Cost for two - INR1600. Before you head here, check if there is DJ playing as this will incur INR 2000 entry charges.
Address - 641A, Kundanoor Junction NH47 bypass Maradu, Ernakulam
3. Armoury Cafe, Brunton Inn Boatyard



Situated on the banks of the Boatyard, Armoury resto-bar is a part of a colonial Inn situated in Fort Kochi. A mix of Dutch and Portuguese architecture, this restaurant flaunts timber wood ceilings and white walls with vintage furniture giving a rustic aura to space. Do take note that this resto-bar serves only beer and wine. The food here makes up for the limited choice for alcoholic beverages. If you're lucky, there may be live performances which will liven up your night-out while indulging in the Kochi nightlife scene.
Timing - 7:30 PM - 11:30 PM
Cost for two - INR 2100
Address - Brunton Boatyard, 1/498, Calvathy Road, Fort Kochi, Kochi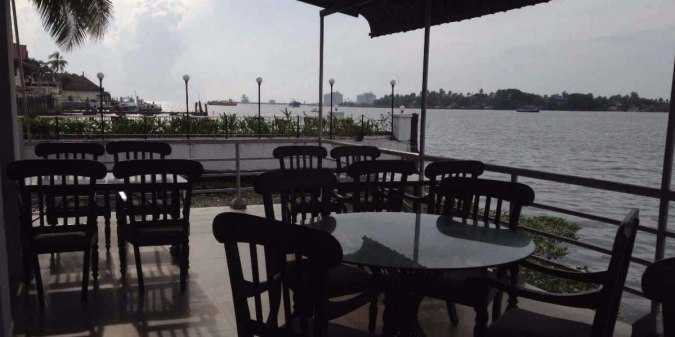 Seagull is another popular hangout in Fort Kochi where you see both foreigners and localities wining and dining by the sea with the famous 'beef olathiyadu' and affordably priced alcohol. Once again, Seagull serves only beer and wine. They have an indoor section as well as an outdoor section which overlooks the port and offers splendid views of ships and ferries shuttling by.
Timing - 10:00 AM - 11:30 PM
Cost for two - INR 800
Address - Hotel Seagull, Calvathy Road, Fort Kochi, Kochi
5. Swirl, Taj Gateway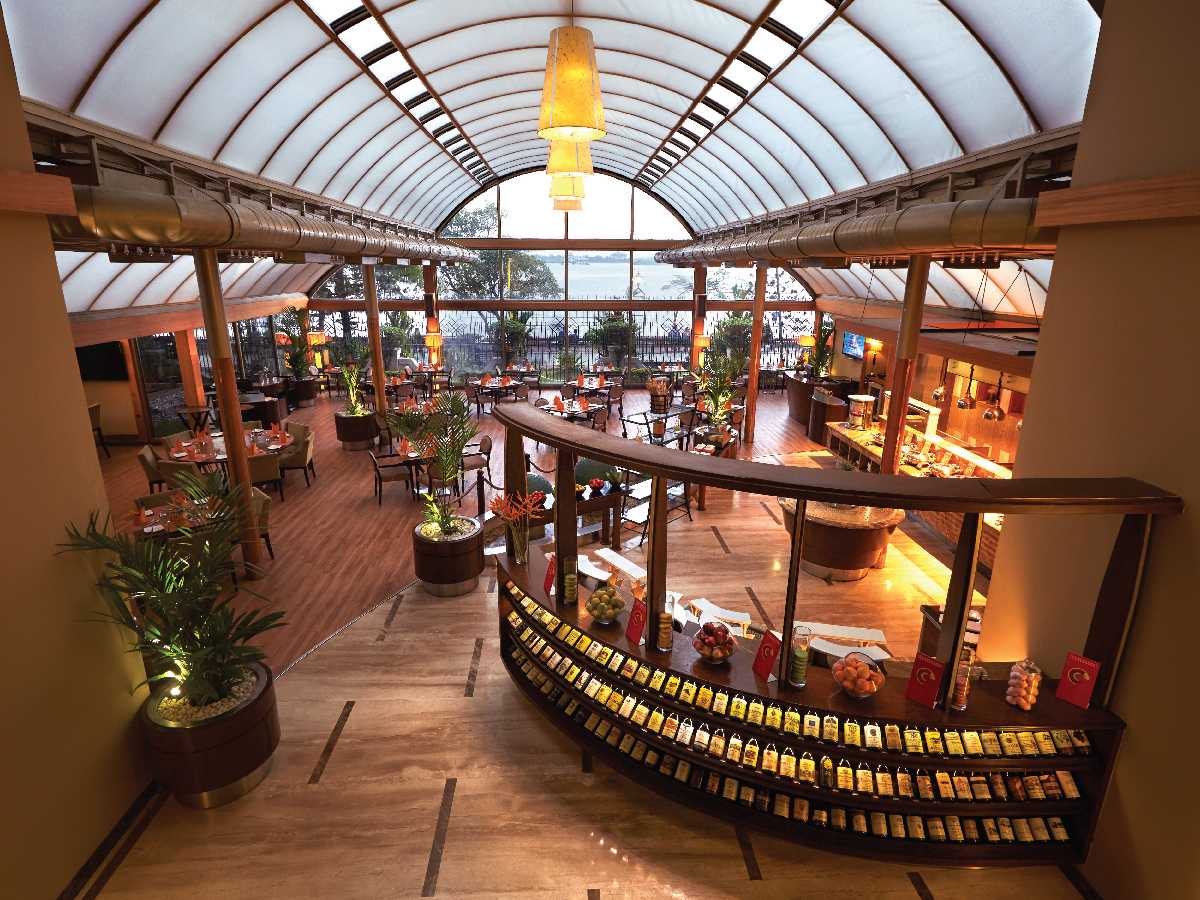 Swirl is a swanky lounge with music that will tempt you to get up and tap your feet, but for the lack of a dance floor, you may resort to chugging another drink. Especially since they offer a fine selection of contemporary and extravagant drinks like Whiskeys, Jamaican Rums, Martinis, Wines, Beers, and Cocktails. They also have their own signature line of drinks and a fine selection of liquors including aged malts and cognacs. The interiors scream elegance with plush furniture in tawny and pecan shades, soft lighting and tasteful modern art.
Timing - 11:00 AM - 11:00 PM
Cost for two - INR 2000
Address - The Gateway Hotel, Ernakulam, Marine Drive, Kochi
6. Mattancherry Bar, Vivanta by Taj - Malabar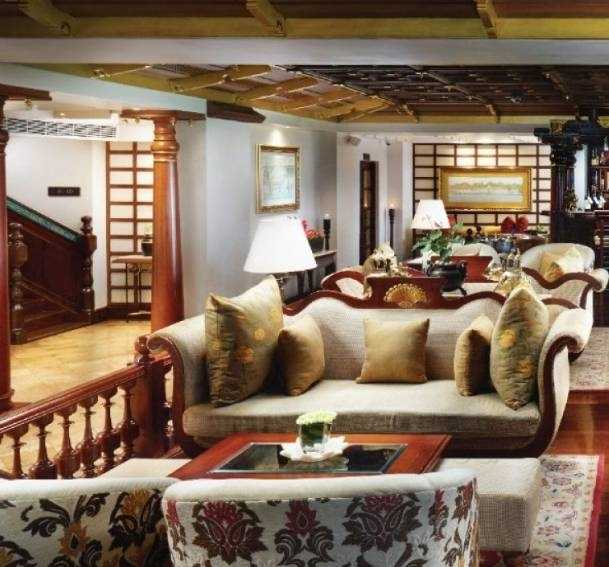 Yet again another gem in Fort Kochi, this lodge-themed bar sits at a vantage point with a breath-taking view of the Cochin Harbour. Cocooned in old-world charm, this place is quite the delight for a sundowner drink as the pinkish-orange sun casting a hue over the water is sheer beauty. This eclectic ambience teamed with their selection of alcoholic beverages and finger food assures a swell time. There's always live music. Unlike other pubs/resto-bars in Kerala, Mattancherry Bar is strict about the age limit for alcohol consumption and allows only those above 21 with valid identity proof.
Timing - 11:00 AM - 12:00 AM
Cost for two - INR 2000
Address - Vivanta by Taj - Malabar, Willingdon Island, Kochi
7. Ava Lounge, Radisson Blue

A vibrant lounge with talented bartenders is as close as it gets to a clubbing atmosphere in Kochi. Though there is no official dance floor, the underground dub music works up the vibe and has people grooving in no time. They have live musicians drumming even better music on Saturdays and Sundays making it all the more popular. Though you may not see much of a young crowd here, they have a decent selection of alcohol and is priced on par with other pubs around and is one of the more relaxed places to enjoy the Kochi nightlife.
Timing - 11:00 AM - 12:00 PM
Cost for two - INR 2500
Address - Radisson Blu Kochi, Sahodaran Ayyappan Road, Elamkulam Junction, Elamkulam, Kochi
8. Longitude 76, Le Méridien Kochi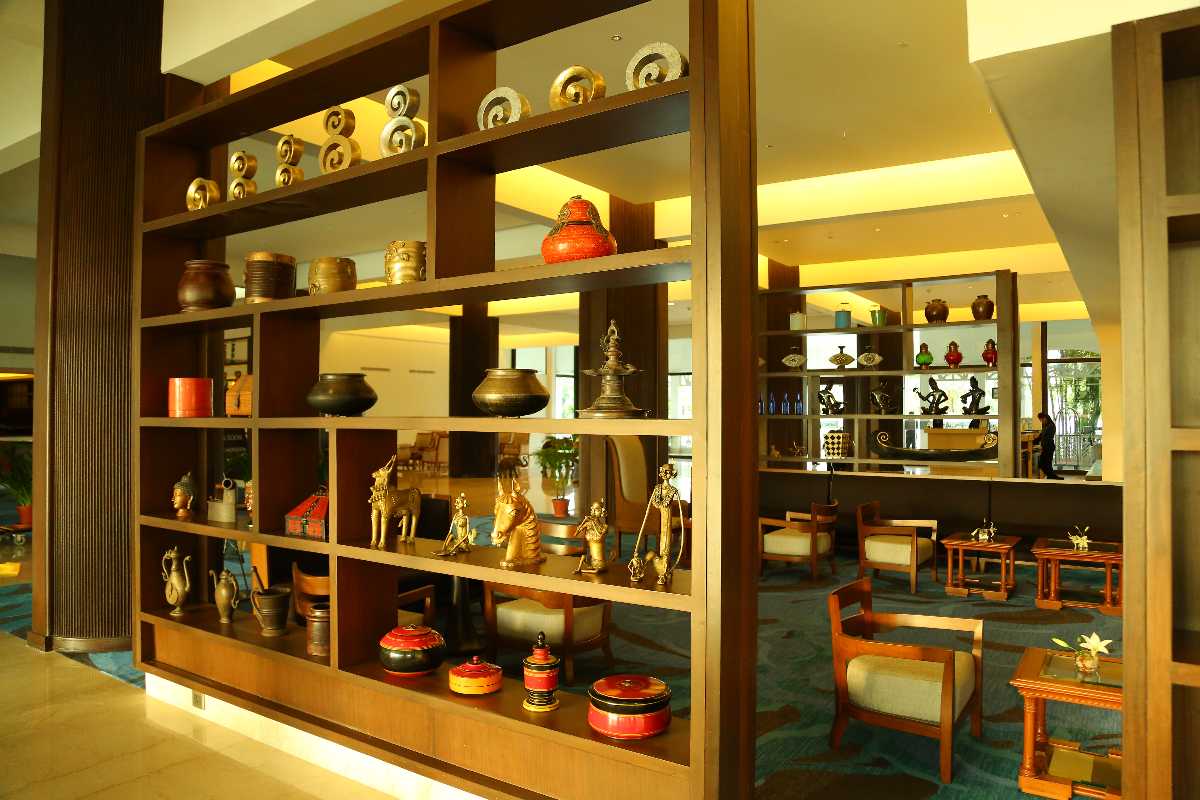 A posh setting with blue carpets and plush sofas, Longitude 76 lives up to the Le Meridien standards with copious alcohol varieties and a menu that handcrafts dish as per your liking. Their Happy Hours pan from 16:00 - 21:00 alongside occasional promotional offers on Sangrias, Beers etc. They also have a pool facing Longitude extension which is highly recommended during the evening hours. Longitude 76 has a certain opulence to it which makes it a favourable choice to dine and wine with your peers and family.
Timing - 10:00 AM - 11:00 PM
Cost for two - INR 2000
Address - Le Méridien Kochi, Marad, Kochi
9. Colony Clubhouse & Grill

This rooftop bar at Grand Hyatt Kochi is a new addition to the Kochi's nightlife scene. This luxurious bar offers an expansive menu that includes cocktails, mocktails seafood, barbecue and even amazing vegetarian delicacies. The best part about the place is the spectacular view of the backwaters of Kochi from the rooftop!
Timing - 6:30 PM - 11:00 PM
Cost for two - INR 3500
Address - Grand Hyatt Kochi
Dress Code Tip:
Smart Casuals are a norm in all the above venues for nightlife in Kochi.
Though nightlife in Kochi may not be your ideal spot, suit up or put on some shimmer, grab your crew and head out to experience nightlife, the Kochi way. You will take a liking to it much to your surprise and perhaps go back for more!