Gaurav Siddharth, a 25-year-old from Lucknow, is the recipient of the Guinness World Record for completing the 'Longest Motorcycle Journey In A Single Country'. He carried out his journey on a Hero Impulse Bike which he named Bawri 2.0 and became the record holder. The trip took approximately one year and nine months from 17th September 2015 to 23rd May 2017. The record itself took another nine months to be verified. It officially got approved on the 25th of February in 2018.
Gaurav covered 1,22,000 kilometres in total during his trip. But only 1,15,093 kilometres officially were approved by the Guinness World Record officials. The officials said the remaining kilometres were repeated and were not taken into consideration.
Danell Lynn from America held the previous record for the 'Longest Motorcycle Journey In A Single Country'. He covered 78,000 kilometres across the United States of America. However, compared to that, Gaurav travelled a distance that is almost three times the earth's circumference.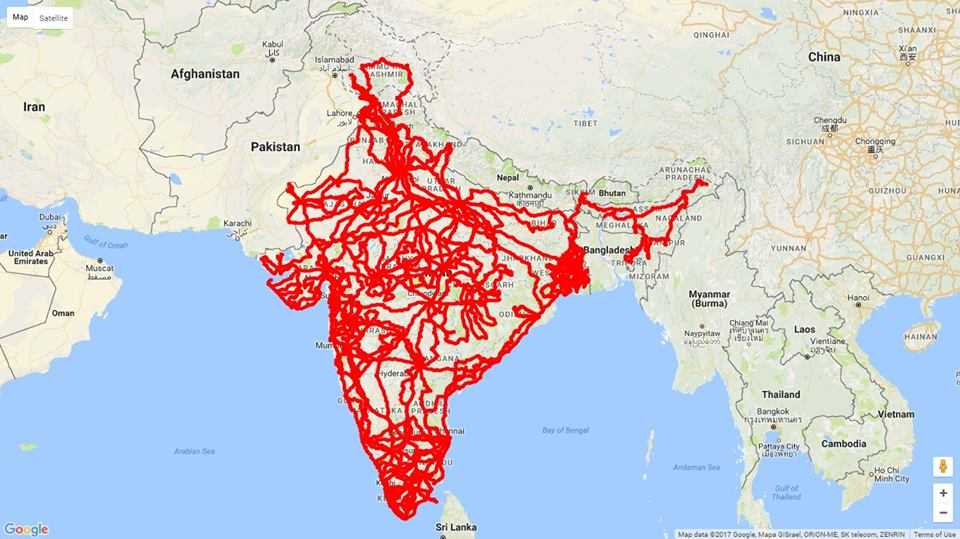 He was able to cover 29 states, more than 450 major cities, and five union territories in the span of his journey across India. He missed out on visiting the Lakshadweep and Andaman and the Nicobar Islands as he had strict instructions of not travelling off the mainland.
Practice and Preparation
To prepare for his journey, Gaurav would travel 200-500 kilometres, 7-8 hours every day to practice his pace while riding. He would travel at speeds ranging between 50-70 kilometres per hour. Gaurav ensured to take short videos every other hour, maintained logs, gathered statements from various people, and also saved all the bills or receipts of the expenses incurred during the journey. According to Guinness' rules, He couldn't stay at one place for more than two days.
During his trip, Gaurav met a lot of celebrities and high-end dignitaries such as Kiran Bedi, Sourav Ganguly, Anna Hazare, Sri Ravishankar, PT Usha, Ratan Tata, Arvind Kejriwal, Sadhguru Jaggi Vasudev, Irom Sharmila, Anandiben Patel and so many more. His journey started with blessings from Swami Ramdev as he flagged the start of the trip.
Meaning Behind The Journey
This journey was not just an attempt at a world record but also Gaurav's way of spreading the 'Swadeshi' or 'Made In India' message. Apart from that, he made sure to spread awareness about various topics such as blood donation and issues like safety on highways, fraud at petrol pumps and more.
The Choice of Transport
Gaurav had the opportunity to choose from two brands: the Hero Impulse and the Bajaj Avenger. While considering which bike to choose from, he had to think about all the aspects, and it came down to getting a bike that has high mileage for the long journey. After doing research, he found that Hero Impulse delivers the best mileage along with high-ground clearance at a low cost. Hero MotoCorp has service centres all over India that ensured his bike was well maintained. He didn't make any modifications to his bike and used only the Hero Genuine Engine Oil to keep his engine protected. 
Memories in the Making 
For Gaurav, there was a lot to learn and discover from his trip. He met a lot of people from various walks of life, got to see and experience different cultures while enjoying the scenic beauty that India offers.
But trips are incomplete without troubles and challenges. Gaurav fell while trying to cross the rough Brahmaputra River. He was caught in Poonch (Jammu and Kashmir) by the CBI and IB. Furthermore, he was also detained in Rajasthan by the Border Police. The Police of Maharashtra even chased and assaulted Gaurav. Apart from that, he was also searched for bomb threats.
But Gaurav didn't let these experiences get him down. He says that he always looked at the other side and the positive experiences influenced and encouraged him more. Such positivity was possible due to his interaction with people on the trip including some top influencers of India.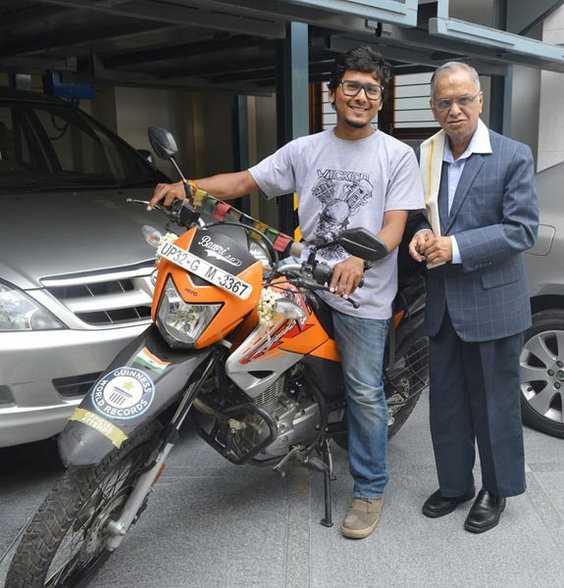 Gaurav's journey was nothing short of a feat and what we take away from his mission is a lot of courage and commitment. He self-financed his entire journey despite having many offers for financial support. Narayana Murthy, the founder of Infosys, even offered to sponsor his trip but Gaurav wanted to explore and learn how to survive with the limited means in hand. All without any kind of commercial backing to influence him.
Gaurav and his journey inspire us to think about where we want to go in life, what we wish to achieve, and we're sure his story will inspire many. What is your take on this exhilarating odyssey? Let us know in the comments below.