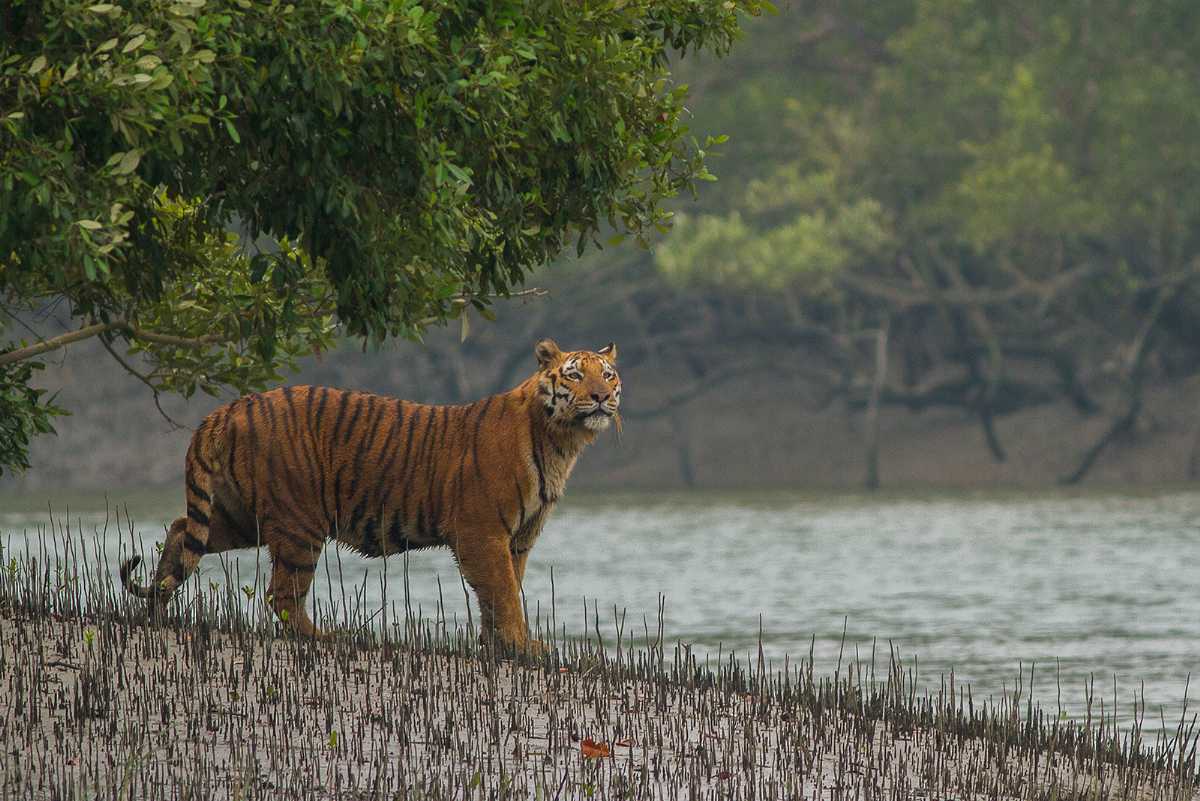 Being in the midst of large water bodies means Sundarban can offer you the cruising experience of a lifetime where with just a little luck, you can experience the Royal Bengal tiger swimming alongside your cruise boat. Both government and private cruising tours are available here, ranging from budget to luxury options.
Boat Safari
The government operated boat safaris are available in large and small sizes, large ones for longer durations and small ones for smaller durations. They are available in AC as well as Non-AC. The boat safari can be booked for one day and even for longer time periods 0f one week.
Timings

It starts at 08:30 AM and ends at 04:00 PM. Boats are not allowed inside after 06:30 PM. Both AC and Non-AC boats a
Cruise
The 2 Night cruise operated by the West Bengal government takes you to Sudhanyakhali, Sajnekhali, Jhingakhali, and Dobanki watchtower. There is also a less expensive 1 Night tour which excludes a visit to the Jhingakhali tower. The tour is conducted in two boats, Chitralekha and Sarbajaya. The latter one is said to be the better option out of the two. The tours are conducted with a group of up to 50 people.
So, expect a large crowd and fewer chances of sighting wildlife as the boats can only pass through wide waterways because of their large size.
Timings
A 2N/3D tour will start from Kolkata at 08:00 in the morning from Kolkata and end on Day 3 at 05:30 PM, also in Kolkata.
Booking and Cost
You can book online on the website of West Bengal tourism. The cost depends on the part of the ship you book. An all-inclusive package starts from INR 4,840 for lower deck, INR 6,050 for Non-AC birth, INR 7,700 for AC birth, INR 6,600 for Cabin and INR 14,850 (2 PAX) for a couple.
Private Cruise Tours
Private cruise tours are also available, ranging from 2N/3D budget tours to 6N/7D luxury tours. The cost also varies with the type of amenities, facilities, and the requirements of the guest. Sundarban Chalo, Vivada Sundarban, Sundarban Houseboat, Help Tourism Sundarbans Jungle Camp, and Tour De Sundarban are some popular options with the tourists.
Timings

All cruise tours usually start at 8:00 in the morning and end around 5:00-5:30 in the evening.
Cost

The price can be as low as INR 2,000 per person and as high as INR 50,000 per person.
Private Boats
Privately run boat rentals are also an option if you want to explore the river waters for only a day.
Timings:
Starts at 8:00 in the morning and end around 5:00-5:30 in the evening.

Cost

All inclusive food charges start from INR 950 per person, and overnight stay is charged extra at INR 600 per person. Expenses for the motorboat, forest entry fee, and video camera fee are over and above the food and overnight stay charges and have to be paid by the tourist to the forest department directly.