Cheung Po Tsai Cave:
Cheung Chau happens to have its very own history of pirates and caves. The southwest corner of Cheung Chaus beholds the Cheung Po Tsai Cave. The cave's trail provides an exhilarating adventure which is to everyone's taste and definitely requires a visit.
Kwan Kung Pavilion temple:
Kwan Kung is a temple built in 1973 as a tribute to the Han dynasty. Inside the temple lies an 8 feet tall statue of King Kwan Kung, who is deified in the Chinese culture. The temple has a very peaceful atmosphere with an awe-striking sight of cherry blossoms making it a great location for Instagram photoshoots.
North Lookout Pavilion:
This pavilion is the highest vantage point in Cheung Chau which overlooks the beautiful glistening view of the South China Sea. This spot is also popular for viewing sunsets.
Pak Tai Temple:
This temple was built about 200 years ago in honour of Pak Tai, the Taoist Sea God. The iconic feature of this temple is the gold plated furniture as well as a souvenir sword of the Song Dynasty.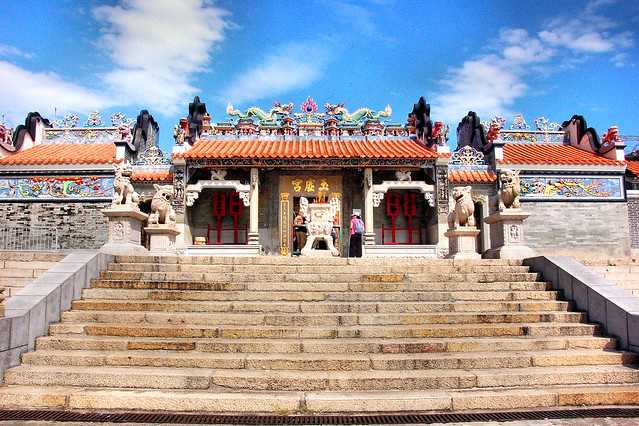 Reclining Rocks:
The reclining rocks are a cluster of 5 giant rocks along the Western coastline of Cheung Chau which provide the visitors with a perfect spot for a lazy afternoon. Its fabulous view and the sea breeze makes it an ideal picnic spot.
Tin Hau Temple:
This temple was built in honour of the God of Sea, Tin Hau, about 200 years ago. The temple houses a bronze bell from the Qianlong era and is one amongst the 70 temples dedicated to Tin Hau in Hong Kong.
Tung Wan and Kwun Yam Beach:
These two beaches in Cheung Chau have gathered a reputation as surfing spots. Apart from the magnificent view, the high tides on these beaches make them ideal for water sports. Lee Lai-Shan, a Hong Kong Olympic surfer once used to train on these beaches which adds to their legend.