1. Bhagandeshwara Temple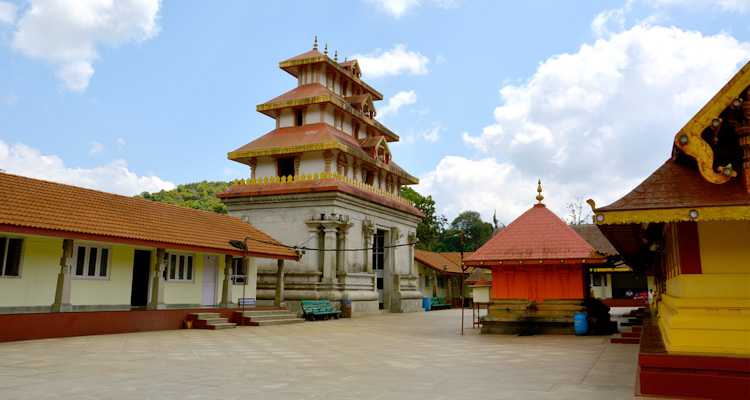 Resting at an elevation of about 898 meters, the Bhagamandala accommodates the Sri Bhagandeshwara Temple, a divinely famous tourist attraction. Although primarily a Lord Shiva temple, it also contains idols of Lord Subramanyam and Lord Ganesha. Other than being a beautifully built temple in an astounding backdrop, it is host to hundreds to pilgrims and devotees that not only come here to seek the blessings of the lord but also to connect with him spiritually. Praying at this temple brims you with the divinity of God and the much-needed peace and calm lost in our day to day lives.
2. Mount Thavoor
Overlooking Bhagamandala and Mt.Koppatti, Mt.Thavoor is a towering peak overlooking both of them. Bhagamandala and Mt.Koppatti are fantastic trekking routes for anyone wishing for a little bit of adventure and some breathtaking sightings.
3. Talakaveri Wildlife Sanctuary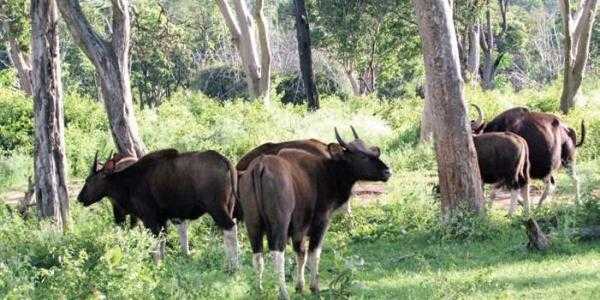 Lying amidst the magnificence of the Western Ghats, the Talakaveri Wildlife Sanctuary is a lush tropical evergreen forest that is home to many diverse species of birds and animals. The Kaveri River flows through the eastern edge of the sanctuary and sustains the wildlife of the forest. A safari through the raw forest, to witness its majestic inhabitants in the nurture and caress of Mother Nature is truly an experience of a lifetime.
4. Nisargadharma Island
This is an ecological park which is a popular holiday destination for all nature lovers and is sure to give you a much-needed break from the honking cars, blaring alarms and the incessant chatter of the cities. It is equipped with a deer park, a lake for boating, provisions for elephant rides and a small snack shack. You need to pass a small bridge over the joyfully flowing River Kaveri to enter this island, and it can be best enjoyed just post monsoon; when the entire island is brimming with lush greens.