1. Wat Suthat Thep Warram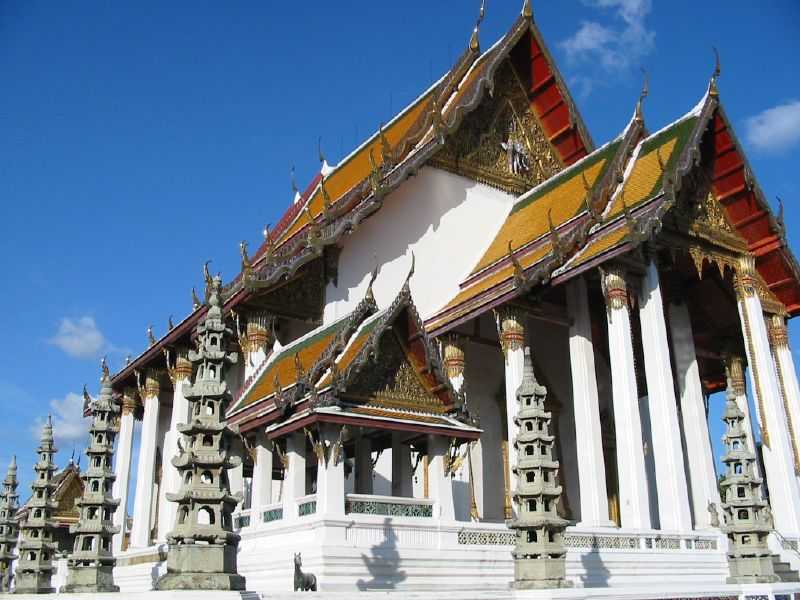 As, the Giant Swing, guards the Wat Suthat Thep Warram also known as Wat Suthat, this is the first attraction in the Giant Swing vicinity. Approximately a 13th-century chapel established by King Rama I, Wat Suthat houses a massive bronze Buddha relic in a highly defined set up of wall murals and hand-carved teakwood door panels.
2. Sarn Choa Po Seu
A blend of Thai and Chinese religious significance, Sarn Choa Po Seu, also known as the Tiger God Shrine is yet another ancient Thai temple. Devotees visit the shrine on Chinese New Year's day to pay homage to the Chinese deity, Tua Lao Aie, who is believed to bring good fortune and prosperity.
3. Lan Kon Mueng
Also known as Bangkok People's Square, the Lan Kon Mueng is situated opposite to the city hall. It is an exclusive recreational site where locals bring their pets, go for walks, exercise, meditate and relax.
4. Devasathan
Formerly established to host religious ceremonies in the 16th century by King Rama I, Devasathan Shrine is a significant ancient Brahmin temple. Shiva sanctuary, Narayana sanctuary and Ganesha sanctuary are the three vital sections of the Devasathan Shrine.