The Middle East is famous for its boiling hot summers and the people who live and work here have only a few limited options to escape the sweltering heat. One of these options is the Wild Wadi Water Park. One of the premier water parks of the Emirate, Wild Wadi boasts innovative rides for all ages and provides a unique experience for the people. Located in front of the iconic Burj Al Arab, Wild Wadi Water Park is themed around Juha, the character from the very popular folktale Arabian nights.
Location
The Wild Wadi Water Park is situated in front of the third tallest hotel in the world, Burj Al Arab and the Jumeirah hotels, the rides in the water park provide stunning views of the hotels, the sea, and the entire city. It is located on Jumeira Road, Umm Suqeim 3 -
Dubai
, which is very much located in the middle of the city so getting here isn't a problem. But it isn't accessible from the public transportation except for the taxis.
Waterpark Theme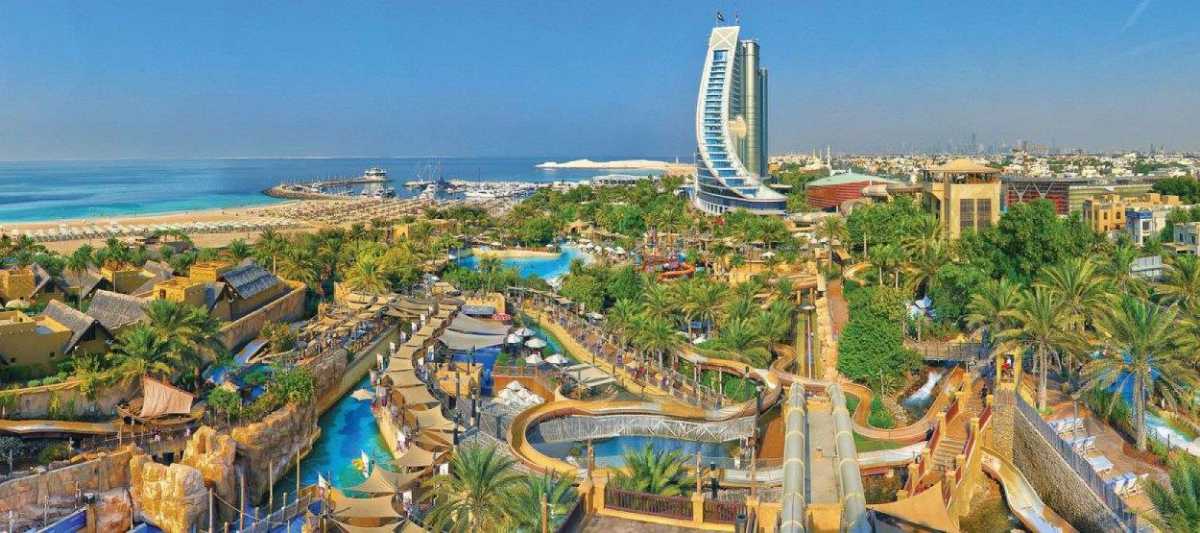 Timings of Wild Wadi Water Park
Timings change every month, but broadly, the park is open from 10:00 AM- 7:00 PM. Timings during the holy month of Ramadan change and is closed on Fridays during Ramadan. However, on regular Fridays, the park is open from 10:00 - 22:00. Thursdays have a slightly shorter duration from 10:00 AM - 6:00 PM but Thursdays also host 'Ladies Night' and are called as 'Women's Wadi' which is from 10:00 PM -12:00 AM.
Rides in Wild Wadi Water Park
The park offers some amazing rides that give a sensational experience.  It has a total of 3 pools, 30 rides, and attractions for the whole family to enjoy. Some of the most exhilarating rides are as follows:
Jumeirah Sceirah
This ride is one of the main reason many get lured to Wild Wadi. This is the tallest, fastest free-fall slide outside the Americas. One climbs the 32m tall tower and can breathe in spectacular views of the Burj and the serene beach and at the top two capsules await your arrival at the top. Now imagine the platform you get on, suddenly slips, and the gravity takes control and lets you experience a whirlwind ride. Surreal isn't it? Well, surreal is exactly what you get when you go down at the speed of 80km/h of the 120m tall slide!
Master Blaster
This is one of the fastest 'aquatic roller coaster', which is a fancier version of saying jets-aquatic roller coasters. The excitement only gets better with Master Blaster that throws you 15m high up in the air. You can choose your very own favourite from a variety of master blasters like Falaj Fury, Jebel Lookout, Falcon Fury, Wadi Basher amongst many others.  
Burj Surj
Is one of the thriller rides here comprising of two large spiralling downhill water slides with a looming bowl, and ends with you being splashed in a mini pool exclusive for this slide.
Tantrum Alley
Tantrum Alley comprises of waterslides and tornadoes. The downhill waterslide leads you into the first tornado where you go forward and backwards several times and then spin in circles after which you get into the next two tornados and finally fall into the pool.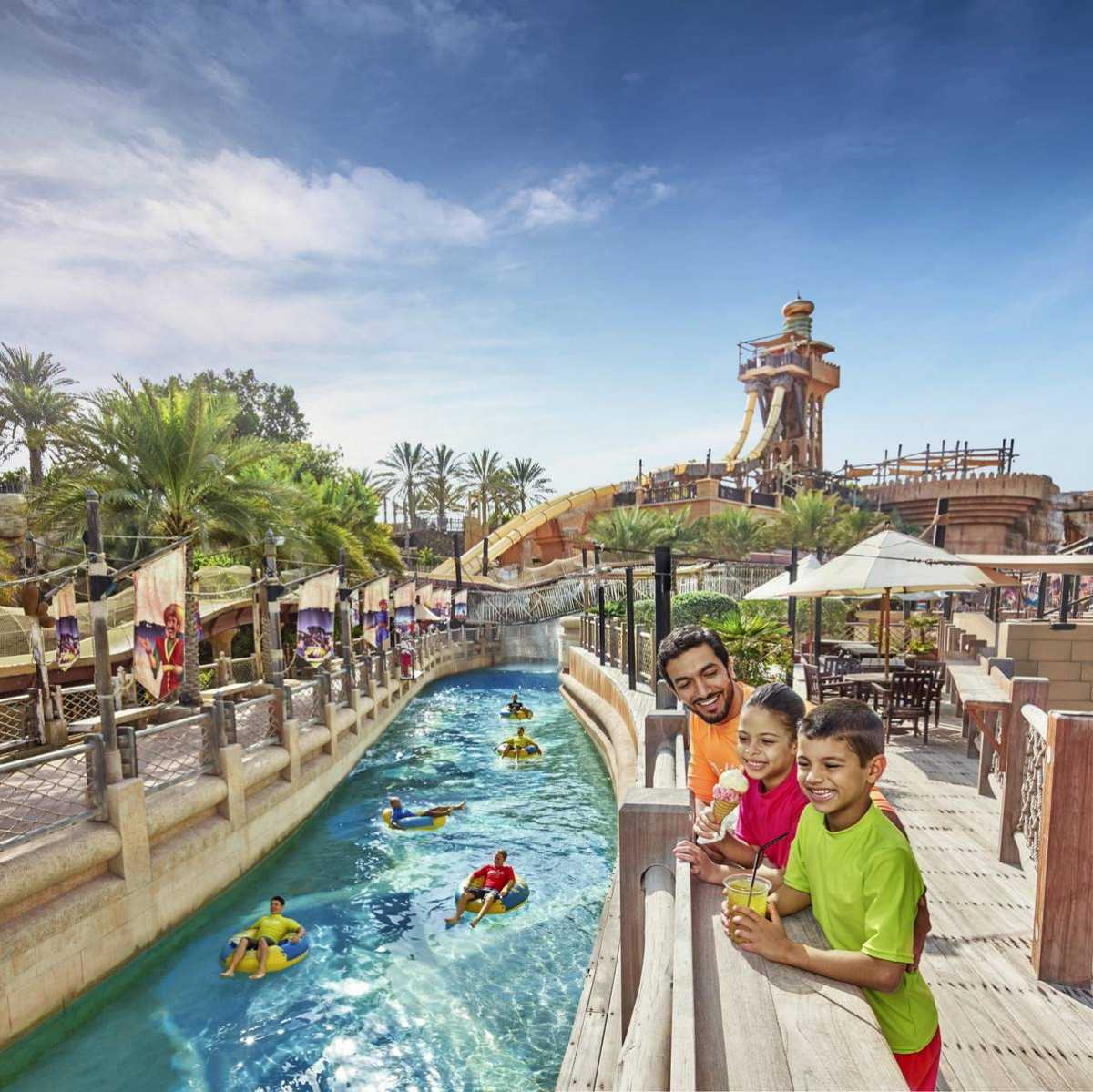 Juha's Dhow and Lagoon
Juha's Dhow and Lagoon is one of the highlights for the kids and the families with the tiny tots. It is a family interactive water-play structure. It is large colourful and vibrant area which beams with tonnes of kids activities, water guns, racing slides, there are even a few slides for babies, and a huge dumping bucket which tumbles water down every two minutes, making you laugh along with your child with glee.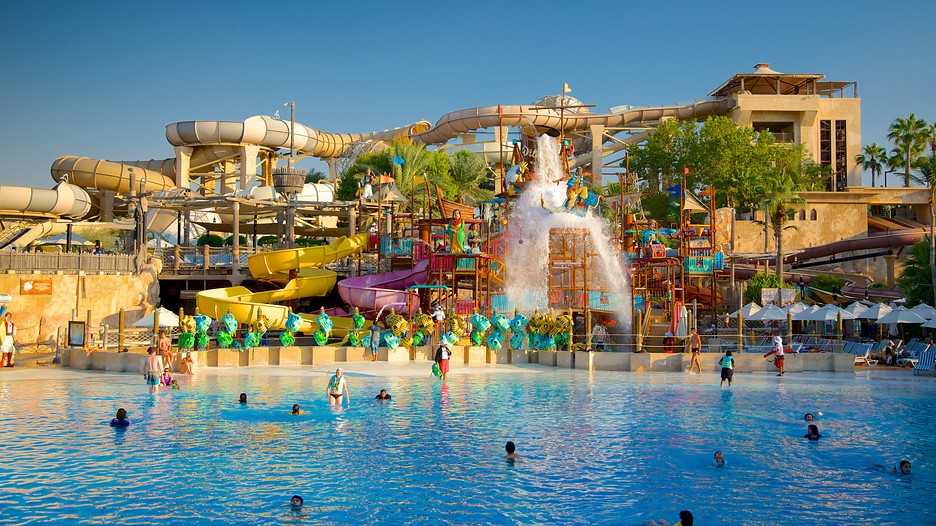 The Surfing Experience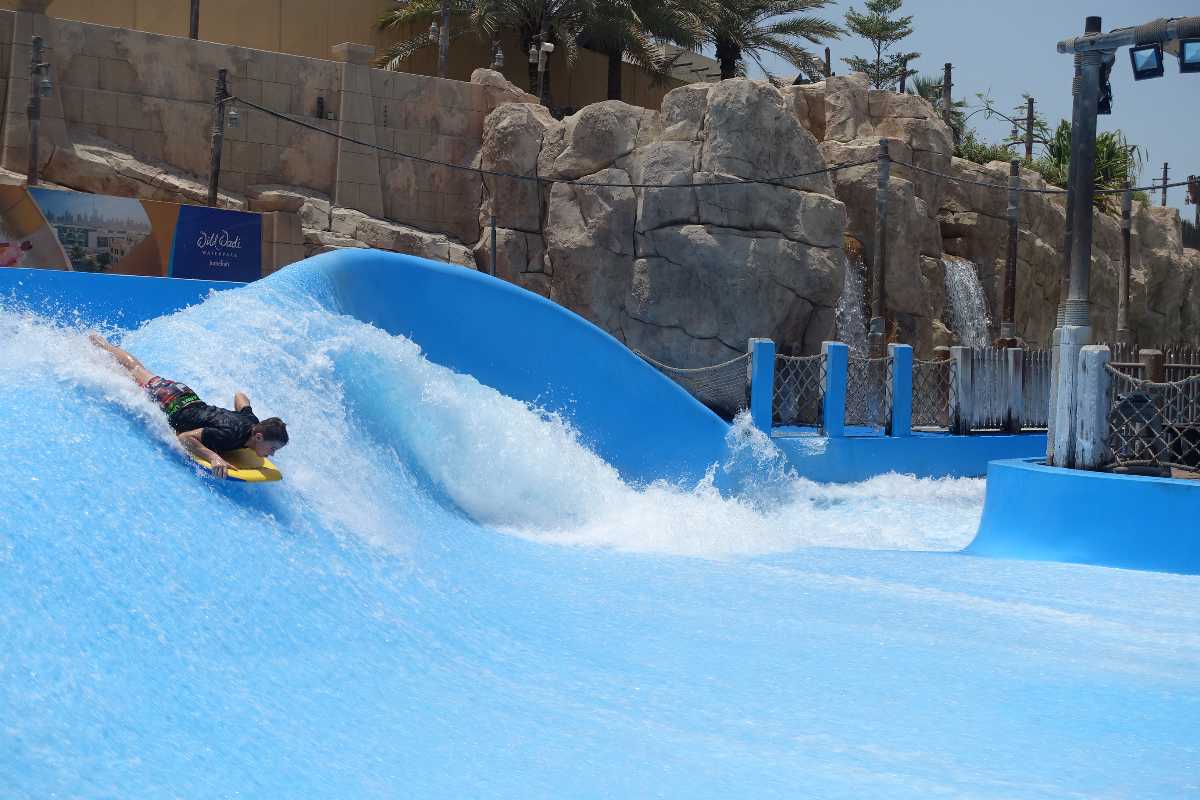 Wild Wadi Water Park Ticket Price
The rates are priced according to one's height. People taller than 1.1m have to pay
AED 310
(approximately INR 5,500), and people below 1.1m have to pay
AED 260
(Approximately INR 4,500). For the UAE residents, the pricing tends to be lower. You can book from their official site to save
AED 40.
Children aged two years and under are allowed in for free, provided you have a valid ID. If you are a guest staying at one of the Jumeirah Hotels, then your entry is complimentary!
Lockers here come in all sizes and are available in the range of
AED 45-85
. Towels are also rented here for the price of
AED 40
. 
Best Time to Visit
Considering the extreme temperature of Dubai and the water park being completely outdoor it is a good idea to visit the place anytime between November and March.
Swimwear Availability
Appropriate swimwear is supposed to be worn at all the times while in the waterpark. 
What to Not Wear in Wild Wadi
Certain swimwear is deemed inappropriate and is not allowed inside the Water Park:
Transparent bathing suits
Underwear
Long flowing dresses and street clothes
Shorts with protruding accessories on the back like rivets, wetsuits
Long jewellery
The swimsuit shouldn't have any metal buckles, zippers, buttons or snaps that could potentially damage the slides or hurt the fellow swimmers.
Regular diapers are not allowed for kids and special swim diapers are to be bought from the gift shop in the park
Spectacles (Sunglasses or eyeglasses) are not allowed while using the rides. As an alternative, lanyards can be bought from their store for (AED 5)
Burkinis
(Special swimwear with hijab for Muslim Women) is available in their retail stores and is allowed inside the Wild Wadi Water Park.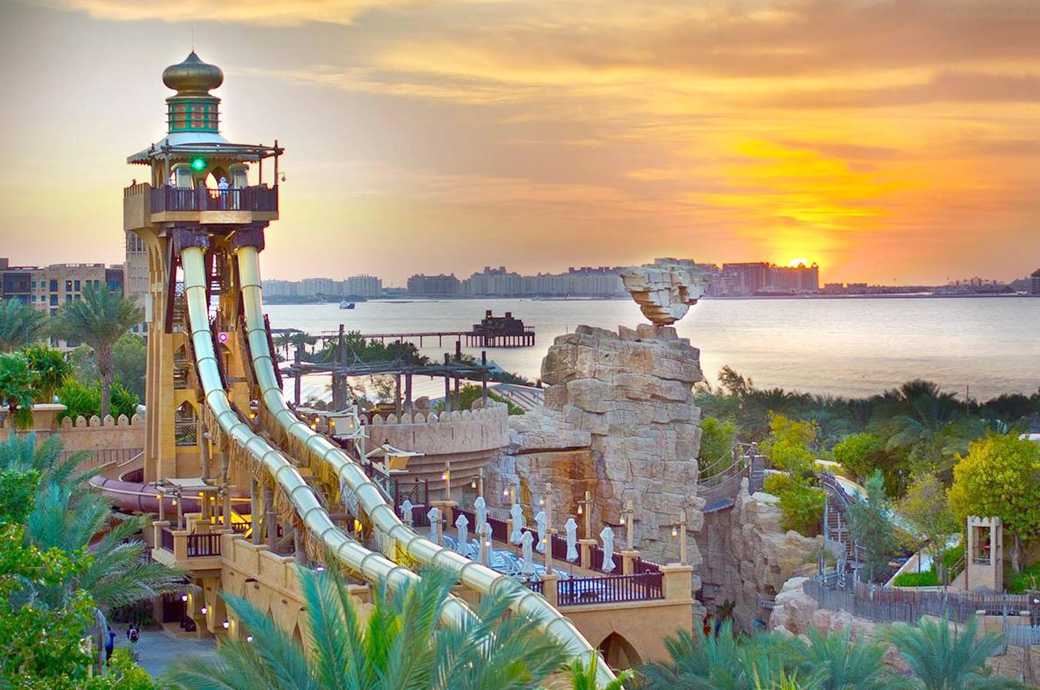 Wadi Cabanas
Though there are adequate seating arrangements, Wadi cabanas are available for providing you with an ultimate feeling. Cabanas at Wild Wadi water park are a great way to relax in style as you catch the day go by at the Lazy river. There are a total of six cabanas in the park, which are available for an additional fee. One cabana can house eight guests and it comes with a private refrigerator where you can stock fruits, soft drinks and some water. Four loungers of the premium standard are provided along with a table and four chairs. It offers secluded and private seating for you to escape the bustling crowd and interact with your loved ones. There are four complimentary sun loungers under the tent, complimentary towels are also provided, and the guests get VIP Fast Pass, which helps you to escape the long queues of each ride. Cabanas provide a great view in full comfort and privacy that you can enjoy with your friends or family. Each cabana can house around eight people.
Where To Eat?
There are umpteen varieties of quality food that you can enjoy to your heart's content so that you're never too tired to play. While the park does not allow outside food within the premises it does allow you to carry your own bottle of water. Some of the delectable eating options include the following.
Julshan's Burgers / Juha's Family Kitchen
These are considered as the main eating joints at Wild Wadi and provide some lip-smacking menu with fries, chicken, shawarmas and burgers true to the name. It also serves some tasty salads for those looking for healthy food.
Smoke House
If you fancy some American fast food with a twist then head to Smokehouse that will serve you some amazing barbequed chicken and other such smoky delicacies.
Riptide Pizza
Hop in for some freshly baked pizza in a variety of flavours like the classic Margherita and you be left asking for more. You can enjoy the freshest of ingredients in a pizza of your choice.
Shah Bandar's Café
For that quick snack of popcorn, chips, nachos or ice-cream, Shahbandar's Café is the right place to be. 
Where to buy souvenirs from?
Shop for the lovely souvenirs at the two gift shops located here. The names you need to remember are Souk Al Wadi, Sindbad's cart, Shabandar's Souk and Air Tattoo which offer the best when it comes to finding those perfect gifts and souvenirs.
Operated by the Jumeirah International, Wild Wadi is a favourite among the residents because of how compact it is and that there are rides to suit all the needs and all the ages. It has a heated and cooled wave pool, various eateries, two artificial surfing machines, gift shops, and the staff here are hospitable. It is then no surprise why this park attracts millions of tourists and residents every year. The gorgeous views that one gets when on top of a ride, is just a bonus!  The park also offers the option to get photos done which can be collected from the entrance and behind the wave pool.
Some Precautions
Wear the swimming costumes at all times especially on the rides; you won't be allowed without one.
Several rides are harmful and thus are not recommended for pregnant women, the disabled people, and people with heart/back conditions.
All the rides have information/instructions in the queue.
No eatables, except for drinking water, are allowed inside the park.
Some of the rides allow people only above 1.1m. 

The instructions of lifeguards must be followed at all times especially when asked to wait before the start of the slide tub. 

The lifeguard must be allowed to make your seating arrangement before the start of any ride. 
Parents must accompany their kids under 13 years of age.
Contact Number
+971 4 348 4444