The hustles and bustles of
Bangalore
city, the flourishing IT companies, the traffic-struck road and fast moving lifestyle leaves a person exhausted by the end of the week. If you want a break from your monotonous 9 to 5 job, then hop on board because we are going to present the top 15 resorts around Bangalore for a relaxing weekend getaway! Visit these places with your family or a bunch of friends to pamper yourself for the long hard week you have been through.
Here is a list of 30 Resorts you can visit around Bangalore for a perfect weekend:
1. Guhantara Resort
Truly India's first underground resort has been made with a different theme all over. The cave resort promises you a thrilling, raw and a fun weekend. Its unique architecture radiates a peaceful old-era ambience. The staff is friendly and the days planned are just perfect for different types of activities like rain-dance, tunnel trekking and various indoor as well as outdoor games. You can also ask for a bonfire for a fun experience. Their spa, Agastya Kuteera is one of the most sought after facilities by the crowd.
2. Golden Palms Resort
The luxurious resort is one of the most famous resorts in the city. The posh services and kind hospitality by the staffs have always made the visitors come back here more often. For all those swimmers out there! It houses one of the biggest swimming pool in the country. Various amenities that you can find for your use are a tennis court, squash courts, conference halls for office trips etc. It also boasts of a state of the art fitness center. Visit the golden palms resort for a peaceful and relaxing weekend to feel your worries fly away.

3. Country Club
Situated off Sarjapur main road, Country club resort offers world class facilities to its visitors. The halls and rooms for stay are beautifully designed with exquisite lightings. The banquets are decorated exclusively on demand for parties or celebrations and the likes. The club even offers conference halls for corporate institutions. It has a well-equipped gym and a relaxing health spa to provide you with the best services. They also offer pure Satwik cuisine which if simply put, is amazing.
4. Parkfield Resotel
Parkfield is a splendid combination of a resort and a hotel. It provides huge hotel style rooms for guest stays and delivers all the facilities of a resort, hence making it extremely likable among the people of the city! The suite-like rooms with huge balconies overlooking a lush green spread are such a treat to the eyes. They also have the facilities for different types of outdoor games, a large pool for a leisure evening or party night and huge spa rooms to get rid of all your exhaustion. For the office crowd, they also have conference rooms with space in abundance and library for a calm time with your favourite book.
5. Mango Mist Resort
If this is not your first, weekend outing in Bangalore, then you must have had heard of the mango mist resort. Popular for its wide-spread land of mango trees, the resort promises to take you back to your childhood days with the golden memories of playing among the mango trees in summer mornings. It is a perfect place if you are looking for more than just a relaxing weekend. It offers plenty of adventurous activities like rock climbing, archery, paintball, and zorbing. It also hosts amazing fun parties by the pool offering a huge dance floor. While you are there, don't miss to visit their fish spa!
6. Urban Valley
The Urban valley resort is merely 45 minutes away from the city and commits to their visitors to provide a world class service. The inbuilt lake gives a picturesque view with pine trees and red flowers around it. The resort is also the perfect choice for adventure enthusiasts. It offers biking sports, paintball, squash, basketball, wall climbing and many different indoor games as well. The surrounding is beautiful with acres of green land, tall trees and shimmering fountains away from the city lights. Take a leisure walk across the green fields, sit near the shacks and find peace so close to nature.
7. Ramanashree California Club And Resort
Situated near the Bangalore airport, the resort is an ideal getaway from the hectic life of the city. The lush green scenery, the sprawling flowers, and beautiful poolside view just wins everybody's heart. The resort also offers multi-cuisine buffets and a wide spread of cocktails. The staffs are friendly, polite and organize a bunch of indoor as well as outdoor games successfully. The view from the rooms is nothing less than spectacular! Other amenities that you must enjoy once here are a fully equipped gym, spa room, conference halls for business clients and a beautiful pool to lie beside ideally and feel at peace.
Book This Resort Starting from INR 6,800 per night
8. Olde Bangalore Resort
If the fast pace of the city is getting too hard to handle and all you need is a small break then the olde Bangalore resort is for you, my friend! The top notch facilities, beautiful views, and luxurious design will take you far away from the frenzies of the city. It has a wide variety of services to offer, from adventure sport like air-rifle shooting to a pleasant experience in the luxurious tents by the pool. Their Sunday brunch offers an exquisite variety of delicacies and sees plenty of pre-booking. The resort also offers a business center and board room for its corporate clients.
Book This Resort Starting from INR 7,700 per night
9. The Windflower Prakruthi
Spread across a huge land of 7 acres, the windflower rose to fame, thanks to the natural scenic beauty of its location. Offering a range of amenities like cycling zone, team building activities, zorbing, outdoor sports, halls and banquets, the windflower resorts offers an ideal getaway from your busy life. You can opt for a standard guestroom, a studio, a villa or even a whole bungalow to spend your time in luxury. The award-winning spa treatment offered by windflower is the most sought after by couples and families visiting.
10. Clarks Exotica Resort And Spa
The state of the art building and splendid architecture will win your heart once you set your eyes on it. The well-furnished architecture of exotica presidential suite will want you to stay inside all the time! The gym is well designed with state of the art equipment.The 70 acres of outdoor space provides plenty of outdoor games like cycling, basketball, cricket, pools with slides for kids and squash. The bar, rightly named as Illusion will make you believe that it's floating on the water! Visit Clarks Exotica for an overall soothing experience.
Book This Resort Starting from INR 6,498 per night
11. Woodrich Anbi Club
If you want a weekend escape but you're running on a tight budget, then worry not folks. We have the perfect resort for you to relax and let go of all worries. Located in Devanahalli with a calm and serene surrounding, the Woodrich Anbi Club offers so much in so less price. It is most favoured by the localities of Bangalore for the greenery and peaceful environment that it offers. The amenities range from the pool to indoor and outdoor games, rain dance and camp fire.
12. Silver Oak Farm
Don't we all just love the sun-kissed view of the mountains, orange rays falling on the meadows, morning mists and a walk in the fresh cool morning breeze! The silver oak farm offers all this and much more. Another low budget resort that offers way more than you can bargain for. You can visit the place with your partner, and enjoy their delicious meal, sitting on a lantern lit gallery overlooking the mountains. It cannot get better than this. Silver oak also offers other amenities like some exhilarating farm activities, bird watching, trekking, and golf. This weekend, enjoy your day in nature's lap!


13. Emerald Isle Resort
Nestled on the old Madras road, Emerald resort offers a charming and fun day outing for families, couples, and friends. Just 27 km away from the city, the resort has its own charm in winning people over. Enjoy the various indoor and outdoor activities organized such as campfire, badminton, table tennis, paintball, rain dance and so much more. Their delicious multi-cuisine dining options are equally amazing and will keep you fill all day long.
14. The Eagleton Gold Resort
The world-class resort and a luxurious club offer a bunch of amenities to relax and recreate. Sprawled across acres of land, Eagleton resort offers a variety of accommodation like royal club suites, executive suites, and deluxe rooms. The multi-cuisine restaurant has a menu full of north India, south India, Italian, continental and American delicacies. Their beautifully crafted conference rooms are the perfect place to hold your meetings and woo your clients. Don't miss the rejuvenation spa and multi-level creatively fabricated swimming pool.
15. Holiday Village Resort
Last but most definitely not the least on our list, sits proudly the holiday village resort, famous for its unique theme and village-like architecture. The green carpet of grass covering the entire resort with a vivid swimming pool to sit by and relax, a pleasant colourful garden full of exotic flowers and trees and the many facilities offered by the team, makes holiday village resort a classic getaway from the city life. The amenities offered are paintball, beach volleyball, rain dance, multi-cuisine restaurant and bar, table tennis, snooker and more!
16. Signature Club Resort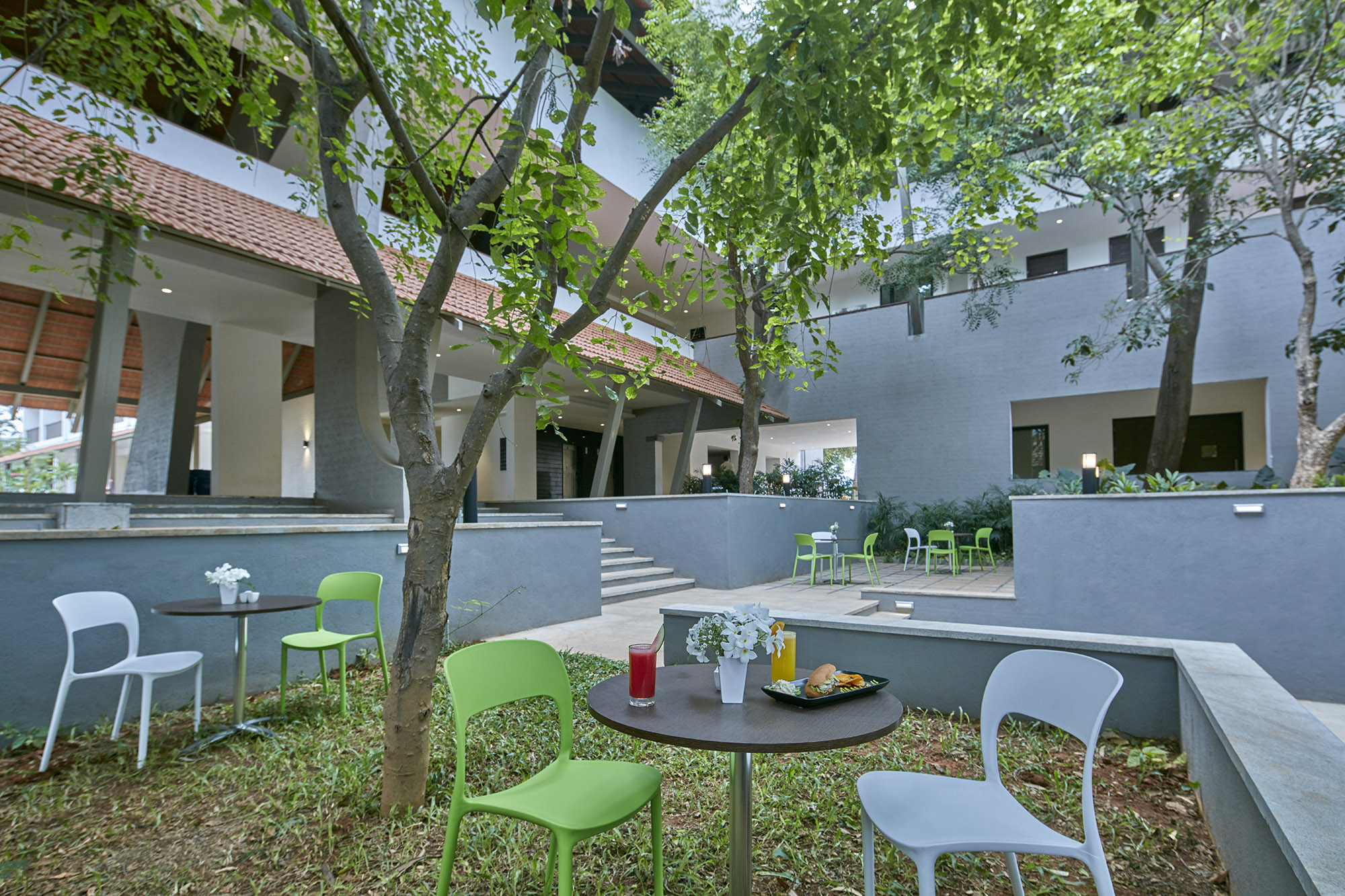 The signature club is your go-to place when you want to be close to nature but cannot let go of the city luxuries. It's the best of both worlds with lush green exteriors and spacious rooms with top-notch facilities. Don't miss out on those luxurious suites with minibar and balconies overlooking the pool. If you want your stay to be adventurous, they have facilities of squash, badminton, billiards and table tennis. You can also visit they nearby Nandi hills for a mesmerizing sunrise. The Grover vineyard is perfect for all the wine lovers to take a tour relishing the exotic taste of the fine wines.
17. Goldfinch Retreat
Goldfinch resort brings to its visitors a fun-packed day with outdoor pools, relaxing spa and group events planned. Nestled near the International airport, the resort has a splendid landscape with well-groomed exquisite gardens and palm trees in the backdrop. The rooms are well equipped with modern style decors, bathtubs, satellite television to spend your day being cosy in the bed. The in-house restaurant has a tempting multi-cuisine menu with revitalizing drinks to pamper all your needs. You can also visit the sauna to relax and let go of all the city worries. If a comfortable luxurious weekend is what you seek, Goldfinch resort is a perfect choice.
18. Jaladhama Resort
A two-hour drive from Bangalore will take you to the Jaladhama Resort, a backwater resort with landscape equivalent to an island! A motorboat takes you from the roadside parking to the resort where you can find tiny little birds fluttering around the green wide trees. The ferry lives by its promise to bring you closer to nature's scenic beauty. You can have your breakfast at a floating restaurant, or refresh yourself in the pool. To make your stay exciting, try out the water sports offered like pedal boating, rowing, canoeing, and fishing! River cruises are offered to give a pleasing experience that your family would just love to dig into. Indoor and outdoor games, trampoline and rain dance are organized to ensure that you have a gala time.
19. RD's Nature Retreat
RD's Nature retreat is true to its name and is a paradise for nature lovers, bird watchers, hikers and the adventurists. It gives the most authentic jungle-like experience with camping like tents provided for a starry night. You can travel back in time to be a kid and get into the play mode because this place offers tons of interesting events on the plate. Rain dance, pool party, rappelling, trekking, rock climbing, and various other games are planned out for an overall splendid experience of the visitors. End your thrilling day with the delicious lunch buffet offered.
20. Wonderla Resort
A luxurious resort with the Wonderla amusement park right behind it is what we all need to get away from the hustle and bustle of the city life. A treat for Bangalore folks to ditch their monotonous 9-5 life and give in to the pleasure of world-class facilities and exhilarating rides. The packages include an all ride pass to the water park and a night stay for relaxing. Your weekend is set with the heated pools, fine dining restaurants and bars serving exotic cocktails. If you are planning your wedding and want it to be one lifetime of an experience, the Wonderla resort has an exciting package just for you. They offer to plan your entire wedding in the resort with the engagement on the top of a 13 story skywheel! Your wedding will definitely be the talk of the town for a long time.
21. Shreyas Yoga Retreat
Based on the philosophy of ? Atithi Devo Bhavah ?, the Shreyas Yoga Retreat is a magnificent yoga centre with a spa and wellness destination. The variety of packages offered will spoil you with choices ranging from ayurvedic rejuvenation package, detox plan, weight management retreat and many other spiritual and yoga options for an overall mental and physical wellness. The serene environment, the relaxing massages, and lying down by the candle-lit pool will leave you wanting for more. The staff is courteous and rooms well conditioned. The hot sauna, infinity pool, Jacuzzi and ayurvedic spa lounge are some of the most attractive facilities provided. It gives one the most well-deserved break, away from the fast moving life of the city, bringing closer to the spiritual self.
22. Manipal County
Situated in a lush green carpet of cleanly brushed grass, surrounded by tall trees and flowers of multiple colours, the Manipal County resort will bring you closer to nature. The place feels like a merging point of natural beauty and artful world-class facilities. The cottages are comfortable with well-lit rooms, classy interior, and balconies overlooking lavish spread of greenery. The children playground, indoor game room, paintball, and zorbing makes this a personal favourite among the kids. So the next time your family asks for a weekend getaway, you know where to take them!
23. Taj Kuteeram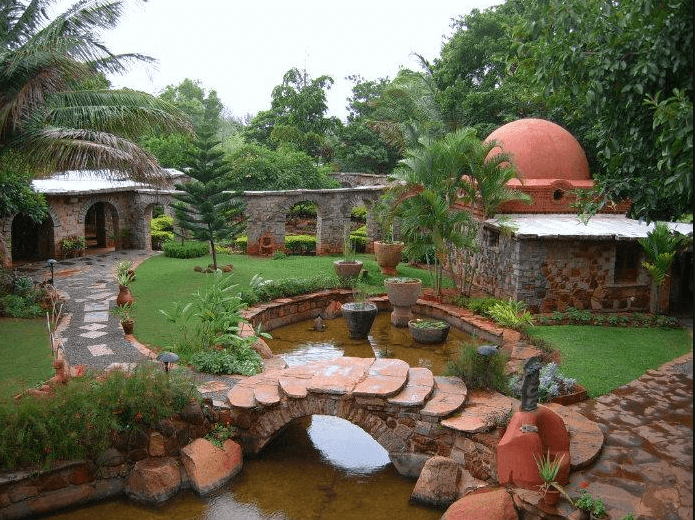 Around 35 km from Bangalore lies a fairyland for peace seekers. Unwind the mystic beauty of nature and celebrate your weekend at this resort for a wonderful experience. The rustic setting, the picturesque landscape, and the grandeur of a typical Taj resort make Taj Kuteeram a must-visit option. Ayurvedic massages are offered to take all your worries away. Enjoy your evening mesmerized by the cultural shows with mouth-watering delicacies and refreshing drinks. Taj Kuteeram will take you back in time to a simpler India, showing the traces of the ancient art and the bygone era. There are many team-building events as well to ensure that your stay with your family or friends is nothing less than a carnival.
24. Palm Meadows Club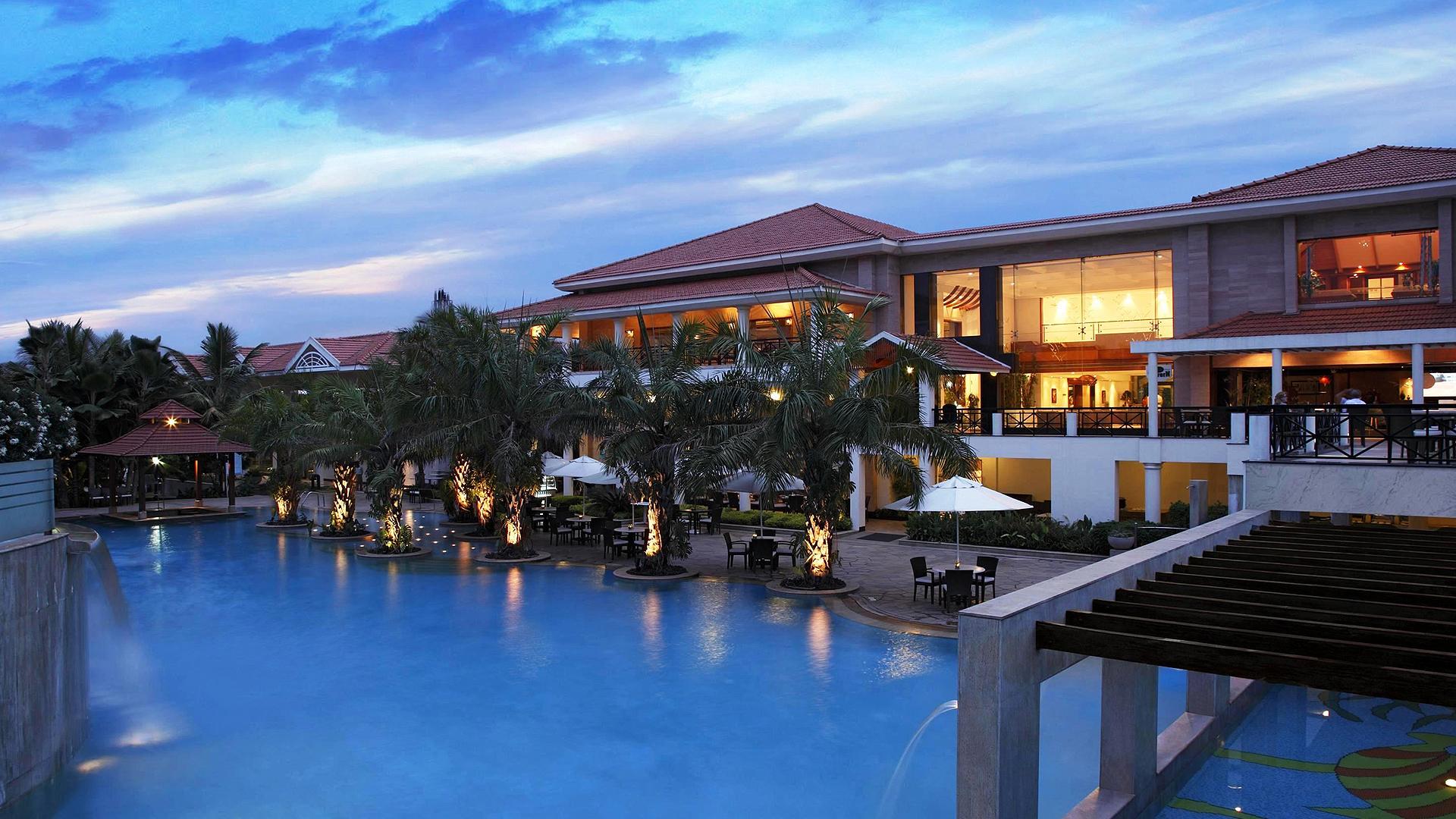 This luxurious property sits right in the heart of Bangalore's tech parks offering 5 acres of lavish greenery, outdoor pool and revitalizing sauna. It caters to the diverse needs of the guests with Rajgarh restaurant serving authentic Mughlai food and cafe Palmyra famous for its different flavours of brewed coffee and snacks. You will find striking cocktails and wines at the Oak Tavern Bar, to be enjoyed while relaxing near the pool. The rooms have an elegant furnishing, spacious seating, and all the basic amenities provided for you to enjoy the me-time that you have been craving for!
25. Angsana Oasis Spa and Resort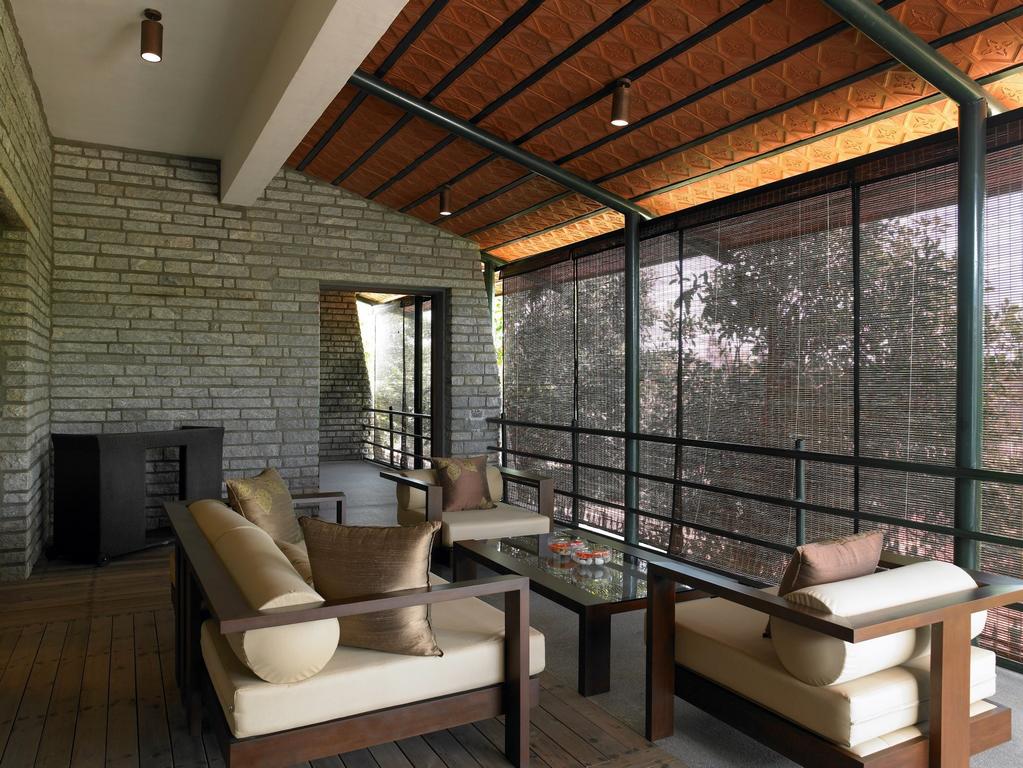 Are you looking to make this weekend stand out? Angsana Resort has just what you need. Their delightful weekend package simply cannot be missed, especially when this green beauty is offering sauna, spa treatment, pool games, and a lavish spread of buffet! The body massages are so soothing that you will feel all your worries disappearing. There are multiple onsite restaurants like Sundance the Bistro and Tangerine which serves Indian, Chinese, Italian, Thai and continental cuisines. Head over to mirage to indulge in some lip-smacking beverages and beat the summer blues.
26. Jade Coconut Grove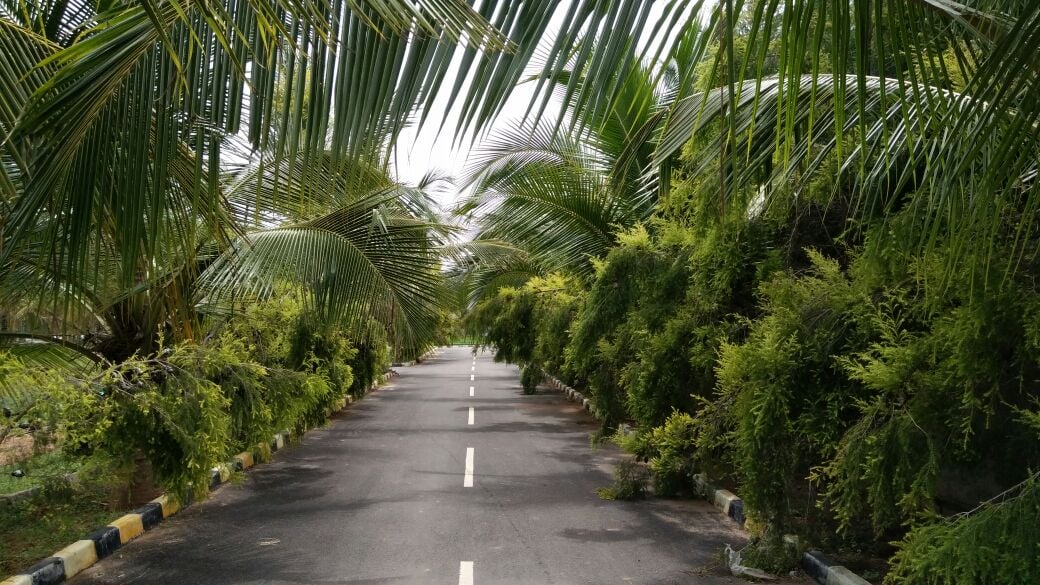 Nestled on the Bangalore-Pune highway, Jade coconut grove is the perfect leisure getaway with friends and family. The state of the art interiors, lavish amenities and rejuvenating activities offered, will make your weekend worth remembering. The gigantic stretch of greenery, well-manicured hedges, and tall shady trees portray an eye-soothing image to be relished. Visit the clubhouse to enjoy action-packed indoor games, after which you can relax in the swimming pool, sipping the tangy drinks as you feel your muscles relaxing. The delicious barbeque grill will be a feast for your taste buds.
27. Anandadhama Retreat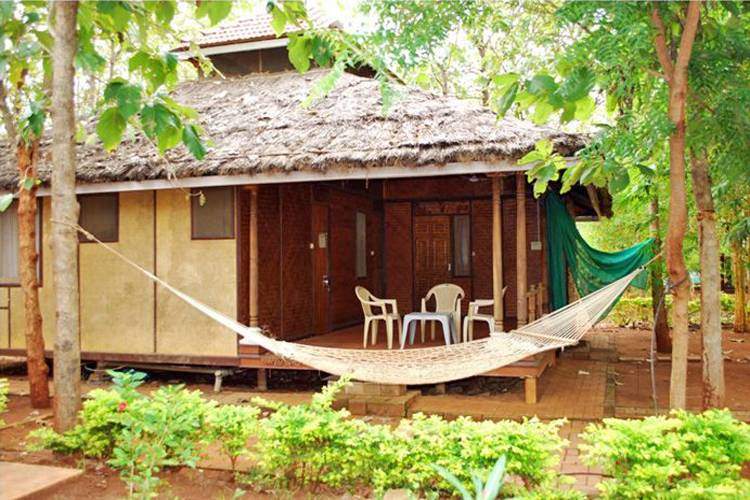 An offbeat resort, located on the banks of Cauvery river, the Anandadhama Retreat is loved for its unmatched service and facilities. It strikes a balance between luxury and natural bliss. The rooms are well built with all basic amenities provided, but what steals the light is the amazing activities planned including the Coracle ride, Tarzan Jump, and Archery. The visitors often end their thrilling day with an ayurvedic massage before retiring to bed. Alcohol is not served on the resort, but the delicious food and fresh natural aura definitely give a unique experience.

28. Vana Resort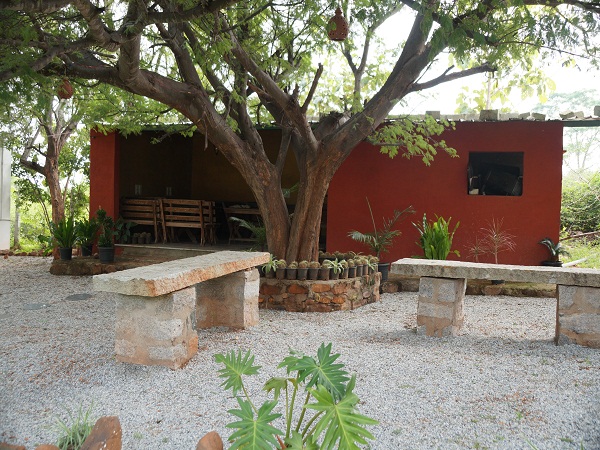 Vana resort has been popular for its Ayurvedic massages and fresh natural aura for quite some time now. The fun-packed games like darts, table tennis, sand volleyball, basketball, badminton makes it just perfect for team outings. The manicured gardens, vivid trees, colours of lilac and pink popping up from the flowers gives this resort a calm and pleasing tone. The dinner is a romantic affair altogether with lanterns, a poolside view, and a serene music. You can also go for a small trek to get your heartbeat pumping! Vana resort gives a peaceful experience with a fair share of fun at a very compelling price.
29. Ankit Vista Green Village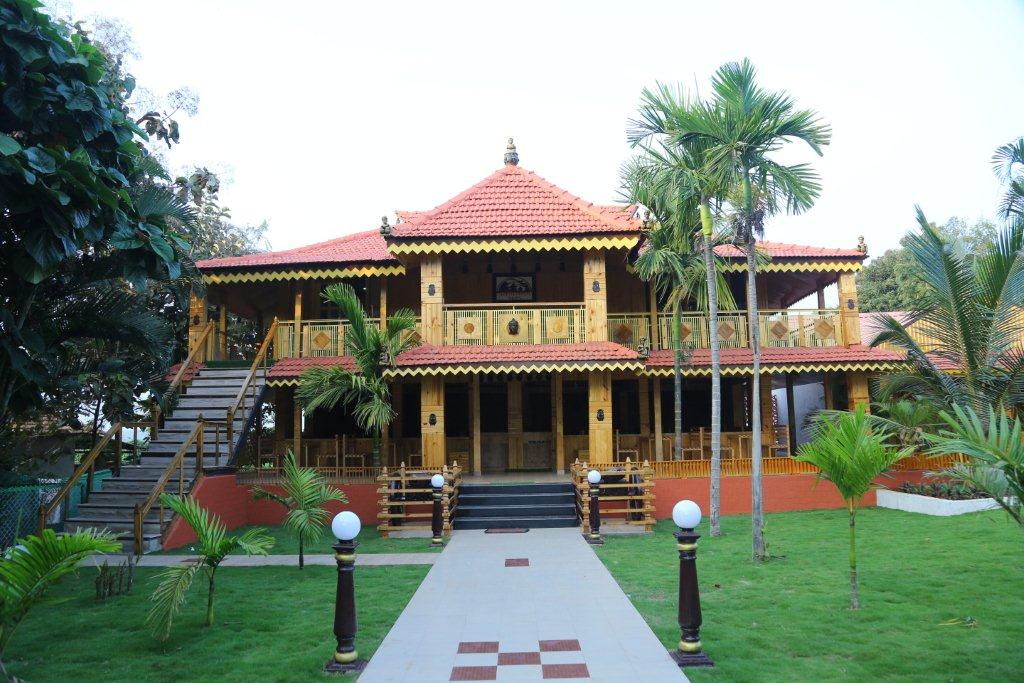 An offbeat setting near Bangalore with a dynamic mix of greenery sets Ankit Vista Green Village apart. The place boasts of its beautiful cottage-like look and an expansive green outline. The rooms offer all the necessities for you to relax and enjoy. Different events are planned to make your trip memorable. Basketball, cricket, table tennis, swimming pool, foosball are some of the gaming events offered. From the welcome drink to the parting goodbye, the staff takes care of all your needs and demands with a courteous enthusiasm.
30. Gateway Resort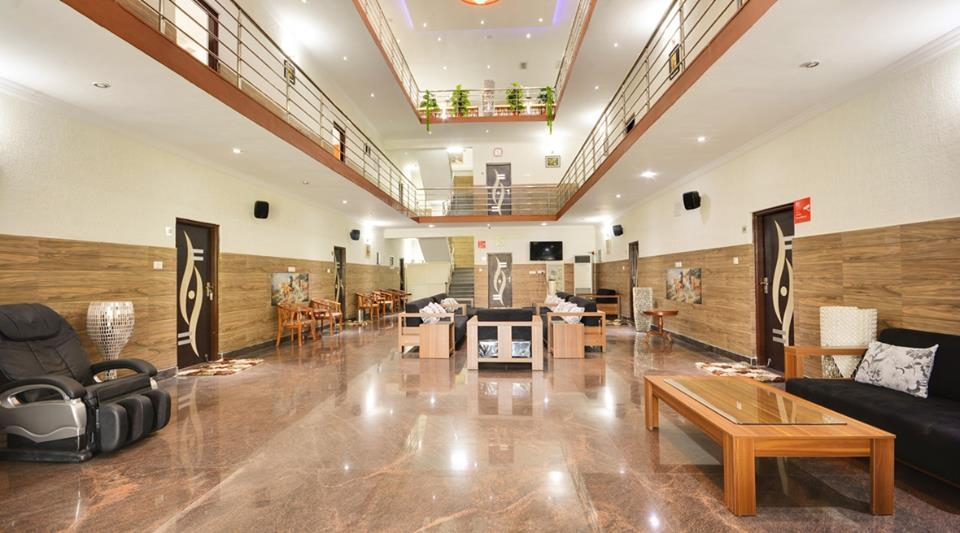 On a budget but want to have a weekend to cherish? Don't worry, the Gateway resort has got you covered. Close to the city, with a splendid view, appetizing menu and comfortable rooms, this place leaves no stone unturned in giving you a value for your money. The team building activities and sports offered, ensure that your corporate outing sees the best of enjoyment and relaxation. They even have packages for special events like wedding, birthday celebration or school picnic.
This was our list of 30 amazing resorts near Bangalore for a weekend stay! Comment and let us know which one of these are you choosing for this weekend!