To call Sri Lankan cuisine amazing would be an understatement; the kitchen is an eclectic blend of flavours with generous helpings of exotic spices and meat. And what better way to explore this cuisine than by trying the food in
Colombo
, the capital city? From rice and curry to lamprais, one can try a diverse array of food in Colombo. Colombo has a plethora of restaurants and street food stalls that cater to every kind of food lover.
Hungry yet? Here is a rundown of the must-try food in Colombo, and the best restaurants that serve them
1. Rice and Curry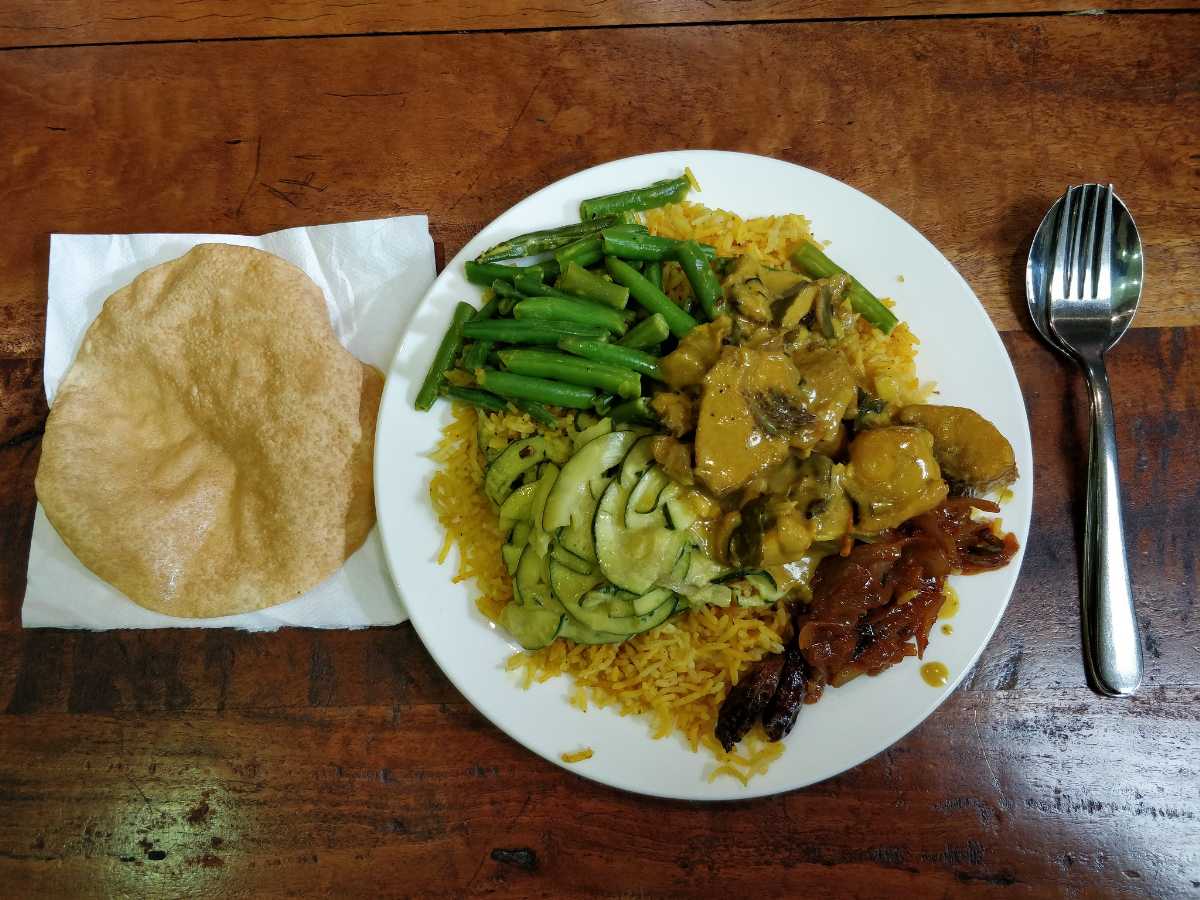 A compilation of the food in Colombo is incomplete without a mention of the humble rice and curry. No matter which corner of the country you visit, you are bound to find this in any household. The dish consists of rice served with different kinds of meat and vegetable curries. It is accompanied by papadams and pol sambol, a coconut relish.
Try it At: The most popular restaurant for an authentic and delicious rice and curry meal is Upali's by Nawaloka. They serve a wide array of curries such as their signature mutton varuwal (mutton curry) and Yapane Kakuluwo (Jaffna Crab Curry), and Parippu (Lentil curry).
Location: No. 65, C.W.W. Kannangara Mawatha, Colombo
Timings: 11:30 AM - 11:30 PM
2. String Hoppers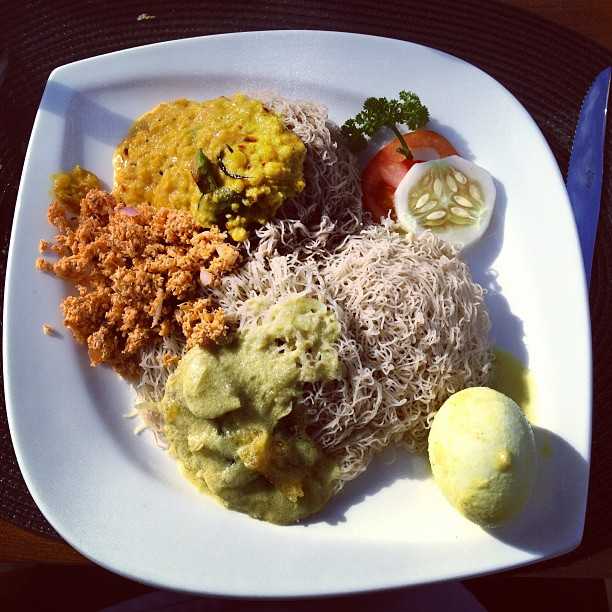 Another essential component of the food in Colombo is string hoppers. String hoppers, locally known as idiyappam, are yummy steamed noodles made of rice flour. Usually eaten for breakfast or dinner, this dish is served with Kiri Hodi (coconut milk gravy), fresh pol sambol or a choice of meat or potato curry.
Try It At: The best string hoppers in Colombo can be found in The Palmyrah, a restaurant at the swanky Hotel Renuka. The restaurant serves string hoppers and string hoppers pilau (with rice); one can choose a variety of curries and sambols as the sides. This place is known for its impeccable service, too.
Location: 328, Galle Road, Kollupitiya, Colombo
Timings: 6:30 AM - 10 AM, 12 PM - 2:30 PM, 7 PM - 10:30 PM
3. Kiribath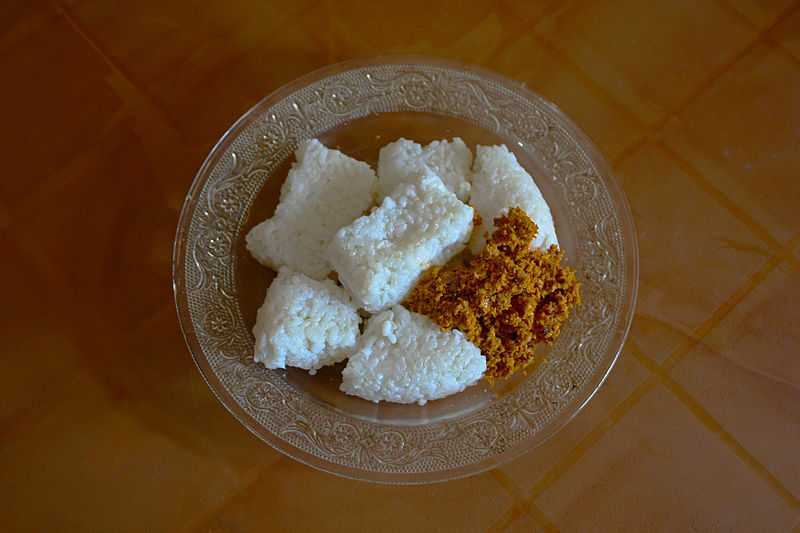 A staple food in Colombo and the rest of the country during festivals and special occasions, kiribath is essentially coconut milk rice, cooked in the form of a rice cake. The delicacy is typically accompanied by lunu miris, a spicy sambol of dried red chilli and onions that perfectly balances the sweetness of kiribath. Imbul kiribath is a sweetened version of the same.
Try It At: The Governor's Restaurant, located at the famous Mount Lavinia Hotel, serves kiribath as a part of its extensive breakfast buffet along with several other Sri Lankan and international options.
Location: 100 Hotel Road, Dehiwala-Mount Lavinia, Colombo
Timings: 6:30 AM - 10:30 AM, 12:30 AM - 3 PM, 7 PM - 10:30 PM
4. Lamprais

Perhaps the most popular food in Colombo exhibiting Dutch influence, particularly the Dutch Burgher community, lamprais can be best described as an explosion of flavours. It consists of rice cooked in meat stock, mixed meat curry, fried ash plantains, brinjal pahe, blachan (shrimp paste), seeni sambol (caramelized onion relish) and frikkadels(meatballs), wrapped in a banana leaf and steamed.
Try it At: The V.O.C. Café at the Dutch Burgher Union is renowned for its signature lamprais, with an option to choose between chicken and mixed meats. The dish at V.O.C. Café has stayed true to the original recipe.
Location: 114, Reid Avenue, The Dutch Burgher Union, Bambalapitiya, Colombo
Timings: 11 AM - 10:30 PM
5. Kottu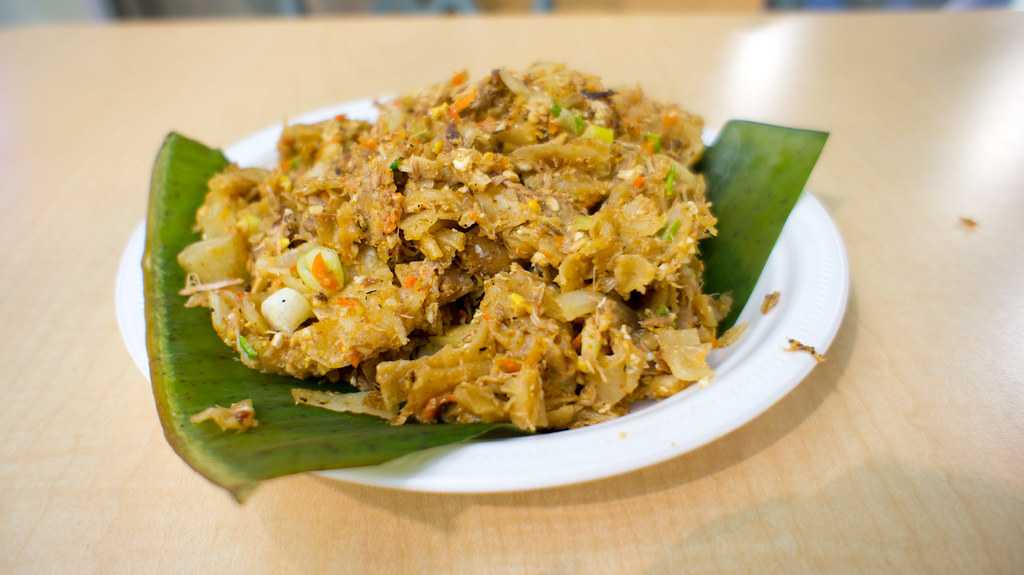 Kottu or Kottu Roti is unarguably the most famous among the fast food in Colombo. It's a delicious meal of chopped godamba roti, vegetables, meat and egg, and mostly eaten during dinner. The cooking process is known to be a sort of spectacle with the rhythmic sounds made by the spatulas used to chop the roti and vegetables.
Try it At: Head to Hotel De Pilawoos to taste the best kottu in town; it is frequented by locals and tourists alike at late hours of the night. You can try the traditional egg or mutton kottu or the cheese kottu, a more modern take on the dish.
Location: 417, Galle Road, Kollupitiya, Colombo
Timings: Open 24 hours
6. Polos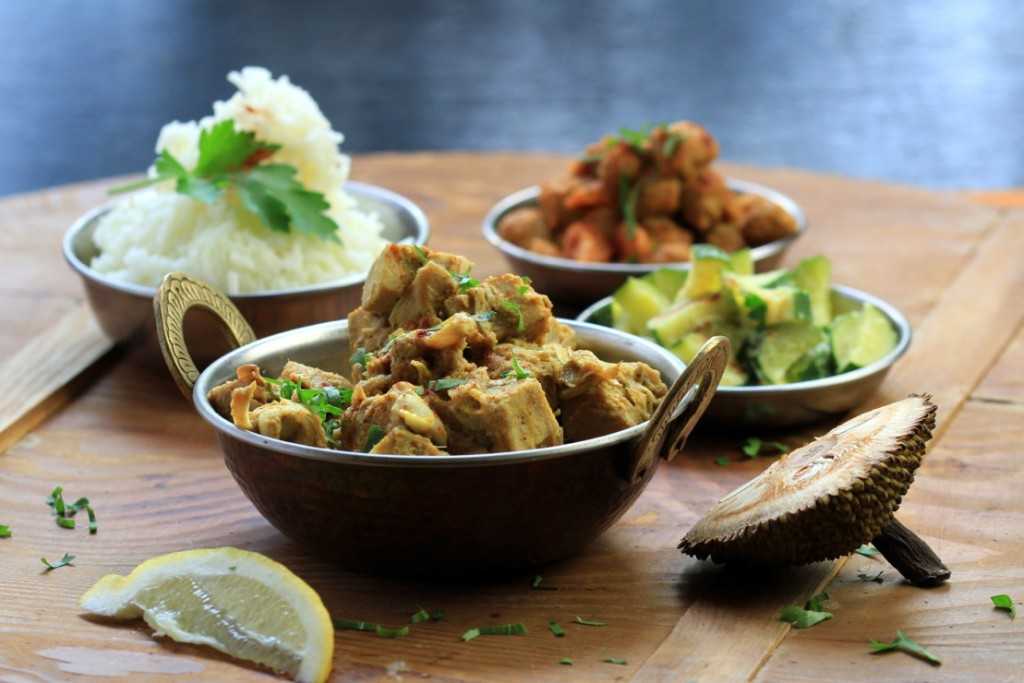 If you thought all Sri Lankan curries are all about meat, then think again. Polos or polos ambula is a baby jackfruit curry made with tender jackfruit, coconut milk, goraka (a kind of tamarind) and an assortment of spices. This traditional curry is often served with white rice.
Try It At: Don't be fooled by Curry Pot's drab exteriors—the restaurant is known for its fantastic selection of authentic as well as affordable Sri Lankan food in Colombo. It serves to mean polos, and a host of other curries. Do try it with their pol (coconut) roti.
Location: 314/1/A, Kollupitiya Road, Marine Drive, Colombo
Timings: 6:30 AM - 4:30 PM
7. Hoppers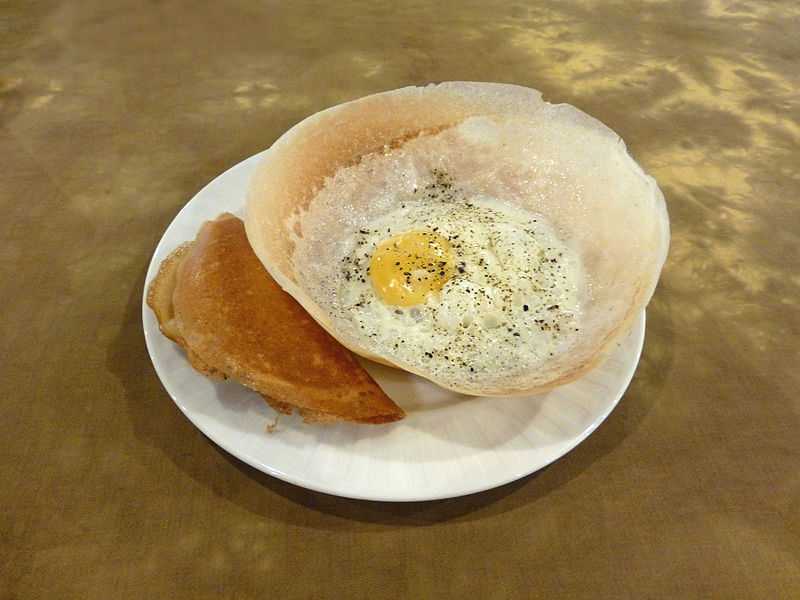 Hoppers, locally called aappa, can be defined as the Sri Lankan style of pancakes. This delectable breakfast dish is prepared with rice flour and coconut milk and has several versions, such as the egg hopper, milk hopper and jaggery hopper. It is accompanied by pol sambol, seeni sambol, luni miris, or any curry.
Try it At: One can find wonderfully thin and crispy plain and egg hoppers at Café On The 5th. Try it with the seeni sambol, chicken or mutton curry.
Location: 108, 5th Lane, Kollupitiya, Colombo
Timings: 6:30 AM - 11 PM
8. Watalappan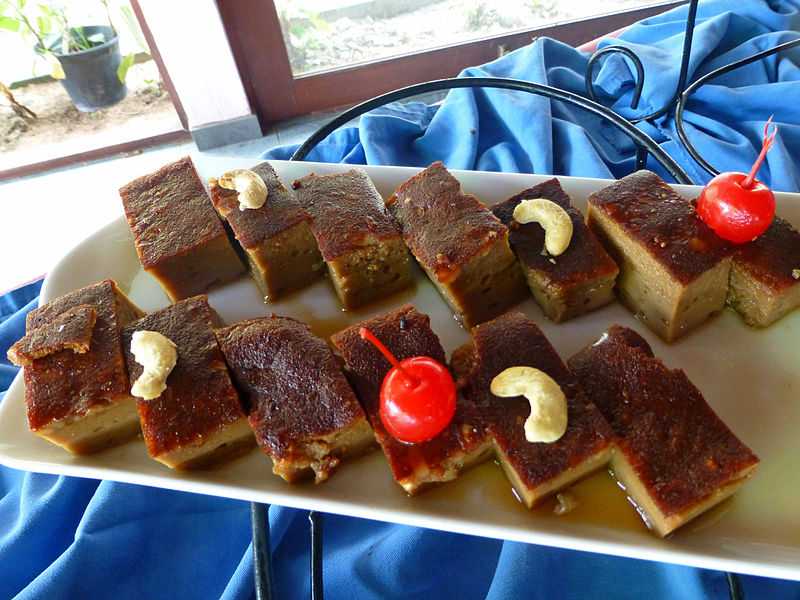 The food in Colombo is more than the hoppers and curries—it has plenty of desserts to satisfy anyone with a sweet tooth. watalappan is a coconut custard made with coconut milk and kithul jaggery, and garnished with cardamom and cashews. It is a favourite of the Muslim community and believed to have Malay origins.
Try it At: The curries apart, Upali's by Nawaloka offers delicious watalappan, too. Hana's Watalappan, as the name suggests, is a store dedicated to selling some of the best watalappan in the city.
Location:  136a, Srimath D.B.Jayathilake Mawatha, Dehiwala-Mount Lavinia, Colombo
9. Ambul Thiyal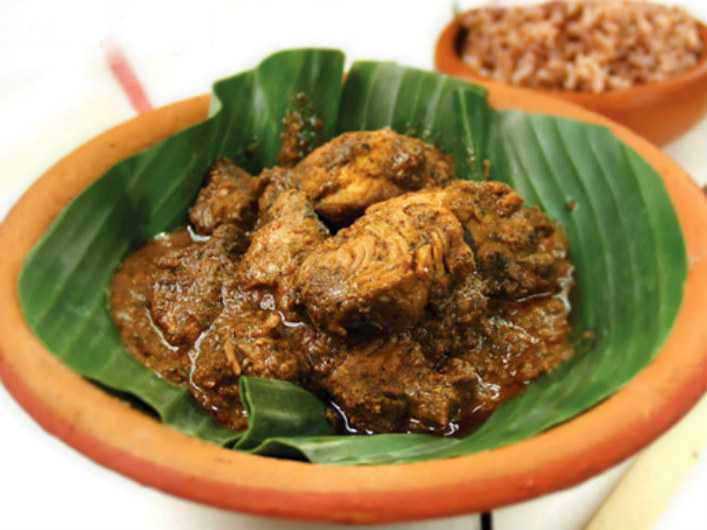 As an island country, seafood is an important component of the food in Colombo. Ambul thiyal, a sour fish curry, is the unique and-known seafood delicacy. It comprises fish, usually tuna, seasoned with black pepper, cardamom, pandan leave, cloves and goraka, which lends the dish its distinctive colour and sour taste.
Try it At: Nuga Gama at the Cinnamon Grand Hotel dishes up amazing ambul thiyal and other traditional meals. Located under a 200-year-old banyan tree, the restaurant offers a unique village-like atmosphere with live music and an organic farm.
Location: 77, Galle Road, Kollupitiya, Colombo
Timings: 7 PM - 10:30 PM

Explore the best of Sri Lankan food in Colombo at these top-notch restaurants; mouthwatering delicacies, a wonderful ambience and good memories are guaranteed!