With a history of being the summer capital of British India and the current capital of Himachal Pradesh, Shimla is simply breathtaking. Snow-covered mountain peaks, curvy hill roads, aesthetic and beautiful houses, grand old buildings and an overall scenic existence make it one of the most desirable destinations for vacations and tourism.

When we talk about travelling from Delhi, the capital of India, railways is the safest and quick enough means, however, there is no direct train from Delhi to Shimla hence the journey has to be divided into two parts, namely, Delhi to Kalka and further to Shimla via a toy train, we present to you possibly every information to make your travel fun and even more scenic.
Delhi to Kalka

With a distance of 257.2 kms between the two cities, it is fairly easy and light on the pocket to travel from Delhi to Kalka at any desirable hour. At least six trains ply from New Delhi Railway station to Kalka Railway station on a daily basis. Travel time ranges from 4 to 7 hours we have here listed for you the particular trains, their timings and fair down below.

Almost all the trains follow the same route passing through Ambala Cantt and the beautifully colourful Chandigarh. Kalka's own slightly hilly markets, ambience and food can prove to be quiet exciting and inviting.


TRAIN NUMBER

NAME

TIMINGS

TICKET FARE (INR)

1A

2A

3A

SLEEPER

EC

(Executive car )

CC

(Chair car)

14095

HIMALAYAN QUEEN

5:35 AM-11:10 AM

-

-

-

115

415

12011

KALKA SHATABDI

7:40 AM-11:45 AM

-

-

-

1205

770

22455

SNSI KALKA SUPERFAST EXPRESS

7:50 AM-12:20 PM

-

760

555

235

12925

PASCHIM EXPRESS

11:05 AM-16:45 PM

-

840

610

240

12005

KALKA SHATABDI

17:15 PM-21:20 PM

-

-

-

-

1275

610

12311

HWH DLI KALKA MAIL

21:30 PM-4:35 AM

1190

720

510

190
Kalka to Shimla

Now that we have successfully completed half of our journey, only a distance of 14.8 kms separates us from the marvellous and lush green-white mountains and the fresh hill air.
For the remaining part of the journey, one has to take the infamous toy trains from Kalka to Shimla from the Kalka-Shimla Railway which has its own significance.
The Kalka-Shimla Railway is a proud bearer of the heritage status of; "WORLD HERITAGE SITE KALKA-SHIMLA RAILWAY" awarded by UNESCO on 7th of July, 2008.
This historic railway line was opened on 9th November 1903 by the Britishers to easily connect the summer capital Shimla to the rest of India.
The Kalka-Shimla Railway route consists of 103 tunnels aggregating to five miles and around 800 bridges! Crazy right? The route that the toy trains follow along with the passage through the historic tunnel of Barog which takes 3 full minutes to pass-through.
Not only this, but the toy train journey to Shimla is also an amazing and unique experience in and of itself, Travelling through the desolate yet undeniably pretty landscapes with views of snowy mountains, an abundance of plush green sights and amazingly long built tunnels is going to be more than worthwhile.
Kalka to Shimla Train Route
Kalka-Taksal-Gumman-Koti-Sonwara-Dharampur Himachal-Kumar Hatti Dagshai-Barog-Solan-Salogra-Kandaghat-Kanoh-Kathleeghat-Shoghi-Tara Devi-Jutogh-Summer Hill-Shimla.
We have listed for you the trains that go on the said route along with and timings.
| | | |
| --- | --- | --- |
| TRAIN NUMBER | NAME | TIMINGS |
| 52457 | KLK SML PASS | 4:00 AM-9:20 AM |
| 72451 | RAIL MOTOR | 5:10 AM-9:5 AM |
| 52451 | SHIVALIK DELUXE EXPRESS | 5:30 AM-10:15 AM |
| 52453 | KALKA SHIMLA EXPRESS | 6:00 AM-11:05 AM (peak season only) |
| 52455 | HIMALAYAN QUEEN | 12:10 PM-5:20 PM |
| 52441 | HOLIDAY SPECIAL | 7:00 AM-12:10 PM |
| 52443 | HOLIDAY SPECIAL | 12:45 PM-6:10 PM |
Booking of all the seats and services, normal or special, in the toy trains, begins a month prior in advance and by virtue of it being a major attraction of all the tourists it's advised that one must make necessary bookings in advance to save any hassle and to ensure a smooth, enjoyable and chilly journey through the toy trains.
Another quiet exciting addition to the Kalka-Shimla Railway route is;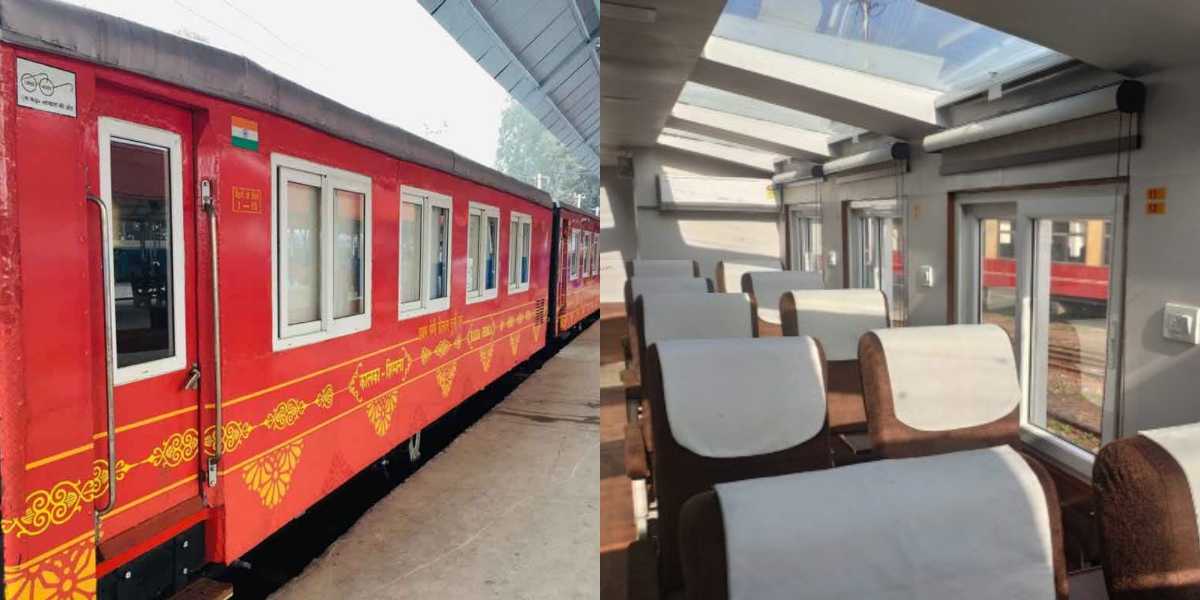 The 'Him Darshan Express' which has started its operation between Kalka and Shimla on the Christmas of 2019 till December 2020. So the ones planning their trips this year are in for a new, better and hearty treat!
With six first-class AC coaches with an additional pleasure of vista domes, Him Darshan Express only adds to the awe of this railway route and the journey to Shimla.
The train starts from Kalka station at 7:00 AM- 12:55 PM and makes its return journey from Shimla station at 3:50 PM-9:15 PM.
The fare per person is INR 630 for a single-sided journey.
Equipped with reversible or adjustable seats, this special train strives to enhance the sightseeing experience of the passengers. The modular interior, better air conditioning systems with modernised restrooms and aesthetic interior makes the journey royal and far more enjoyable.
We really hope all of this information proves to be helpful for you and your travel endeavours! We have tried providing you a detailed account of every sphere of travelling from Delhi to Shimla by train, enjoy the mountains and heavenly atmosphere of Shimla.