Lucknow- the City of Nawabs, has a plethora of weekend getaway options that many people don't generally know of. From enjoying a relaxing trip to appreciating the art and architecture or enjoying some adrenaline pumping sports, all of these can be explored on a weekend away from the city. Depending on your interest you can go to religious places, explore heritage sites or soak in the natural beauty of this countryside.
A rejuvenating weekend is a perfect way to relax and boost you up, away from the hustle and bustle of the city. The mesmerising places will definitely make you feel alive once again. So, fuel up your tank, pack your bags and drive off to these places to make your weekend memorable.
Here is a list of 14 Places to visit from Lucknow for a weekend getaway:
1. Naimisharanya
Naimisharanya is one of the lesser known places around Lucknow. Located just 100km away from the city, this place is actually a spiritual and intellectual centre. It finds its place in the Hindu mythology. It is believed that the Gods came down here asking for arms to fight the devils. Many believe that the pilgrimage to this part of the country is incomplete without a visit to this place. This place is a good option for people looking for a one day trip from Lucknow.
2. Deva Sharif
This place is located around 42km from Lucknow and takes almost one hour to reach. It is situated in the Barabanki district and is the Mazar of Haji Waris Ali Shah who was a Sufi saint. It is in his memory that a fair is organised along the lines of Pushkar in Rajasthan between the festivals of Dussehra and Diwali. A visit to this place is perfect if you are simply looking for a rejuvenating drive!
3. Shravasti
Shravasti is a well know place as it happens to be a very famous Buddhist pilgrimage site. Located around 330km from Lucknow, this place is termed to be the ancient capital of the Koshal kingdom. You will find the famous Stupas known as "Kachhi Kuti" and "Pakki Kuti" as this very place. It also houses the monastery where Lord Buddha stayed for several years. If you interested in exploring the Buddhist culture from close, this 4-hour drive from the city will be worth it.
If you are interested in exploring the wild side of Lucknow, Dudhwa National Park is just the place to visit. It is situated at a distance of 300km from Lucknow on the Indo-Nepal border in the Lakhimpur Kheri district. This place has an abundance of flora and fauna and you can spot animals like Tiger, Panther, Sambhar Deer and over 400 species of bird. This place is open from October to May, so be sure of the dates before heading off here.
5. Nawabganj's Bird Sanctuary
45km from Lucknow, on the Lucknow-Kanpur highway, is situated the Nawabganj's Bird Sanctuary. This place is a great relaxing spot away from the mundane life of the city. It houses more than 1000 species of migratory bird in the winter months i.e. November to January. This one hour drive from the city will help you unwind after a long and tiring week. If you are a bird-lover you simply cannot miss out on this place.
6. Bithur
The place where Rishi Valmiki is supposed to have created the Ramayana. The place where life on earth is said to have begun by Lord Brahma. This place is called Bithur and is at a distance of 125km from Lucknow. Situated on the banks of river Ganges, it is 25km upstream from Kanpur. The major tourist attractions here are the Brahmavarta Ghat, the temple of Luv-Kush, Dhruv Tila and the Valmiki Ashram. Being such a revered place according to Hindu mythology, a visit to this place should definitely be on your bucket-list.
7. Ayodhya
The birthplace of Lord Ram, Ayodhya is situated around 163km away from Lucknow. The place is famous for its Ghats, temples and some Buddhist and Jain shrines. Being a highly revered destination for Hindus, this place has been in the limelight for the last two decades for religious and political reasons. The places of interest here include a massive fort called "Hanuman Garhi", the Nageshwar Nath temple believed to have been built by Kush, the Ramkatha Museum and the Dashrath Mahal.
8. Agra
Agra is an enticing and a mindboggling destination for people around the globe. Famous for the "Taj Mahal", this place is visited by tourists from all over the world. The magical impact of this place leaves a huge imprint on the people coming here who long to visit it again and again. Other picturesque places here include the Agra Fort, Jama Masjid, Itimad Uddaulah and Fatehpur Sikri. Do we even need to convince you for visiting this place?!
9. Chitrakoot
This places situated in Madhya Pradesh is only 236km away Lucknow. Chitrakoot is a beautiful religious town and holds great historical and archaeological significance. Many of its temples and sites find their mention in the Hindu scriptures. According to mythology, Ram, Sita and Lakshman are supposed to have spent their exile years in forests surrounding Chitrakoot. Some prime tourist spots here include Bharat Milap Mandir, Sati Anasuya Ashrama, Janaki Kund, Jagdal Waterfall and Bharat Koop. This place needs to be visited for its Ayurvedic and yoga centres!
10. Gwalior
This historical place is famous for its medieval hilltop fort. Gwalior is situated in Madhya Pradesh at a distance of 350km from Lucknow. The imposing fort houses a series of beautiful palaces and temples and is a perfect place for history buffs. The city is also home to the grand and intricately carved Jai Vilas Palace, which is the seat of the Scindias, one of the most influential royal families of the country. Take a weekend off and soak in the princely grandeur of this city.
11. Khajuraho
The city of magnificent temples Khajuraho is situated in the woody planes of Bundelkhand region. This city has a lot to offer to the pilgrim folks but is equally worthy of a visit with friends and family. This place houses architecturally elegant and centuries old temples which are aesthetically perfect. This city is the most liked destination by religious travellers and include places like The Ajairgarh Fort, Kalinjar Fort, the Chitragupta Temple and Dulhadev Temple. Soak in the history and culture of our country at this wonderful city.
12. Almora
Located around 500km away, Almora is the beautiful capital of the Kumaon region in Uttarakhand. It is an ideal summer getaway and is known for its cultural heritage, handicraft, cuisine, scenic life and wildlife. The travellers heading to this place are in for some breathtaking natural beauty and panoramic views of the Himalayas. Head off to Almora and relax in the lap of nature.
13. Nainital
Nainital, a paradise blessed with beautiful lakes can be a perfect getaway from Lucknow. Surrounded by Kumaon hills, Nanital is divided into two parts Tallital and Mallital. Nanital is named after goddess Naina Devi. One can go for boating, trekking, horse-riding and yatching options.
14. Varanasi
Located at a distance of about 320 kms, Varanasi is a perfect weekend getaway from Lucknow. You can indulge in amazing food, charge up the spiritual side of you or simply sit by the Ganga ghat and enjoy the blissful Aarti.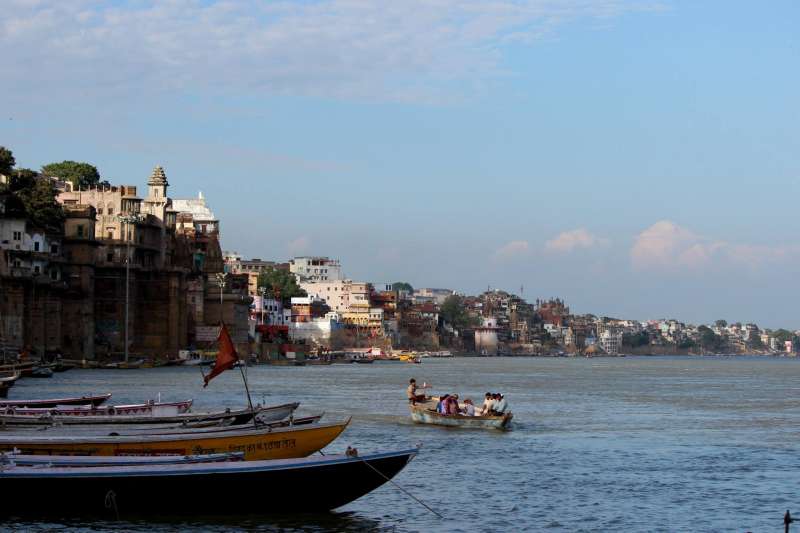 Make your weekend count by driving off to these getaways and make some memories to last a lifetime!
Similar Posts That You Might Like