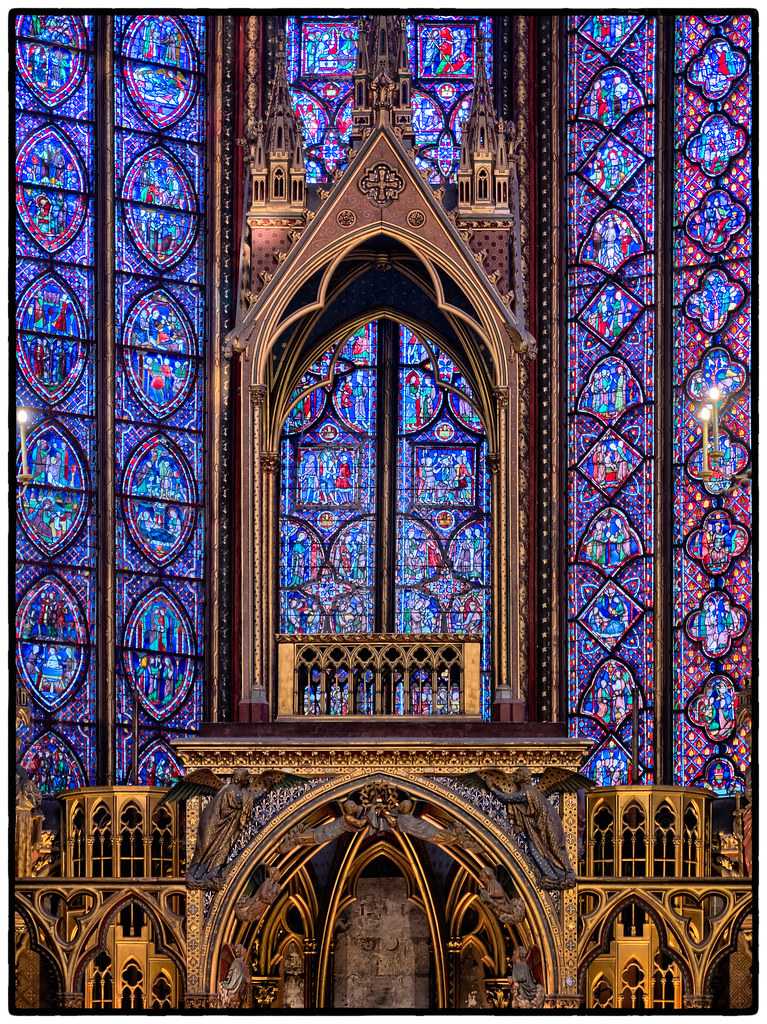 The Sainte-Chapelle is considered to be one of the most elaborative architectural masterpieces out of all the historical monuments in the world. The interior, exterior and general appearance of Sainte-Chapelle are one of a kind. The chapel is a paramount example of the phase of Gothic architectural style, known as the "Rayonnant", marked by its lightness and strong vertical emphasis. It stands upon a lower chapel which served as a parish church for all inhabitants.
On entering the courtyard of the chapel, one would see a grand staircase(the Grand Degres) on their right and the north flank and eastern apse on their left. The exterior of the chapel is relatively austere, elegant and simple, contrasting with the interiors of the chapel, which are critically detailed and rich in nature. The chapel rises above the basic rooflines of the palace and is clearly visible from long distances.
The stained glass dominates the interiors of the chapel; on the remaining areas of the walls and the vaults richly coloured and decorated, projecting great artistry. The original colours of the decorations and glass were much brighter and vivid than the ones we see today. The dado arcade is adorned with quatrefoils that are painted with scenes of saints and martyrs enclosed with gilded glass. Above the dado arcade is the shaft, present where are twelve stone sculptures representing twelve apostles. Each of them carries a disk marked with the Consecration Crosses. Coming to the intricate details of the stained glass that dominates the chapel, the nave and apse are fitted with humongous fifteen 13th-century windows. A vast rose tinted glass window overlooks the western wall. When it comes to the various categories by which the style of architecture is rated, the Sainte-Chapelle remains unbeaten to this day.